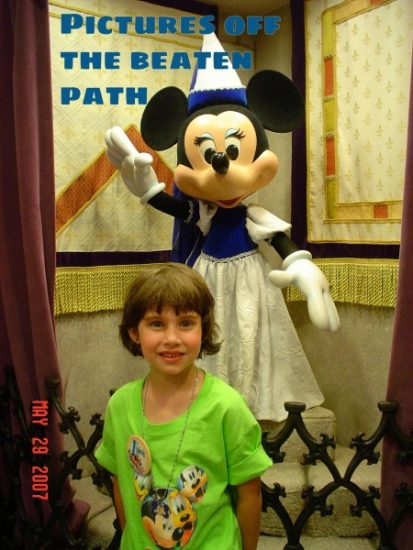 The best souvenirs from Disney trips are the pictures!  You get to re-live everything about that moment each time you look at those pictures.  I try to get a family picture in front of The Partners statue during every visit to Disneyland or Walt Disney World.  That pic with Spaceship Earth at Epcot is always a must, as is the one with Mickey's Fun Wheel at Disney's California Adventure.
One tradition, that I started (accidentally) on our first trip to Walt Disney World, was with my daughter.  I fell in love with a sweet picture I had taken of her with Minnie Mouse at Sir Mickey's in Magic Kingdom.  Sir Mickey's is a small gift shop just behind Cinderella's Castle in Fantasyland at Magic Kingdom that, in 2007, was mainly an adult clothing shop.  It has had a few changes since then and is now pretty much a kid's clothing/gift shop.  Even though they don't really have anything of interest to me anymore, we still venture in on every visit to snap a picture in the corner with Minnie Mouse.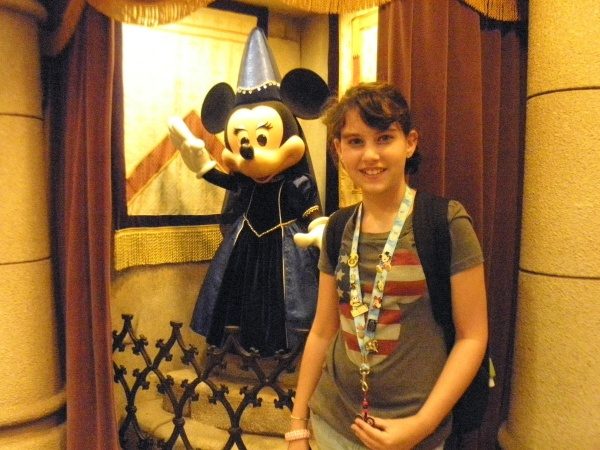 As I said, this came about accidentally.  I always loved this picture.  Somewhere along the way, I heard about doing something like this…taking those not-so-standard pictures to mark time.  In 2012, we ventured into Sir Mickey's and I remembered that cute picture from 5 years earlier, so I had my daughter stand by Minnie again to pose for another favorite pic.  We started doing this every time we have visited since then.  She even reminds me when we pass the shop if we haven't gotten our picture yet.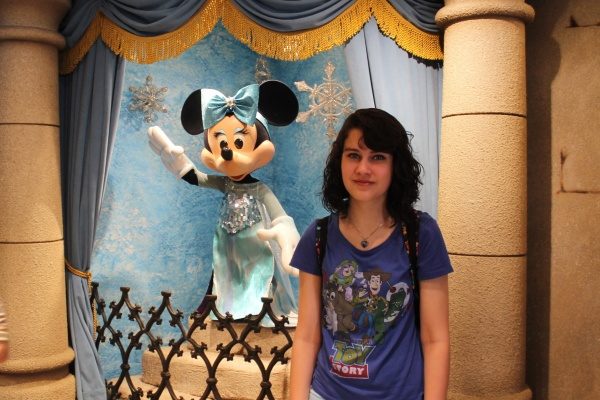 Minnie Mouse has had a few costume changes over the last 11 years, but she still stands there looking as gorgeous as ever, always ready to pose with her adoring fans.   FYI, if you look up at the ceiling in Sir Mickey's, the Giant (from Mickey and the Beanstalk) is peaking into the store–I was so interested in Minnie Mouse, that it took me 10 years (and reading it on the internet) to see it.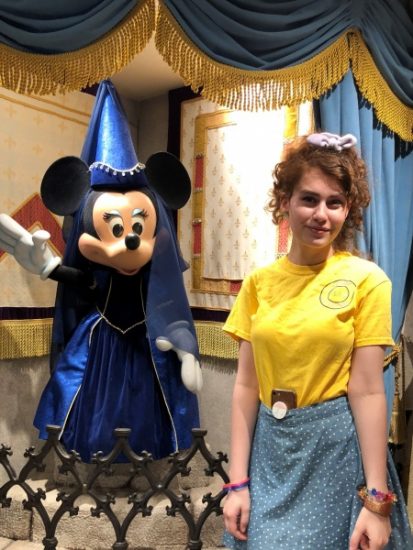 Here we are, still taking taking  pictures off-the-beaten-path, still making memories.  The best thing is, just about every time we take this picture, we see someone waiting behind us to take a picture, too.  I wonder if they might be doing the same thing or if they just see that this is the great opportunity for a cute picture.  Either way it's a great memory!
I'd love to help you plan your next Disney vacation!  Contact me for a free, no-obligation quote https://www.themagicforless.com/request-free-no-obligation-quote/?ldsrc=TMFL-TMFLJulieD
Similar Posts: