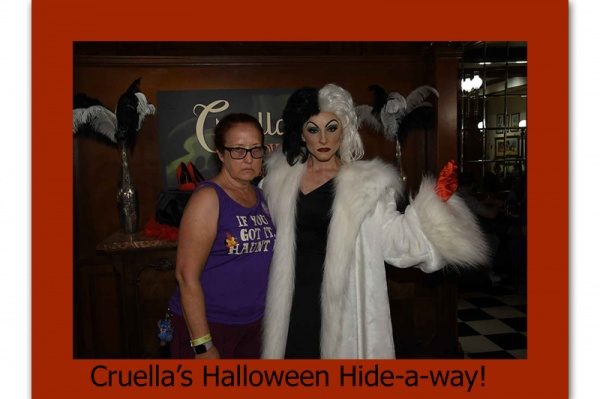 I love Disney villains, I love Halloween and I love Mickey's Not So Scary Halloween Party, so when Disney announced Cruella's Halloween Hide-a-way this Halloween season, I had to go.
And it was AWESOME!!!
Please note that this is an additional cost on top of the cost of Mickey's Not So Scary Halloween Party. The Cruella event is held at Tony's Town Square Restaurant, which is located in the hub at the entrance to the Magic Kingdom, just next door to the theater.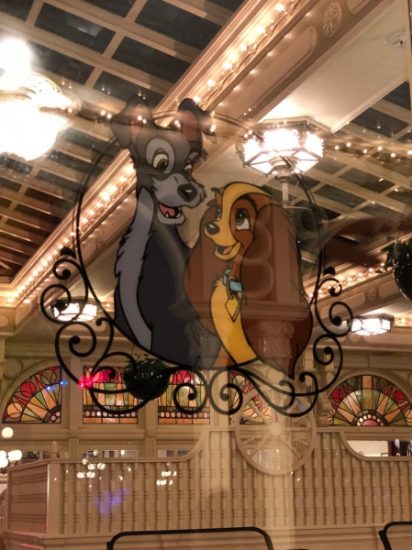 The tickets for Cruella's Halloween Hide-a-way were $99 per person. This year was the first year Disney offered this treat, and I am hoping they continue. It was a great night and I thought well worth the extra ticket.
There was plenty of food, desserts, wine, beer, soda and did I mention DESSERTS? I will be honest and say that the servers did seem to have a little challenge keeping the food well stocked, but the ticket allowed for you to come and go as much as you liked from 9:30pm until 12:30am, which made it easier to enjoy the food and wine. My husband and I ate and had wine, went to watch the new Halloween fireworks show, and then came back to Tony's for some dessert and more wine. So it made for a nice, fun but relaxing evening.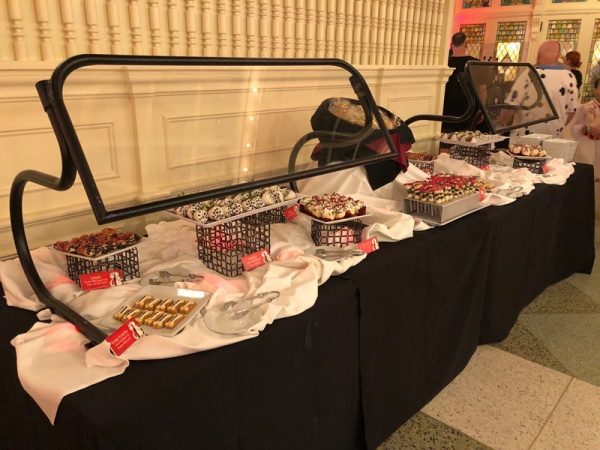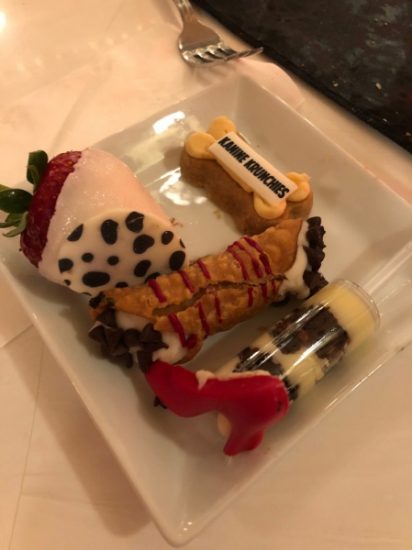 And of course, the best part was having a chance to meet Cruella! She is set up for a Meet and Greet in the back of the restaurant, and you will have photos with her as well (there is a Photopass person there).
Included with your ticket is also space in a special viewing area for the parade, which is in the circle where the flag pole stands in the middle of Main Street.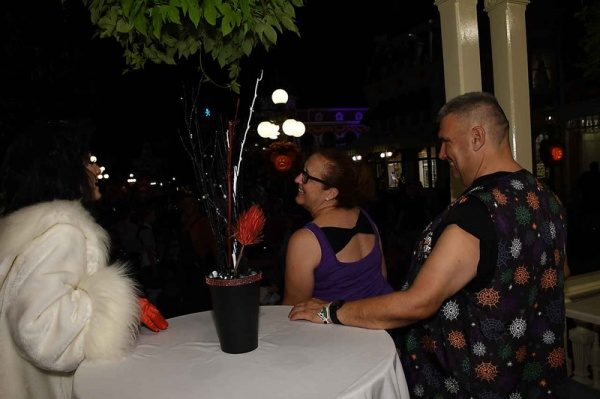 For me, the most fun came after all of the meeting and greeting was done, and Cruella walked around the restaurant talking to everyone. She was so much fun – very loud, very rude, very Cruella. Because we had seen the parade many times (it's my favorite), we opted to stay on the porch at Tony's and watch the parade with a glass of champagne, which was a fun treat. We were happily surprised when Cruella stood next to us while watching the parade and chatted with me a bit! She pointed out that I should pay very close attention to the gravediggers' in the parade because she hired the choreographer and was very impressed with the outcome.
Overall, keeping the additional cost in mind, I think you it would be a personal choice to do this. If you love Cruella, or Disney villains, you would want consider the fun you will have. I have been to Mickey's Not So Scary Halloween Party many times and so I don't feel the need to try to see and do everything, so having a nice relaxing option was nice. I enjoyed being able to sit down and relax in between parades, fireworks and shows.
And if you are considering Mickey's Not So Scary for the first time, so some research to see if it's right for you. It is my absolute all time favorite event at Walt Disney World.
Talk to your travel agent to get more information on this and other special events! Trisha Zavrel
Similar Posts: