How fun is it to be able to customize your MagicBands for your upcoming trip?  Not only is your MagicBand functional – it accesses your park admission, FastPass+ reservations, dining plans, unlocks your resort hotel door, can charge purchases back to your room, and collects photos for you – but it's just pretty cool to wear too!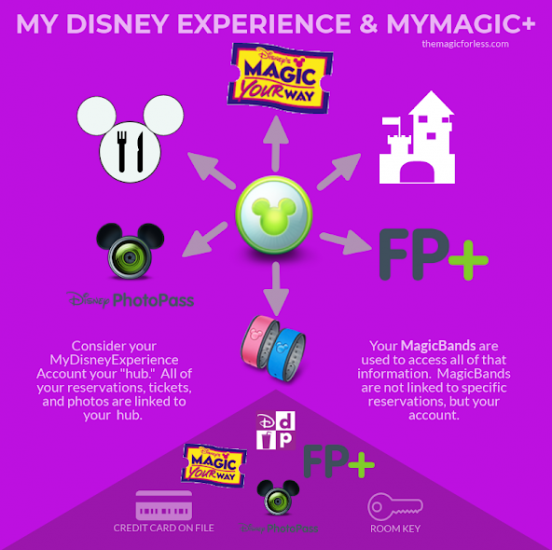 MagicBands
Your MagicBand serves as a point of access to everything linked to your My Disney Experience account which I think of as a hub!
Disney offers complimentary colors of red, orange, yellow, green, blue, purple, pink, and grey, but you now have the option to upgrade your MagicBand too before you travel!  You can now pay the difference between your complimentary color ($14.99) and a themed MagicBand.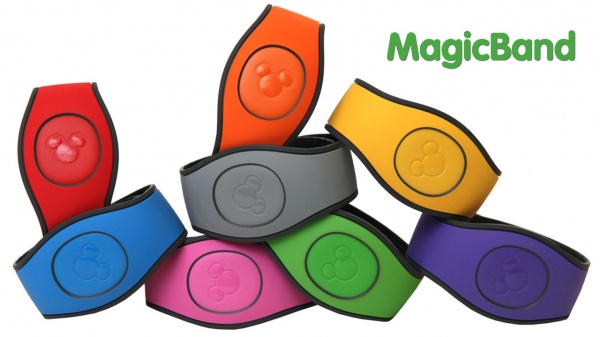 Customizing MagicBands
Customizing your MagicBands isn't difficult, but it can get a little confusing as to when you can customize your bands, if you've already done it and want to modify your order, and when MagicBands ship.
Here is a recording going through the process of customizing your MagicBands!
Here is a flip book of screenshots of the step-by-step process to select your MagicBand (similar to the video but you can flip through this one quicker if you prefer – no commentary though).
Key things to note about customizing MagicBands:
You can customize your MagicBands as soon as your reservation is booked, but your MagicBands will not ship until closer to your travel date – typically closer to 30 days prior.
If you want them shipped to your home, you should customize them at least 40 days prior to your trip to guarantee delivery. MagicBands customized after that may ship to your resort.
You will receive grey MagicBands at your resort if you do not customize your order more than 6 days prior to your check-in date.
You will receive an email notification when they ship – you can track them too! You can also see the tracking info in your My Disney Experience account.
If you have only selected complimentary colors, you can go back to your order and update them.
If you select upgraded themed MagicBands for which you make a payment, that is handled like a purchase transaction and the order will ship once processed. Your entire order will ship so you want to make sure you have customized every guest's MagicBand at this time if selecting any upgrades. Basically, the whole order gets processed when purchasing an upgraded band – this can be a little tricky if different guests want different upgrades and they're not all in stock.
You can bring old or even your new MagicBands to your resort to be recycled.
You customize our MagicBands in the browser version of your My Disney Experience account – even if you navigate to the MagicBands & Cards section under your profile in the app, you will be directed to a browser to customize them.
Confirm Customization
Sample of Email Confirmation when you customize your order: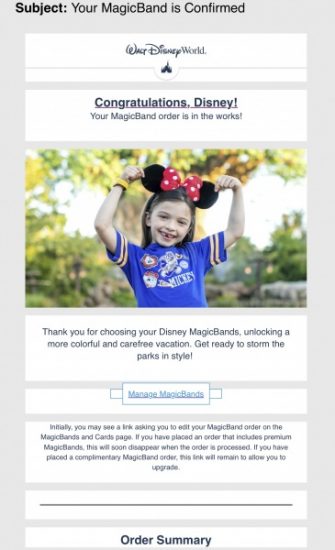 Your address will be confirmed here with your order details.  The shipping address is one you must confirm as it's not tied to your reservation details.
MagicBand Upgrades
The selection of themed MagicBands does change daily and sometimes more are available on other days.  I find checking first thing in the morning (early) often results in the largest selection.  If you'd like to select an upgraded MagicBand, be sure to have everyone in your party's selected as they will ship once the transaction (purchase) is complete.
Examples of themed MagicBands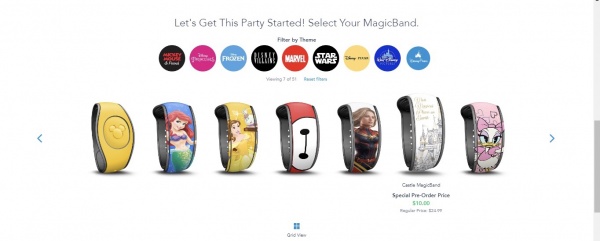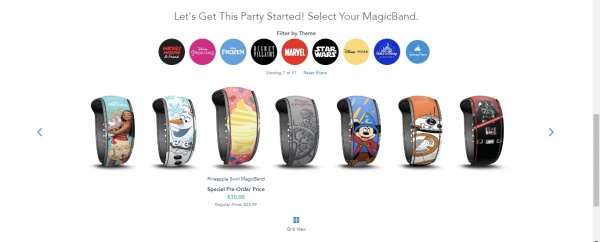 Need Help?
Most importantly, if you get confused, reach out to your Travel Counselor so they can assist you.  We rely on Mickey's IT Team quite often if you are seeing something that doesn't look right!
I hope that information helps you customize your MagicBand!  It's one step closer to your vacation!  If you don't have a vacation booked, let me know and we can fix that!
I'd love to help you and your family plan your next vacation whether it be a Disney destination or somewhere else!  We help plan vacations all over the world so just send me an email at jocelyn@themagicforless.com or fill out a no-obligation quote request to get started! And be sure to follow me on Facebook!
Similar Posts: