There are many wonderful dining options at Disney Springs. If you are looking for a great place to eat in Walt Disney World, or while in Orlando, Disney Springs is THE place to go.  Whether you are looking for family friendly options, casual outings or upscale date-night destinations, Disney Springs has you covered.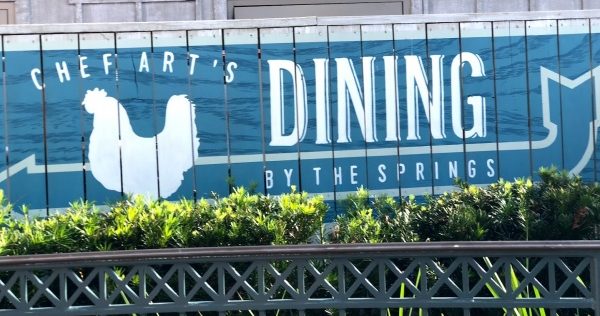 With over 50 options for food and dining at Disney Springs, there is definitely something for every appetite, every mood and every craving. From snack carts to food trucks to signature restaurants, Disney Springs will have something delicious to satisfy everyone.
Check the My Disney Experience App to see if Mobile Ordering is available.  Since Disney Springs has become a more popular destination, many dining establishments recommend Advanced Dining Reservations.  You can check your MDE app, or Open Table to see if a location participates in a reservation program.
We can't possibly cover all the options here, but let's start by talking about some of the best places.  First, we will look at Snacks & Desserts, then counter Service Meals, and end with Table Service Restaurants.
Snacks & Dessert Options at Disney Springs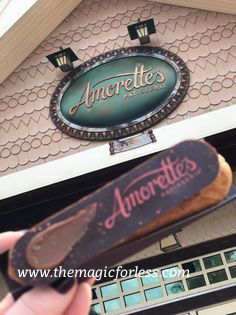 This unique French style bakery features many signature pastries and cakes, made with layers of flavored Chiffon cake, mousse and fruit jellies. There are individual pastries and confections, custom made cakes, crepes, and even a few sandwich offerings. Seasonal specials are often available for limited times throughout the year, like a Chocolate-Peppermint Creme Brulee.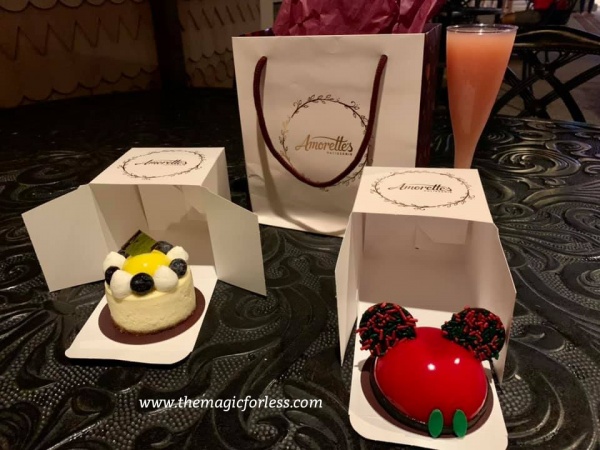 The Signature Amorette's Cake (also available in a Petit Cake) is eleven layers of Red Velvet Cake, Chocolate Chiffon Cake, Cherry Mousse, Chocolate Mousse, Raspberry Pate de Fruit Jelly and Italian Buttercream.
Their character dome cakes are very popular, and are as delicious to eat as they are impressive to look at. The delicacies at Amorette's are truly edible works of art, they almost feel too pretty to eat.
While here, guests can watch talented pastry chefs finish their works of art at the on-stage finishing kitchen. For the finishing touch, Amorette's will box or bag up your items beautifully for you to take home, for yourself or others as they make amazing gifts.
You can also find a selection of coffees, and beverages; including both bubbly adult-only and non-alcoholic drinks here.

Visit Disney's own specialty chocolate shop in The Landing at Disney Springs. Here you can watch chocolatiers as they create delicious and beautiful handmade chocolates, with 16 flavors of ganache available. Take some home to make your Disney trip last a little longer. Again, these make wonderful gifts.
They serve seasonal specialties such as house-made s'mores. They are ooey, gooey, chocolatey and delicious! You can watch as the chocolatier makes one just for you.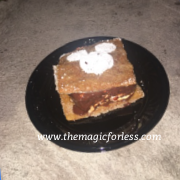 The Ganachery has specialty chocolate drinks available seasonally. During the cooler months they serve a Hot Sipping Chocolate, and during the warmer months they replace it with "The Chocolate Chiller." These may not be listed on the menu, but be sure and ask about them. Hot or cold these specialty drinks are smooth and creamy, topped with real whipped cream and little chocolate candy sprinkles.  Don't forget to ask about any extra add-ins like Bailey's Irish Cream that may be available to make your drink even more special.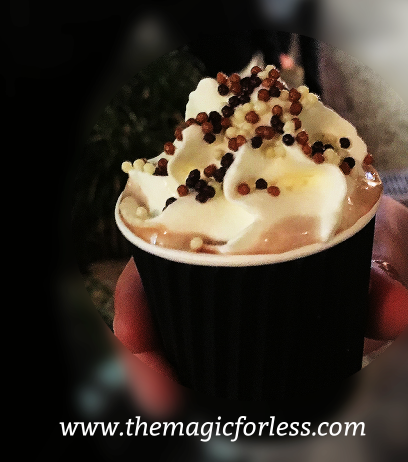 More Food & Dining Options for Snacks/Desserts at Disney Springs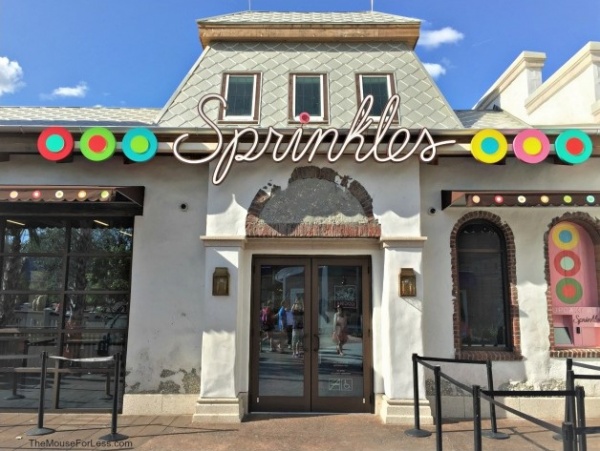 Counter Service Dining Options at Disney Springs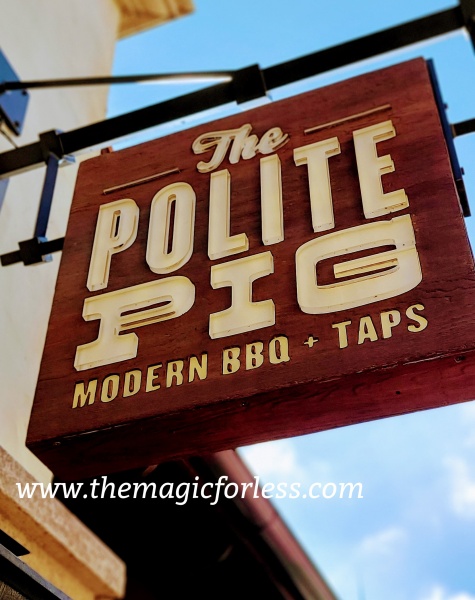 Described as a modern BBQ joint, this counter service restaurant offers a variety of smoked meat, as well as a bourbon bar and all drinks on tap.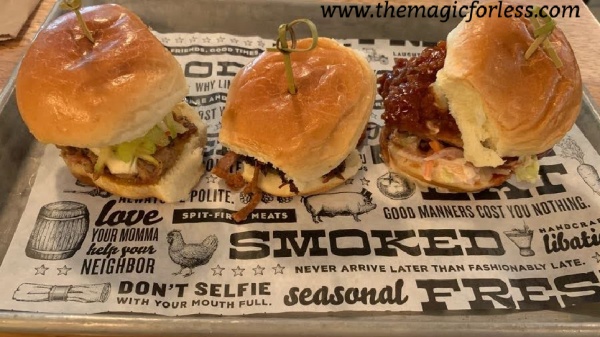 The Crispy Fried Chicken slider is delicious. The chicken was flavorful, tender and juicy, and paired perfectly with the sauce and signature slaw. The Southern Pig and Slow Brisket were also wonderful. While the main focus here is the smoked meats, which do not disappoint, the sides are incredible!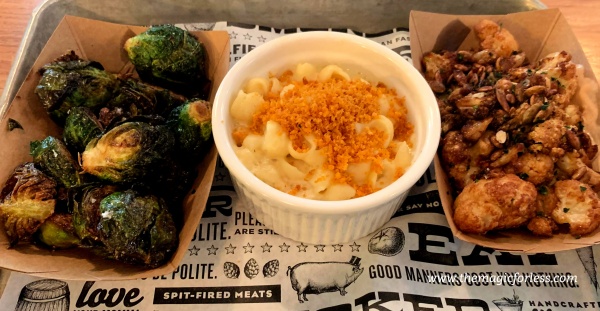 The mac and cheese is amazing. The BBQ Cauliflower, with Paprika Sour Cream and Candied Pepitas, and the Crispy Brussel Sprouts, with Whiskey Caramel Glaze, will change the minds of those who have sworn off such veggies.
It is a counter service location, but you order, take a seat and they bring the food to your table. There is a really nice bar area that is partially inside and opens to the outside where it is open-air while still being covered.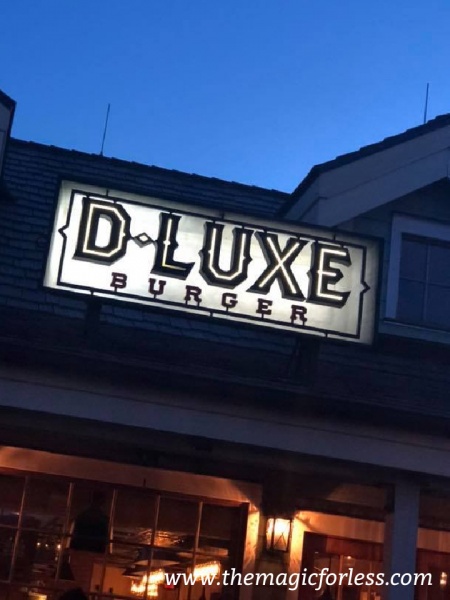 With so many burger places flooding the scene, you may be tempted to dismiss this burger joint. DON'T! This is not your typical fast-food burger. D-Luxe Burger uses a signature blend of beef for all their gourmet burgers, which are served on fresh baked buns, and they have an assortment of house made sauces to choose from to go with your fries.
They have an impressive selection of signature creations. My favorite is the Southern Burger, with pimento cheese, fried green tomato, grilled onions and thick sliced bacon. Then there's a BBQ Burger, El Diablo Burger, and more. For those who prefer something other than beef, there's a Buffalo Chicken Sandwich and a Plant-Based Pacific Island Burger. Finally, be sure and ask about seasonal specialties, such as their Holiday Turkey Burger, with Bacon-Cranberry Jam and a Butternut Squash Risotto Cake, or an Eggnog Gelato Shake.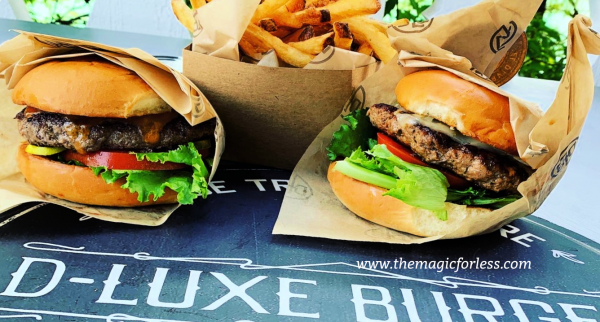 D-Luxe Burger participates in mobile ordering within the My Disney Experience app, and previously they even had "secret menu items" you could only see in the app, hopefully this will return.
They also offer quite a selection of interesting Artisanal Shake flavors, along with some alcoholic drinks that are unique.
More Dining Options for Counter Service Restaurants at Disney Springs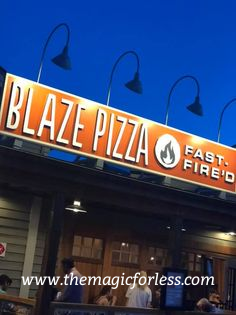 Table Service Restaurant Options at Disney Springs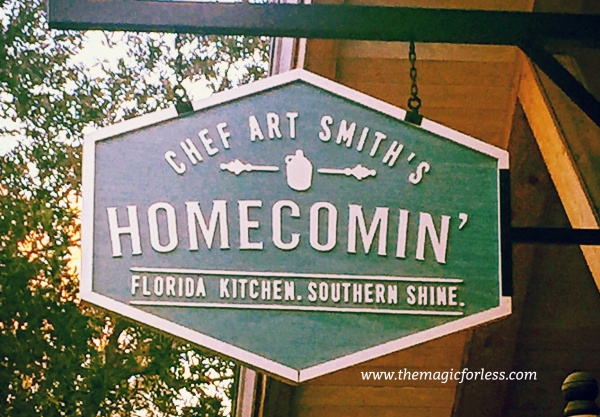 Chef Art Smith's Homecomin' Florida Kitchen and Southern Shine serves farm-to-fork Southern homestyle food, from recipes by award-winning celebrity Chef Art himself.  Chef Art seeks to honor and highlight Florida agriculture, and uses locally sourced food when possible. Moonshine is the base for many signature cocktails.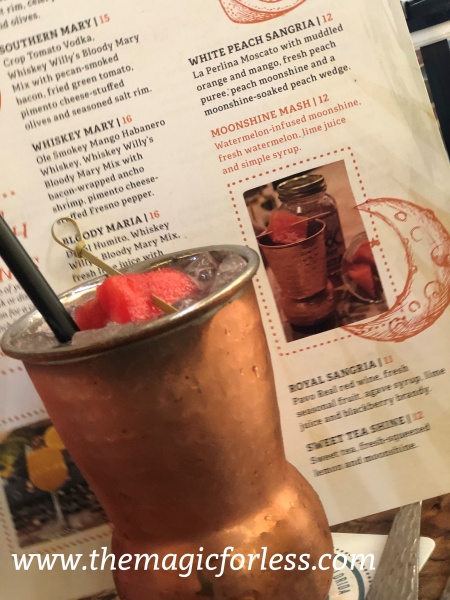 Dine outside in the open air on the covered porch overlooking the water, adding to the feel of an at home southern meal.
Homecomin' serves the classic comfort foods you long for from momma's kitchen. Fried Chicken, Deviled Eggs, Fried Green Tomatoes, Hushpuppies, Shrimp and Grits and to-die-for homestyle cheddar drop biscuits are all on the menu.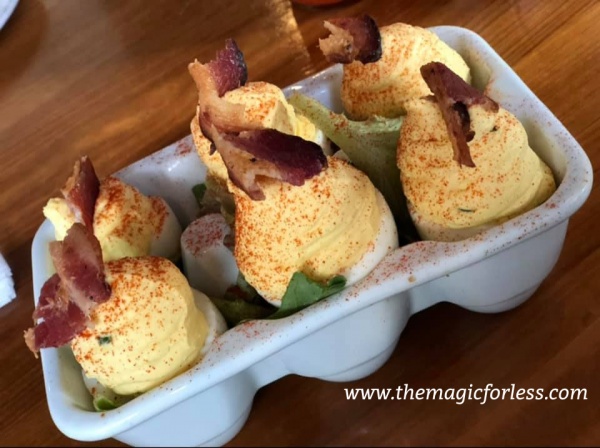 The fried chicken is soaked in buttermilk for 24 hours, giving it flavor and keeping it nice and juicy. Then it is perfectly fried with a crispy coating.  The Church Lady Deviled Eggs are deliciously topped with pieces of crispy ham, enhancing the flavor of the creamy filling.  The hushpuppies are amazing, and served with a side of homemade pimento cheese and red pepper jelly- a unique pairing that totally works!  The Braised Short Ribs is basically a dressed-up version of mom's pot roast, served over mashed potatoes and green beans. Topped with a demi-glaze this dish is full of flavor.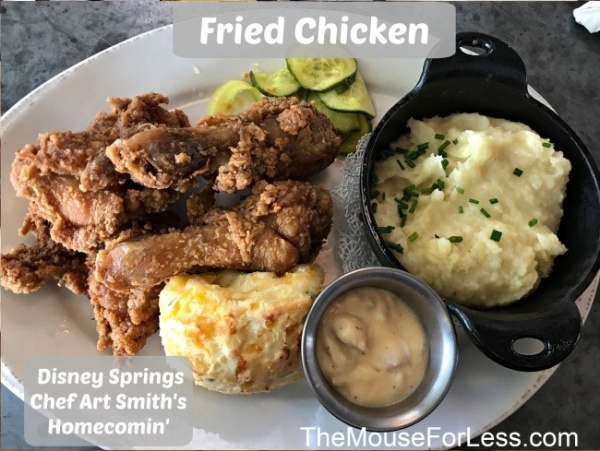 Somehow, you need to save room for dessert though, where it will again be difficult to choose.  Choices include Chef Art's signature Shine Cake: a butter cake soaked with moonshine syrup; and Hamilton County Chocolate Pecan Pie: a hundred-year-old Smith Family Farm favorite recipe.
It is open daily for lunch and dinner, they also have a special Rise 'n Shine Brunch on Saturdays and Sundays from 9:30 am- 1:00 pm.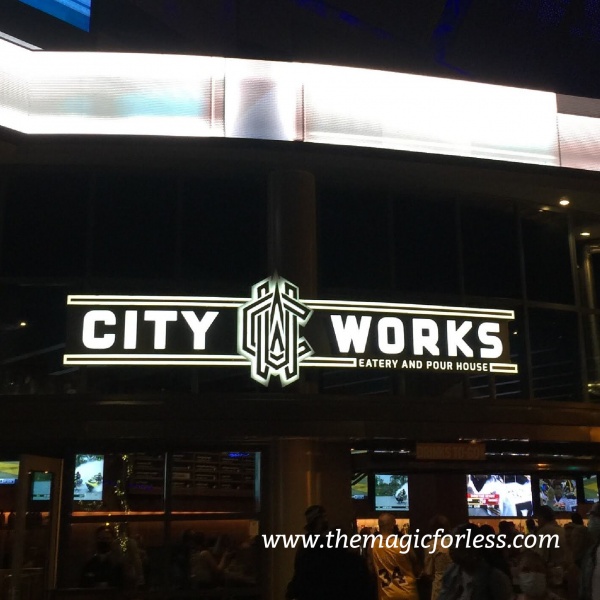 City Works serves "Classic American Food with Modern Twists," and is another place that offers quite an inviting weekend brunch menu, including gluten-free and vegetarian options. The Rock N Roll Brunch is available Saturday and Sunday from 10 am – 3 pm, and features creative offerings that give a nod to classic rock 'n' roll.
For starters your table can share a Jon Bun Jovi- jumbo cinnamon roll, or Dock of the Beignets -French doughnuts with hazelnut sauce and mixed berry jam for dipping.  Then there's choices like Johnny Hash- braised short ribs with potatoes, onions, peppers, jalapeño salsa verde, and sunny side up eggs; or White Wedding- an egg white frittata, with goat cheese, asparagus, tomato, onion, basil fennel herb salad and avocado.
The lunch and dinner menu includes wonderful starters/shareables like cheese curds, fried pickles and Kung Pao Cauliflower.  Entrees include Salmon and other BBQ meat options. Or try the Fish Tacos- with beer battered mahi-mahi, chipotle cole slaw, and cilantro-lime cream, which are fabulous.  Choose from a selection of creative sandwiches and burgers, like the Scorpion Burger. (Any of these can be made with the Impossible Burger, or served on a gluten-free/vegan bun upon request.) There are multiple pasta options like Rigatoni with Italian sausage, peas, goat cheese, and a tomato cream sauce; and several specialty mac n' cheese options. This is another winning menu, that makes choosing difficult.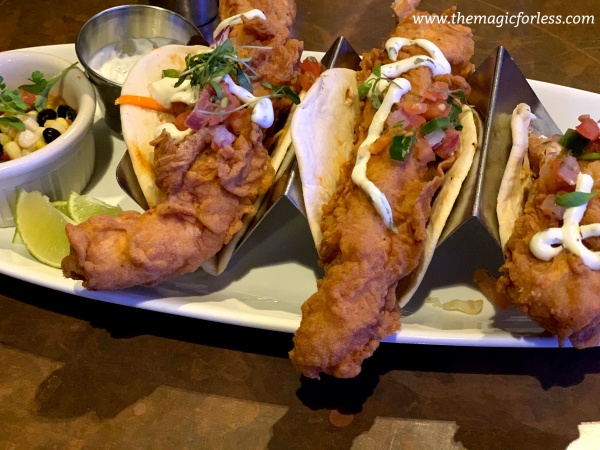 The drink menu here is one of the most extensive around. City Works boasts one of the largest beer bars in Orlando, offering 90 local and global craft beers on tap. They also have specialty and frozen cocktails, a strong whiskey list, and wine on tap.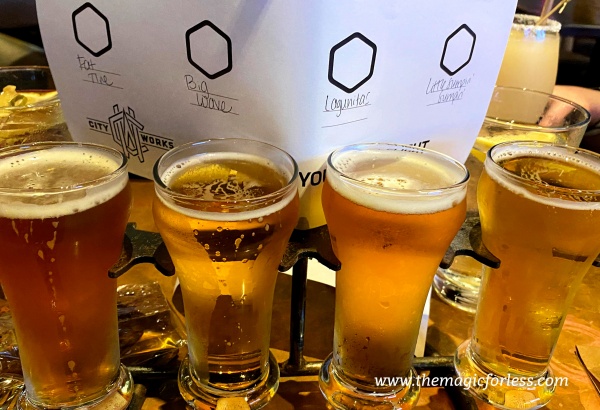 More Dining Options for Table Service Restaurants at Disney Springs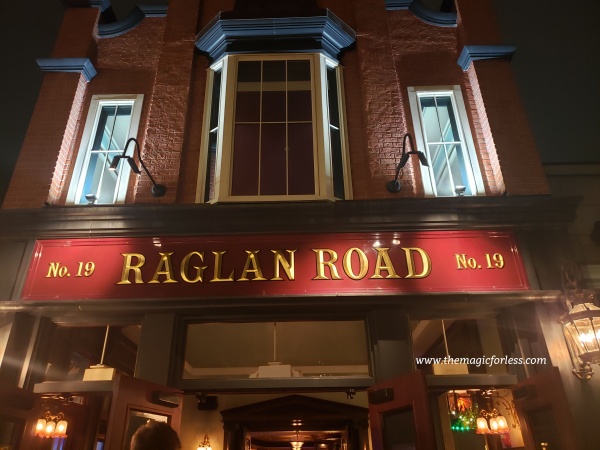 Food Trucks at Disney Springs 
Located in The West Side
Food Stands/Kiosks at Disney Springs (may count as snacks or quick service options)
This list is by no means complete. There are many, wonderful options for food and dining at Disney Springs.  New places are being added constantly, therefore eateries at Disney Springs have really improved their offerings to stay competitive. Now there are so many great choices for every type of food and dining, certainly the title "best restaurant at Disney Springs" or "best snack at Disney Springs" is a much harder choice these days.
For more information about food and dining options, or restaurant menus at Disney Springs visit themouseforless.com.
Do you have questions?  Are you ready to book your next trip to Walt Disney World?
We are here to answer your questions and help with all of your vacation planning details. And bonus – we offer our guests some added bonuses for all new reservations! Contact me to get your no obligation quote today! We want to help you make memories that will last a lifetime!
Similar Posts: