We were lucky enough to sail on the brand-new Disney Wish on the first preview christening sailing with our great partners at Disney Cruise Line.  We have so much to share about our incredible experience that it is hard to concisely put into words, or photos or videos, but we will do our best with an overview below.
The Disney Wish is not just more beautiful, the spaces are more functional, more contemporary.  It feels lighter and more modern, while also feeling warm and inviting at the same time.  More than ever before, there are spaces for guests of every age to enjoy.  Everyone should be able to relax, unwind, and enjoying the Disney stories we all know and love in new ways.
Grand Hall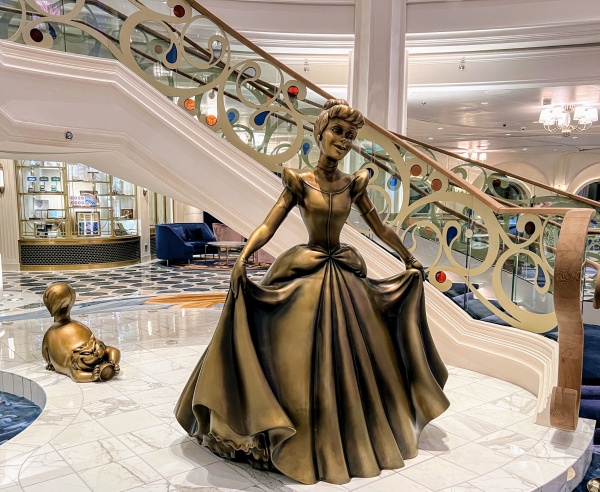 As soon as you step onto the ship, the Grand Hall is your first introduction to the ship.  The fairy-tale inspired space is a tribute to the one and only Cinderella.  You will find her statue here along with some of her friends. The chandelier is not only stunning, but designed to play a part on your cruise.  The staircase is the perfect backdrop for your photos.  This location also features a stage that will host shows and interactive entertainment.
Don't miss the "Kiss Goodnight" that takes place here on select evenings.  It is the perfect way to end a day at sea!
Request a no-obligation price quote to sail on the Disney Wish!

Disney Wish Staterooms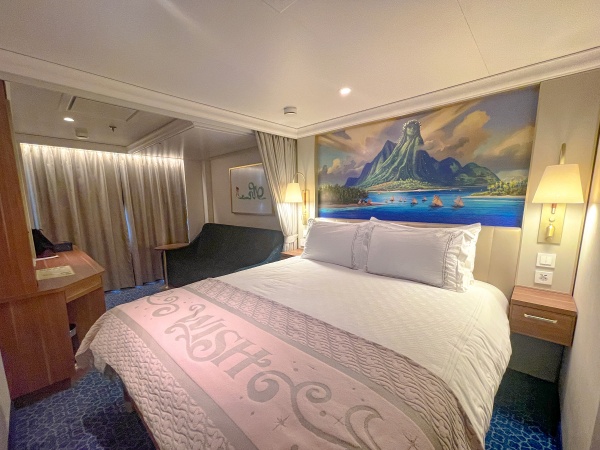 There are a number of different stateroom types available on the Disney Wish, but most guests will be excited to learn that 70% of the staterooms have a verandah!  As with other Disney Cruise Line staterooms, most offer the split bathroom configuration that makes the rooms so functional.
In addition, there are more of the popular concierge and suite staterooms and suites onboard.  These staterooms will have access to a large concierge lounge as well as a private sun deck!  Many of these staterooms also feature a king bed.
Kid's Spaces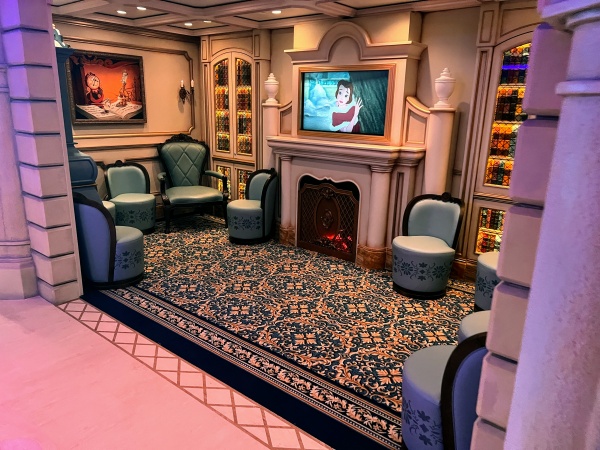 Disney's Oceaneer Club has some great new places to explore.  You will find innovative spaces like STAR WARS: Cargo Bay, Fairytale Hall, Walt Disney Imgineering Lab, MARVEL Super Hero Academy and Mickey and Minnie Captain's Deck.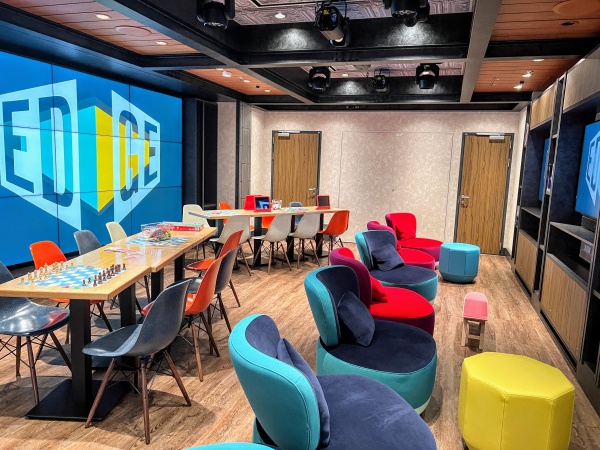 Edge is available for tweens ages 11-14 and has a New York City themed spot with games and spaces to hang out.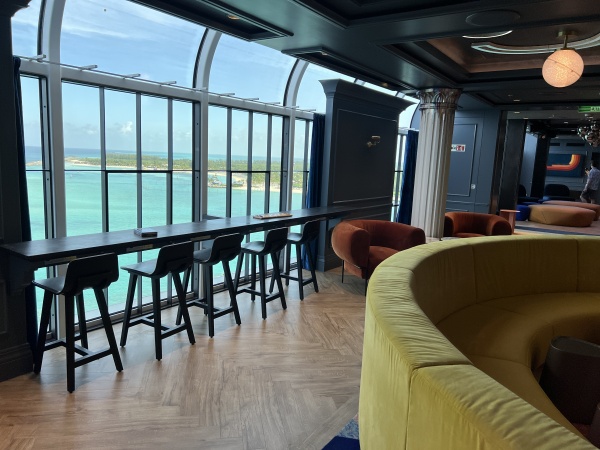 Vibe offers teens ages 14-17 a spot to chill out in a laid-back Parisian loft.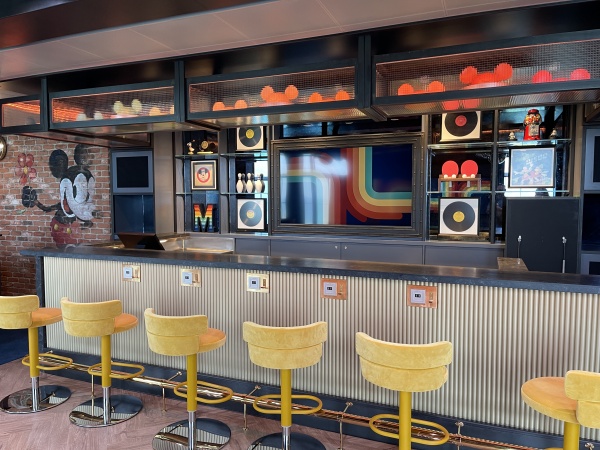 The Hideaway is a multi use venue that may be open to teens, tweens or only for young adults ages 18-20.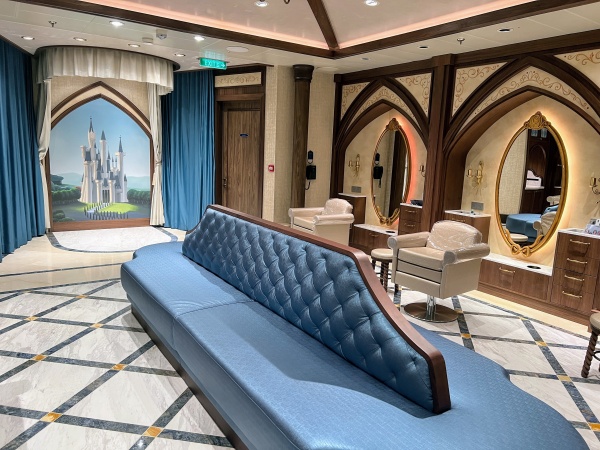 Bibbidi Bobbidi Boutique gets a larger more elegant space.  If you don't know, this is the location for magical makeovers for kids ages 3 to 12. Little guests can be transformed with hairstyling, consuming, makeup and accessories.  You will also find some brand new looks including Captain Minnie Mouse, Captain Mickey Mouse, and a brand new Ariel look!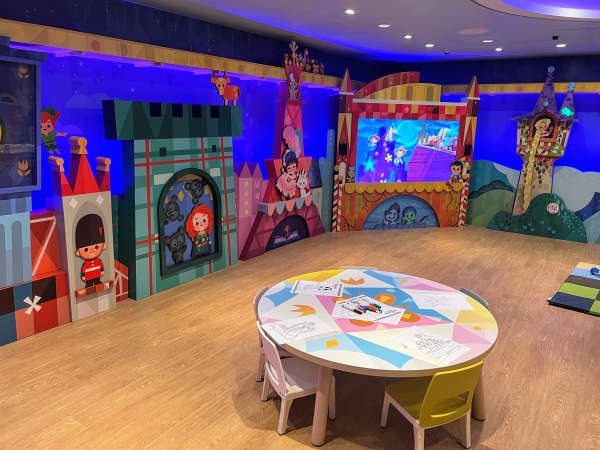 "it's a small world" nursery is designed for the little cruisers ages 6 months to three yeas old.
Dining Locations
The dining experiences onboard Disney Cruise Line ships are always spectacular. The rotational dining experience lets you and your wait staff experience one of the three main dining spaces each night of your cruise. There are three new incredible restaurants only onboard the Disney Wish.  Each of these restaurants offers great food choices will immerse guest in new themes.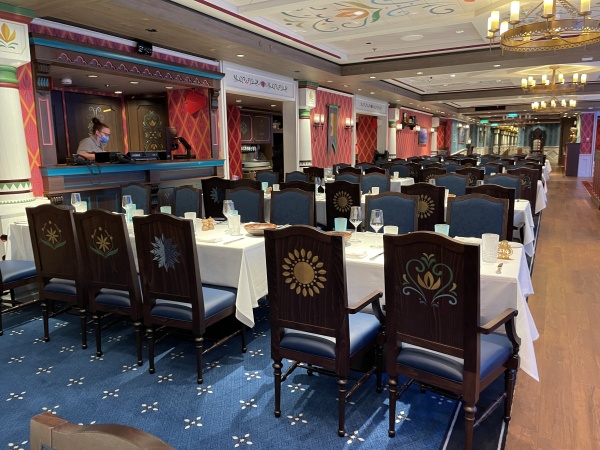 At Arendelle: A Frozen Dining Adventure, you are invited to celebrate the royal engagement of Queen Anna and Kristoff.  Your dining experience will include sing-a longs, a show, crafts, and even the chance to visit with Elsa, Oaken and Olaf!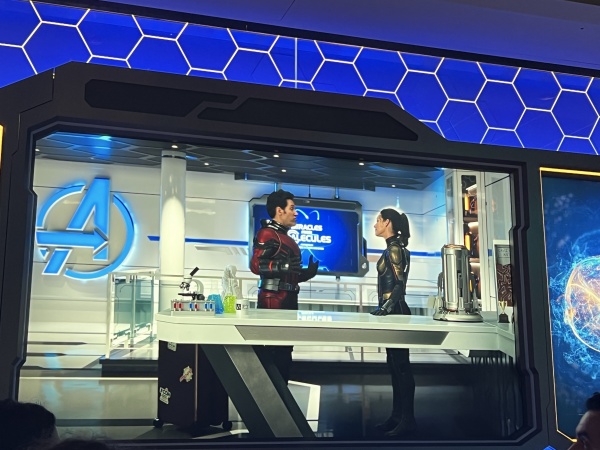 Worlds of Marvel gives you the opportunity to play a part in an Avengers mission!Join Ant Man and The Wasp as they present some incredible Super Hero technology. Captain America, Captain Marvel and Ms. Marvel even join in the fun as guests assist with their own table-side Quantum Core!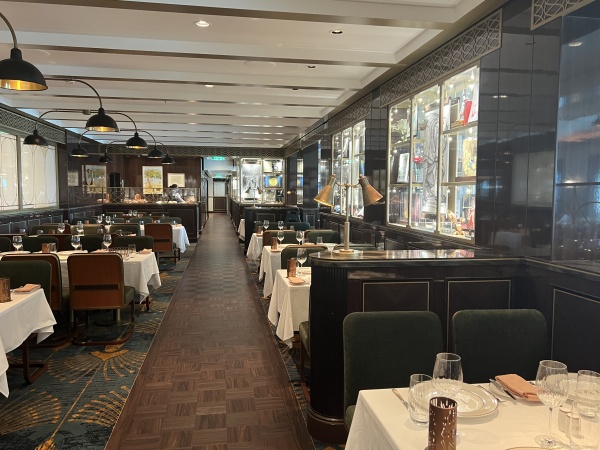 1923 celebrates the year the Walt Disney Studios was founded.  It features a refined decor filled with props and sketches from Disney animation.
Other Dining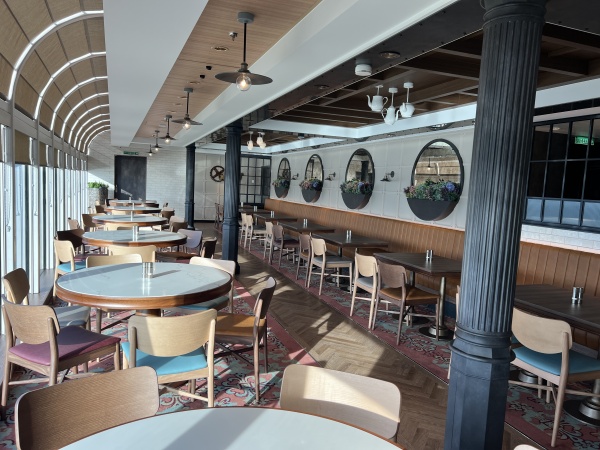 Marceline Market is the casual "food hall" inspired by Walt Disney's hometown, Marceline Missouri.  This buffet location has 10 food stations themed to different Disney movies.  You will find American classics, international specialties, baked good, vegetarian dishes and desserts.  In addition, there are self-serve beverage stations.  Finally, there is also a beverage bar located in the center where you can find specialty coffees and drinks. This buffet location has both indoor and outdoor seating.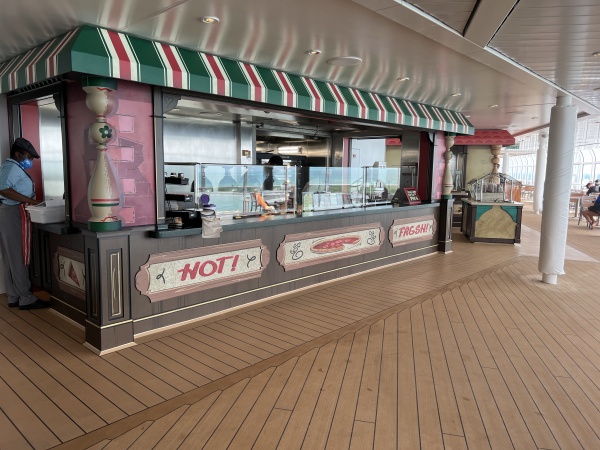 Mickey and Friends Festival of Foods is the spot to grab a snack of quick meal.  It features some distinct offerings including Goofy's Grill, Daisy's Pizza, Mickey's Smokestack Barbecue, Donald's Cantina and Sweet Minnie's Ice Cream.  There offerings include burgers, hot dogs, pizza, build your own burritos, tacos and bowls to pulled pork brisket and so much more.  There is enough variety here to ensure that everyone will find something to enjoy!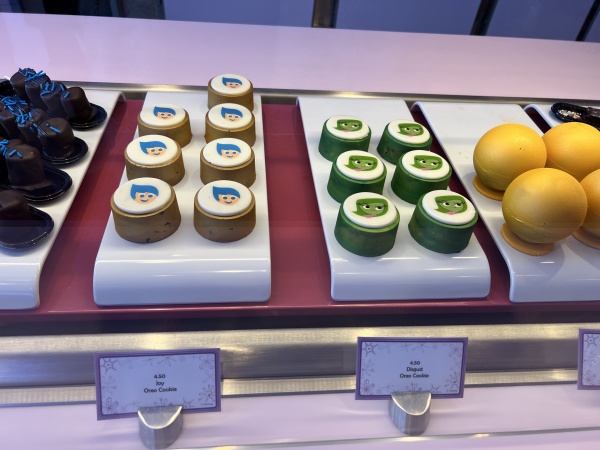 Joyful Sweets is the location to satisfy your sweet tooth.  You will find hand scooped gelato, macrons, colorful cupcakes and other sweet treats available for a small charge.
Adult Dining
Disney didn't forget about the adults and has two locations exclusively for guests 18 years of age and older. There is an additional charge to dine at these locations.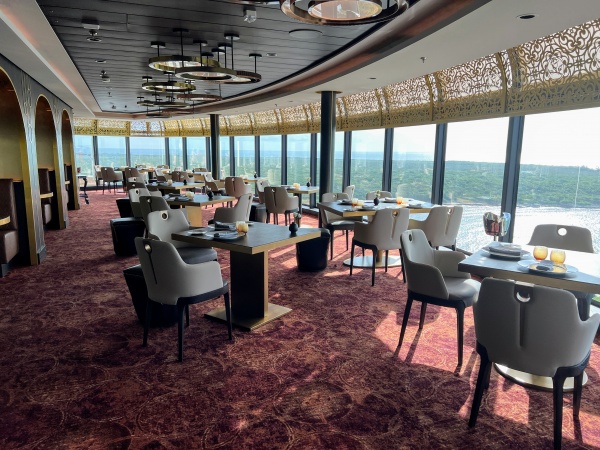 Palo Steakhouse takes the beloved restaurant that you can find on other Disney ships to a new level. This setting is inspired by Cogsworth, the enchanted clock from Beauty and the Beast.  Palo Steakhouse is available for dinner and brunch on select days.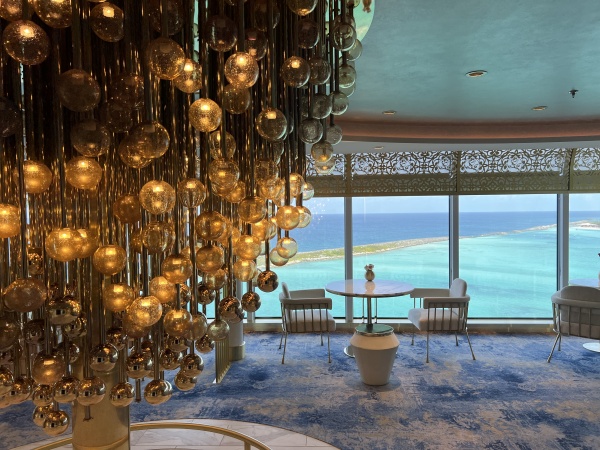 Enchanté by Chef Arnaud Lallement is inspired by Lumiere from Disney's Beauty and the Beast.  This elegant location features French-inspired cuisine crafted by 3 Michelin-starred chef.  In addition to a multi-course dinner, this venue also features brunch and a five-course dessert offering.
Lounges
Some of the most themed locations on the ship are also great spots for adults to grab a drink and relax.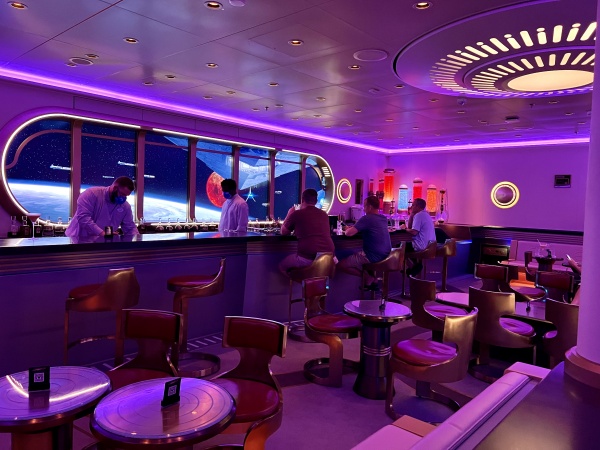 Star Wars: Hyperspace Lounge IS the lounge you are looking for.  Like Skyline found on the Disney Dream and Disney Fantasy, a widescreen "window" features changing views from around the galaxy! It even features a famous cocktail with a very famous price tag!  Don't worry though, there are drinks priced for everyone!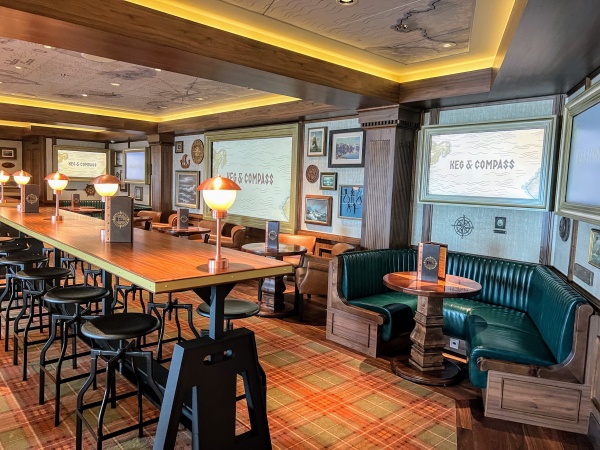 Keg & Compass is the best pub to grab a beer and there are three brews that are exclusive to this location. It is themed after the Norwegian seafaring folklore.  This location also has some great grub available to sample, for a nominal charge.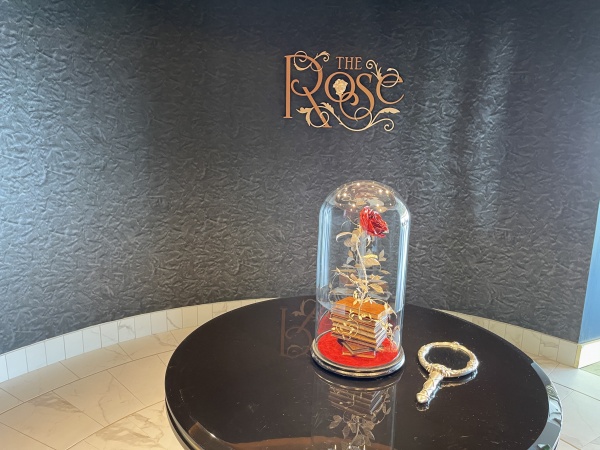 The Rose is located by Palo Steakhouse and Enchante and is the perfect spot to grab a drink before dinner.  You don't have to have a dinner reservation to visit this location.  Don't miss the expansive ocean views from this location.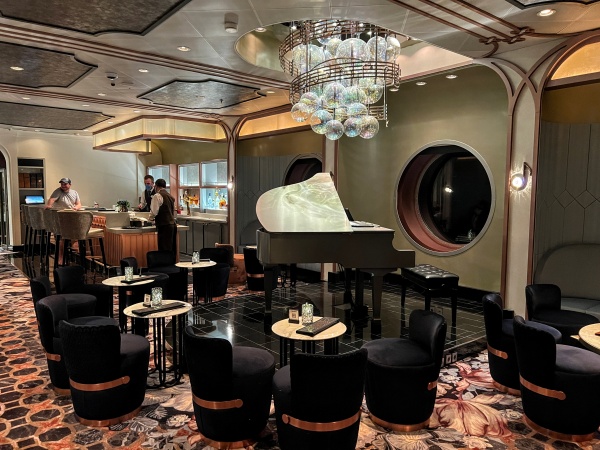 Nightingale's is the piano bar onboard the ship.  This Cinderella themed bard features live music. Movie buffs may recall Cinderella sings "Sing Sweet Nightengale."  You will even find the bubbles from that famous scene are featured in the beautiful chandelier here.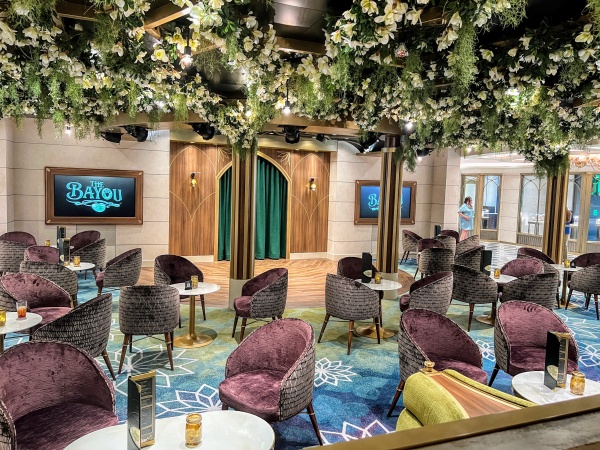 The Bayou is inspired by The Princess and Frog.  You can join Tiana and Naveen in this New Orleans style lounge.
Adult Spaces
In addition to the adult dining and lounge spaces, there are a few other locations just for adults that we have to mention.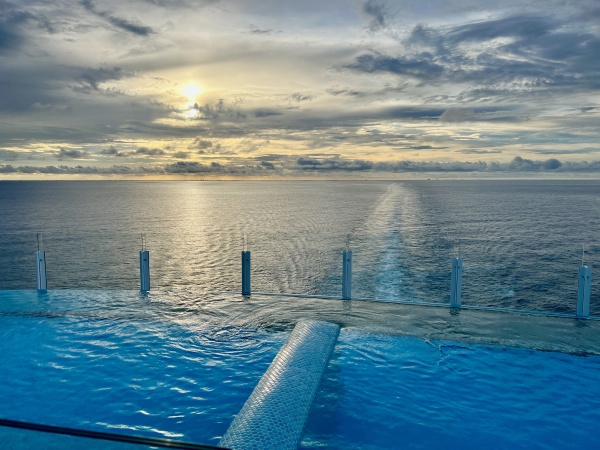 Quiet Cove is the adults-only spot located on the back of the ship.  It has a bar, poolside lounge and comfortable seating.  The main attraction though is the infinity pool with incredible views from the back of the ship!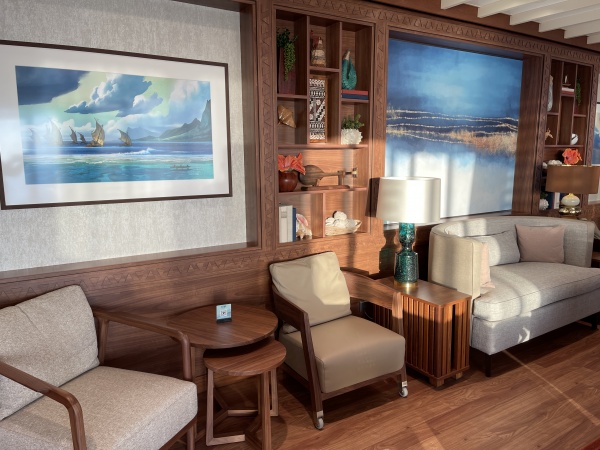 Cove Café is the adult only retreat featuring your favorite specialty coffees and even some adult coffee drinks too. It is located on the back of the ship.
Health and Wellness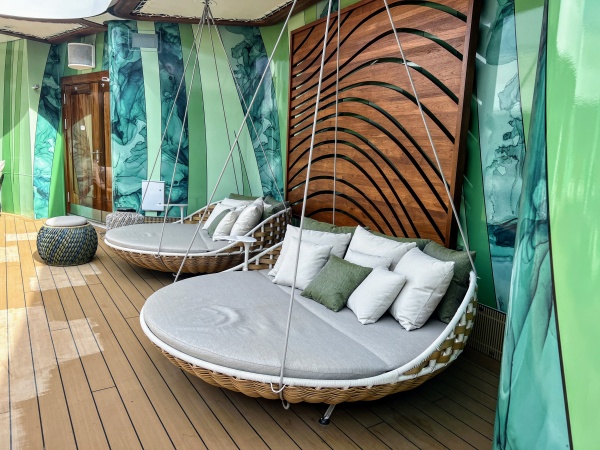 Senses Spa has an expanded space on the Disney Wish.  It features treatment rooms as well as indoor and outdoor locations.  You will find a Rainforest room with heated loungers in an indoor space.  In addition, the spa now features an incredible outdoor spa retreat with tons of space, great seating and hot tubs.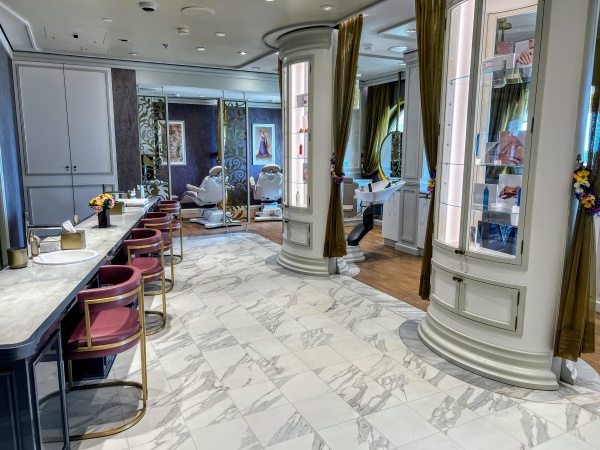 Untangled Salon is the spot to get manicures and pedicures, as well as skin and hair treatments.  This high-end salon is inspired by the very princess who you will find on the stern of the Disney Wish, Rapunzel. The whole spa is adorned in shades of purple and gold.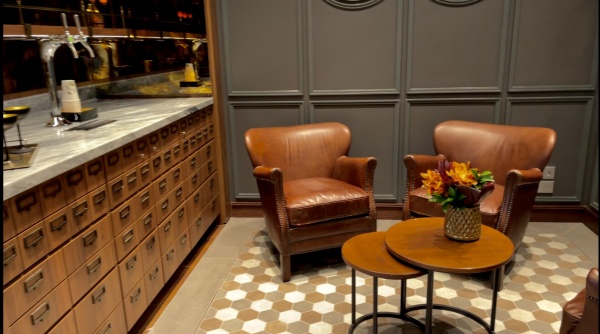 Hooks Barbery offers treatments fit for a captain.  You can stop by for a haircut, hot shave, beard trimming, pedicure and more.  This space is reserved for guests 21 and over and there is even a hidden bar offering specialty whiskey tastings!
Family Fun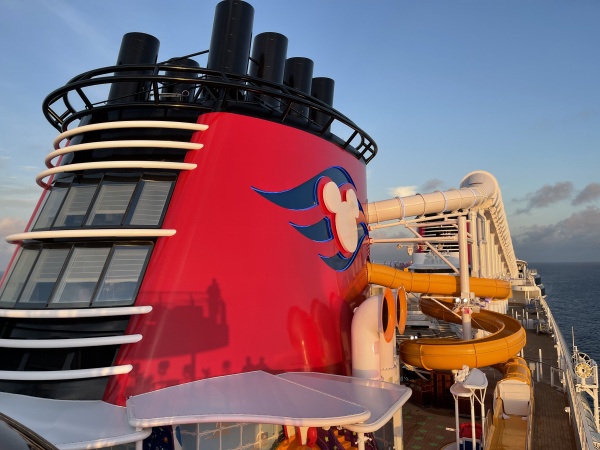 Enjoy Disney Cruise Lines first attraction at sea when you experience the Aqua Mouse!  Guests are transported to the stories from The Wonderful World of Mickey Mouse as you slide through 760 feet of winding tubes as you experience one of two adventures!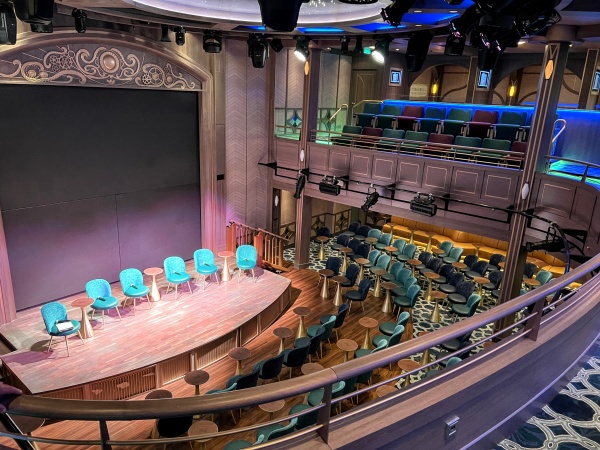 Luna is a brand new two-story entertainment hub.  It has entertainment designed for families like Villains Game Night, Disney Songbook and other interactive shows.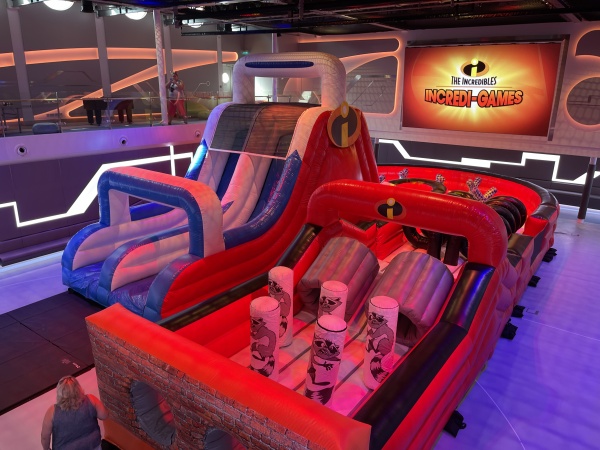 Hero Zone is not just a free-play area for sports like basketball, ping-pong, air hockey and more.  It will be home to the Incredi-Games!  This interactive game show inspires you to engage in some friendly competition as you engage in some challenges themed after the Incredible's Parr family.
Walt Disney Theatre features three shows and two are new to the Disney Wish.  Go under the sea with Disney The Little Mermaid.  Enjoy some time with Captain Minnie and so many other characters during the Disney Seas the Adventure show.  Finally, we have the return and re-imagined Disney's Aladdin – A Musical Spectacular.
This is just a quick overview of all the Disney Wish has to offer.  For more information and to request a no-obligation price quote from a Platinum level Authorized Disney Vacation Planner, reach out for a no-obligation quote from The Magic for Less Travel.

Similar Posts: