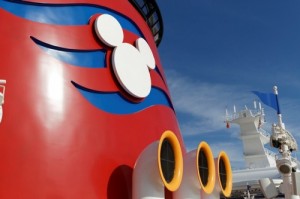 I know many of you are, like me, huge fans of the Disney Photopass services available in Walt Disney World and Disneyland but did you know that there is a similar service available onboard a Disney Cruise? I wanted to take this opportunity to share some of the major differences between the photography services available "at sea" versus what you have experienced on your "land" vacations.
The most fundamental difference in the photography services available at sea is that they are run by an outside vendor under contract with Disney as opposed to being run directly by Disney. As a result there are a couple things you might want to keep in mind:
• Unlike the park photopass services where you can choose to add borders, autographs, logos, etc. to the picture before printing or ordering the digital file, almost every picture taken by the onboard photographers will have some type of border or corner logo added to the photo. More importantly those additions cannot be removed. This is true regardless of whether you are purchasing the physical print or the digital file. If you are purchasing the digital copies of your photos and are skilled in Photoshop or other photo editing software you might be able to edit out some of the corner logos but in many cases they are situated in such a way that removal is impossible without having to do a strange crop or losing some part of the photo's detail. I was under the assumption (and we all know what happens when we assume) that the borders and logos were only added to the prints and that I could avoid them by purchasing the digital copies instead. After learning my assumption was completely incorrect I wanted to share this newfound knowledge to save someone else the surprise and/or disappointment of not knowing this until it was too late.
• In addition to being able to purchase individual prints you also have the option of purchasing a package to include a number of prints (they start at 10 prints and go up from there) which can be a cost saver. In this case it will behoove you to wait and purchase your prints all at once rather than paying the premium for individual prints throughout your trip. This type of choice is also available for the photo cd's. Disks are available with 10 or 15 of your favorite pictures in digital format and a release allowing you to print them with the vendor of your choice. But if you find you have more than 15 pictures that you really love then the unlimited photo disk is your best option. Here again, waiting until closer to the end of your cruise to make your selection/purchase might be the best choice.
• The onboard photography services do not require you to carry an additional card for the photographers to scan like you do in the parks. Instead they will simply scan your key to the world card and all of your photos will be linked to you that way. This also allows you to use your key to the world card to view your pictures at any time via photo kiosks located in Shutters, the central location for photography services.
One last detail to keep in mind (for those who plan to purchase the photo disk) is the resolution level. On average the photos on your disk will have a resolution of 3000×2400 which means you can easily print up to an 8×10 with good quality. Anything larger than that will likely have some degradation in quality and have a grainier look to it. However, as long as you aren't looking to make poster size prints the resolution will be completely sufficient.
A cruise is a great time to get some wonderful family pictures and I encourage you to take full advantage of that opportunity by utilizing the onboard photography services as much as possible. After all, it doesn't cost you anything to have the picture taken and the result may be a precious moment captured.
"A photograph taken today is a lifetime of yesterdays preserved for all the tomorrows."
– Author unknown
Similar Posts: