Disney's Caribbean Beach Resort New Guest Room – June 2015
Walt Disney World has recently finished a guest room refurbishment of Caribbean Beach Resort and they seemed to have done a great job with the new decor.  The most notable change has to do with bedding.  Caribbean Beach was the very last of Disney's Moderate level resort to get queen beds, so I confess to pretty much avoiding it for the last several years.  While my stays at Coronado Springs and Port Orleans French Quarter are now in the double digits, Caribbean Beach has been a place I've skipped because of the  bedding situation.
So lets fast-forward to June 2015, and room 2309 in Martinique 23.  At around 9am, I received a text message and an email from Disney telling me that my room was ready and I could proceed there directly and bypass the front desk.  The cynical part of me was "yeah, right, lets see if this works", while the part of me who abhors waiting in long lines (like front desks at hotels) said "yippee! I can skip Custom House!"  So we proceeded to building 23 and we walked to the room and I opened the door and said "WOW!"  Yes, I was enthusiastic that (1) my direct to room expedited check in worked and the door actually unlocked with my MagicBand,  and (2) the room itself looked great with its more neutral decor and muted colors. My last stay in Caribbean Beach Resort  was when they went "Nemo" themed–but kept the pineapple motifs in the furniture, which I thought looked really odd.  Anyways, all strange and disjointed decor is gone and now there is a restful palette of golden tan/brown with earth-inspired drapes and artwork,  with a pop of orange and green.  I was rather pleased with what I saw.  Here's some photos of this 'new' room:
Nice table and chairs, with good lighting.  Chairs are metal and had a pretty large seat base.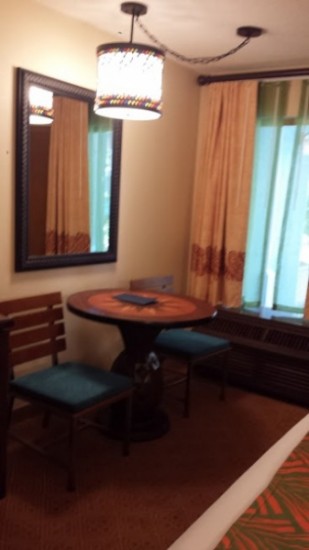 Here's the banquette bed and television, which is mounted high on the wall. We didn't find the TV to be in an awkward position at all.  To the left of the TV is a cabinet with some deep drawers (they reminded me of a legal filing cabinet) and to the right is the cabinet which includes the small fridge.  Still not enough storage if four or five people unpacked, but you could probably use it to hold laundry.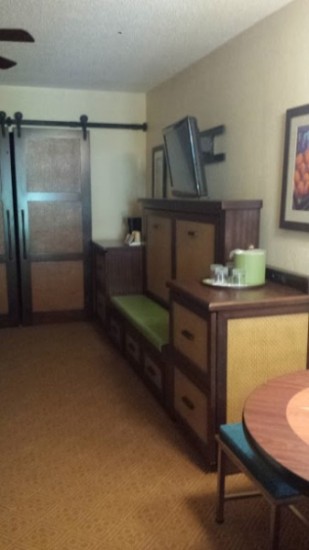 As for that banquette bed, it measures 35″x65″, and Disney does not recommend it for anyone older than age 9.  However I had an athletic young woman on it who is 5'6″ and she was comfortable. She was also exhausted which may have helped, but she did sleep.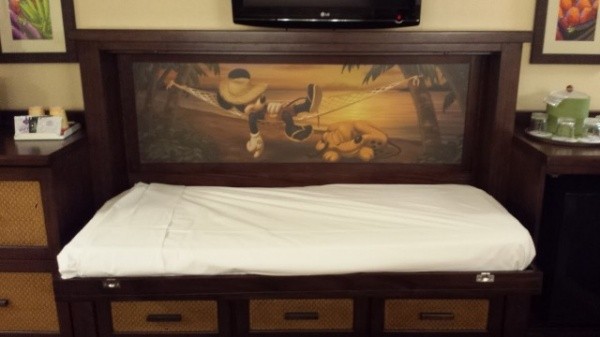 Here's the deep drawer to the left of the banquette bed.  Pod coffeemaker above; Joffrey's Coffee is rather drinkable in my opinion (Note to reader:  Coffeemakers are not in Value resorts.)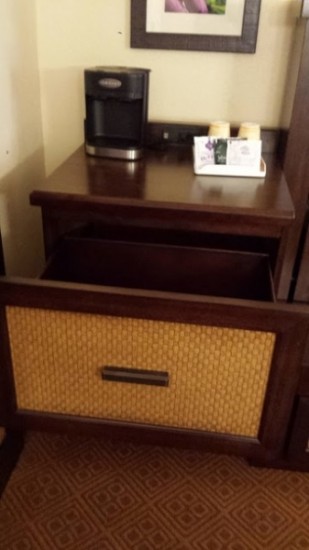 Two queen beds with nice lighting above them. Bedspreads have been long gone at Disney for quite a while.  I really like the white triple-sheet beds at Disney as it makes the rooms look crisp and clean.  (Plus you know if they're not clean!)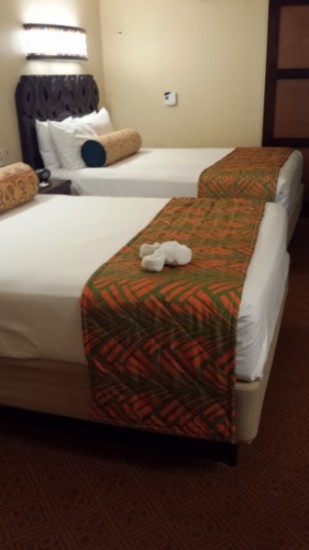 Another view of the queen bed and headboard.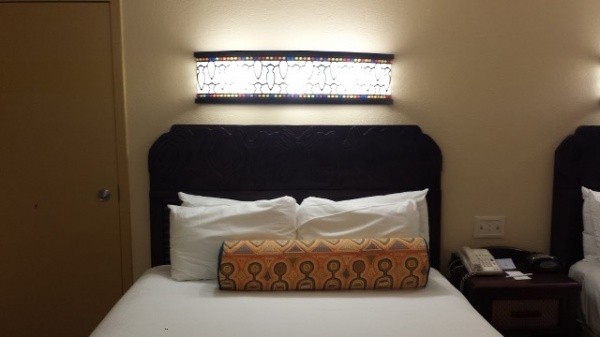 Another nice touch are the privacy doors.  While they still remind me of barn doors they certainly do add something to the room.  Coronado Springs Resort has these too.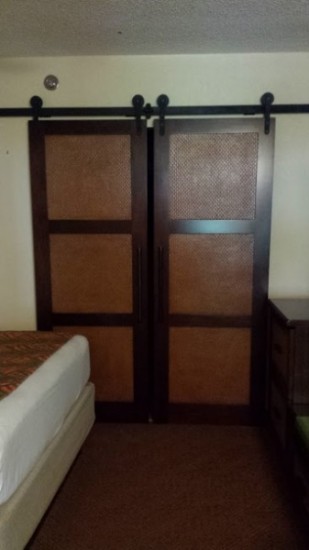 When opening the privacy doors there is a double vanity with plenty of storage below. Two waste bins are provided.  One is for general trash and the other for recycling.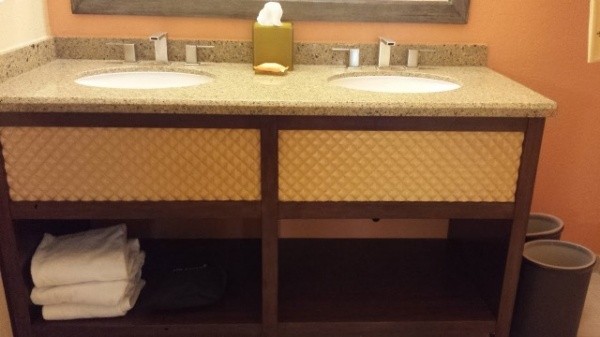 Here's a photo of the vanity area with the doors closed.  The magnifying mirror is a nice touch.
I love the faucets and would have them in my house.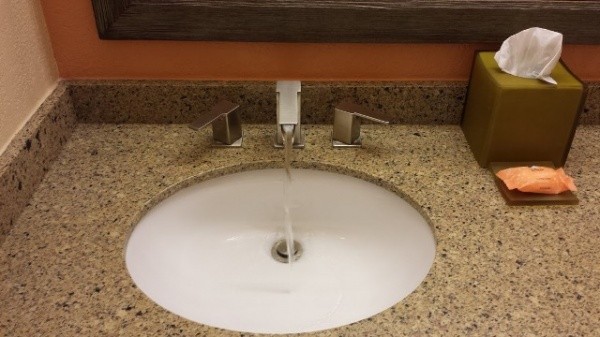 The bathroom didn't seem to get a whole lot of attention in the refurbishment, and it looks to me like an epoxy paint was used on the existing tile as the walls and tile were the exact same color.  But it was in great condition and I have no complaints.  The shower curtain is a teal floral print.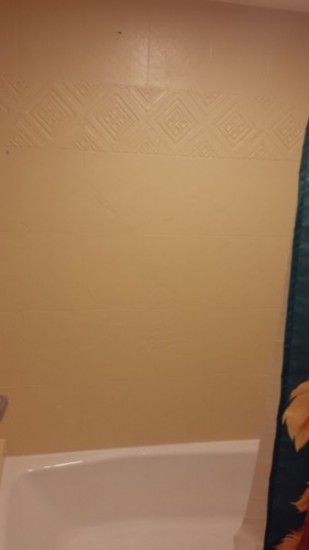 Looking out towards the door, the light switch was moved to the actual door frame in this room.  Odd, but the switch worked. Moving of the electrical into the door frame probably had something to do with the rattan panel on the wall.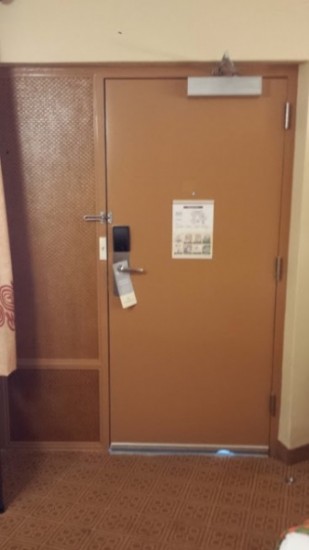 And here's a picture of the drapes.  Again, I liked them and would have them in my home. They are not as orange-y as in the photo.  The liner is a sheer green.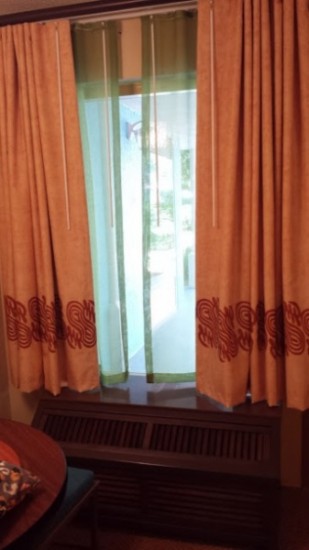 The guest room has a thermostatically controlled ventilation system and my room was comfortably cool on this hot June day.  There is also a ceiling fan.
Disney did a great job with this room and I am happy that families of five have another resort option.  I will certainly be staying here again.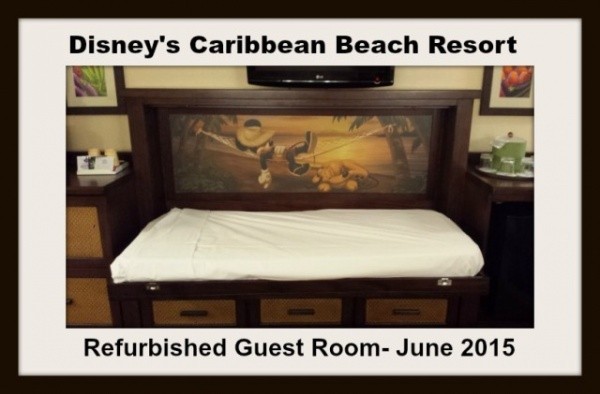 Similar Posts: