Change is the one constant at all Walt Disney Travel destinations! Walt Disney was a man of innovation who constantly sought out new ways to improve his skill and talent. His desire to seek out excellence in all of the Walt Disney Company's endeavors is his legacy. It wasn't always smooth sailing. The Walt Disney Company had many rough spots in its history in which to learn from. Disneyland's opening day was to become known as 'Black Sunday' in Disney history. ABC broadcast of opening day showed a park full of smiling faces and happy families, however; the off camera reality was a day fraught with chaos and problems! Disneyland received harsh reviews and predicted failure from many critics. However, Walt Disney's enthusiasm for his dream of a family theme park would not be dampened! He encouraged his team to keep moving forward and reminded them, "We're not trying to entertain the critics … I'll take my chances with the public." By summer's end of the opening year, Disneyland was exceeding all expectations in both crowds and guest satisfaction!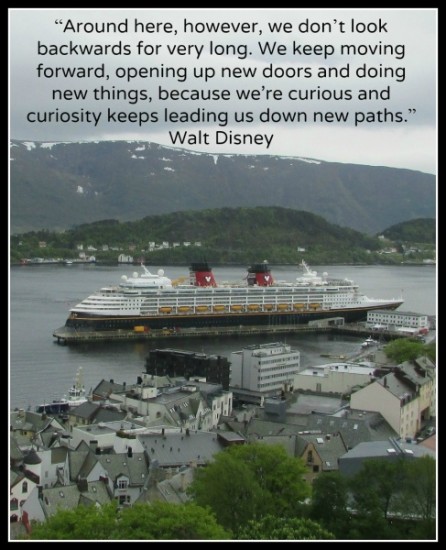 Now fast forward 60 years from that opening day and marvel at what Walt Disney's can do attitude has led to! The Walt Disney Travel Co. is so diverse, with theme parks, resorts, and travel opportunities that will literally take you around the world! All with the same goal of providing an excellent experience for each guest and change is still the one constant! While traveling with Disney Cruise Line this summer, we've enjoyed the new ports of call in Northern Europe and Norway as well as the new entertainment onboard! Here are just a few changes onboard:
Freezing The Night Away is the name of the new Deck Party onboard the Disney Magic this summer and it's a 'Big Summer Blowout'! Arendalle's royal party planners are planning a royal party that is the best deck celebration 'on this side of the fjord'. Queen Elsa, Princess Anna, Christoph, Sven and even Olaf join this fun sing-along, dance along celebration!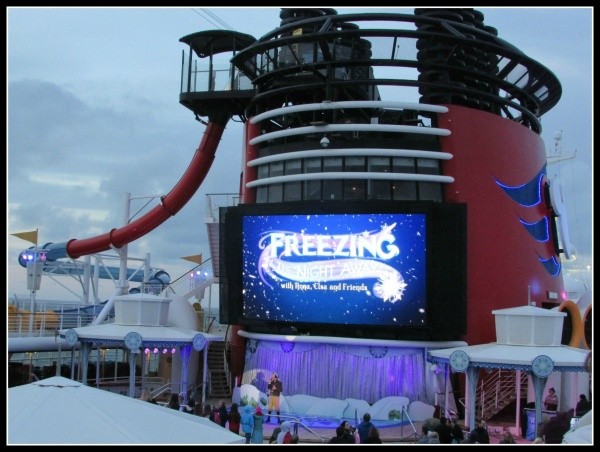 Anna's Chocolate Chase Scavenger Hunt takes place over the three days leading up to the big Freezing the Night Away party. Guests are given three clues per day in the Personal Navigator, which will lead you throughout the ship, looking for the hidden images from the movie Frozen. Once you've found all nine clues, you'll leave your completed answer sheet on your bed and you'll then receive a special surprise from Princess Anna.
On your embarkation day, you'll be able to head to guest services and request tickets for several of the more popular Character Meet & Greet opportunities. Tickets are needed for Meet & Greet sessions with Elsa & Anna, the Marvel Characters (Spider Man, Thor and Captain America) and the Princess Gathering which is in the ship's Atrium. We were also required to secure tickets for our Character Breakfast which are only held for select sailings.
Disney Cruise Line introduced a revolutionary communication tool several years ago with the Wave Phones. The Wave Phones are still available in each cabin and are a way for families to communicate with each other while onboard the ship. Last year, Disney Cruise Line took onboard communication a step further when it released the Disney Cruise Line app for all four ships. The free app can be downloaded prior to your arrival and while onboard, there is no charge for using the app. You access the app through the ship's wifi while your phone is on airplane mode.
Each night you'll receive a copy the Personal Navigator, which is a daily publication of all the ship's scheduled activities for the entire family. The DCL app is your mobile Personal Navigator that has even more information! Each day you can see all the ship's activities, dining hours and menus, character greeting locations, featured merchandise and spa services and you can even chat (text) with other guests.
Finally, we were treated to the first performance of the newly enhanced show, Disney Dreams – An Enchanted Classic. In this spectacular fantasy, a little girl discovers the power of her dreams. Fly through the air with Peter Pan, your imagination and many of your favorite Disney stories – including Disney's newest classic, Frozen. With a little Faith, Trust & Pixie Dust, the creative and talented Disney Cruise Line theater team has added amazing new technology, sets, costumes and characters to this award winning show and have taken this guest favorite to new heights of excellence.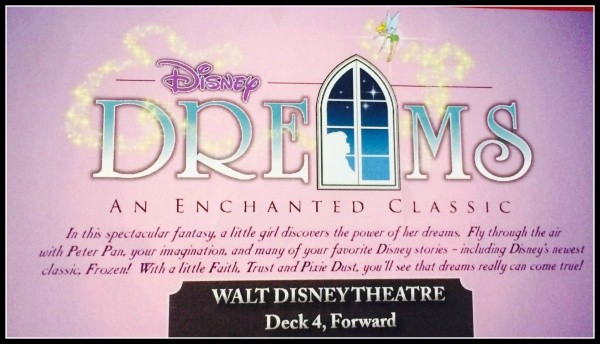 One of our favorite quotes of Walt Disney's appears at the end of the movie, Meet the Robinsons: "Around here, however, we don't look backwards for very long. We keep moving forward, opening up new doors and doing new things, because we're curious and curiosity keeps leading us down new paths." We are grateful guests, who return time and time again to the Disney Travel Co. destinations because we know we will have an excellent time being led 'down new paths'!
Similar Posts: