We used our The Magic for Less Travel agent to plan our Adventures by Disney vacation to Southeast Asia, and could not have been happier with her services.  She is personable, knowledgeable, responsive and attentive to detail. 
-Sharon McC
There was so much good information sent to me about the cruise and I would have never gotten that information if I had booked it myself.  Our Magic for Less counselor was so great and knowledgeable.  I will use her again in the future for sure!

-Melissa B
I loved working with our travel planner. She was helpful and always answered any question I had very quickly. She was amazing! She helped make this vacation very magical!
-Robyn C
Thank you to Breanna S for sharing some wonderful pictures of her first trip to Disneyland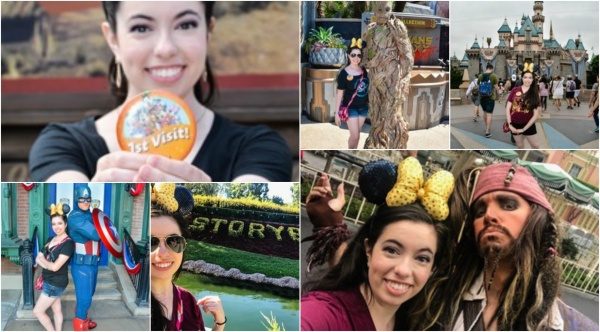 Our counselor is fantastic! She can truly recommend the best combination Land and Sea for a trip. She is also extremely knowledgeable and she answers all my questions ASAP despite of the time difference between Europe (where l live) and the US.
-Christine V
We loved having the $25 on board credit. It was great to have someone with so much experience just a click or e mail away

-Jenifer D
Our agent took all the anxiety out of planning our very first Disney experience. It was a pleasure to work with her.  We will be using her for our next Disney vacation.
-Brenda D
Our agent is great!  He is always willing to help & answer any questions I have.  I have enjoyed working with him to book our past 4 cruises!

-Melissa M
Our magic for less counselor can always help you th useful advice on events going on in the parks. Times that are best to go certain places. She is aware of our interests and is awesome at suggestions and planning dinners for us. Everything is so convenient and any questions are answered promptly. 
-Emily McD
We have used our counselor to book every one of our Disney trips. At this point, I feel knowledgeable enough that I probably could book my own trip, but I don't think I'd ever want to. She takes all the hassle out of it!

-Traci DeL
Our travel planner was so helpful and provided all the information we needed in order to make our vacation truly "MAGICAL".  I would definitely recommend this company and our planner to all friends and family and my next trip will definitely be booked through her.  Everything was great and to get a card and $25 dollar gift certificate right before our vacation was icing on the cake.  I will be booking my next Disney trip again through your company.  Very satisfied!
-Donna S
I was able to not have to worry about any additional discounts that were applied latter, after I had booked my vacation.  This was the most helpful to me and my time and stress worrying about future discounts.

-Nicole B
One week from our departure date I emailed agent to see if we could add a day and arrive one day early. Even with so short notice, the whole transaction was done within hours!! That one extra day made a huge difference and we are so grateful to him for making it happen!  I never once worried about our trip, or if we were taking advantage of every discount available to us. Our agent was on top of it all. The only thing left for me to do was count down the days to our exciting anniversary trip.
-Cheryl P
My counselor is great!  She makes the booking process quick and easy.  I have a very busy schedule and having a one stop contact I can count on to take care of all the details is very appreciated.

-Joe K
Similar Posts: