A highlight in traveling for us is always the dining and a Walt Disney World vacation offers a wonderful variety of choices in dining, from unique quick service venues to gourmet table service venues and hundreds of choice in between!   While walking through Downtown Disney's Westside during our December 2013 vacation, we noticed a new addition to the sidewalk near the Cirque de Soliel theater – a food truck!  We stopped to investigate and while perusing the menu, one of Disney's Executive Chef's popped out of the truck.  Immediately, we stopped our gazing at the truck, chased him down and asked all kinds of questions!
After visiting with the Chef for a bit we learned Food Trucks are a big part for the new vision of the Downtown Disney Westside.  They will be out in various locations until their  permanent parking pads are built near a new Starbucks location in the Westside.  The new Starbucks is to be located near the entrance to the Characters in Flight hot air balloon attraction – so, just look for the big hot air balloon!  The permanent parking pads are scheduled to be next to a large outdoor seating area which will overlook the lake between Downtown Disney and Disney's Saratoga Springs Resort, and provide a front row view of the Characters in Flight in action!
Currently, four food trucks are making their debut and do not have set hours but according to the chef, should be open each evening. The Chef did mention the possibility of the trucks having extended hours during the busier times of year.
The four trucks have direct ties to the theme parks – gotta love that Disney synergy! The trucks offer menu selections from the four theme parks and are cleverly designed to highlight each park.
The World Showcase of Flavors truck features fan favorites from EPCOT's World Showcase.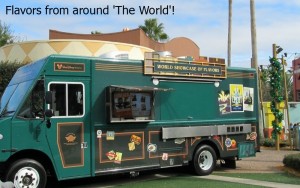 The Fantasy Fare truck has the look of Casey's Corner restaurant on Main Street  in the Magic Kingdom and has ol' fashioned corn dogs & hot dogs.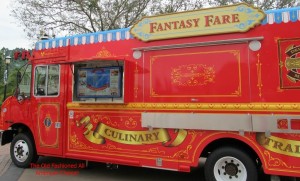 The SuperStar Catering  truck has the retro vibe of Hollywood Blvd. in Disney's Hollywood Studios and will serve hamburgers and sandwiches.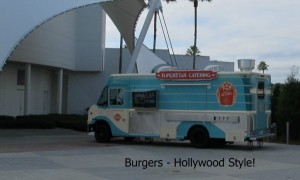 Finally,  Namaste Cafe has the unmistakable look of Disney's Animal Kingdom Park and will offer tasty treats with an Indian and African flare.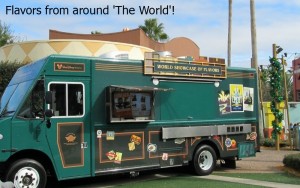 When we stumbled upon the trucks, the Chef reported they were still in the testing phase of the plan to roll them out and so far have received enthusiastic thumbs up from guests.  He anticipated a nice long run for them, both in their temporary locations and in their permanent homes.
 We look forward to seeing the food trucks in their permanent pads and we will most definitely stop and enjoy a meal during our next visit to Walt Disney World's Downtown Disney Westside.
Similar Posts: