With many a Disney trip behind me, I approached my latest trip with a very different goal—to go and see what's new and do things that are different from my norm.  This trip I set up for 1/11-13 and the very first "different" thing I did was stay at Caribbean Beach.  I have to say I really enjoyed the atmosphere of this resort and loved my recently renovated "preferred" room.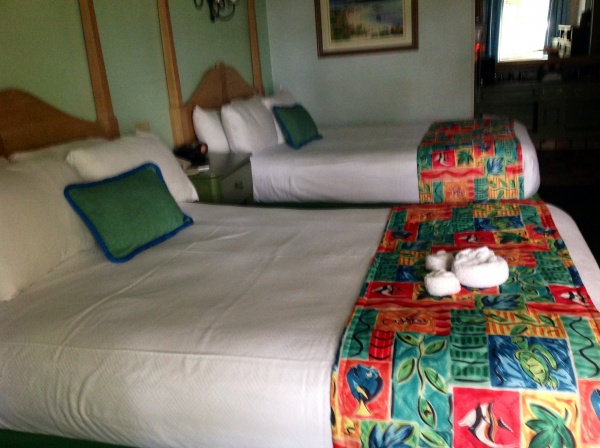 My room was actually at the far end of Martinique, right next to the Old Port Royale building which houses all of the dining options as well as shopping.  If you book a preferred room be sure and ask for 2611 as the location is absolutely perfect.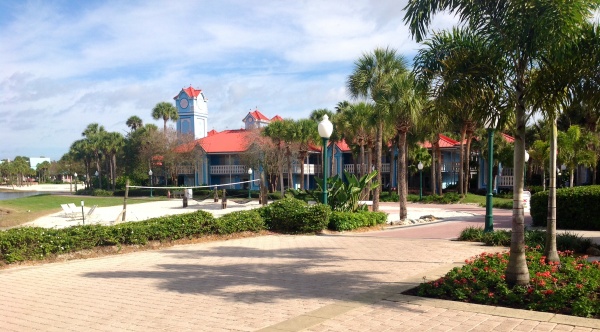 I left my room for the Magic Kingdom where I experienced my next "new" item—no turnstiles!  I have to say being able to touch my ticket (yes I still had a paper one) to the scanner while doing the finger scan and then just going in was really cool.
My next "different" item was to eat at the Plaza Restaurant.  In case you missed it, this restaurant is located at the far end of Main Street, around the corner on your right—most of you probably are VERY familiar with the ice cream shop that is right next to the restaurant!  I didn't have to wait long at all once I checked in and was seated in the far area by the bay window.  Service was awesome and the food is an assortment of sandwiches and salads.  I decided to try and eat healthy so I had the Chicken Strawberry Salad.  If you decide to get this item, plan on having a very big stomach as it's a lot of food.  The chicken was very good and while the strawberries tasted good, they were extremely soft from being with the hot chicken!
Next on my "new" list was to check out the expanded Fantasyland area.  I love the all new areas, although I noticed that the Be Our Guest quick service line was still very long and ran outside the Beast's castle and up to the main walkway!  Decided walking thru wasn't going to be an option on this trip.  My favorite new part is the Storybook Circus—Dumbo is still flying and the Barnstormer is still going full tilt but they look totally refreshed.  It was the atmosphere of the whole area that I really enjoyed, as if I really was at a circus.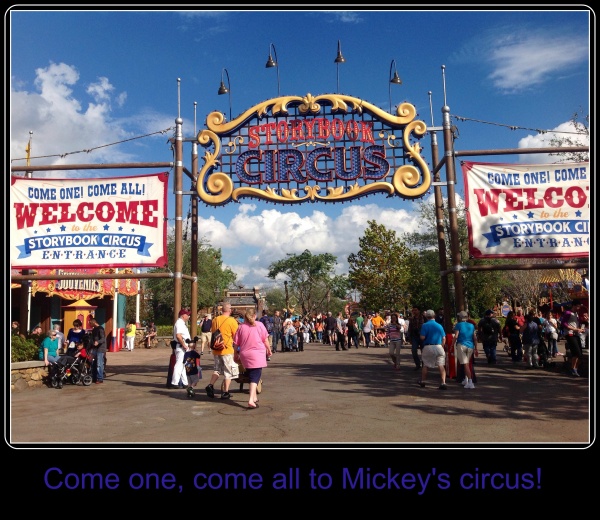 The next day I was able to have a couple of "new" experiences—or at least new to me!  First I got to Hollywood Studios before they opened so I could finally ride Toy Story Mania.  The last time I was there, my family and I tried to ride but even being at the rope drop, the Fast Pass was already late afternoon and the standby line at 45 minutes by the time we got there!  This time, no problems at all and 10 minutes after arriving I was off in my ride vehicle.  I now understand why this attraction is always so busy—it's a lot of fun!  The only negative I had was all the sudden stopping and starting at steep angles.  I have a bad back and it really did not enjoy those!  After that "new" experience I got to see something else that was new to me but really impressive.  The day I was at Hollywood Studios was the last day of marathon weekend and of course there were runners in the park until mid afternoon.  I remember waiting at the entrance and cheering the runners as they went by and wondering how in the world they were going to open the park with all of the people in line and still keep the runners separated.  To tell you the truth, I was very impressed.  We were told to stay either left or right of the cones and anywhere that the runners were running thru, Disney cast members manned strategic "crosswalks".  They would either wait for a break in the runners and let people across or they would alter the runners course so you could go halfway across and then alter it back so you could finish crossing that area.  It went very smoothly and everyone got where they wanted to go and the runners never had to stop.
My final "new" thing was to eat at California Grill.  I realize most of you have probably already eaten there but it was just never a place where I could convince the rest of my family to try so since I was by myself, it seemed the right time.  I can guarantee you that it won't be the last time I eat there.  The view was amazing and the food out of this world.  I actually ordered 2 appetizers instead of an entrée but it was absolutely delicious(I believe I mentioned something along the lines of never having eaten anything so delicious several times!).  If you get a chance to eat here, pick the Gulf Coast White Shrimp and the Sonoma Goat Cheese Ravioli—you won't be sorry!
I did actually have one other unplanned "new" item.  My fellow agent Jeannette arrived our last night at Disney World and already had dinner set up at Shutters that night with one of our fellow agents, Deb–Shutters is the sit-down restaurant at Caribbean Beach.  Now I've met Deb before many years ago but I had never eaten at the Shutters restaurant.  Of course all of this happened after I had the very filling dinner at California Grill so I just improvised–I'll have just dessert!  I really enjoyed the atmosphere of this place (that Caribbean feeling of course) and the bread they brought before dinner was different and very good.  My table mates all enjoyed their actual dinners while I had to try the cheesecake—it was delicious.  Be sure and give this restaurant a try as one of your new experiences!
I can't believe how many "new" and "different" things I go to do on such a short trip but I hope to return and find some more soon on my next trip!
Similar Posts: