Our Disneyland vacation could not have been more perfect. We were celebrating our daughter's birthday.   Our counselor took care of everything, and I didn't have to worry about anything.  She gave us tips and advise. I highly recommend her.
-Luann W
She made this the easiest vacation I have ever taken and she organized it for a group of 14.  Everyone had a fantastic time ages 3 to 74.  She easily accessible at anytime even when we were on the trip and had questions.  Very knowledgeable of all things Disney!  She was priceless.

-Leslie M
Our counselor suggested great lodging alternatives that fit my daughter's interests and let us take advantage of discounts. She was also incredibly helpful when we had to deal with a last minute weather related flight cancellation that changed our whole schedule.
-Andrea D
Thanks for sharing this great picture with us Andrea!   "This trip was all about the princesses for my 4yo daughter, and they didn't disappoint. Here she is planning an under the sea picnic with Ariel. I think the menu ended up being sea kelp and salami. "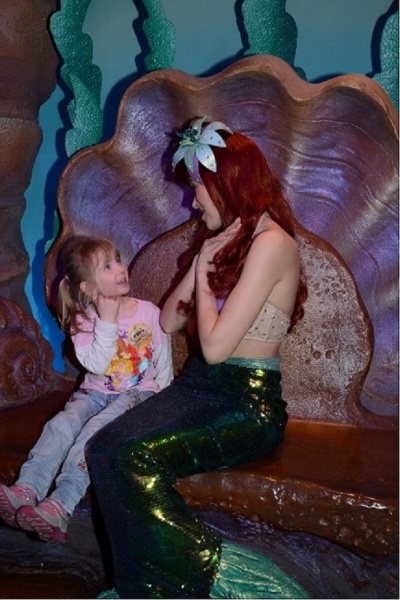 Our counselor makes things simple and easy – a wealth of knowledge, she is great.
-Dan R
We used our counselor to plan two trips to Disney. The first was for our honeymoon. This was the first time I had gone to Disney so she was helpful in letting us know what we needed to plan and when as far as dining reservations and fastpasses. She also helped us decide how many tickets we needed for the parks and what we can do at the resort we were staying at.  She has been to Disney many times so she was a great resource to have and ask questions. As our trip got near she sent us a list of things to pack. For being the first time we went, these lists were very helpful. I also remember calling and asking her questions about attractions and a time frame needed for each park. She was very friendly and easy to talk to. I liked her so much I used her again to plan our anniversary trip the following year. She was just as awesome this time. I had less questions this time because we had experienced Disney already.

-Victoria U
Me and my husband have done WDW tons of times, but with employees who worked there. This was our first time on the new magic bands/fast pass system, and the dining plan. Our counselor made perfect restaurant choices for us and answered all my stupid questions quickly and efficiently without me feeling like I was stupid for asking them. He was great in providing everything I asked for!
-Rachel R
Our agent was able to answer any question came up with. She also found several hotel options for our large group.

-Abby
It was such a relief to have everything done ahead of time.  We were so grateful to have someone pick us up and take us back to the airport.
-Bruce W
She was amazing and extremely knowledgeable, the best  travel could sell ever and very easy to contact.

-Kendra
Worry free travel arrangements.  Quickly answered questions from many traveling in our party.
-Lisa B
Our counselor is always available.  We give her the dates an idea and a budget and magically a plan appears.  I used to think doing all the research and booking online was fun but using her is way better!  Great vacations, no stress, she the best!  Thanks… Your communications are excellent.  I always know when a reservation has been made, what was paid and what is pending

-Bruce A
Our counselor was extremely helpful.  She answered all of my questions quickly.  I was unsure of which promotion I wanted to use at the time of booking.  She explained the pro and cons and helped me to book the best package for our trip.  No matter what my concern or need was, she was always happy to help.  I loved all the helpful reminder emails I received right before our trip.   Thank you for everything.  I love going to WDW, but I hate all the worry over planning.  It was so fantastic to have an agent who was able to take the time to walk me threw my different options.  I didn't have the worry this trip of second guessing myself.  I was really able to enjoy this visit so much more because of the no stress.
-Mishawna
Excellent doesn't cut it… our counselor is exceeds exceptional!

-raijean
Our agent provided us with excellent advice and we listened and stayed where she recommended. We had an excellent trip because of her great advice.  There were 16 people in our group ranging in age from 5mo. to 58 yrs.  Everyone had a great time.
-Debbie H
She made sure all documents were completed on time; she gave us the confidence that everything would be handled prior to and during our cruise.  As seasoned cruisers, we could have handled everything ourselves, but for the piece of mind, it made good sense to go thru Magic for Less Travel. (not to mention the addition of the on board credit).

-Todd M
Our agent rebooked our rental car for us the week before we left and saved us over $70. We were planning to return the rental at the airport and take the shuttle to our Disney ship for our cruise.  She recommended we return the car at Canaveral instead of the shuttle and saved us the price of two shuttle tickets.  She is always looking out for us!
-Cheryl V
Our counselor did all the work.  Planned out our family vacation for 6 Adults, 4 children, provided options and timeframes.  Stress free vacation planning.  Additionally we are very grateful that she followed us through the end of our trip.  The January east coast blizzard created an unplanned trip delay for are family.  She helped with our extended Miami stay hotel reservations and airline flight re-bookings.  Your service is outstanding, keep doing what you are doing.  Our counselor provided 24/7 coverage of our vacation from start to finish.  A 6AM email notification that our return flight home was cancelled due to weather came from her.  We never received any notifications from the Disney Travel Group.  Just another example of why folks should plan their vacation through The Magic for Less Travel staff.  I can't express enough how helpful  it was to have her work our travel issues while we moved our family off the cruise ship and hunted down our luggage.  Thank you.

-Scott B
Quite helpful, made our trip so enjoyable, and exciting.  Our counselor was very patient and explained every thing to us, also answered many questions.
-Sue B
Similar Posts: