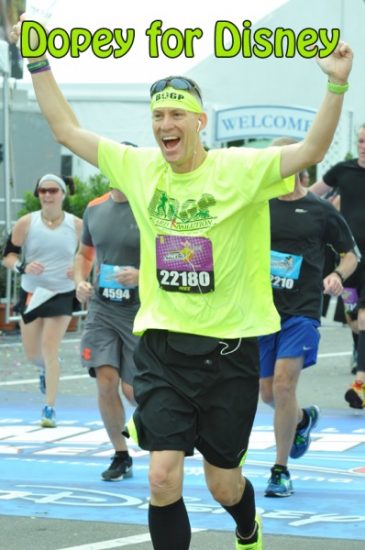 I think we have all been there as Disney fans.  What is there out there that I haven't experience before?  That question lingers inside of all of us!  Should I try a new tour?  What about that new restaurant?  What if?  How about?  I wonder?  Admit it.  You've been here many times, just today.
These thoughts went through my mind a couple of years ago.  I had done a bunch of runDisney events over the past 8 years, but I wondered if I could take on the ultimate challenge that runDisney throws down each year – the Dopey Challenge!
Now if you haven't heard of the Dopey Challenge, it is very well-named.  This is a "Challenge" consisting of 4 different events over Marathon Weekend in January.   To complete the challenge, each runner must complete a 5K, 10K, Half-Marathon, and Full-Marathon on consecutive days!  In all, it's 48.6 magical miles, and much less sleep that that!
I am proud to say that due to some amazing teammates on the Be Our Guest Podcast Running Lizards (a team of over 700 like-minded athletes) I completed this challenge this past January!  It was such an amazing journey for me, who a couple of years before, never really took running very seriously.
It all started for me by registering for "just" the Walt Disney World Marathon in 2015.  I had always thought of this distance being something for the super-human, but then I saw friends that I really looked up to complete their marathons at Disney, and it seemed like they were forever changed.  I wanted a piece of this.  So, again thanks to so many friends that I can't even start to name, I started training for my very first Marathon in 2014.  I spent hours on the road and on the treadmill getting my body ready for the big day!  It was amazing seeing how much your body can change and tolerate just by pushing it a bit harder each week!   By the time January 2015 came around, I knew I was ready and enjoyed every minute of my first 26.2 mile marathon!  I had friends both on the course with me and cheering at various ChEar Stations to keep me going.  Running through all 4 Walt Disney World theme parks as well as the ESPN Wide World of Sports was definitely some eye-candy to keep you moving.  However, hearing Disney race announcers Rudy, John, and Carissa bringing me home for that last 500 yards was something I will never forget!  I never, ever thought I could hit that line a couple of years ago, and here I was crossing under that HUGE finish line with friends blowing up my phone on social media!
For 2016, I wanted another taste of this.   It's addicting.  So, I decided to go "all-in" and register for the Dopey Challenge!  Why not run every race (except the Kids' Races, especially the Diaper Dash – no one wants to see that)) to get those 6 medals in 4 days?  So again, I spent countless hours before dawn running through the neighborhood and getting motivation from neighbors that I never met before!  Also, my treadmill and I had a love/hate relationship for months, but she got me there!
Luckily, I can say that the Dopey Challenge was successfully completed on January 11, 2016!  I got to run the 5K with my youngest daughter Mallory, which was a highlight of the weekend.  I slogged through a rainy 10K pre-dawn at Epcot.  On Saturday, I had a nice and easy 13.1 miles from Epcot the Magic Kingdom and back, and finally, I got to bring it all home by hitting all 4 parks again for the full marathon on Sunday!  It was incredible being out on that course with so many Lizard teammates and friends cheering you on.  And let me tell you, seeing your family at mile 48.4 of this challenge is something that absolutely changes you forever.  They look at you in a new way, and you see that they have been there with you every step of your journey!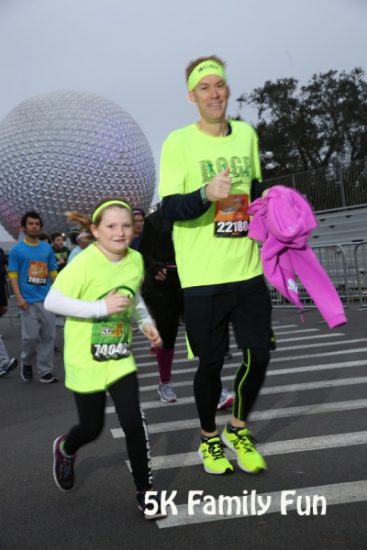 I would encourage each of you to consider pushing your limits and registering for a runDisney event that might be out of your comfort zone – that's where we grow and where the amazing things happen!
I can't thank my teammates on the BOGP Lizards and especially my family enough for getting me there.  This isn't a solitary journey – you only get there with a whole lot of love and encouragement!
You can hear Mike on the Be Our Guest WDW Podcast each Monday, Wednesday, and Friday at www.beourguestpodcast.com or on iTunes, Stitcher Smart Radio, TuneIn Radio, or Google Play!
Any questions?  Contact Mike Rahlmann here at The Magic For Less Travel at mike.rahlmann@themagicforless.com!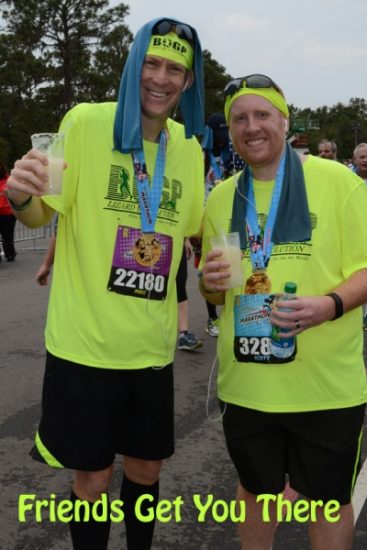 Similar Posts: