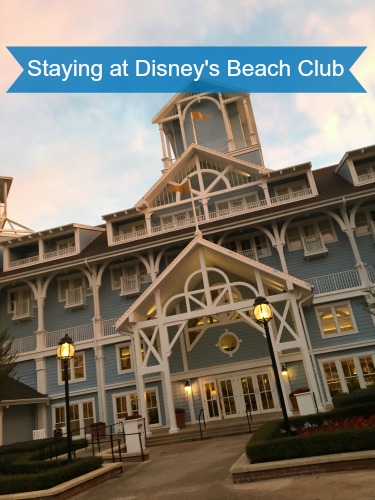 The Beach Club.  Where I consider home.  Where we as soon as we walk through any door in the lobby, my children all turn and look at me and say "go ahead!"  Then I inhale deeply, just to smell the scent that I love there!  The Beach Club has the scent of the deluxe resorts, but uniquely combined with the flora and its surroundings, is just pure heaven to me.  We stay at the Beach Club Resort or Villas nine out of ten times when we visit Walt Disney World.  We find the location prime, the cast members most welcoming and helpful, the rooms so comfortable, the amenities fabulous, and I could go on and on.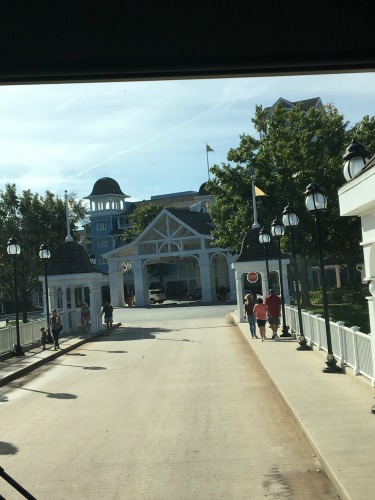 Beach Club view from Disney's Magical Express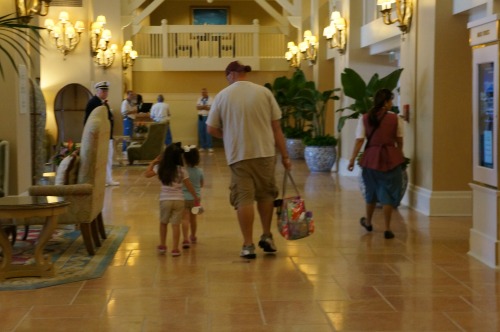 Beach Club Lobby
To make your stay extra special, be sure to take in your surrounding and spend some time at the resort.  You'll be greeted in the Main Lobby by one of the Beach Club's Captains!  We love Capt. Matt and Capt. Monty Ray!  They are full of helpful information and trivia so be sure to spend some time talking with them.  If you need anything, these are your guys.  There are some hidden Mickey's to be found in the Lobby area as well!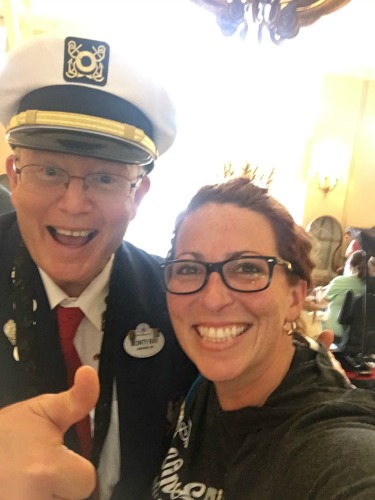 Captain Monty Ray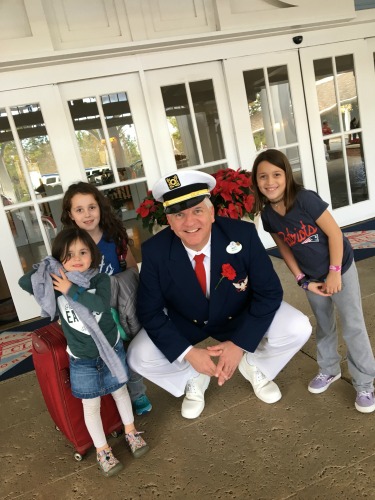 Captain Matt
While we're talking about the Lobby, think about spending some time there.  Or just outside the backdoors that head to the Boardwalk, there are some rocking chairs.  Sitting in these rockers, taking it all in, is one of my favorite things to do at the Beach Club!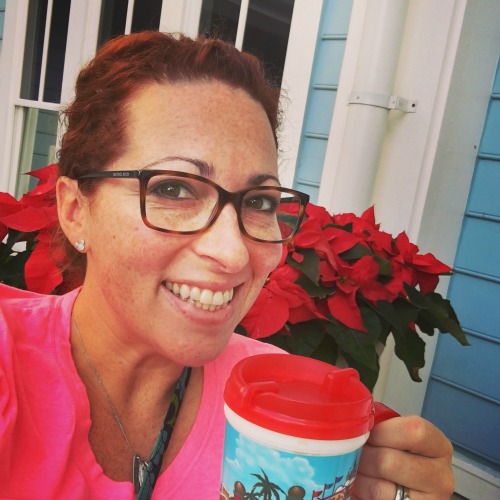 Enjoying the rocking chairs while looking at the Boardwalk
It's hard to miss Cape May Café which is the Beach Club's table service restaurant and always seems bustling with activity.  You'll want to note that breakfast is a character buffet and you can usually catch Minnie, Goofy, and Donald in their beach gear and ready for some fun.  At dinnertime, Cape May serves up a New England style clambake.  If you're not a seafood lover, you may want to head next door for a nice cut of meat at the Yachtsman Steakhouse.  If you want to step back into a 1950s soda shop, you can make a reservation for Beaches N Cream – a small soda fountain that serves up burgers, grilled cheese, and some of the best sundaes around!  You can ask for the Kitchen Sink and get a little surprise when it's delivered.  If you'd rather your burger by the pool or with a view of the Boardwalk, Hurricane Hanna's serves up a great burger, lobster roll, and has a full bar!   Lastly, you can grab some quick eats and snacks in the Marketplace.  The Marketplace carries some basic grocery items as Disney Vacation Club (DVC) members shop there as well for their villas.  If you need a pantry, medical, or toiletry item, the Marketplace will likely have it.  There's also a great selection of merchandise in the Marketplace on the retail side.  They offer a range of products from souvenirs, jewelry, clothing, pool items in case you've forgotten goggles or sunscreen, and even luggage.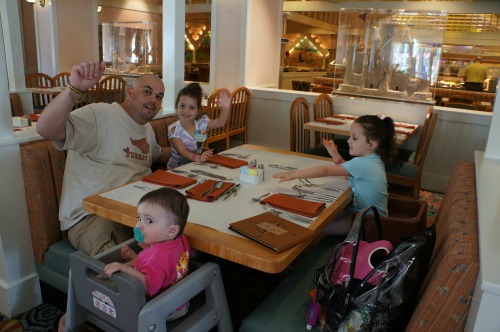 Cape May Cafe before the dinner crowd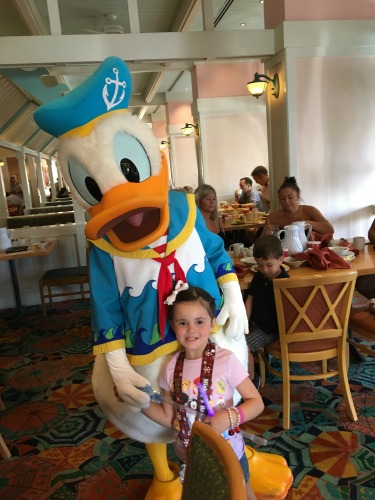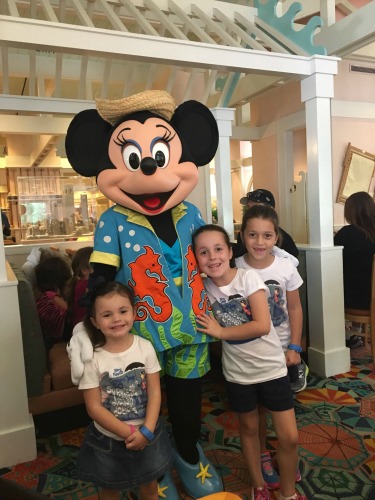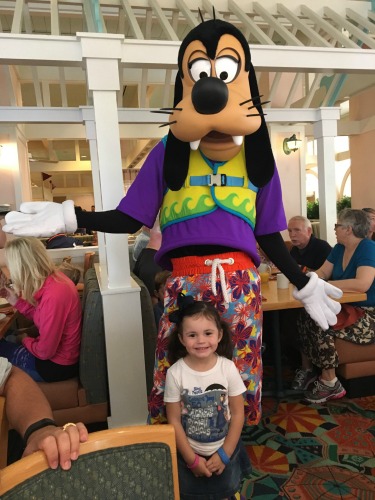 Beach Club Cape May Character Buffet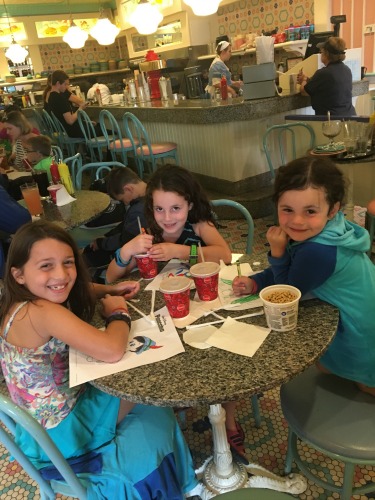 Beach Club Beaches N Cream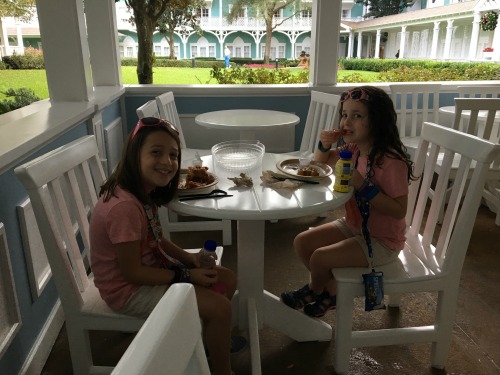 Beach Club tables outside the Marketplace
Speaking of the Marketplace, there's another great spot to spend some time in at the Beach Club, the Solarium.  It's off of the hallway leading from the Lobby to the Villas and Marketplace.  There's a large screen tv and many small tables and chairs.  Guests are usually reading or relaxing in the Solarium.  The Beach Club is one of the few resorts that offers childcare on property and the Sandcastle Club can be found down the same hallway, just past the Marketplace, on your right.  While you may not want to deal with making your bed or cooking while on vacation, sometimes you just need to get some laundry done and there are laundry facilities at the Beach Club for guest use.  They can be found near the quiet pool.  What's equally important to know is that on the other side of the small building housing the laundry, are men & women's rest rooms which are much closer to International Gateway when you're on your way back from Epcot!  😉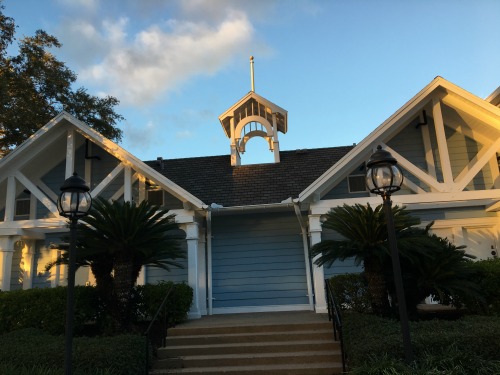 Beach Club Laundry and Rest Rooms (Laundry is on opposite side shown)
And speaking of being on your way back from Epcot, the Beach Club has the best resort location on all of property if you ask me.  You can be in your room, and in less than ten minutes, be inside the World Showcase at Epcot.  You are on the Boardwalk, which is a gorgeous location and will want to catch both the sunrises and sunsets.  You can also walk on over to Hollywood Studios which we really enjoy.  If walking isn't your thing, you can take the Friendship Boats to any of the Boardwalk resorts, Epcot, or Hollywood Studios as well.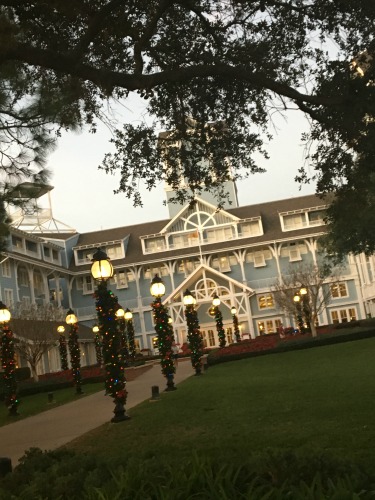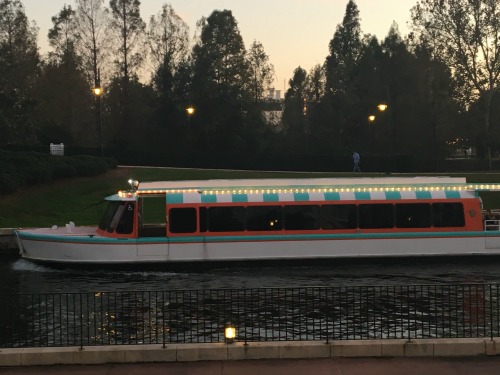 Beach Club Friendship Boat
Back at the Beach Club, Ship Shape Spa is located in the middle of the Yacht and Beach Club and is a great place to spend some time if you want to be pampered, or just touch up a manicure.  There's also a fitness center that you can take advantage of, and if you're looking for a way to get some cardio in, a run around the Boardwalk area is .8 miles, or you can add to that by heading out to Hollywood Studios on the walkway.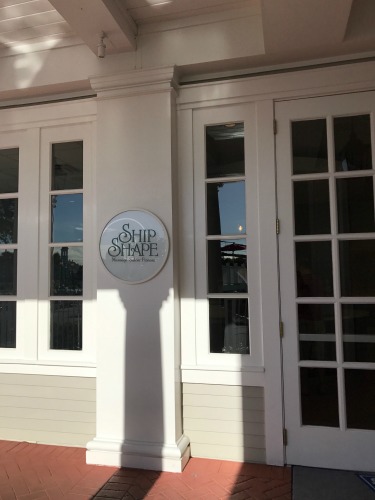 Ship Shape Spa Entrance
The Beach Club boasts one of the most magnificent pools on property, Stormalong Bay.  The pool is 3 acres and has a lazy river, 230 foot waterslide (Shipwrecked), and three hot tubs.  You can find a seat in the sun, in the shade,  or near Hurricane Hanna's! This sand-bottom pool is a must-do so be sure to schedule some time poolside.  And if you prefer a quieter atmosphere, there are quiet pools that you can use as well.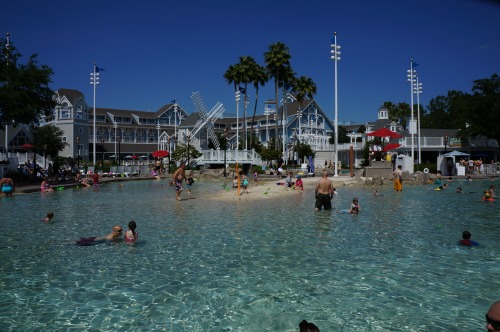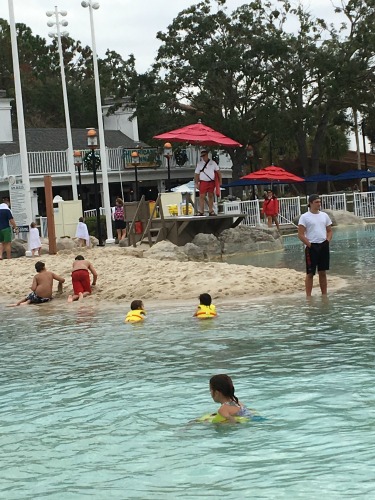 Stormalong Bay
Like all other Disney resorts, the Beach Club offers activiites like Movies Under the Stars.  There's also a volleyball court that you can often find a game going on.  During the Holidays, there are some special things that can be seen – Pirate Mickey joined us for Halloween!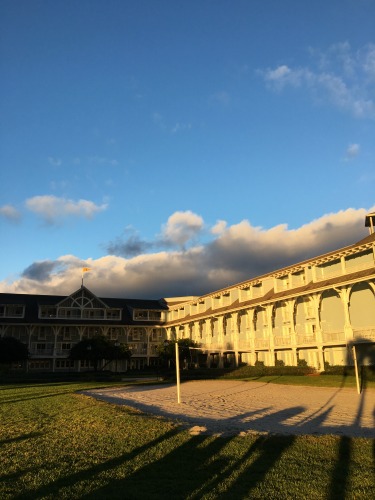 Volleyball Court – grassy area where Movies Under the Stars are shown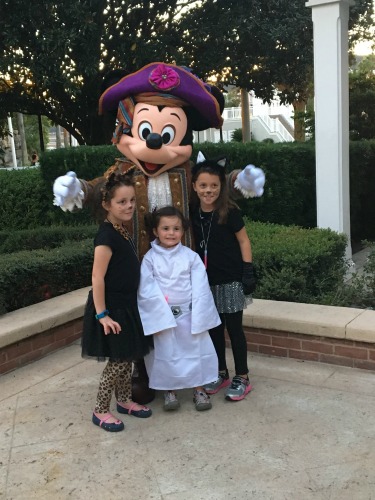 Special Character Meet on Halloween
This resort is a destination within itself and a vacation here alone would make me very happy.  If you're paying for the deluxe resorts, I think it's important to take advantage of all they have to offer.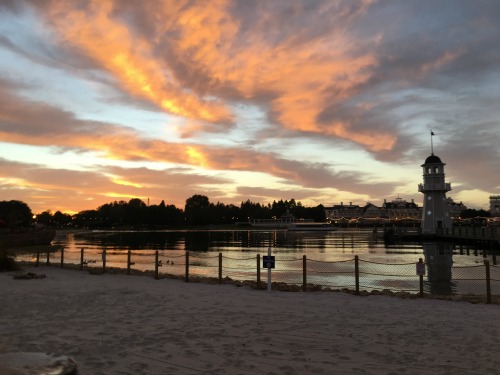 Beach Club Sunset over Boardwalk and Yacht Club
Can I help you book your next stay at Disney's Beach Club?  Contact me at the Magic for Less for a no-obligation quote and start planning your next Disney vacation!
Similar Posts: