Our favorite thing was the personal itinerary. We used it every day, and it helped us enjoy our time without worry. We also found the tips provided were extremely useful. The insider knowledge from our counselor made it possible for us to experience everything we were hoping to and more.
-Anthony S
Our Magic for Less agent was fantastic handling many changes, arranged dining reservations, airfare, and everything we needed to avoid unnecessary stress or frustration as we planned our vacation.

-Ken J
Our counselor is always so responsive to my questions and needs.  I am one who changes her mind after booking a vacation as I do more research and decide to tweak my plans.  She willingly made these changes for me without any problem.  If I have questions, she always knows the answers.  I really enjoy the ease of booking a Disney vacation through The Magic For Less Travel.  A Disney vacation is not easy to put together, especially if you are a super-planner like me.  The Magic For Less Travel takes some of the planning burden away and helps keep the whole process magical!
-Tiane B
Thank you to Andrea M for sharing this shot of her son's favorite ride!   (7 Dwarves Mine Train if you couldn't guess)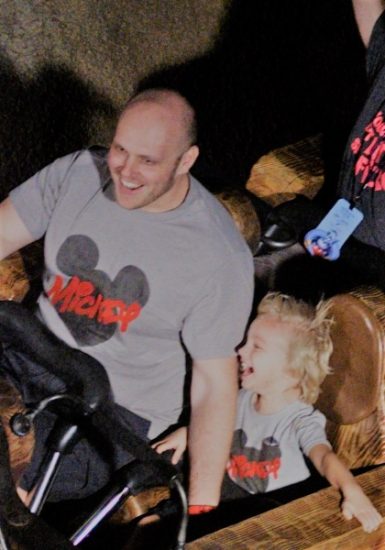 Easier booking a trip with someone that is familiar with what Disney offers to get the most out of your vacation!
-Peter H
Her expertise with details and planning made our vacation experience memorable and so much more enjoyable knowing we had no worries about anything at all.  From port to port, it was flawless.

-Jessie W
It was Awesome. The website is full of information.  Our agent was extremely helpful. She guided us and shared lots of helpful information. When our group suddenly increased she went above and beyond to find accommodations for everybody. I couldn't be happier with the service she gave us.  I was impressed with the speed with which  she responded to my many inquires. Just can't say enough good things about her!
-Julie P
Our counselor did an excellent job.  Answered emails on Sundays and holidays and was very helpful, courteous and informative.  She found out info when I had questions and got right back to me.

-Cynthia W
Our Magic for Less agent did an excellent job.  Answered emails on Sundays and holidays and was very helpful, courteous and informative.  She found out info when I had questions and got right back to me.
-Brian K
Our Magic for Less Counselor was very helpful since we first started planning our vacation. Everything from our vacation package to reservations and she also was very helpful with changes we needed to make on our plans along the way. Our vacation turned out to be a wonderful time and we look forward to doing it again.

-Vincent D
It made preparing for the vacation and paying for it so easy she made it very enjoyable
-Kenneth S
Our agent was amazing!  She is very knowledgeable about Disney and is able to give recommendations.  She was willing to help every step of the way. 

-Theresa F
Our counselor makes it so easy for us to book our Disney trips.  We are extreme Disney fans and it is easy to tell that she shares our passion.  She takes care of all the details so all we have to do is show up.  We admire her and the great job she does. We tell everyone we know to call her at the Magic for Less. 
-Edmund M
This is the second time our Magic for Less planner has booked a vacation for us and she is very knowledgeable and gives great tips for our trips.  She is always available for questions and if she does not know the answer she finds out and gets back to me in a timely manner.

-Suzanne S
Our counselor made everything so easy.  Her emails answered my questions before I even asked them.  Her emails also helped me stay on schedule for completing paperwork for my trip which I found to be very helpful.  I didn't have to worry about a thing.  She made sure everything was complete and on time.    All I had to do was show up and have a wonderful time.
-Terry C
The tips that were provided were awesome!!! Our counselor was very helpful and courteous!!! I highly recommend her. I will be booking with her again real soon.  Laundry bag came in very handy while we were there

-Ellen F
Took a lot of stress out of planning loved the help making reservations even though as the trip got closer I tweaked some, that was a big help.   Really appreciated the patience, I was super indecisive and made a lot of changes.
-Shannon P
This is not the first trip that our Magic for Less agent has helped us with. In fact this case/trip was supposed to be a surprise that my daughter was planning for me. Our agent was helping her try to surprise me although I did need to be brought in on the planning when my 18 year old daughter overshot the expected cost but it was still so sweet that she was trying so hard to make it work. Our agent always provides the stable force and clear head that a seriously overstressed type a personality like myself needs to just relax and enjoy.   I seriously don't know how people do it without a knowledgeable Disney travel agent like you folks! Knowing that you know this so well and that u all love Disney as much as I do makes me feel so calm.

-Dawn M
Very helpful to hear tips and information from her past travel to Disney, as well as tips and advice on fast pass selections.
-Mariola
Our counselor is a phenomenal help in planning a Disney vacation. He provided us with pricing for multiple resorts and packages, ensuring that we had all of the available options before making a decision/confirming our reservation. This way, we were able to select the vacation package that best met our needs and our budget. Thanks!

-Emily W
Similar Posts: