An Interview with my children about the Disney Wonder Youth Spaces
Vibe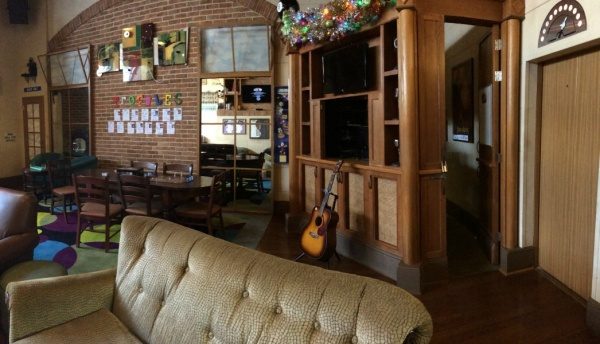 Vibe is the youth club for teens 14-17 years old. We visited Vibe during the first Open House on board so that our son who is 14 could check out the space. Open House times as indicated on your Personal Navigator allows siblings and parents to join in the fun in the different youth club areas.
The youth counselors greeted us and introduced themselves and let our son know about different activities that they would be having during our 3 night cruise. The area had lots of comfortable seating, a secret like entrance, games, drinks, arcade games and more. The television was playing a movie and there were a few other families checking out the space.  The youth counselors said that this space is often busiest after dinner and that they would be going as a group to see the premier of Beauty and the Beast at 10:45pm.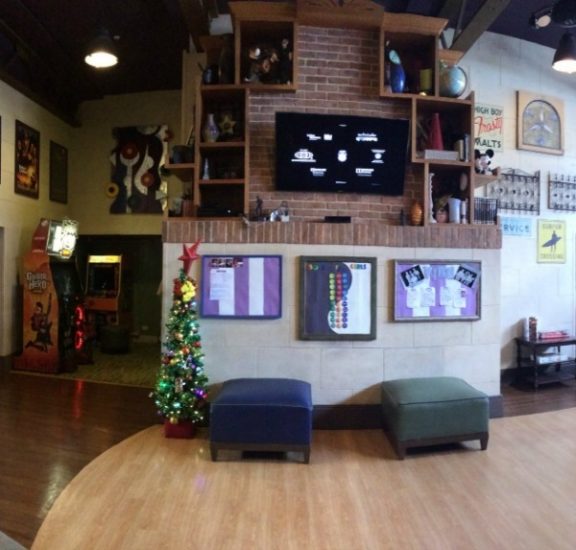 Here is what our 14 year old had to say about Vibe:
Me: After we visited Vibe, you did not go back to this area. Why did you not want to spend more time here?
14 year old: Oh, it seemed really cool, but I didn't want to be the youngest one there and really wanted to be with my brother (our 11 year old son). I think I would have gone back if we had had more time on the ship. The activity list for the Edge looked more like stuff I wanted to do.
Edge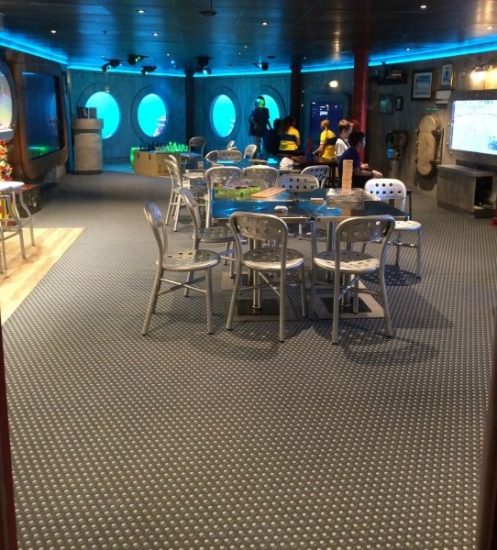 Edge is the youth club for tweens and teens 11-14 years old. We also visited Edge during Open House hours and we had a hard time dragging our sons out of the room so that we could visit the other youth spaces. It is a small space, but has many gaming areas, giant televisions, and tables with various board games out for people to play. There were many kids in this area and they all looked like they were having a great time. Our boys were hooked. The Youth Counselors introduced themselves and told a little about the activities the boys would experience. Our sons shared a look of anticipation and seemed very excited to come back.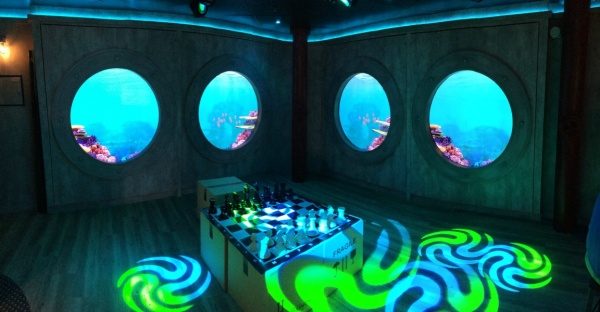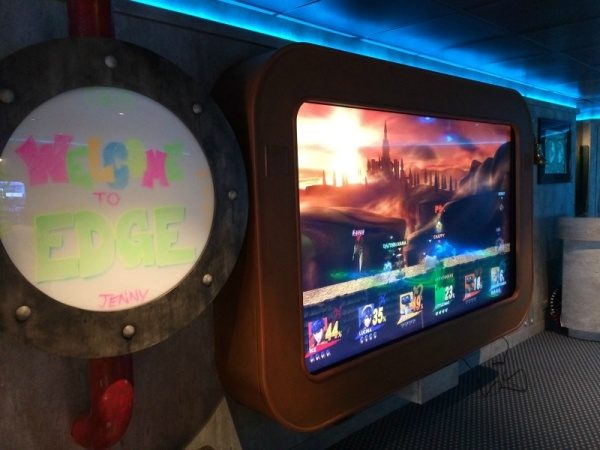 Me: What were your favorite activities at the Edge:
14 year old: Gaga Ball and we had a Super Mario Kart Tournament. I won Gaga Ball!
11 year old: Two words, mom…Fruit Ninja…coolest game ever.
14 year old: We played this trivia game on the last day to see who knew the youth counselors the best and there was this one kid that had already been on a cruise with them and knew all the answers. I think we should go back on that ship so I will ace that trivia.
11 year old: Oh and we went upstairs to the Sports Deck.
Me: What did you do there?
11 year old: They had foosball and ping pong and basketball. They didn't have soccer, though. They need soccer.
14 year old: We did some brain teasers and broke into teams…that was fun, too.
11 year old: Oh yeah, but the best part was being close to the ice cream.
(The Edge on the Disney Wonder is on Deck 9 near the Eye Scream Station)
Me: So, that is why you left dinner before dessert?
(every night, our sons would ask to go to the Edge before dessert, now I know why!)
11 year old: Yep, the ice cream was better.
Me: What about on Castaway Cay? What did the group do there?
(My husband and I enjoyed some time on the adult only beach while the kids played in the youth areas for a couple of hours)
14 year old: We hung out at In Da Shade. They had a lot of games for us there. They had a giant Connect Four and a Giant Chess Game.
(In Da Shade is open to all visitors of Castaway Cay, but the Edge group hung out there during their visit.  They also have basketball, billiards, foosball, giant checkers, etc.)
Me to my 11 year old: So, you could have gone to the Oceaneer Club and Lab, but didn't after we checked them out at Open House. Why do you think you didn't go to that area?
11 year old: Uh, Fruit. Ninja. (eye roll) and being able to go get ice cream when I wanted to.
Me: How much ice cream did you eat?
(he just smiled, I am not sure I want to know)
7 year old: Is it my turn yet?
Oceaneer Club and Oceaneer Lab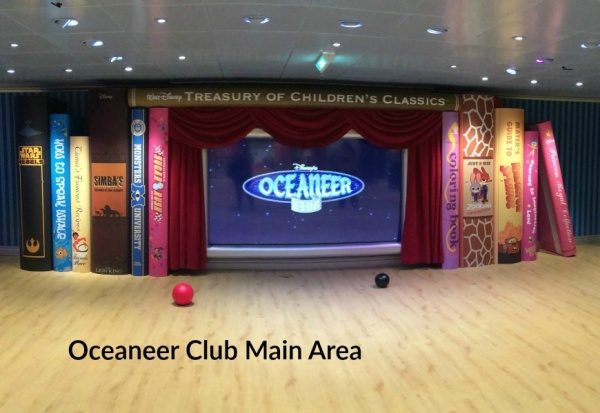 The Oceaneer Club and Oceaneer Lab are for youth 3-12. The two spaces are connected on the Disney Wonder by a long "secret" passageway. There are different themed areas for the kids to enjoy as well as group activities, character meet and greets, games, a play area, and more! Children must be toilet trained. Children here are kept in a secure environment and have to be checked in and checked out. They will receive a wristband that allows youth counselors to locate your child easily within the Club and Lab areas.  Don't be surprised if they aren't ready to leave! Parents and siblings may visit the space during Open House times.  Make sure you carry your wave phone with you.  If the counselors need to reach you, they will call your wave phone and it will also ring in your stateroom.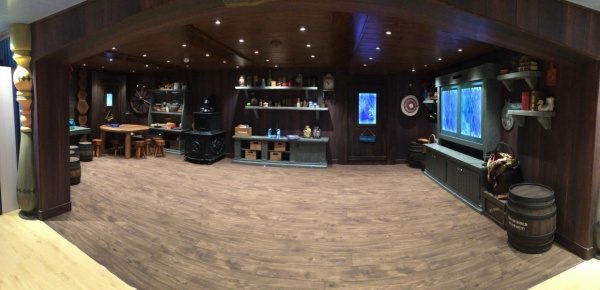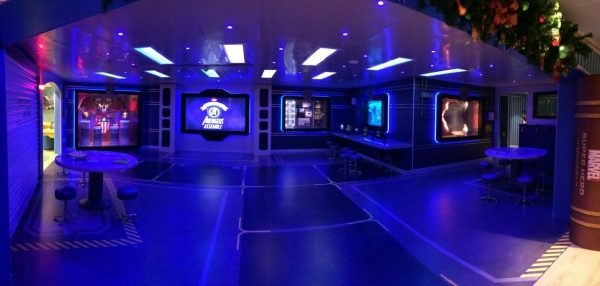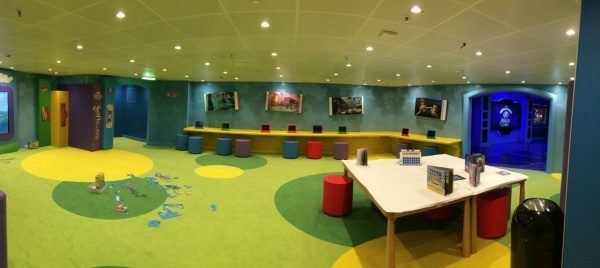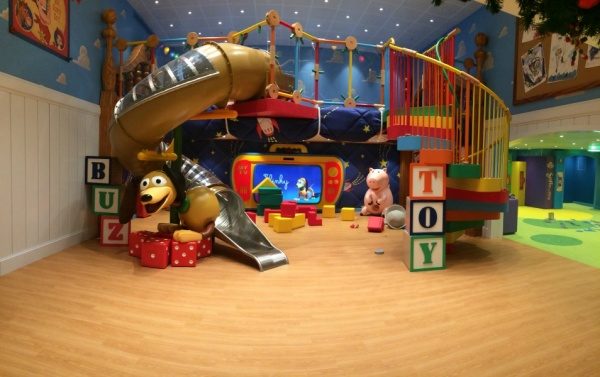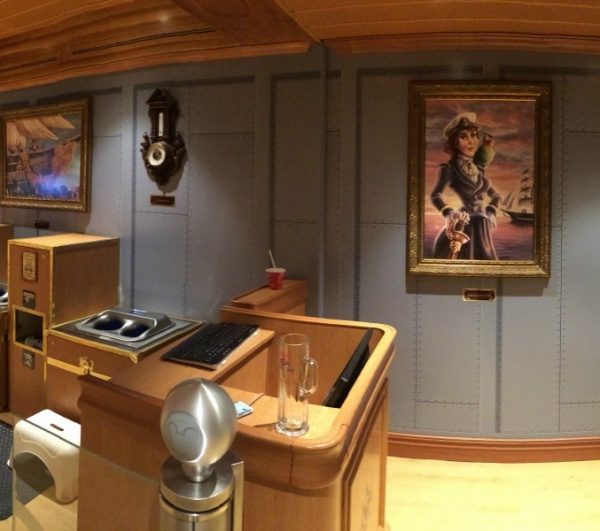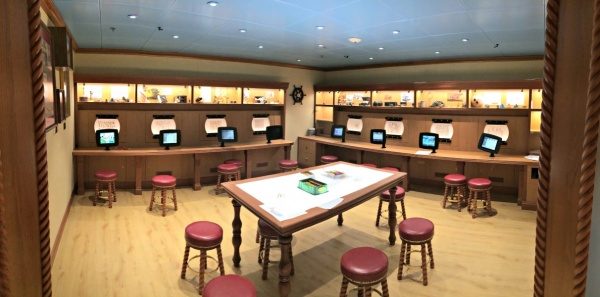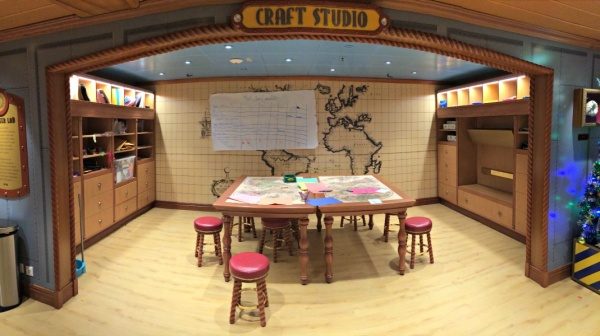 Me: So, what was your favorite part of Oceaneer Club and Lab?
Seven year old: Well, there was this funny guy there during our pirate training. We were learning how to be pirates. (This activity was called, So you want to be a pirate?) She told him to hit the deck and he hit the floor with his hand. We were supposed to sit down not actually hit the floor!
Me: That sounds very fun and silly. What else did you do?
Seven year old: During that game we split with boys and girls and had a scavenger hunt, too. I also made Space Goo. (Stitch's Space Goo) I was about to make cookies once, but you picked me up. (She was not happy that we came to get her before the cookies.  I think she could have stayed in this space all day and been completely happy.) One of the youth counselors made me paper flowers.
Me: How about Castaway Cay? How did you like Scuttle's Cove?
Seven year old: My new friend and I played on the play ground and pretended we were driving and we played in the sand. I wish I could have stayed longer.
(I am noticing a theme here)
Me: So what do you think was the best part of the kid areas?
Seven year old: Everything!!
The youth spaces onboard Disney Cruise Line are one of the things that sets them apart from other cruise lines.  The Youth Counselors were always smiling and cheerful, having a lot of fun with the kids during activities, and making sure that everyone felt a part of the fun.  I was so impressed with all of the activities that the kids could choose from to participate in, as well as the free play options in each of the spaces.  The kids were too!  They cannot wait to get back on board!  You can read more about the Disney Wonder here.
We would love to help you book a Disney Cruise for your family!  Visit here for your no obligation quote!
Similar Posts: