Without a doubt, this was my absolute favorite place to be on the Disney Dream! My husband and I just took our first Disney Cruise, and it was everything we expected and more – and all amazing!  I love, love, love champagnes and sparkling wines and could not wait to try "Pink", the champagne lounge on the Dream. I was not disappointed! Why is it called "Pink", you might be wondering? As only Disney can do, the theming is well thought out and is carried out through and through…The logo, as you can see here on the menu, is a pink elephant surrounded by pink champagne bubbles. For those of you who have seen "Dumbo" you will remember the "Pink Elephants on Parade" song. Well – here they are!!!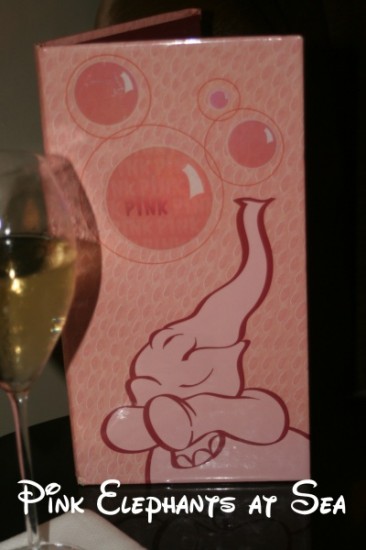 This is the bar area. The hand blown glass light bulbs and the pink bubble lights going up and down the walls are all there to make you feel as though you are actually IN a glass of the bubbly!! As you are sitting and sipping, keep your eyes on the bubbles on the walls. Every once in a while, you will see a small pink elephant appear inside a bubble! You have to be quick, though,  because as quickly as he appears, he will disappear. Did I just see a pink elephant?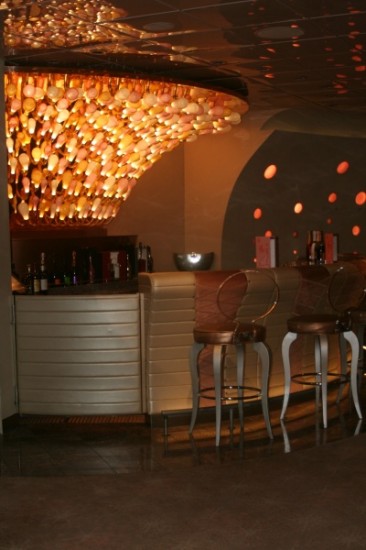 The two bartenders working on the nights we were there was fantastic. They knew the menu well and made wonderful suggestions. My husband and I were a little overwhelmed because everything sounded yummy. There are of course champagnes by the glass, but there are also champagne cocktails. Everything we tried was delicious! We loved Pink so much we went back each night after dinner for a glass of champagne. It's a beautiful, visually stunning space but very quiet and relaxing.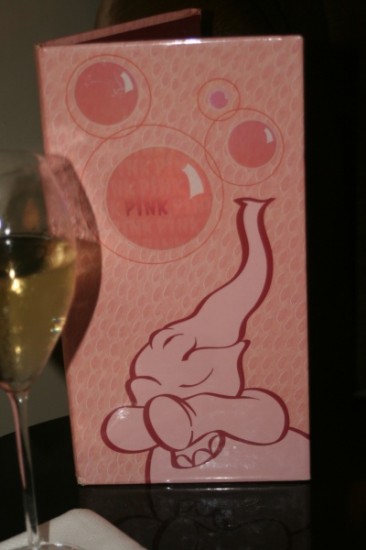 We found it to be a very comfortable place to unwind and have a romantic drink. You can see by the photos, it's very luxurious with velvets and other soft materials and curved walls. There are a couple of quiet, romantic alcoves as well, with beautiful comfortable couches for lounging and sipping the bubbly! The music also helps sets the mood, with 1950s style 'lounge' music like Peggy Lee and Ella Fitzgerald.
While there, we met a couple of other couples who had the same idea of a nightcap. One couple who were on their 20th (yes, 20th!) Disney Cruise, said they end each night at Pink, which is exactly what we did! I can't wait to have another sip of the bubbly at Pink!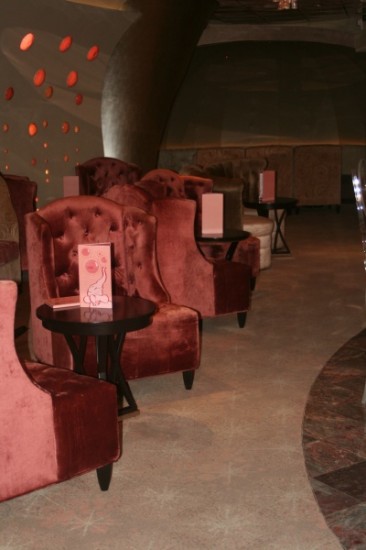 More Facts about the Disney Dream
Similar Posts: