Enjoy a decadent tasting of specially made desserts in the Remy Dessert Experience!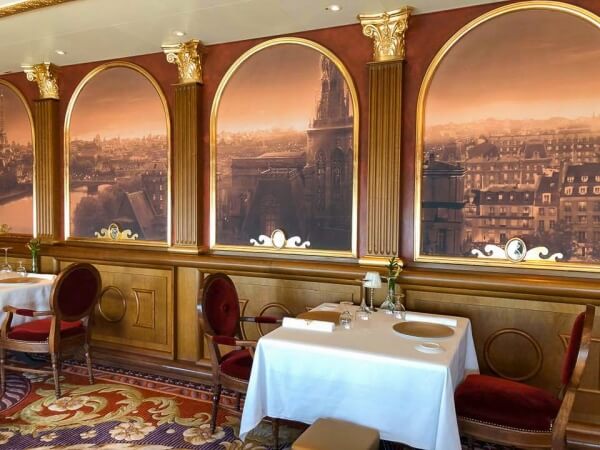 If you are cruising on Disney Cruise Line, then give your taste buds a treat by purchasing the Remy Dessert Experience on the Disney Fantasy.  Remy is the adult-exclusive fine dining restaurant on the Disney Fantasy and the Disney Dream.
Pompidou Dessert Experience Menu
Once seated at the perfectly set table, the menu of the fabulous desserts is presented.  The menu names each of the six specially designed desserts, and there is an option to add the Wine Experience for selected pairings with each dessert. Each experience may be different; but this article describes my experience on the Disney Fantasy's January 15, 2022 cruise.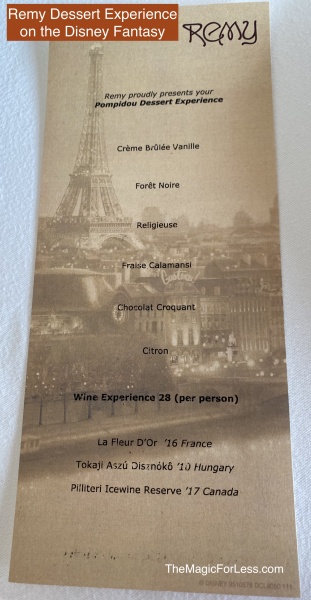 Before each dessert is presented, the Chef comes out to describe the dessert, what it is made of, why it is special, and any history about it.  The servers, one per person, bring the plated desserts in perfect synchronization placing the plate in front of each person.  It's a very pampering experience!
Creme Brûlée Vanille
The Creme Brûlée Vanille is a variation on the traditional Creme Brûlée dessert, but in a tart form.  This photo is after the first bite to display the wonderful texture inside.
Foret Noire
The Foret Noire is a form of a Black Forest dessert.  It is my favorite, and one of the fanciest presentations, with additional garnishes providing the perfect finish!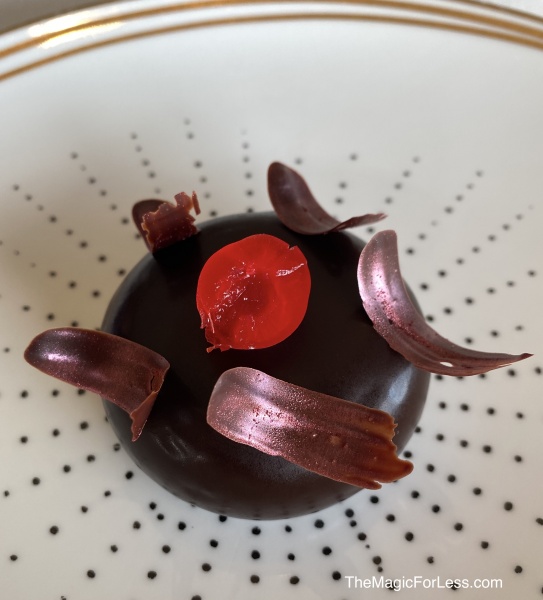 Religieuse
The Religieuse is a very old dessert.  It was like a cream puff with an espresso filling inside, but definitely more elegant than a cream puff.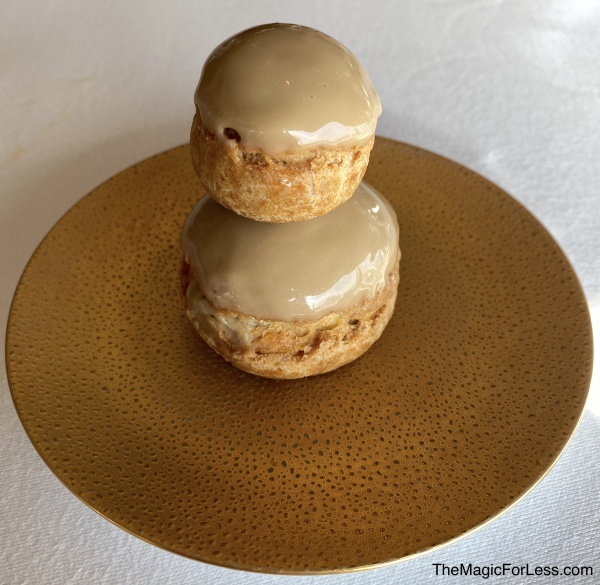 Fraise Calamansi
The Fraise Calamansi is a strawberry compote rolled in a light cake dessert with a perfect blend of flavors.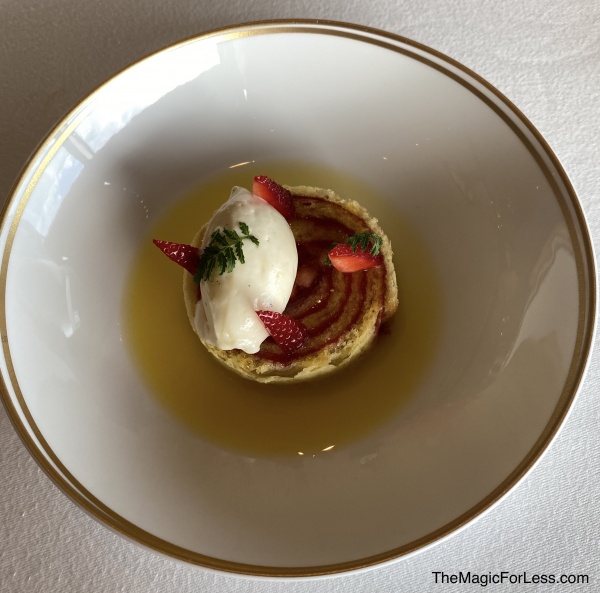 Chocolat Croquant
The Chocolat Croquet is a chocolate dessert with thin layers of baked chocolate rolled around each other. Then the nut and sauce accents are added for additional flavor and decoration.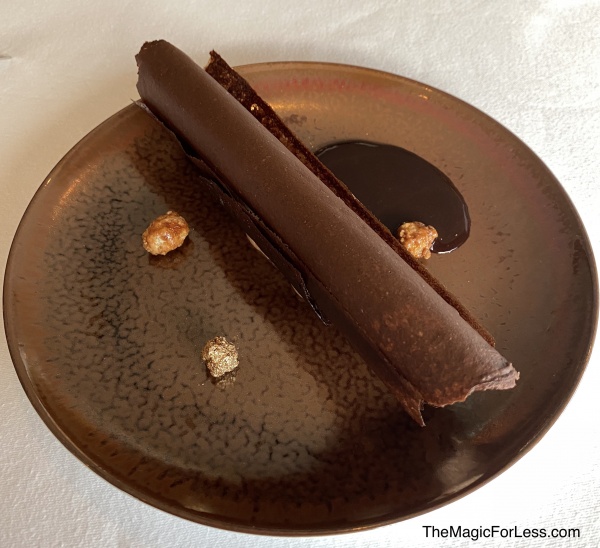 Citron
The Citron is my second favorite in presentation with its bright color.  It was very lemony made with lemon zest and juice.  And the inside was as amazing as the outside!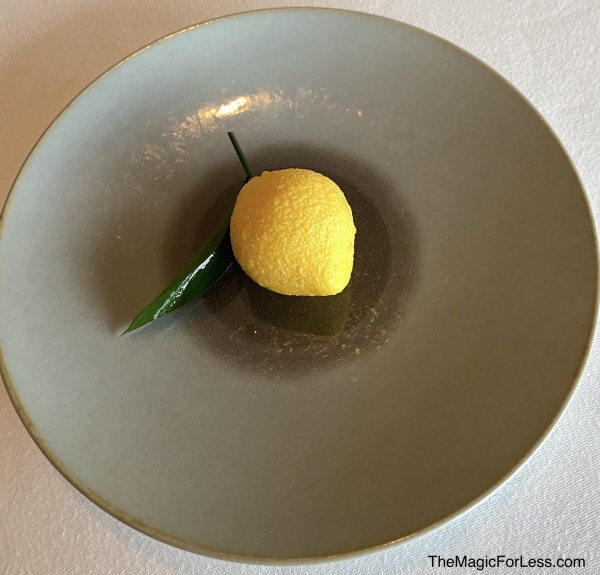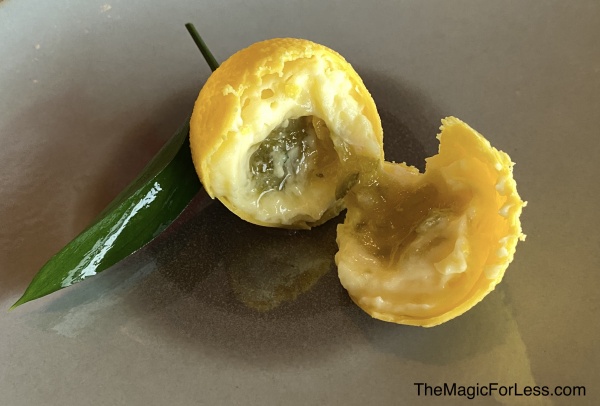 Save Room for Dinner
This truly is an "experience" not just "dessert"!  At a 3:15pm offering, main seating dinner is not much later, so savor the desserts before your dinner.
This is an onboard experience that can be booked as soon as you are able to book port adventures and onboard dining.  Remy is one of the two adult only dining venues on the Disney Fantasy.
Watch this video for a review of Remy on the Disney Fantasy!
Visit The Magic For Less Travel for more information on Disney Cruise Line vacations.  Contact me, Florence Porter, or fill out The Magic For Less no-obligation quote form for a quote for your Disney cruise!
Similar Posts: