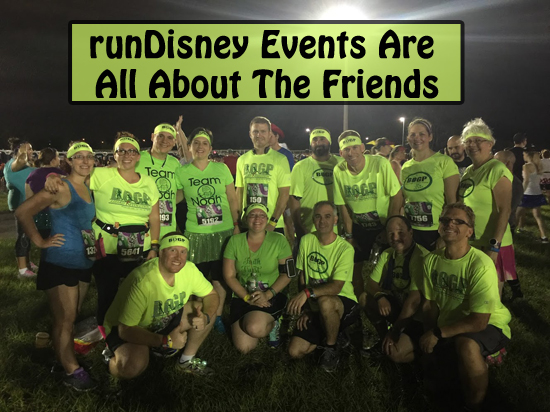 With the New Year upon us, we all turn our attention to becoming a bit more active.  Let's face it – we are all Disney fans, and we you can combine a Disney Vacation, friends, and a bit of fun exercise, everyone wins!
This was definitely the case for the 2015 Wine & Dine Half-Marathon!  A group of friends from the Be Our Guest Podcast running squad affectionately know as the Lizards (named after the quick-moving reptiles that you can never catch around the Walt Disney World property) got together in early November to run 13.1 magical miles together – or so they thought!
While the Kids' Races and the 5K race went off without a hitch, the wind started to swirl around the ESPN Wide World of Sports Complex a couple of hours before the Half-Marathon.  The racers all commented that it feels much cooler in the past five minutes and that we are liking this trend.  Little did they know that within the next 15 minutes, an evacuation of the staging area for the race would be called!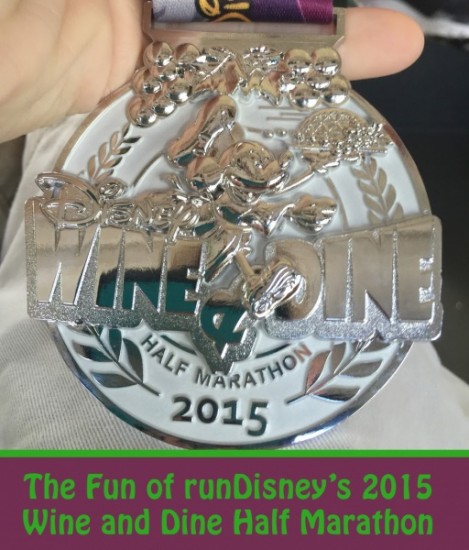 As a severe thunderstorm approached the complex, runDisney efficiently and methodically moved the racers into the Josten's Center and the Fieldhouse on the ESPN Wide World of Sports Complex.  While this was unexpected and really unprecedented for runDisney, it was one of the highlights of the weekend.  The BOGP Lizards found a spot to sit in a circle and ride out this approaching storm.  During this time, the racers got to do something they rarely get to do – slow down and just talk!  One of the team members, Jocelyn, led the group in a fun game of "What is your favorite.. (insert Walt Disney World show, attraction, resort, etc here!)" game!  We laughed, learned, and had fun together!  It was an unexpected chance to get to know friends from all over the country just a little bit better!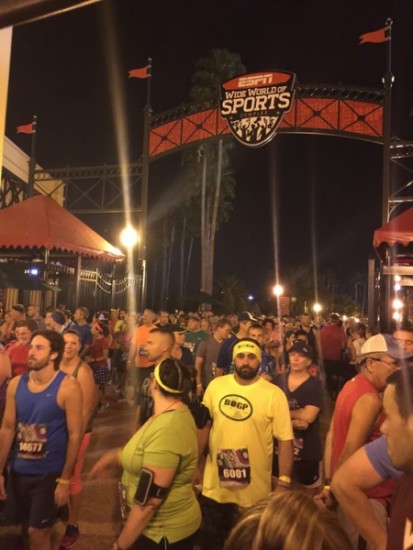 Finally, the storm cleared and the racers were quickly moved into their race corrals to get things going!  However, right before the race started, the racers were informed that due to the weather and the late start that the 13.1 mile race had been shortened to just about 6 miles.  Most runners took this in stride, but a few were disappointed.  The main thing is that we got to run (and run together) and enjoy all of the run on the course that runDisney provides!
Have you ever thought of trying a runDisney event?  This is a great way to see the Walt Disney World Resort in a totally different way!  It also gives you a nice "carrot" to dangle in front of you as you might embark on an exercise journey here in 2016!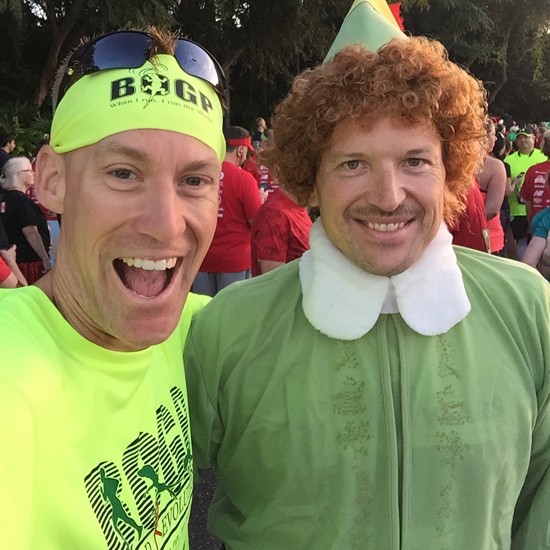 Want to be a member of the Be Our Guest Podcast Running Lizards?  We would love to have you!  Just contact Mike Rahlmann on Twitter at @BeOurGuestMike for more information!
Similar Posts: