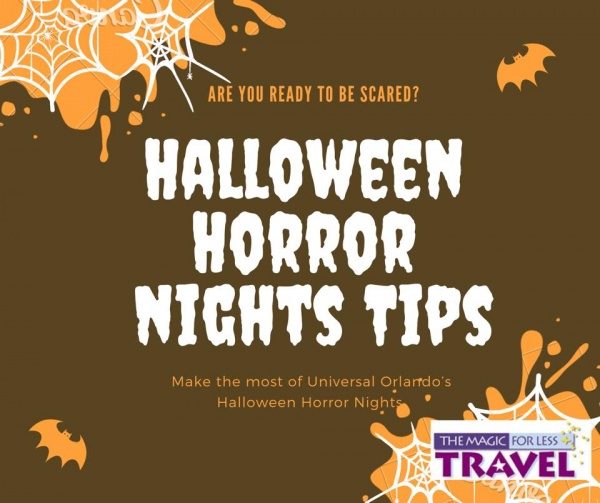 Halloween Horror Nights at Universal Orlando returns for it's 29th season on select nights from September 6 – November 2, 2019.  #HHN29 is an event for the horror-loving fan.  The Magic for Less Team has some of those and they've put together The Best Tips for Halloween Horror Nights to make your experience screamtastic!
The Best Tips for Halloween Horror Nights
Purchase your tickets in advance for savings, and so you don't have to wait in line!
Take advantage of a  special ticket offer before June 5th for a free second night
Now Islands of Adventure is open late so if you don't to go on an HHN night and have park-to-park tickets, you can go to Universal Studios first, and then to Islands of Adventure to close out the evening. (Do the reverse if you do want to experience HHN).
You can't dress up for Halloween Horror Nights so leave costumes and masks at home.
Stay and Scream- The park closes to daytime guests at 5pm on HHN nights with the event officially opening at 6:30. But if you are in the park and hold a ticket for that night's event, you may stay in the park in a designated holding area. Guests in these areas are granted earlier access to one or more houses before the general crowds even have a chance to get in the gates.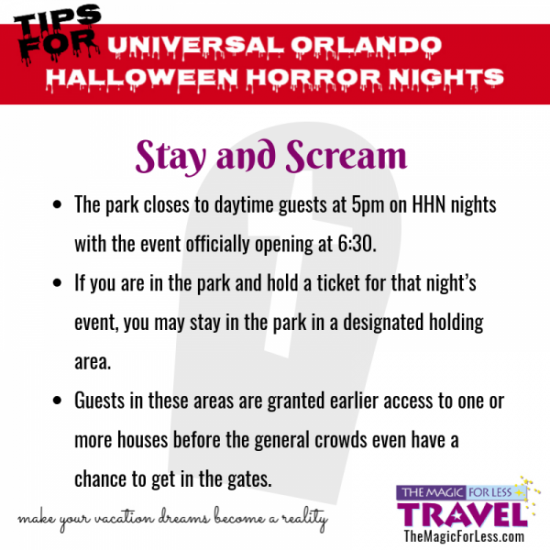 Avoid the masses. Onsite guests have a dedicated entrance to Universal Orlando that is also available for HHN entrance. Stay all the way to the right of the USO arches.
Arrive early! Depending on whether it's a non-peak or peak night, you'll want to be at the gates 45 to 90 minutes before the official start time of the event. Wait times for houses quickly build and knocking a few out in that first hour can make a huge difference. Leave the ScareZones for exploring for after the sun sets.
But don't leave early! The wait times for houses drop significantly in the final hour or so of the event. It's a great time to see your favorite one again or get into the most popular house at last.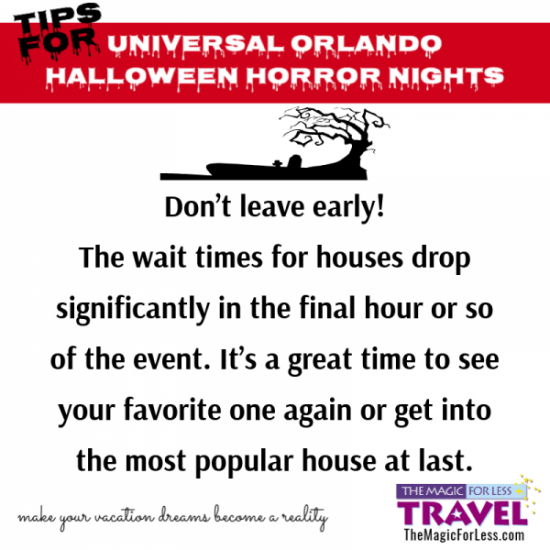 For quicker access to the horror, book an RIP tour and receive Universal's Unlimited Express to the mazes, houses and available rides along with exclusive "Stranger Things" experiences. The RIP tour also includes a gourmet buffet dinner, drinks and desserts!
Avoid crowds by going the first few weeks of the event or the last week of HHN in early November. Around Halloween, crowd levels can be spooky!
Save time by grabbing an early dinner at City Walk before heading in for the party.
Remember that there is a parking fee for HHN.
Also, remember your ID if you would like an adult beverage at the party.
Halloween Horror Nights has some of the most iconic treats that are exceedingly delicious. From Funnel Cake Puffs, to Twisted Taters, to Pizza Fries! Plus, there are usually special drink options available especially for the event (for those who maybe need a little liquid courage to get through the houses.)
If you are looking for a "break" from the scares, along with visiting the attractions, you can also catch a performance from Academy of Villains. They are a high energy performing troupe who put on a fantastic show.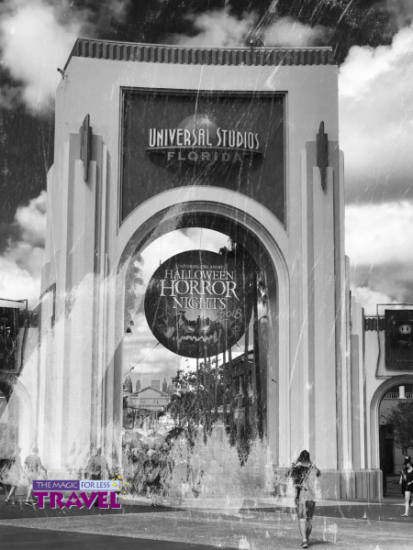 Want to visit Universal Orlando this fall or purchase your #HHN Ticket, contact us at The Magic for Less Travel!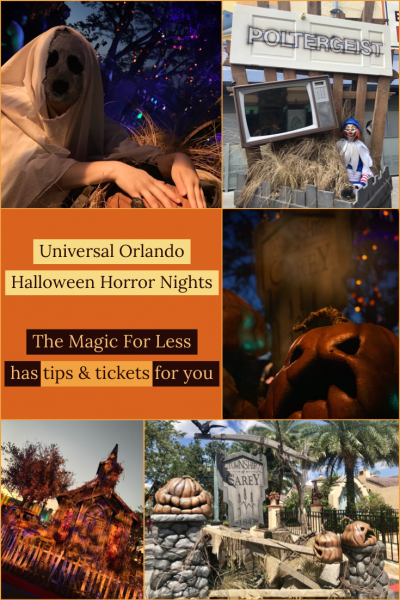 Similar Posts: