Potterheads Unite! There is a magical world awaiting just for you that doesn't require you to apparate, find a portkey, or use the Floo Network. To visit, just hop on a broomstick (aka airplane) or drive your motorbike (or car if you prefer) down to Universal Orlando where you can experience The Wizarding World of Harry Potter. The Wizarding World brings to life the streets of Diagon Alley, the village of Hogsmeade, Hogwarts Castle, and many more of your favorite things from the Harry Potter universe. Continue reading this Guide to the Wizarding World of Harry Potter to discover all the magic that is waiting for you in Orlando!
Sign up to receive vacation tips, trick and discounts!
Diagon Alley – Universal Studios
The Wizarding World of Harry Potter consists of two magically immersive lands. This guide recommends starting your journey at Universal Studios Orlando's Diagon Alley, but you can't go wrong starting in either land. Before you even step foot onto the stone walkway of Diagon Alley, be sure to explore the adjacent Streets of London. Not only is there an incredibly realistic replica of King's Cross Station, you'll also find the Knight Bus as well as 12 Grimmauld Place right outside of the Diagon Alley entrance. Be sure to knock on the door at Sirius' old door for a surprise! After having a chat with Stan Shunpike, you're ready to tap the brick wall and walk straight into the Wizarding World. Ok, you don't have to actually tap the brick wall, but it helps to get the full affect! And don't worry, even muggles are allowed to visit Diagon Alley!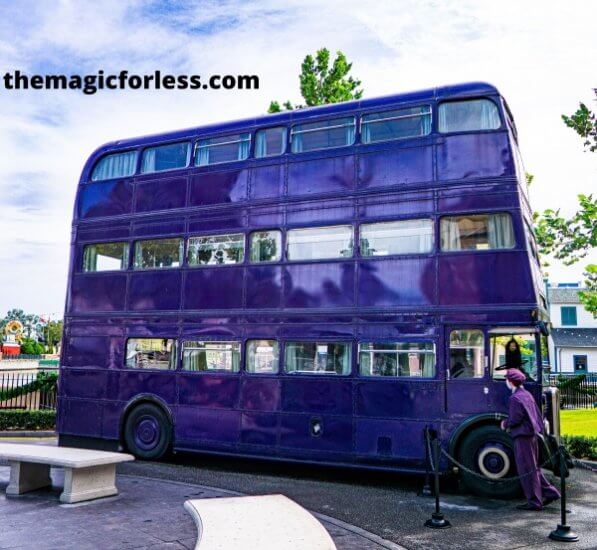 There is nothing like turning the corner for the first time to see Diagon Alley brought to life. Straight from the pages to Orlando, Florida! Immediately your eyes will drift straight to the giant Ukrainian Ironbelly dragon escaping through the roof of Gringotts Bank. Ain't no safer place. Not one. Once you pick your jaw up off the ground, to your right you'll spot all the shops Harry and the gang visited before every school year. Whether you're the biggest Harry Potter fan or you know nothing of the story, everyone is sure to remember the first time they venture Diagon Alley.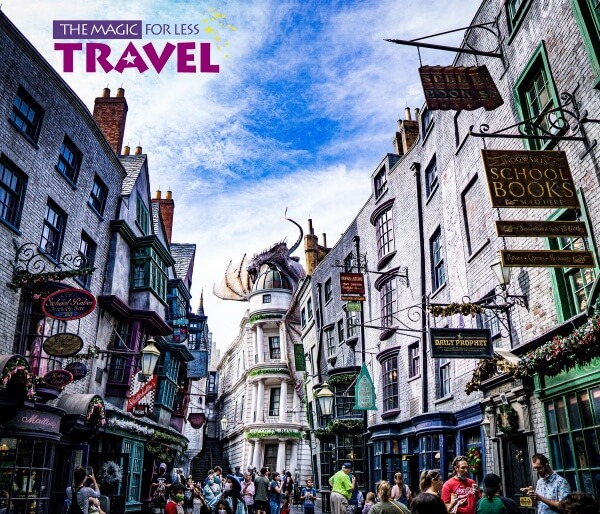 Shops
Diagon Alley is home to a number of stores selling the latest in Wizarding wardrobes, wands, goodies, and more! Before you get started shopping, be sure to visit Gringotts Money Exchange to trade your muggle money (U.S. currency) for Gringotts bank notes that can be spent throughout the Wizarding World. USD cash as well as credit cards are also expected throughout the entire park if you don't understand Wizarding money! The real highlight of any wizard's first trip to Diagon Alley is a visit to Ollivander's Wand Shop to select their first wand. Throughout the day, selected wizards get to participate in an interactive experience where a wand itself chooses the wizard. More information on all the magic you can experience with your purchased wand can be found further down this guide.
You can get outfitted in your House colors at Quality Quidditch Supplies. Madam Malkin's Robes for All Occasions has everything you need to look your best at the Yule Ball.  All of Fred & George's favorite pranks, including Extendable Ears and Sneakoscopes, can be purchased at Weasley's Wizard Wheezes. The next Hedwig or Croonshanks, along with other magical creatures, are waiting for you at the Magical Menagerie. And located just outside Gringotts Bank you'll find Wiseacre's Wizarding Equipment selling all the essential wizarding supplies like crystal balls, quills, and parchment.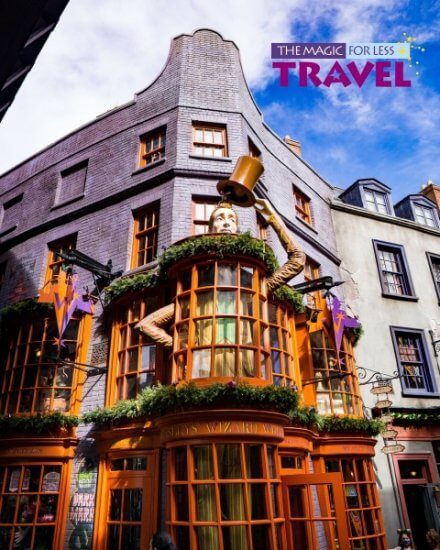 Or if you consider yourself more of a dark wizard, don't be scared to venture down Knockturn Alley. Here you can shop for more menacing items at Borgin and Burkes and Wands by Gregorovitch.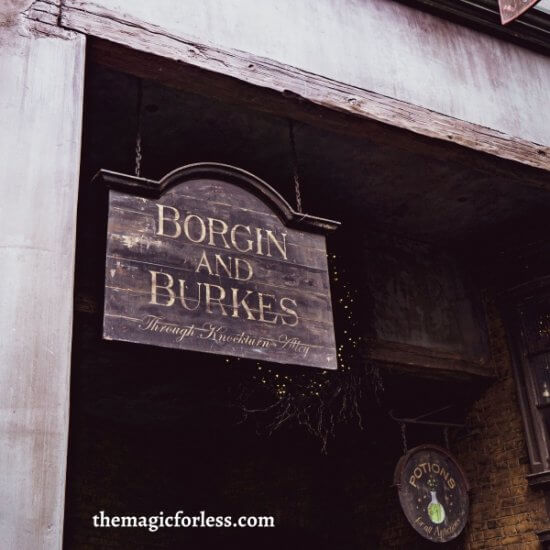 Dining
Don't let Gamp's Law of Elemental Transfiguration keep you from finding delicious food in Diagon Alley. Delicious bites are truly all around. The land's primary dining location is The Leaky Cauldron – a Quick Service serving up English classics such as Fish 'n Chips and Bangers & Mash. But there are plenty of other options if you're more in the mood for a quick bite, sweet treat, or delicious drink. Dying to try Butterbeer? You can find it at The Hopping Pot along with several other wizard concoctions. Florean Fortescue's Ice Cream Parlor serves up delicious ice-cream, including Butterbeer as well as a Chocolate Strawberry Peanut-Butter Sundae, similar to the flavor Harry ordered in Chapter 4 of The Chamber of Secrets.  Searching for Bertie Bott's Every Flavor Beans, Chocolate Frogs, and Cauldron Cakes? Don't wait for the trolley witch to swing by, you can grab all these favorites at Sugarplum's Sweetshop.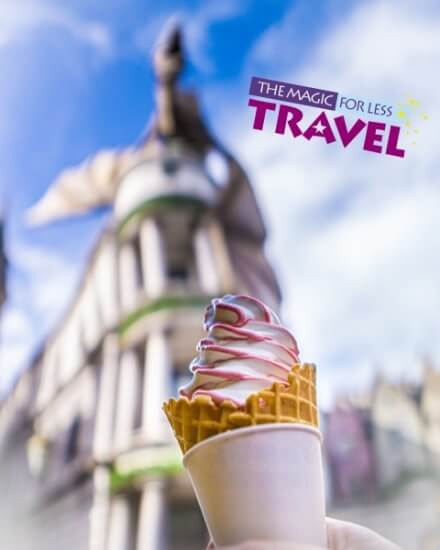 Attractions & Entertainment
The main attraction in Diagon Alley is Harry Potter and the Escape from Gringotts. The queue for this ride is itself worth the price of admission. You get to navigate the halls and main lobby of Gringotts bank before taking an elevator into the depths of bank's vaults. You then board a cart which takes you on a wild and fun adventure to escape from the bank after alerting the bank's rigorous security. Along the way you'll come face to face with He Who Shall Not Be Named himself! Can Bill Weasley and the gang help escape in time? You'll have to ride to find out! Guest with Universal Express Pass can skip the full queue for a shorter wait time.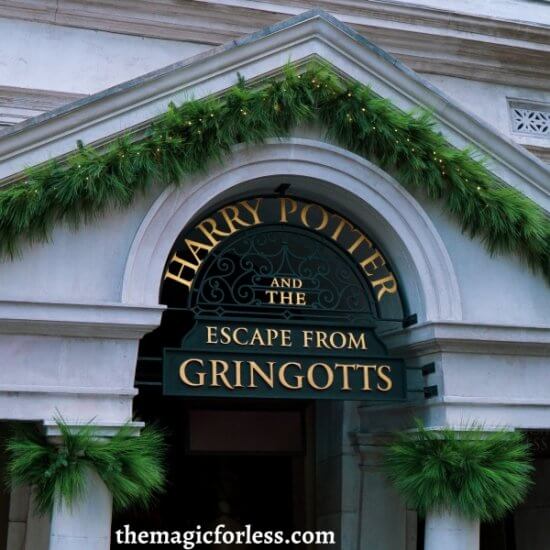 Diagon Alley is also full of the best in Wizarding entertainment. Everyday you can catch performances by Celestina Warbeck & The Banshees or see a live reenactment of The Tales of Beedle the Bard.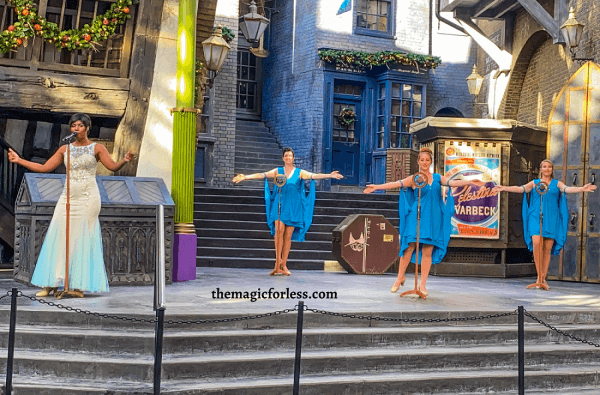 Tour Cabana Bay Beach Hotel – a Universal On-Site Hotel

Hogsmeade/Hogwarts – Islands of Adventure
Over at Universal's Islands of Adventure, you can explore the village of Hogsmeade as well as the Hogwarts castle! Given that the stories usually mention Hogsmeade during the students' Christmas trips, all of the shops and buildings here have permanently snowy roofs. There is even a wizard-snowman that never melts, not even during the hot Orlando summers!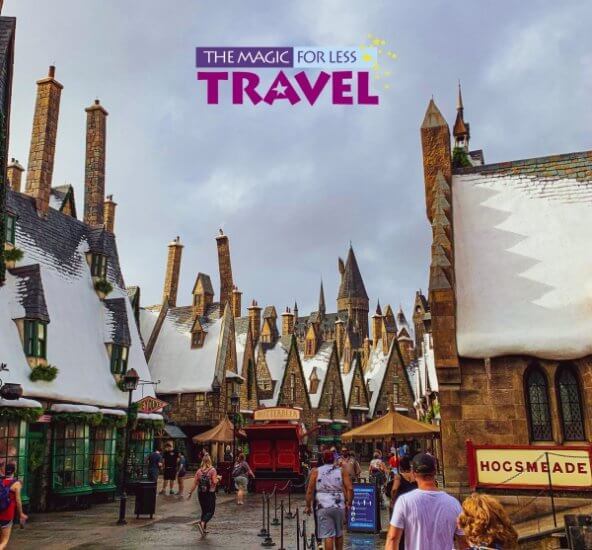 Shops
Similar to Diagon Alley, Hogsmeade Village is filled with fun shops where wizards are sure to spend all their Galleons.  Those searching for House sweaters & tees, quidditch supplies and more should head to Dervish and Banges.  They also have a large selection of House robes, available for purchase at $125 (plus tax).   A second location of Ollivander's Wand Shop is also located in Hogsmeade Village. Ollivander carries a wide variety of unique wands as well as replica wands of your favorite Harry Potter characters. If you think you can be trusted with the power, you can even purchase a replica of The Elder Wand.
Like Sugarplum's in Diagon Alley, Honeydukes is where you can find all your favorite sweets including pumpkin pasties, fudges, and exploding bonbons. And in the basement of Hogwarts Castle you'll find Filch's Emporium of Confiscated Goods, where Filch is selling all the wizarding goods he's confiscated from Hogwarts students. Goods include Hogwarts- and House-specific items as well as special Harry Potter collectibles, books, and movies.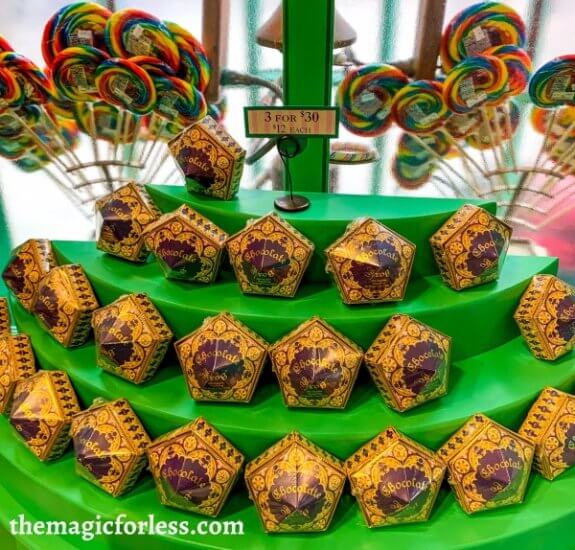 Dining
A long day of shopping and casting spells can make even the strongest wizard tired & hungry. When you're in the need of sustenance, head to The Three Broomsticks. This quick service restaurant serves up favorites like Shepard's Pie and Rotisserie Smoked Chicken Platter. Once you're finished with your meal you can head to the Hog's Head, a pub located within the restaurant. Here you can order Butterbeer, Gillywater, Hog's Head Brew, and other spirits or non-alcoholic beverages.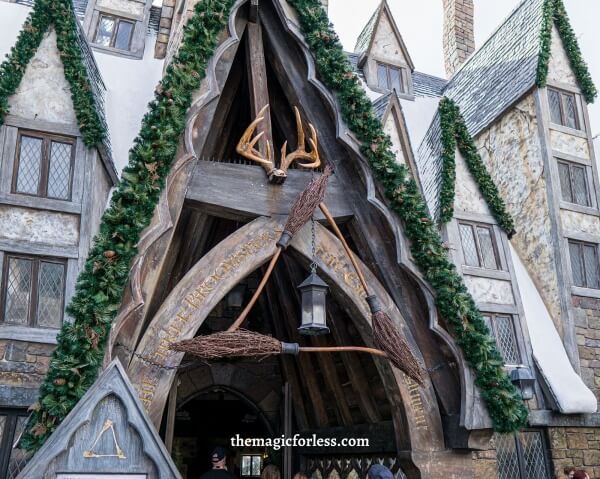 Throughout the village you can stop at various stands to grab Butterbeer, Pumpkin Juice, and various quick snacks like fruit.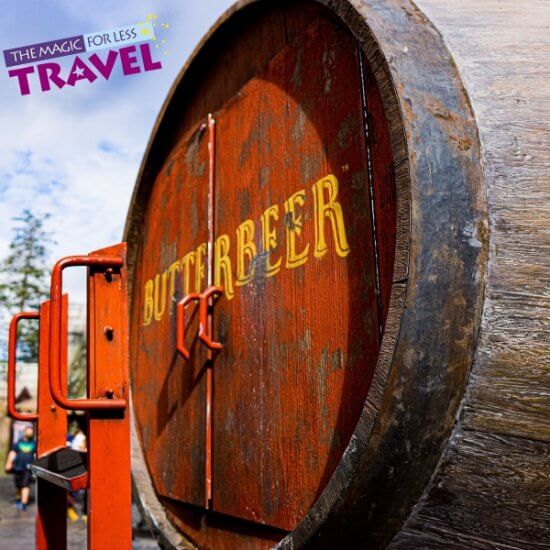 Attractions/Entertainment
Hogsmeade/Hogwarts are home to 3 incredible attractions any aspiring wizard will love. The Flight of the Hippogriff is a family roller coaster where riders get a lesson from Hagrid on how to approach a Hippogriff before taking flight around Hagrid's Hut. Universal Express Pass is available.
Harry Potter and the Forbidden Journey is your chance to join Harry, Hermione, and Ron on an unforgettable adventure around Hogwarts and its grounds. The queue for this attraction is as amazing as the ride – guests get to explore the Hogwarts Castle walking through the gardens, Dumbledore's office, the Room of Requirement, and many other iconic Hogwarts locations. This thrill attraction features a lot of quick motion and screens so riders prone to motion-sickness may want to cast a Dramamine spell before riding. Universal Express Pass is available.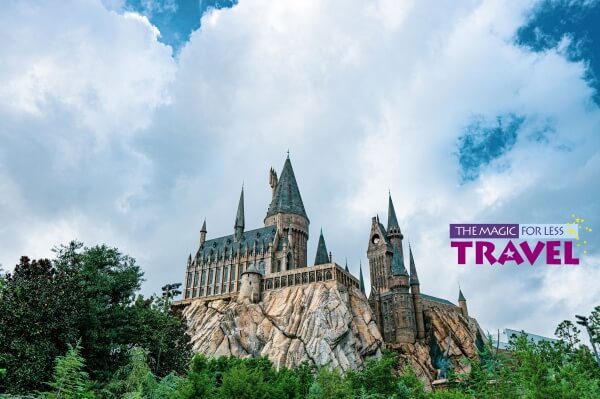 The newest ride at the Universal Studios Orlando resort is Hagrid's Magical Creature Motorbike Adventure, a fast-paced roller coaster through the Forbidden Forrest. Riders fly high aboard Sirius Black's motorbike and come face to face with many of the magical creatures Hagrid cares for. While not as intense as The Incredible Hulk Coaster, also located in Universal Studios Islands of Adventure, this coaster is sure to please everyone in the family. Universal Express pass is not available for this attraction. If riding is a priority, this guide recommends arriving to Islands of Adventure 45-60 minutes prior to opening and heading straight to Hogsmeade when allowed.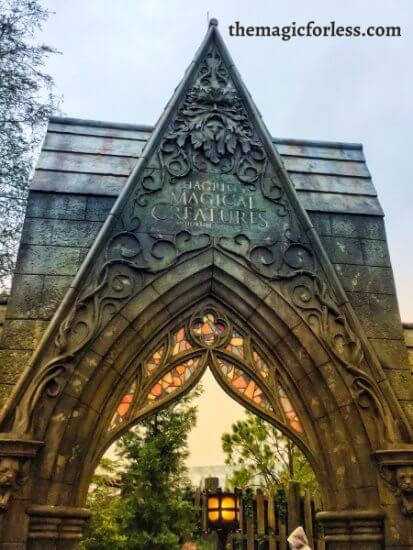 The entertainment extends past the attractions here in Hogsmeade. Guests can enjoy live performances of the Hogwarts Frog Choir as well as the Triwizard Spirit Rally. Both shows take place on the main stage located in front of the Hogwarts' entrance. For even more of a spectacle, be sure to hang around Hogwarts for The Nighttime Lights at Hogwarts Castle, a nighttime projection show that uses the castle as it's canvas. Themed Halloween and Christmas shows occur during their respective seasons and shows don't happen during the majority of the summer season. Check the Universal Studios Orlando official website for more details, including dates & times, prior to your visit.
Hogwarts Express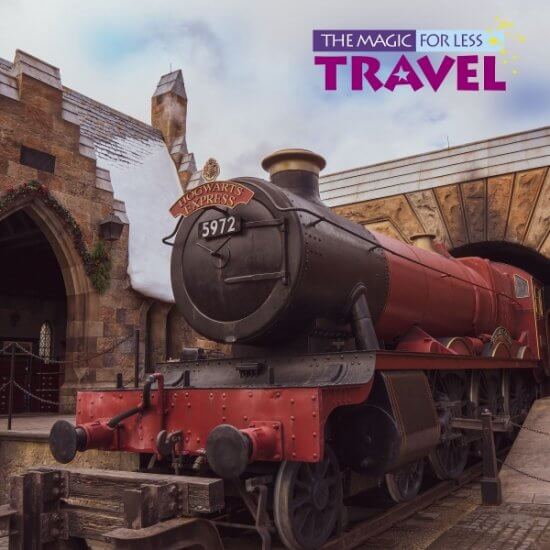 While you could easily spend an entire day exploring either Diagon Alley or the Hogsmeade Village, guests who purchased a Park-to-Park ticket are eligible to travel back and forth between Diagon Alley & Hogsmeade. Universal Studios has made travelling from one Wizarding World land to the other extra magical with the Hogwarts Express.
Guests coming from Diagon Alley in Universal Studios Orlando board the Hogwarts Express via King's Cross Station. Guests even get to travel through a brick wall to enter Platform 9 ¾. This unbelievable optical illusion is perfect for posting to social media so have your phone ready!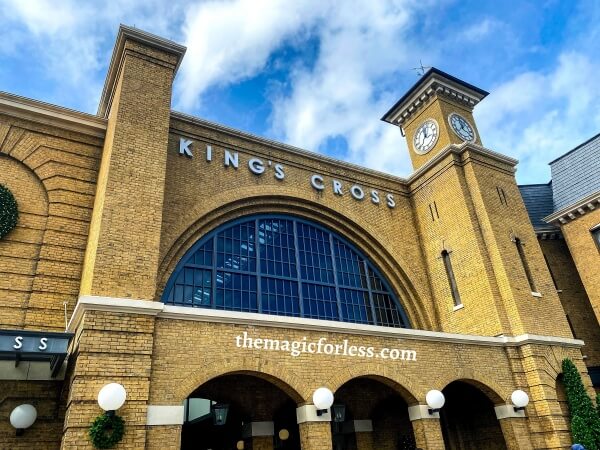 Once you're safely inside your train cabin you'll be treated to sights of the English country side and several familiar faces. You may also hear some mischievous Hogwarts students roaming right outside your cabin.
You'll want to also travel from Hogsmeade Station back over to London to experience the end of term journey.
Guest with Universal Express Pass can skip the full queue for a shorter wait time.
Butterbeer
As discussed above, Butterbeer can be found at various locations throughout the Wizarding World. But did you know that Butterbeer comes in 6 (SIX!) different forms. Year round you can find the classic Cold Butterbeer drink, Frozen Butterbeer beverage, Soft Serve Butterbeer ice-cream, Potted Butterbeer Cream, Butterbeer Fudge, and pre-packaged Butter Beer ice-cream. You will also find Hot Butterbeer during the colder months of the year.
If you're wondering what Butterbeer tastes like, the best way to describe it is a very smooth, creamy butterscotch flavor. But the only way to really understand is to try it yourself!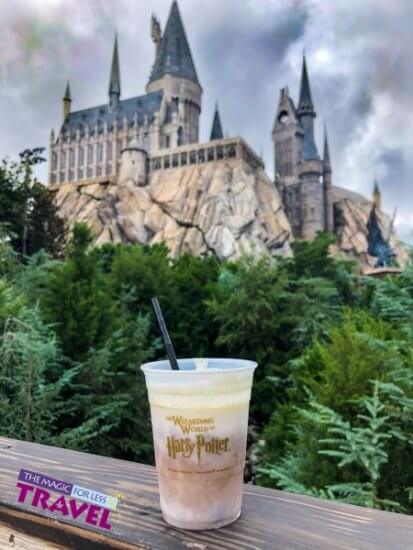 Wands
Wizards need a wand to perform magic so don't forget to grab one in one of the shops mentioned earlier. There are two types of wands available for purchase: Original Wands for $49.00 (plus tax) and Interactive Wands for $55 (plus tax). If you want to cast spells throughout the Wizarding World, make sure you acquire an Interactive Wand. Within each Interactive Wand's box is a map displaying all of the locations in Diagon Alley and Hogsmeade. Once you arrive at a marked location, a posted medallion has tells you what to say and the motion in which you should wave your wand – and then the magic happens! The magic ranges from lights turning on to rain falling, and many more which you can't even imagine. There are over 25 different spells your Interactive Wand will allow you to cast within the Wizarding World!
The Magic Awaits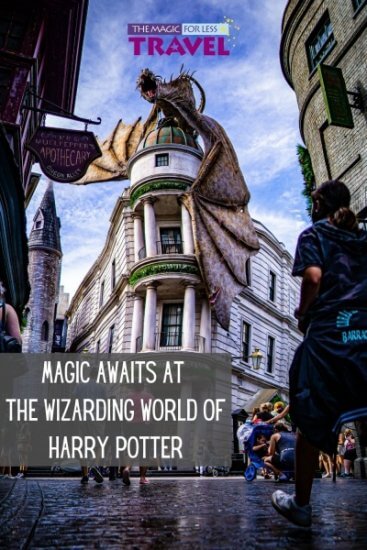 There is so much magic awaiting you at The Wizarding World of Harry Potter. Pack your house colors or buy a brand new robe so you're not mistaken for a muggle! You'll see so many guests wearing robes or representing their House in other ways. The Universal Team members even wear the colors of their own House. Everyone is truly in on the magical spirit of the parks!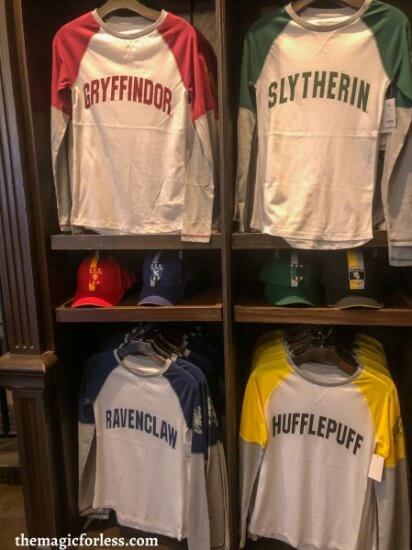 It is also important to note that guests staying at a Universal Orlando Hotel, as well as Annual Passholders, are granted  Early Park Admission on various days throughout the year. During Early Park Admission, certain lands and rides are open for guests to enjoy. This includes all rides in the Wizarding World (excluding The Hogwarts Express) as well as Ollivander's Wand Shop. This is a great way to enjoy some extra magic!
The agents at The Magic For Less Travel are ready to help you plan your trip to Universal Studios Orlando. Visit www.themagicforless.com for more tips on visiting Universal Studios Orlando and other magical vacations!
Similar Posts: