Ten Things to Know Before Visiting Universal Orlando Resort
1. Universal Orlando Resort is not a day trip!
Once upon a time there was a single, lonely theme park known as Universal Studios Florida.  Then, as the years passed, along came Islands of Adventure, eight fabulous hotels, a super-cool dining/entertainment/shopping district called CityWalk and Volcano Bay, a water-theme park unlike any other. Today, Universal Orlando Resort is a complete destination. And it's still growing! Ground has been broken for Universal's Epic Universe, the fourth theme park to join the family.
2. The Wizarding World of Harry Potter is in both Universal Studios Florida and Islands of Adventure!
To fully experience this magical world, you'll want to ride the Hogwarts Express, which takes passengers between Diagon Alley (USF) and Hogsmeade (IOA). But to do that, you must have the 'Park-to-Park' ticket. While there are ticketing kiosks at the train stations in both parks, it's faster and less costly to purchase this option before your visit. Besides, you want to look like you know what you're doing, right?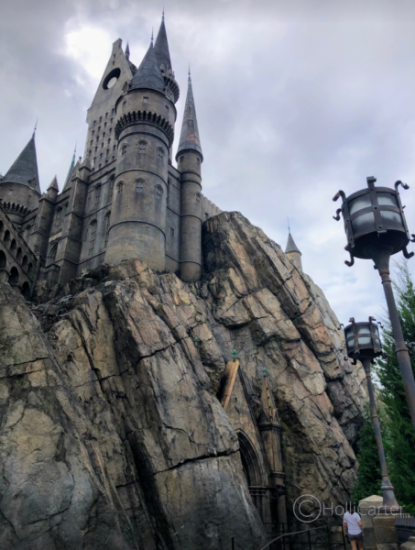 Hogwarts Castle, Islands of Adventure
3. (Almost) Everything is walkable!
Universal Orlando Resort has a lot to offer! But one of the coolest things about it all is its proximity. Apart from the Endless Summer Resort hotels, guests can easily walk to and from everything else. No long, sweaty bus rides here!
Craving fresh baked goods for breakfast? No Problem! In minutes you can pop over to Voodoo Doughnuts and be back in your room before the coffee cools. Need to grab another souvenir? Easy fix! Hop on the water taxi and head to big Universal store at CityWalk.
4. Early Park Access is a must!
One of the best ways to rock your Universal vacation is to take advantage of Early Park Admission. Each day, The Wizarding World of Harry Potter (in either USF or IOA, respectively) and Volcano Bay open 1 hour early to select guests. Believe me, you WANT to be one of these 'select guests' because you'll get first dibs on the best beach-y spots. Or, how about being one of the first to board Hagrid's Magical Creatures Motorbike Adventure? That's a great start to any day!
There are two ways to ensure Early Park Admission: 1) Stay onsite at one of Universal Orlando Resort's
hotels or 2) purchase your park tickets from your favorite agent at The Magic For Less Travel, a designated U-Preferred Agency.
Start Planning Your Universal Orlando Vacation!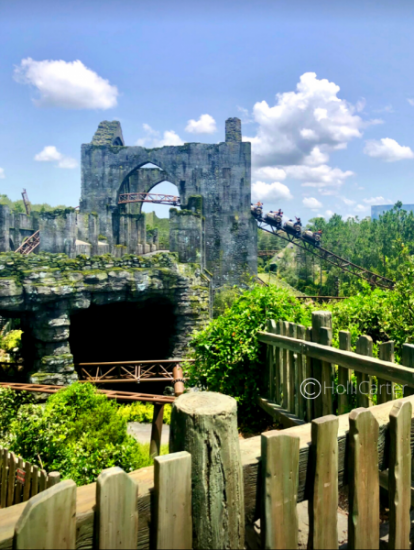 Hagrid's Magical Creatures Motorbike Adventure
5. Staying onsite is the way to go!
There are so many reasons to stay at a Universal Orlando Resort hotel! I mentioned the Early Park Access, which is a huge bonus. Even with the insane proximity of everything, they also offer complimentary transportation in the form of buses and (my favorite!) water taxis. What better way to start or end an epic day than a relaxing, scenic boat ride?
You can use your room-key to charge purchases and hotel delivery. But did you know you can also use it to skip the lines? You sure can! If you stay at one of Universal's three Premier hotels – Loews Royal Pacific Resort, Hard Rock Hotel, or Loews Portofino Bay Hotel – your room key also serves as an Express Unlimited Pass.
That means everyone in your room gets to skip the lines at any of the participating rides as many times as you want. In a world of amazing perks, THIS one is a total gamechanger. The numbers folks at Universal have done extensive testing and studies that show using Express Pass shaves about 70% off wait times, on average. That's insane! Take it from me, once you use Express Pass, you'll never want to be without it again.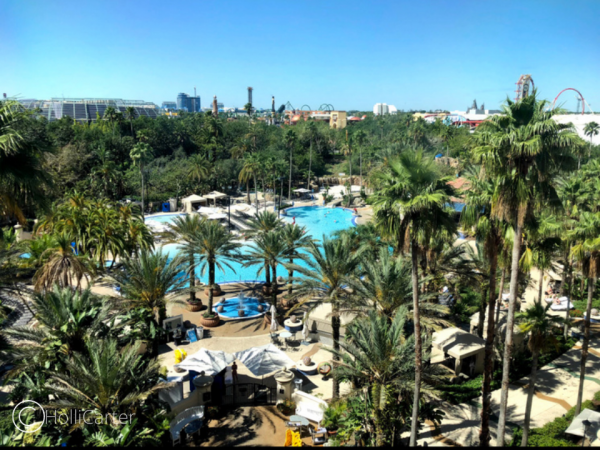 THIS could be YOUR view!
6. There's an App for that!
Be sure to download the Universal Orlando app before your visit. Play around with it a little to familiarize yourself. You'll find it to be indispensable for checking the current wait-times of rides and attractions, joining virtual queues, mobile-ordering food, and much more!
If you're visiting Volcano Bay – and you should visit Volcano Bay – you won't have to worry about your wallet or your phone getting wet. Upon arrival, each guest is given a wristband called a TapuTapu to wear during their visit. This cool little accessory can be used for in-park purchases as well as for joining the virtual queues, opening rental lockers, and even interacting with some special elements of the park.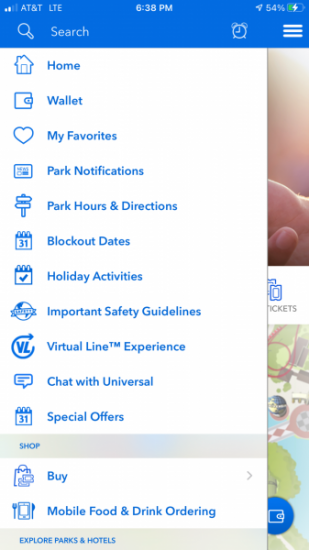 Table of Contents in the Universal Orlando App
7. No Loose Articles!
Some rides require guests to store loose articles such as hats, refillable cups, cell phones, purses, etc., before entering the ride queue. Digital lockers are available for single time use for the duration of the ride at no charge. Just scan your park ticket and one opens for you. After the ride, scan it again and it magically reopens!
Take note, the free lockers are relatively small, though. Bigger bags/backpacks may need to be squashed heartily or may not fit at all. Larger lockers are available for all-day use, for a fee. My seasoned advice is to bring only what you absolutely need into the park and leave the rest in your hotel room. Everything is so close here, you can always pop back to your room if you really need it.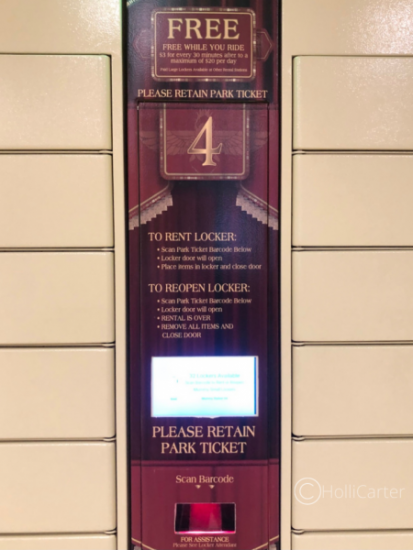 Complimentary locker at Revenge of The Mummy
8. The Child Swap/Family Rooms here are awesome!
Every ride that has a height restriction offers a waiting room to accommodate guests who either don't meet the height requirement or simply do not wish to ride. The beauty of it is that it allows families to remain together through the entire queue. Before the boarding area, any non-riders can then wait (with an adult in the party) in a comfortable, air-conditioned Family Room for all the riders to enjoy the attraction.
9. No park reservations are required!
Unlike other Orlando theme parks, Universal guests do not need to choose which park to visit ahead of time. Since they are limiting total attendance in accordance with health and safety protocols, there may be times when parks reach capacity and additional guests will not be permitted. This pertains to day-visit guests, though. Guests staying at one of the 8 Universal onsite hotels are already included in the total count. Another sweet perk of staying onsite, especially over weekends and holiday times.
10. Universal Orlando Resort is home to epic seasonal events!
Winter brings us Holidays at Universal Orlando Resort with all the merry you can muster. Complete with Who-ville and the grumpy, green guy himself. Not to mention Macy's balloons!  CityWalk rings in the New Year with a high energy event simply known as EVE. Rock the Universe is a Christian music festival hosted at Universal Studios over a two-day period.
Springtime ushers in Florida's biggest party with Mardi Gras. Guests enjoy authentic parade floats, entertainment, superstar concerts, and Cajun foods. Then it's on to graduation celebration season with age-based specialty events. Universal Studio's Grad Bash is a night of fun for graduating high schoolers and Gradventure is for middle school grads.
Fall is when things get creepy with the World's Premier Halloween event – Halloween Horror Nights.  Not-so-faint-of-heart folks come from all corners of the globe to attend. Yeah, it's THAT good.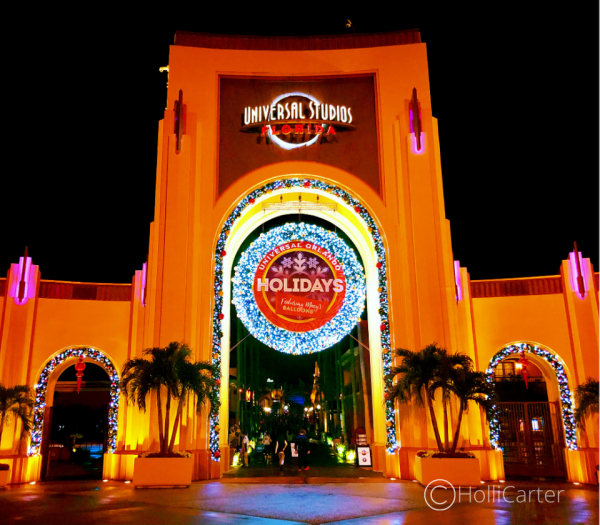 There's no place like 'home' for the holidays
Universal Orlando Resort has SO much to offer! When you're ready for a vacation you'll never forget,  contact one of our agents for your no-obligation quote!  There are some fantastic special offers available for savings!

Similar Posts: