The Universal Orlando Resort is an incredible family oriented vacation destination.   It's filled with a wide variety of attractions  suitable for all age groups.  But for the adrenaline junkie , the  Universal Orlando Resort theme parks each have amazing offerings.  Certainly, it's a thrill ride seekers ultimate paradise!  So if you are serious about your thrill ride game, then let's talk about the top six thrill rides at the Universal Orlando Resort.  You'll be able to say you found the thrills at Universal Orlando!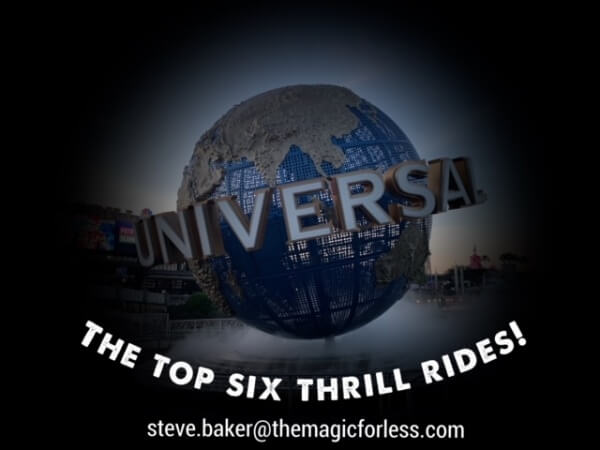 Number 6:  Harry Potter and the Escape from Gringotts
Harry Potter has been taking up residence at Universal in the Wizarding World of Harry Potter for just over a decade.  Mayhem and mischief are big thematic elements  of this storyline and translate well to my number six attraction, Harry Potter and the Escape from Gringotts.  Located in Diagon Alley at the Universal Studios theme park, you'll find yourself on a coaster-like attraction racing through the subterranean tunnels of Gringotts Bank.  Your mission?  Attempt to retrieve a Horcrux as part of Harry, Ron and Hermione's mission to defeat Lord Voldemort.  Along the way you'll battle some of the most malicious villains.  You'll also have to outmaneuver the bank's magical security measures and face the Ukrainian Ironbelly Dragon!  Can you escape?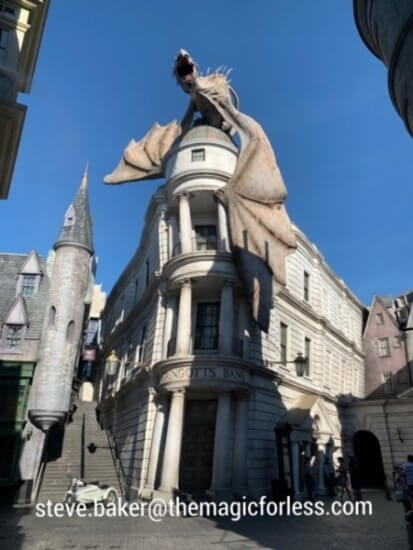 Number 5:  Hagrid's Magical Creatures Motorbike Adventure
Right next door at Islands of Adventure is likely the single most popular attraction ever to land at Universal Orlando.  And it's my number five top thrill:  Hagrid's Magical Creatures Motorbike Adventure.  Located in Hogsmeade right next to Hogwarts Castle, it might best described as a "story coaster."  You will join Rubeus Hagrid in a very special Care of Magical Creatures field trip.  You'll board magical motorbikes with sidecars and face seven high-speed launches accelerating you up to 50 miles per hour.  SPOILER ALERT: You'll also experience backward motion and a thrilling freefall drop.  Watch out!   Before you know it you'll come face to face with  magical creatures such as Fluffy the three-headed dog, Cornish Pixies, Devil's Snare, a Centaur and a Blast-Ended Skrewt.  This thrilling adventure in and around the Forbidden Forest will imprint a lasting memory for your entire family!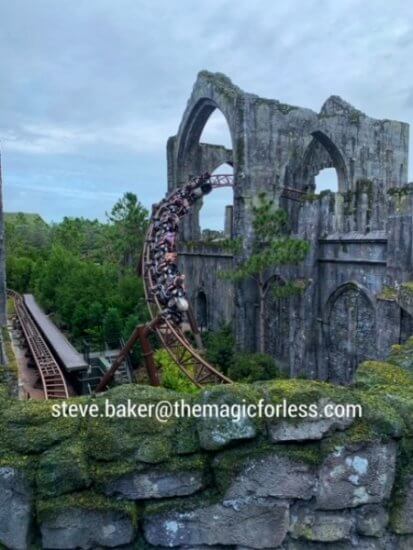 Number 4:  Revenge of the Mummy:  The Ride
My number four thrill ride is based on The Mummy movie franchise:  Revenge of the Mummy.  This launched coaster has speeds of up to 40 miles per hour.  The indoor queue and attraction are immersed in an eerie storyline straight from the film.  The evil mummy Imhotep wants to rule eternity with your soul!  Your only hope is to find the Medjai symbol.  However, you'll plunge into total darkness, encounter fireballs, scarab beetles and an army of warrior mummies before you find it.  Prepare to wind, twist and speed through 50° drops and 80° banked curves!  I won't spoil the surprise ending.  I'll just say things aren't over until they're over!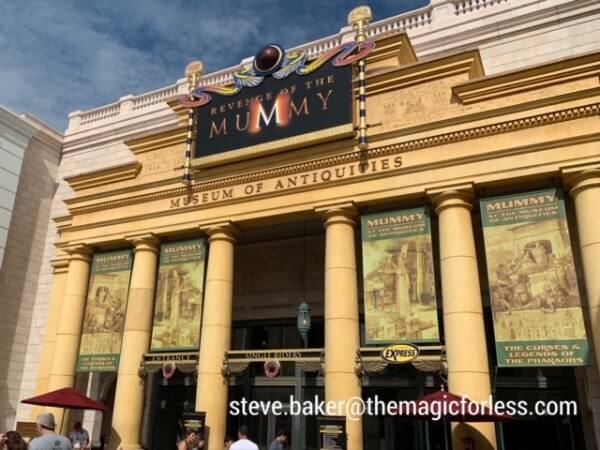 Number 3:  Hollywood Rip Ride Rockit
Are you a fan of music?  My number three attraction, Hollywood Rip Ride Rockit is for you!  This roller coaster located at the Universal Studios theme park has a 167 foot terrifying vertical lift and speeds of up to 65 miles per hour.  With 3,800 feet of track the train maneuvers through such elements as a non-inverting loop called "The Double Take", a high speed upward helix nicknamed "The Treble Clef," and a non-inverting corkscrew called "The Jump Cut."  What makes this roller coaster even more unique is the rider's ability to select a song choice to accompany them.  Featuring five genres of music (rock, country, rap, pop  and club) everyone's musical tastes will be satisfied.  And to top things off, an LED light package is installed on each coaster train making night rides even more fun!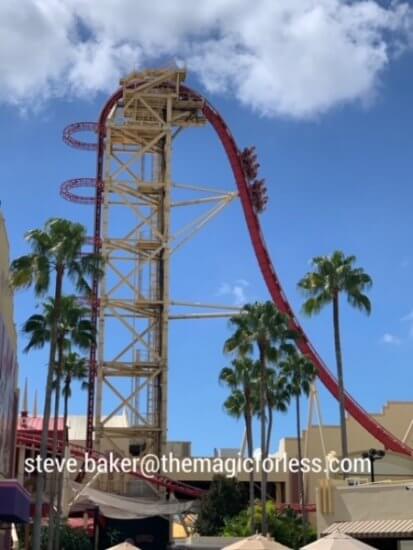 Number 2:  Ko'okiri Body Plunge
There are also exciting water attractions located at the Universal Orlando Resort's third theme park, Volcano Bay.  This waterpark has some of the most thrilling attractions onsite.  And one ranks as my number two thrill ride:  Ko'kiri Body Plunge.  If you've ever wondered what jumping off the top of a 125 foot volcano would be like this is the attraction for you.  It's not for the faint of heart!  You'll climb 209 steps to the top of the volcano to honor the volcano god, Vol.  Next, you'll enter an enclosed tube angled at 70°.   You soon realize you're standing on a trap door!  And as soon as the trap releases you relinquish total control to gravity and free fall 125 feet to the bottom of the lagoon below.   It's over in just 6 seconds, and the brave will be queuing up again and again.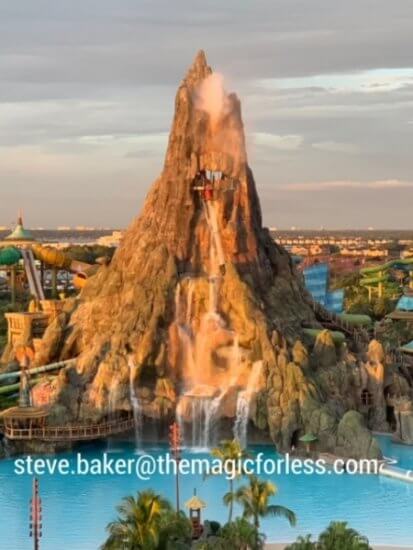 Number 1: The Incredible Hulk Coaster
The roar of my top thrill ride can be heard throughout the entire resort!  The Incredible Hulk Coaster is a massive attraction.  It's  prominently displayed at the front of Islands of Adventure.  As the story goes, you are part of a perilous experiment led by General Thaddeus Ross.  Subsequently, you're exposed to gamma radiation in an accelerator.  As you're transformed into a Hulk-like creature, you will be launched up and out of the accelerator at a terrifying height of 110 feet.   You'll experience a zero-g roll, a cobra roll, two vertical loops, and two corkscrews .  At a relentless top speed of 67 miles per hour and traveling along 3,670 feet of track, it's the most thrilling attraction at Universal Orlando!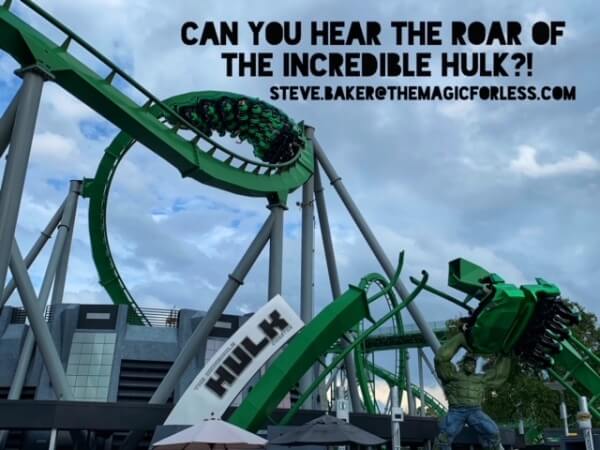 Honorable Mentions
By far this top six list isn't all inclusive and opinions may vary, but several Universal Orlando Resort attractions are deserving of honorable mention in the thrill ride category.  My choices include:
Coming soon:  The Jurassic World VelociCoaster
The Universal Orlando resort is always creating and evolving.  In summer 2021 The Jurassic World VelociCoaster will open at Islands of Adventure.  This roller coaster will be the biggest, fastest and longest at Universal Orlando.  And, I expect it to dethrone The Incredible Hulk Coaster as my top pick!
Along the 4,700 feet of track, thrill seekers will:
Blast through two launches at speeds reaching 70 miles per hour
Shoot through a 360° zero-G  roll over the lagoon
Experience a zero-gravity inverted stall that will send riders upside down across 100 feet of track
Go airborne over a towering "Top Hat" at a height of 155 feet with an immediate plunge down an 80° drop
Brace for a total of 12 heart pounding seconds of airtime
I will be first in the queue for The Jurassic World VelociCoaster myself next year!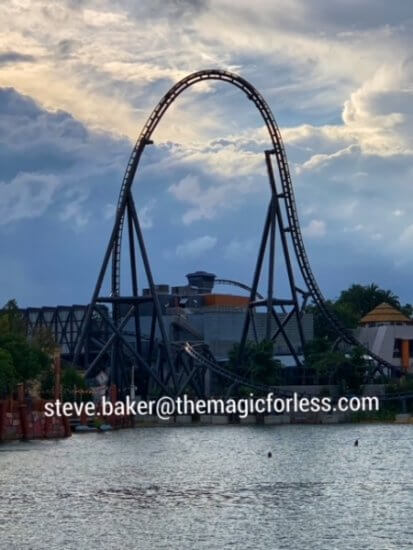 A Universal Orlando Resort is an epic vacation destination with three theme parks, dining, entertainment and 7 onsite resorts.  Contact one of the Universal expert agents at The Magic For Less Travel for your personalized Universal Orlando Vacation quote!
Similar Posts: