Universal Orlando's Cowfish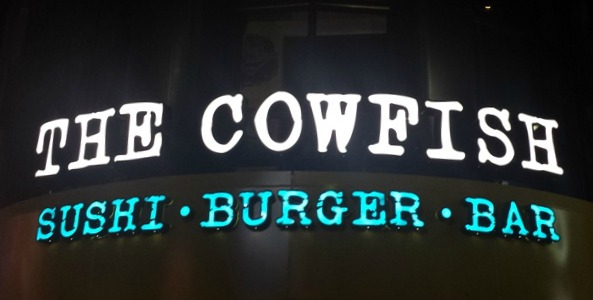 Universal Orlando's Citywalk has been on the forefront of budget and family friendly contemporary and modern dining for quite a while.  From quick service places like Red Oven Pizza Bakery to familiar tourist icons like Bubba Gump Shrimp Company and Margaritaville, there doesn't seem to be any shortage of 'fun' places to eat at The Citywalk.  When Universal announced the addition of The Cowfish Sushi~Burger~Bar last year, I was left scratching my head because like many people I couldn't understand why any restaurant would want to mix sushi and burgers.  However we have to just roll with the concept because when you see the place it all works.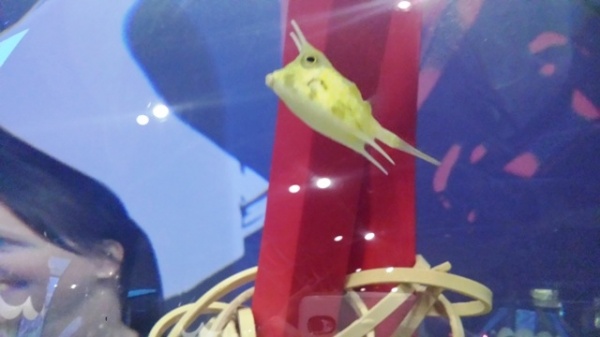 First some backstory:  The Cowfish is a restaurant originating in North Carolina (USA) that focuses on both sushi and burgers, both traditional and unconventional.  A glance at the massive menu for Universal Orlando has all sorts of innovative burgers such as a Black Truffle Cheeseburger , a Boursin Bacon Burger and their big kahuna, The Cowfish Has Officially Left The Building burger fit for Elvis himself.  With this burger you get one pound of beef with creamy peanut butter, fried bananas and applewood bacon on a brioche bun.  For "lighter" appetites It does come in a half size as well.  On the sushi side of the menu, expect the usual spicy tuna and salmon rolls, an 'inside out' roll, Sashimi and Nigiri and some fusion specialties too.  They even have beef filet roll with thinly sliced beef tenderloin.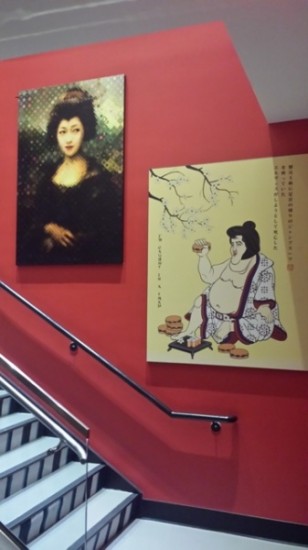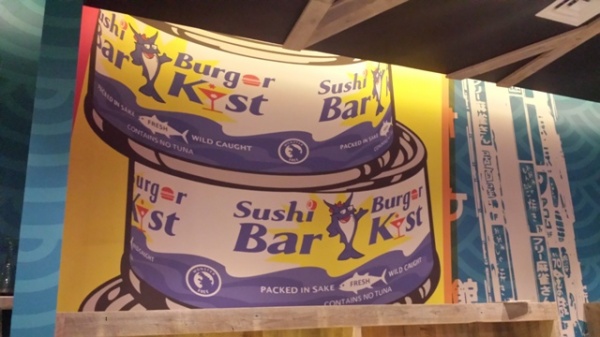 Since we were a small party of two and my dining companion usually eats healthy and organic food (think kale chips and spirulina juices), she stayed with the sushi side of the menu with an order of edamame for us to share and a salmon roll. I ordered the beautiful Bento Box with a mini-burger and some sushi.  My Bento Box included a mini cheeseburger, four pieces of sushi (in this case spicy tuna), edamame, sweet potato fries, and an amazing cucumber salad.  The burger was perfectly cooked:  not too well done and not too rare, nor did it have a char on it and it was quite tasty too.  The spicy tuna was delicious and seemed fresh without the nori wrapper fusing with the rice.  My edamame was hot as were my sweet potato fries, and the cucumber salad was cold with a spicy kick to it. My meal seemed to have been plated right before the server brought it out so props to the kitchen staff on that because they were pretty busy.  We did splurge for one dessert and two spoons:  the East-West cheescake which was quite tasty which we did not finish it because it was so rich and filling.   (My friend broke down and had one small taste and thought it was delicious.)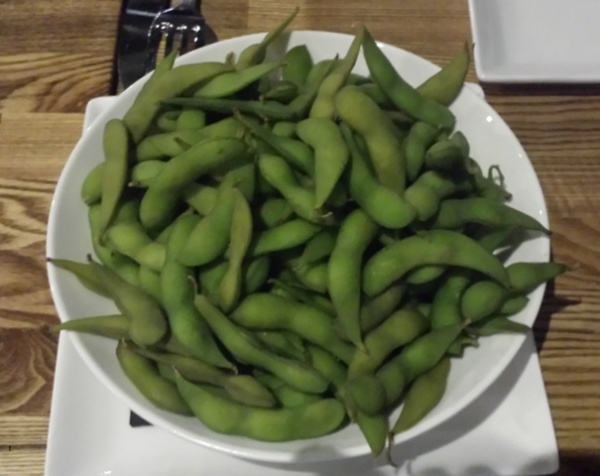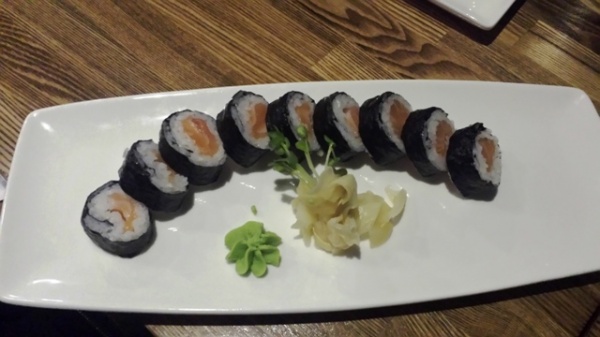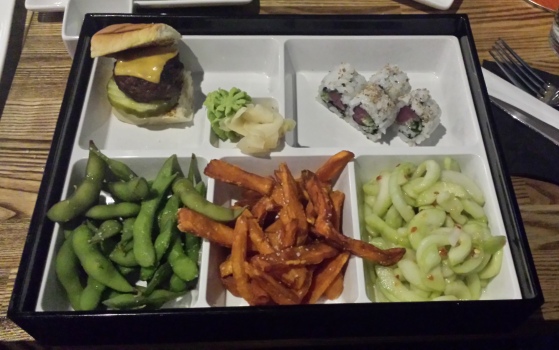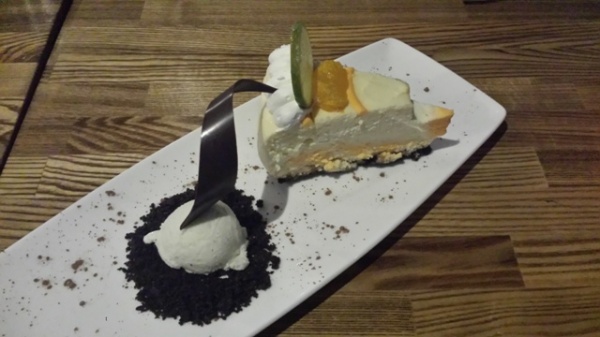 So what did we think of the place? We had about a 20 minute wait to be seated at 6:30pm on a Tuesday night in November so we were able to walk around a bit and check out the decor.   The word "Bar" is in their name and there is a bar on the 2nd and 3rd floors along with an extensive beverage menu menu including craft beers, wine, sake, and martinis (sorry, no pictures as we were driving thus just ice water.)  The decor inside The Cowfish is funky and eclectic with some beautiful light fixtures and funky artwork along with some open colorful dividers.  It was pretty loud so I didn't hear music until we were leaving and then it was the Beastie Boys fighting for their rights to party (come on, you  know the words, I know you do. We were all teenagers once.)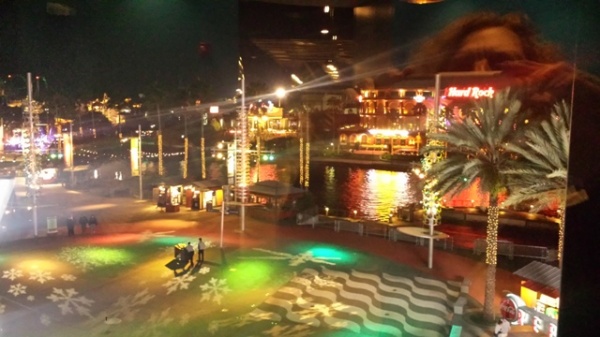 The Cowfish is a quirky place and I'm going to predict that it will be a popular addition to the Universal Orlando area.  The best part about this place was the bill, with just $14 for the Bento Box, $7 for the roll, and $7.25 for the cheesecake (November 2014 prices.)  We thought it was very reasonable, and much less costly than sushi in some of the other places in which I've dined while in Orlando.  Even if you don't want sushi this place is worth a try because of the burgers and the interesting atmosphere. I will definitely return.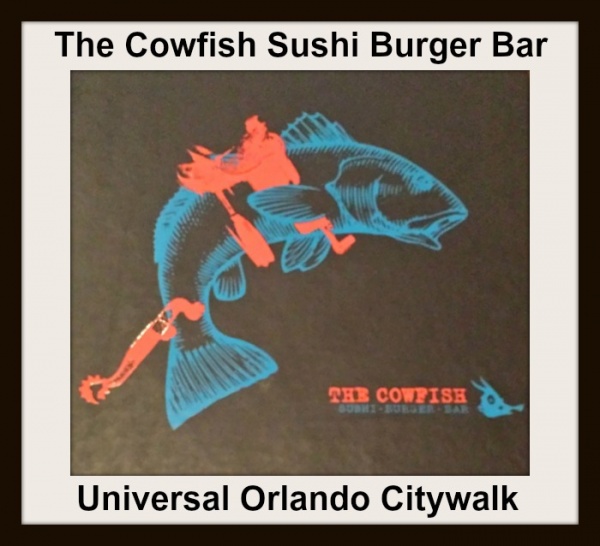 Similar Posts: