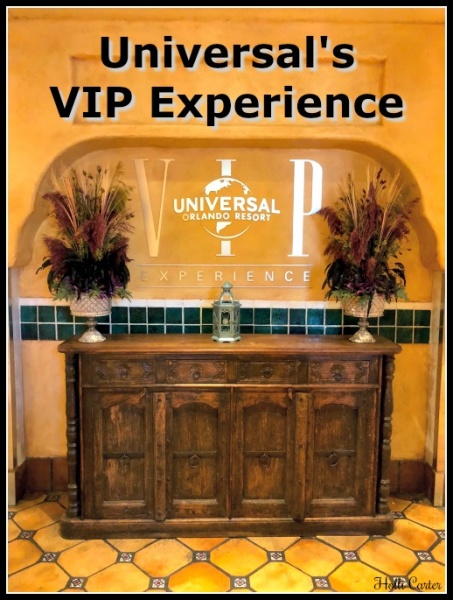 Universal Orlando Resort is home to the world's premier movie, television, and literature-based theme parks. Everywhere you turn, the likenesses of famous faces, places, sights and sounds abound! But, did you know that YOU can get the celebrity treatment without actually being one? You TOTALLY can with Universal's VIP Experience and it may very well be the perfect addition to your next Universal Orlando adventure! Let's break it down together:
What it is, in a nutshell…
The VIP Experience is guided tour of Universal Studios Florida, Islands of Adventure, or both (your choice!) with some very special benefits sprinkled throughout.
What it includes: A Quick Look…
An expert Universal Orlando Resort VIP Tour guide
Valet parking (based on availability)
A complimentary continental breakfast
A Universal Dining Plan Quick Service meal card
Priority, front-of-the-line access to rides and attractions
Exclusive, behind-the-scenes experiences
A souvenir VIP lanyard and VIP credentials
What to expect…
Your celebrity will be apparent as soon as you arrive at Universal Studios Florida and hand over your car keys to the valet. You will then check-in at the VIP Experience lobby, located next to guest services. Here, you will receive your snazzy VIP lanyard and VIP credentials. After which, you will escorted down Hollywood Boulevard to the VIP dining room at The Hollywood Hotel's Café La Bamba (which, incidentally, is now exclusively for VIP Experiences) and treated to a lovely continental breakfast.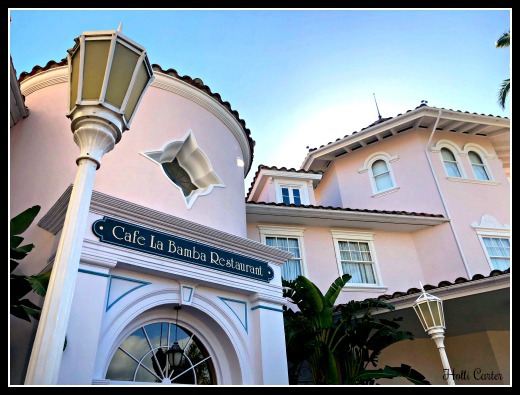 But first, we feast!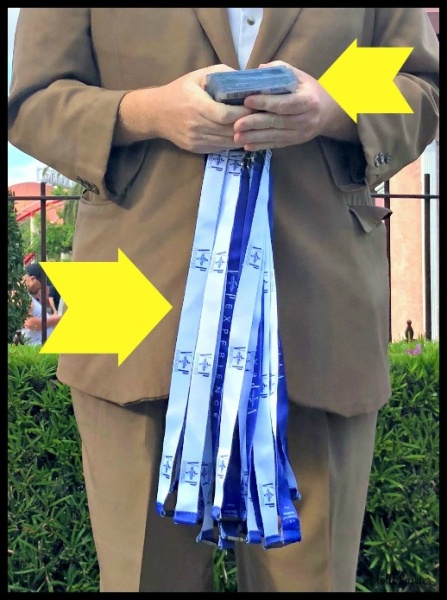 Universal's VIP Experience official lanyards and credentials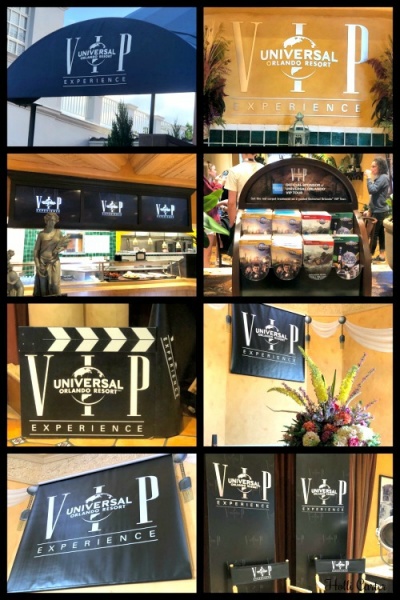 There's no mistaking that YOU are the VIP today!
Once your belly is full and happy, you will head outside to Café La Bamba's courtyard where you will meet your guide for the day. To say your VIP Experience guide is highly trained and exceptionally knowledgeable is a gross understatement. Now, while it's true that today YOU get to be the VIP, the guides really are the true stars.
Not only will your guide walk you past even the Express queue and right onto rides and attractions galore – which is awesome! – they are a veritable wealth of information on everything from the extensive history of the parks themselves, to current operations and even information on future park updates. Have 1000 questions? Ask away! Chances are, along with answers, you'll get the details, backstories and even some cool trivia to impress your friends at home.
Guides offer fun insider tips and advice – like where to find the best parade-viewing spots or where (and when) to find your favorite characters. He or she will take you where the magic happens – areas so secure that picture-taking is forbidden on penalty of death! Ok, that may be a slight exaggeration. But it's really cool and they do ask that no pics be taken. Seriously, though, the exclusive behind-the-scenes experiences will blow your mind! I won't give too many spoilers, but tell me this…Have you ever stood mere feet beneath an operational roller coaster (without being banned for life)? You will on this tour!
VIP Experience guides are the B-O-M-B! And Kelly was no exception!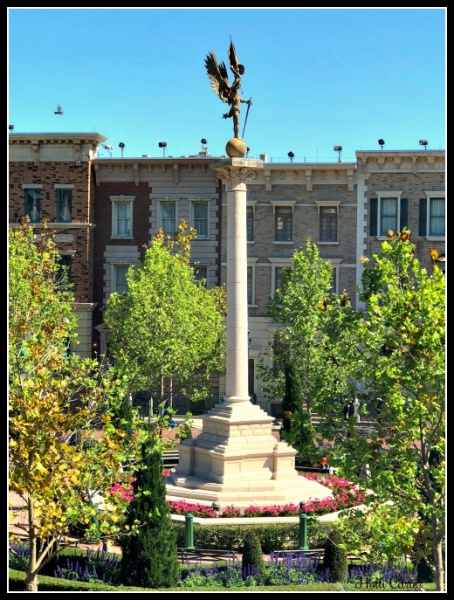 A view only VIPs get to enjoy
As the saying goes, "All good things come to an end", and so must your VIP Experience. Single park tours last approximately 5 hours and touring both will take about 7. But wait! Your celebrity status does not dissolve once you bid adieu to your fabulous guide and new best friend! Look down…that cool VIP lanyard contains magical credentials that, upon flashing to appropriate team members will get you a 10% discount on food and merchandise, as well as granting you UNIVERSAL EXPRESS UNLIMITED for the REST of the day!! All this and NO paparazzi!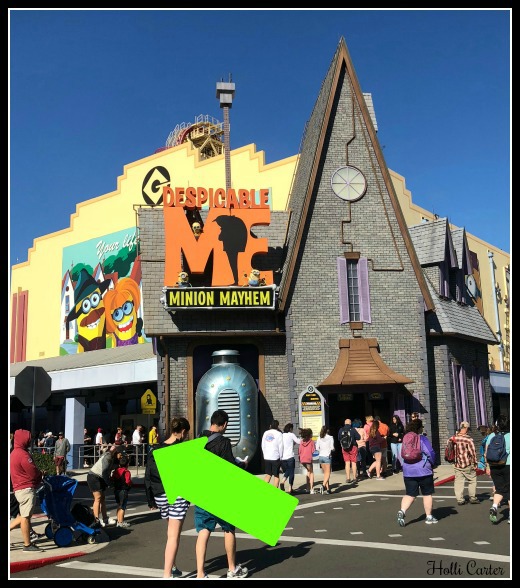 Queue packed full? It's no problem when you have Universal's Express Unlimited Pass!
How much does it cost?
VIP Experiences start at $189.00 per person (plus tax, in addition to your park admission)
But is it really worth it? Value vs. Cost
Perhaps I should first have asked if the VIP Experience is necessary to enjoy your visit to Universal Studios Florida and/or Islands of Adventure. Well, no. Of course not. But, having had the opportunity to do it myself, I honestly believe it is an extraordinary experience.
When I returned home, I began making a list of the 'types' of travelers that would enjoy or benefit from the VIP Experience. The longer the list became, the more I realized that I was struggling to come up with a demographic that would be visiting the park, but could also easily be excluded from my list. You see, the thing about the VIP Experience is that gives you more of what you are visiting the parks for in the first place. So, outside of the absolute most casual and disinterested of park-goers, it has universal appeal (Ha! See what I did there? Universal…).
That brings us to the subject of value…
Value and cost are not often synonymous. Consider valet parking. Universal's VIP Experience guests enjoy free valet parking (subject to availability). The COST of valet parking is $45-$55 (with the standard parking fee being $22). However, the VALUE of it extends beyond not having to open up your wallet first thing in the morning, which is a good start for certain. However, not only will you not have to trek from garage to park in the morning, I wager you will appreciate it ten-fold when you realize, at the end of the day, that you also do NOT have to drag your worn out, possibly cranky family from park back out to the garage. Oh, yeah, it's the little things that can really make a big difference!
Then there are the big things that make a huge difference. One day of Universal Express Unlimited, which is also included with the tour, has an average COST of $129 per person. The benefit of having it cannot be understated, though, in my opinion. You will shave at least 75% off of wait times in the summer! And even more on non-prime days. The VALUE of this perk is, of course, not wasting time in lines. Less line time = more fun, more rides, more attractions. Simple. Ah, but don't forget, this is the Express Unlimited pass!
So, if your kids (or you!) want to Escape from Gringotts over and over or feel the need for a Men In Black scoring competition, go for it! And that's not all…If you happen to be visiting during peak times (basically any time school is out), the value increases sharply in combination with the longer park hours. Especially when you consider that peak-period lines for the ever-popular Harry Potter attractions can approach 4 hours!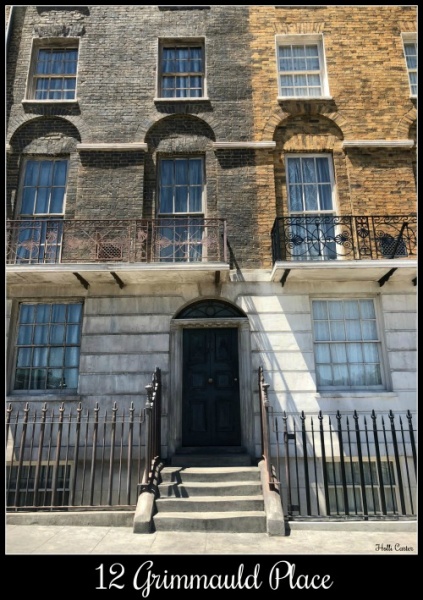 Do you know who resides at this famous address? Your VIP guide can tell you how to catch a glimpse.
An added value shout-out to all the moms and dads… Vacation can be a LOT of work with kids in-tow. Universal's VIP Experience offers you a day with no scheduling required on your part. You can relax and actually enjoy the parks. No constant fumbling with maps, continual coordination of showtimes, or searching for the closest restroom. Two full meals (plus a snack and additional beverage!) are taken care of already. No waiting in long lines with whiny kids (or spouses!). It's all taken care of, you're just along for the ride!
So, yes! I believe Universal's VIP Experience is worth the cost. I actually think it rocks! Whether you are a theme park junkie or you just want a great way to do way-more-park in way-less-time (all while getting the celebrity treatment!), I highly recommend you consider adding it to your next Universal Orlando visit. It is an extraordinary experience in itself and will make your visit much richer for having done it…long after the tour ends!
Let's do this!
Universal's VIP Experience is available every day, but reservations are recommended. Universal also offers a private version of the VIP Experience if your group has 7+ or you (and your inner celebrity) just want to take it up another notch. To book or find out more – and be treated like a VIP right from the start – Have your people call my people at The Magic For Less Travel. We'll hook you up!
Similar Posts: