A guided family vacation might not appeal to everyone on the surface. Why would I want to spend my precious vacation time in the company of strangers? The answer lies in the magic of a shared adventure. We recently experienced this phenomenon on our very own adventure to the desert Southwest.
We have always wanted to visit the Grand Canyon but for a variety of reasons, we never seemed to be able to do it. We chose this particular Adventure by Disney because it included the Grand Canyon. Traveling with Disney is so easy, they handle everything right down to the luggage.
The adventure began in Phoenix, AZ with a meet up at the airport before boarding our motorcoach to Sedona, Arizona. Disney provides two guides on every adventure to make sure everyone is taken care of during the trip.  The Adventure Guides took turns giving us background on what we were seeing from our windows and what to expect in Sedona. We had a couple of stops along the way to take photos and stretch our legs and see the incredible Saguaro cactus up close!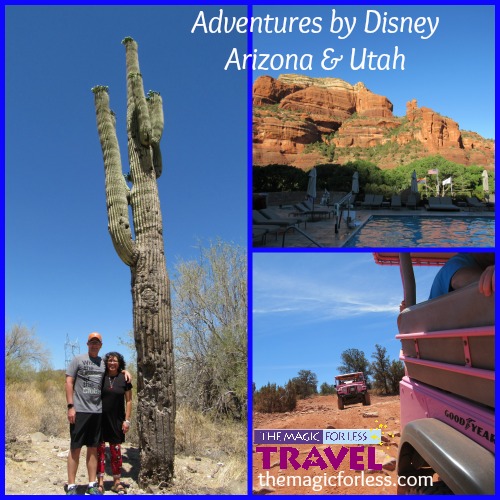 We stayed for 2 nights at the Enchantment Resort in Sedona and it was spectacular. Scenic views, peaceful surroundings, and great service. Our welcome dinner on the first night gave us the opportunity to meet and get to know our fellow adventurers; as well as enjoy a wonderful presentation by a Native American guide who taught us of the history of Sedona. The next day, we enjoyed a Pink Jeep tour from the resort to the Diamondback Gulch and it was a dusty, bumpy, and thrilling adventure.  Disney does a great job of giving you some free time among the scheduled group activities so you can explore on your own.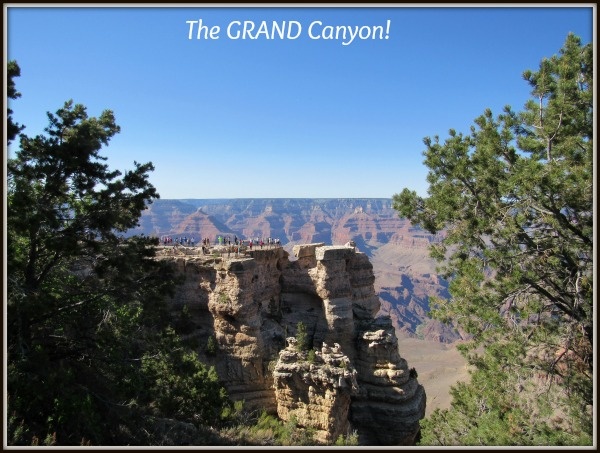 The next stop was the Grand Canyon but the drive was broken up by stops at Bearizona (a wildlife park) and the small town of Williams, AZ (the inspiration for Pixar's movie Cars). Bearizona is a relatively young park that is expanding but their passion for animals is evident throughout the grounds. We participated in a private training session with a young owl, met three baby otters in a private meet & greet and received a personal introduction to the black jaguar. Lunch was provided as well as free time before moving over to Williams for some more free time to explore this Route 66 treasure.
We arrived at the Grand Canyon in the late afternoon and our guides led us to Mather Point for our first glimpse of the canyon. As we approached, they asked us to close our eyes and allow them to take us to the railing. We were asked to keep our heads down and eyes closed until our whole group was arranged and then our guides gave a countdown. Three, two, one, WOW! We were given free time to explore the area and then it was off to our hotel to freshen up for a group dinner. The Thunderbird Lodge is not much for amenities but it is located right on the rim of the Grand Canyon! Our Adventure Guides hosted us for a delicious dinner in a private dining room at the Lodge and afterward, we were treated to two Navajo storytellers who explained their culture through words, dress, music, and dance.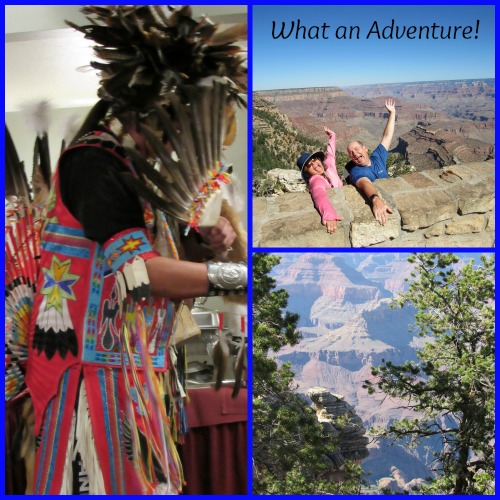 The following day was a tour of the Desert View Watchtower and included a local guide who shared his knowledge of the history of the Grand Canyon complete with interesting facts and stories of the people responsible for bringing the area into the National Park system.
The afternoon and evening were free time so we headed to the Grand Canyon Airport for a helicopter tour of the Grand Canyon courtesy of Papillon Helicopters. This excursion we booked on our own and as impressive as the Grand Canyon is from the various overlooks, you cannot fully appreciate the grandeur until you fly out over the rim and across the width of it. It was stunning and a memory we will never forget.
After our second night at the Grand Canyon, we loaded up on our tour bus to head to Monument Valley. We arrived in time for a group lunch and then it was off to see the famous rock formations. We boarded open-air trucks with Navaho guides to explore many of the more notable sights. The tour included stops to explore the rock formations up close and get pictures. After that dusty adventure, we were taken to our rooms at Goulding's Lodge to clean up for a Navajo dinner. The rooms were individual cabins looking out over Monument Valley and had little covered porches. We loaded back up on the trucks and headed out into the desert for an outdoor cookout in a secluded canyon. There we learned the secret of Navaho fry bread and enjoyed live music after dinner.
We said goodbye to Monument Valley the next morning as we boarded our bus for Moab. Our Adventure Guides had a surprise for us as we headed out, we were able to recreate the scene from Forrest Gump where Forrest ends his cross country run and says he's tired and heading home. They even dressed up one of our group as Forrest while the rest of us played the part of his fellow runners. It was great fun and made for some wonderful photos.
We arrived at Red Cliffs Lodge in Moab for a catered lunch followed by free time until dinner. The room at Red Cliffs Lodge was far and away our favorite of the tour. It backed up to the Colorado River and had a private patio looking out on the river and red rock formations. Dinner that night was arranged by our Adventure Guides as individual parties dining on the deck of the main building as the sunset over the river and cliffs.
The next morning was our drive into Moab National Park to view the rock formations and have a local expert explain all that we were seeing. We elected to hike up to the Delicate Arch along with several others while the rest of the group continued to explore by bus. It was a workout but the payoff was amazing and the photos were spectacular. We were dropped off in the town of Moab at the conclusion of the tour for lunch on our own. After lunch, we were part of a large group that headed out for an all-terrain tour on UTV's into the backcountry. It was another dusty, bumpy, and thrilling adventure that left red dust literally everywhere.
We cleaned up back at Red Cliffs Lodge and had our group farewell dinner in a private outdoor dining area complete with steaks grilled to order, live music, and shared stories of the adventure we had lived over the past week. After dinner and dessert, it was down to the fire pit for more songs, storytelling and s'mores.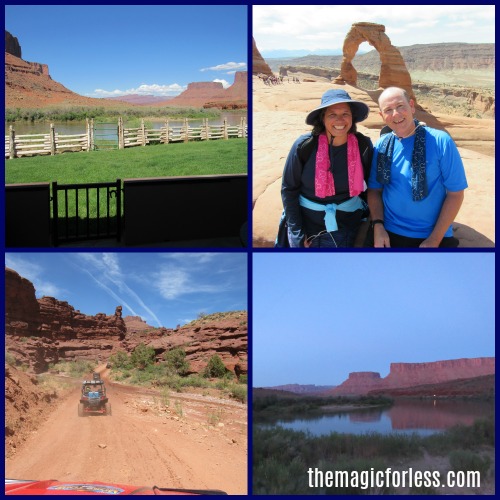 The next morning it was time for one final bus ride to Grand Junction, Colorado to catch flights home. The bus rides are an unavoidable part of land tours but credit to Adventures By Disney for making them seem shorter with a combination of rest stops, snacks, movies, and games. All too soon it was time to say goodbye to all the new friends we made during our week together.
View the Adventures By Disney Arizona and Utah tour travel dates or learn more on our website by clicking here.
Similar Posts: