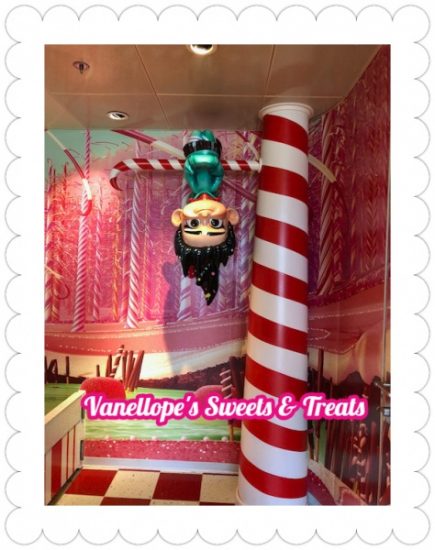 I hadn't been on the Disney Dream since Disney Cruise Line did some re imagining in 2015. I was happily surprised at the changes and wanted to share my favorite one with you here: Vanellope's Sweets and Treats! As many of you know, Vanellope Von Schweetz is a character in the game Sugar Rush, from Wreck It Ralph.
When the Disney Dream went into dry dock in 2015, Vanellope's Sweets and Treats was added, replacing the former Arr-cade on the starboard side, aft area on Deck 11.  You can access the sweets shop inside of Cabanas restaurant as well as out on the pool deck.
Vanellope's Sweets and Treats is designed to look like Sugar Rush, including a mural on the wall and various characters from the game in statues. Vanellope herself is hanging upside down from a candy cane to greet you as you enter. You will also see King Candy waving his racing flag and of course, Vanellope's go cart!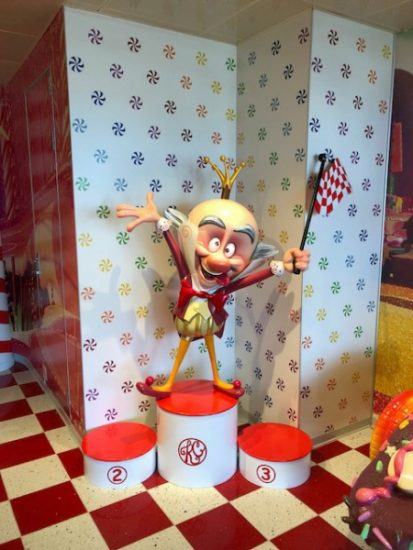 As you can imagine, the sweet shop has alot going on in the way of sugar! Bulk candies, pre-packaged candies, delicious gelato, frozen yogurt and ice cream. The gelato and the ice cream are available by the scoop, or you can order one of the amazing sundae concoctions on the menu!!!  The flavors of the frozen treats changes daily, so you should check the menu if there is something you love and you don't see it the first time.
Next to the gelato case is a bakery case with cupcakes, chocolate treats, macaroons, truffles, cookies, caramel apples and various other items guaranteed to make your sweet tooth happy!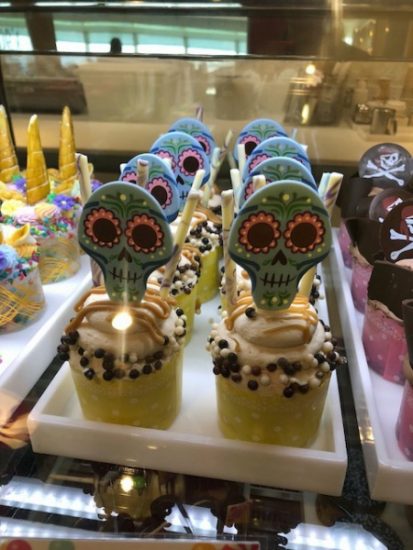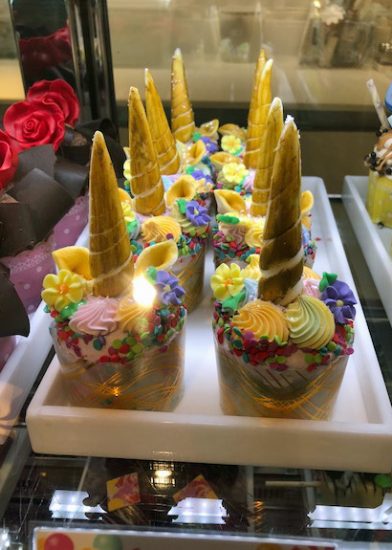 Don't worry, you will also find Goofy's Candy Company selections if you are a fan of those.
Overall, the shop is adorably decorated and fun to check it, even if you are not a sweet eater.
Thinking about a Disney Cruise? Let me know! I would love to hear from you! 
Similar Posts: