Disneyland Hotel is the original hotel at the Disneyland Resort.  It is only one of two hotels in Anaheim with a AAA four-diamond rating.  Three towers that are themed to Disneyland's lands: Adventureland, Fantasyland, and Frontierland stand facing a spectacular pool.  They are in the process of building a new Disney Vacation Club tower, too.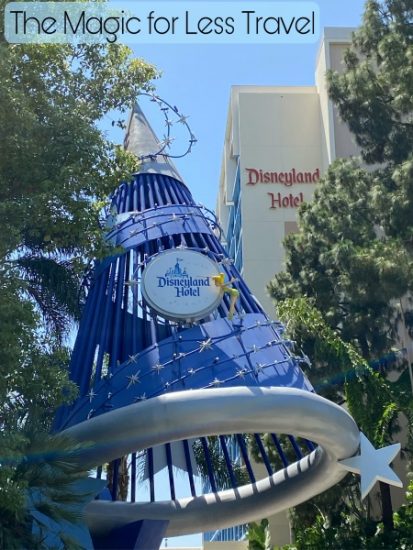 Although built in 1955, Disney has done a fabulous job of keeping the hotel feeling upscale and classically modern, with touches of nostalgia throughout.  Make sure to explore the resort halls for photos and memorabilia of yesteryear.  Also, there is a fun map at the entrance to the resort.
Located at the opposite end of Downtown Disney as the parks, it is the furthest on property hotel from the park entrance, but only steps from the monorail station.
Rooms at Disneyland Hotel
Designers have added the perfect amount of Mickey touches to the rooms.  There are many opportunities to find some hidden Mickeys!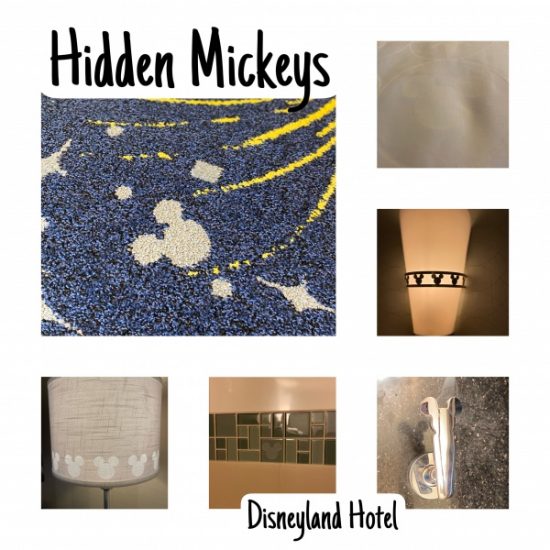 The beautiful patterned carpet and textured wallpaper lend luxury to the design, but the focal point is the gorgeous wood carved head board with Sleeping Beauty castle and fireworks.  It lights up and plays "A Dream is a Wish your Heart Makes" with the touch of a button.  The decorative pillows on the beds mirror the lyrics of your own in room music box.  The beds and pillows are especially comfortable.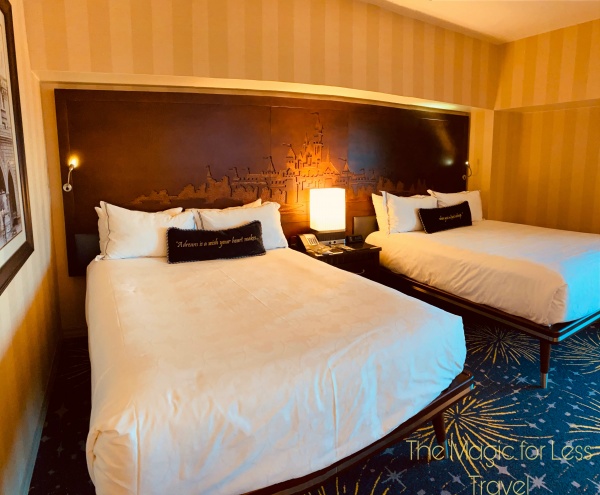 Most rooms have a single framed black and white photograph of Walt Disney walking through the archway of Sleeping Beauty's castle.  The simple elegance of this photograph is such a fantastic nod to times gone by and the nostalgia seen throughout the hotel.
Room views include Standard, Deluxe, Premium, and Downtown Disney views.  There are some rooms that include access to the Club-Level lounge (the E-Ticket Club)  and one and two bedroom suites, as well as unique, signature suites.
Get all the news, tips, & tricks for your next Walt Disney World vacation!
Dining at Disneyland Hotel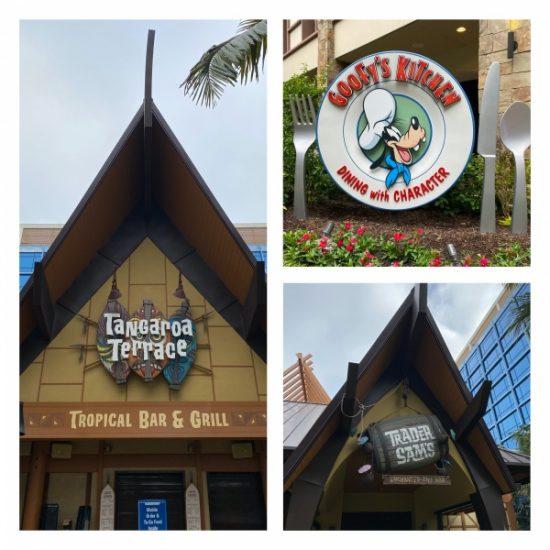 Hungry? Grab your morning coffee and muffin or your favorite soft serve at the Coffee House.
Enjoy a character buffet meal at Goofy's Kitchen.  Or you can grab a quick service bite at Tangaroa Terrace Tropical Bar and Grill.
If you are hoping for a fun time with adult beverages, make sure to swing by Trader Sam's Enchanted Tiki Bar.  You are in for enchanted Polynesian surprises.  They also have live music on the patio many nights.  Also, there is a fireplace with seating nearby, which is a perfect place to relax after a long day in the parks.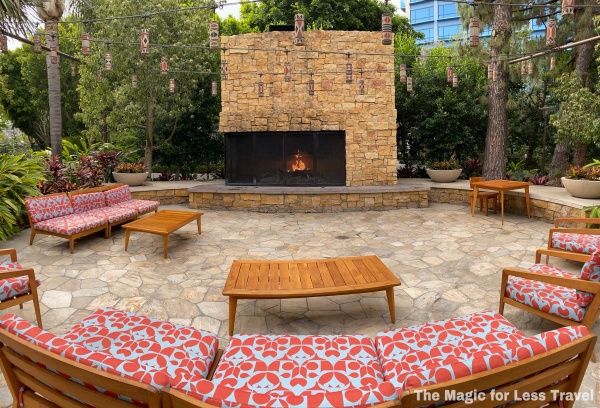 You can even have some of your favorite Downtown Disney dining locations delivered to the resort!
Recreation at Disneyland Hotel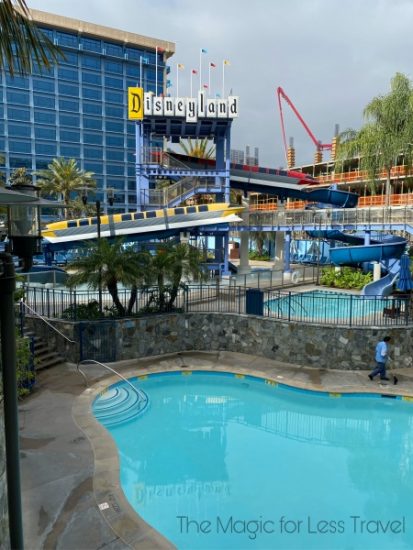 Keep up with your fitness goals in the fitness center or by booking a reservation at one of the fitness classes that are offered.
Of course, you can also relax poolside at the E-Ticket or D-Ticket pools or whirlpools.  Want more thrills?  Make sure to try out the two Monorail themed slides!  Want to relax?  Reserve a private poolside cabana!
On a recent visit, we happened upon a beautiful wedding taking place in the Rose Court Garden.  In addition, they can also schedule more intimate weddings in the Adventure Lawn Gazebo.  The grounds are perfect for an outdoor wedding!
In short, I would absolutely stay here again!  Have you had the opportunity to stay at Disneyland Hotel?  What is your favorite hotel option at Disneyland Resort?
Similar Posts: