Disney's Dining Plan for 2018: is it still "worth it"?
Disney has released vacation packages for 2018 and there are some changes that include an enhanced beverage component for all dining plans.  Also new for 2018 is a rate increase, which probably surprises no one.  All prices in the chart below are based on each night of stay. If you run your own scenario based on length of stay you will notice some variances of a few pennies. This is due to rounding of numbers. Dining plans at Disney do include sales tax, but they do not include gratuities.

For 2018, Disney has added in the opportunity to include a specialty drink such as a smoothie or shake, glass of wine or beer, or select cocktail as a beverage with all dining plans–even the Quick Service plan. (At this point we do not have a maximum dollar limit as to that beverage cost and brochures are not available, nor have we been advised if these items can be pooled for adult use while those age 20 and under drink water.)  With the addition of adult beverages to the plan, remember to bring your government issued photo ID if you wish to imbibe (valid driver's license or state ID, or valid passport.)
Here is what the beverage option for dining plans will be for 2018, and it also includes the Quick Service dining plan: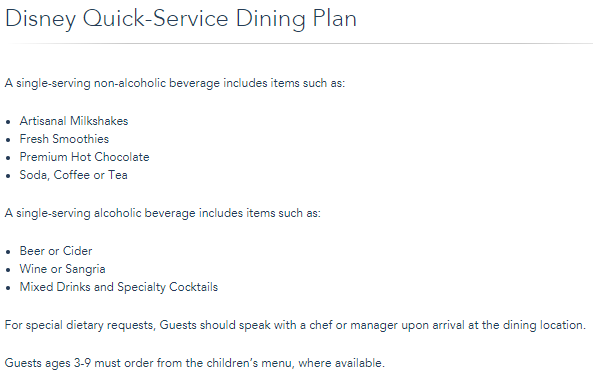 I know, I know… not everyone drinks adult beverages and this is not an enhancement that is going to be enthusiastically embraced by everyone. There are also some unanswered questions, including what sort of specialty drinks will be at Quick Service restaurants, and if that means there will be more alcoholic options in locations that previously had none (Magic Kingdom – that would be you.) Since it is not yet addressed, let us explore how we can incorporate this feature when selecting table service meals with dining plans.
The typical character dinner at Disney is around $45 with some that are higher priced.  In January 2017 I dined at Akershus Royal Banquet Hall which was $57 per person age 10+ to pay with real money, or one Table Service credit on Disney's Dining Plan. Disney does not post actual buffet prices and current rates on their site as of June 2017 is $35-$59.99 per person (plus tax.) For one table service credit on the dining plan, Akershus is a huge value.
Regardless of cost increase, the typical group of two adults and two or three children ages 3-9 will come out ahead with just a tiny bit of planning when booking Disney's Dining Plan or the Deluxe Dining Plan. This is because the nightly rate of the plan for children age 3-9 is less costly than paying for their food as you go.  Even parties where kids are age 10 and up can come out ahead with a plan of some sort. When I refer to a plan, that does not meal walking up to a popular restaurant at 6:00 pm and asking to be seated! Disney has over 29,000 hotel rooms and around 100 table service restaurants. Make reservations because plenty of people are going to be turned away due to most locations being sold out at all times of the year. Will there be walk ups available?  Probably somewhere, but as a rule walk ups are difficult to obtain especially in the Magic Kingdom.
Let's Do Some Planning!
To see if this is going to work out, let us take a party of one adult and one child age 3-9 who have a five night stay with Disney's Dining Plan and run some dining scenarios. They want a trip that does not include princesses with healthier meal selections (no burgers and fries) with some indulgent splurges on snacks. The adult also does not want to fetch food for the entire vacation and prefers menu dining rather than a buffet or character meal each day. They have selected Table Service meals at the following locations:
Since they already know that quick service breakfasts are not a good option on Disney's Dining Plan, they will be using Snack credits for a bite to eat before they head out to the parks. Their planned Quick Service restaurant lunches are:
Snack credits on dining plans at Disney cover a lot of items. You may use your snack credit on things like a piece of fresh fruit (around $1.49 value), a package of Goofy's Candy Company bagged treats (cash value at $4.49), or even a funnel cake in Epcot ($7.00 if purchased.)  With some planning, your snack can be a mini-meal or it can be an indulgent dessert.  It is totally up to you—and on all three dining plans each guest age 3+ receives TWO snack items per night of stay.  That's a lot of Mickey Bars!  My little sample family is going to use a snack item for their breakfast and their refillable resort mug for a beverage, do a Quick Service lunch, and a Table Service dinner.
On Day 1, our family arrives for their trip and goes to Chef Mickey for dinner. This is always a good start to a Disney vacation and a great value for table service meals on dining plans.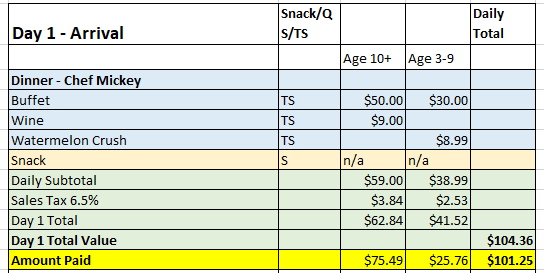 On Day 1, most people go to the Magic Kingdom, which is where our little family is headed after some Snack credits for breakfast. All dining plans include the refillable mug, valid at Disney resorts only.  If they were trying to max out their one Table Service credit meal on a dining plan, they would need to consider the Crystal Palace which is usually around $45 + tax per adult for dinner.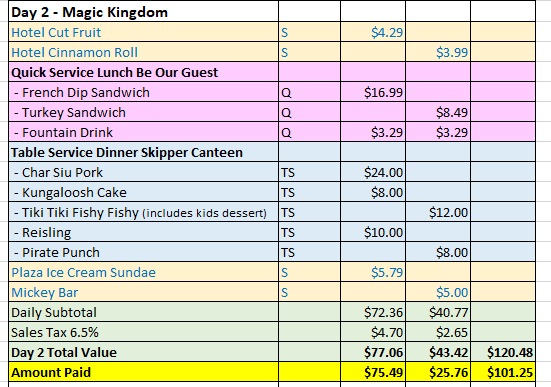 On Day 3, they head to Epcot, and to Les Halles Boulangerie Patisserie in France for some pastries. They leave the refillable mugs at the resort because they're not valid in the parks, and get a cup of water with their breakfast item, which is complimentary at quick service locations if you ask. As you will see, they're still coming out ahead even without the most expensive restaurant choices.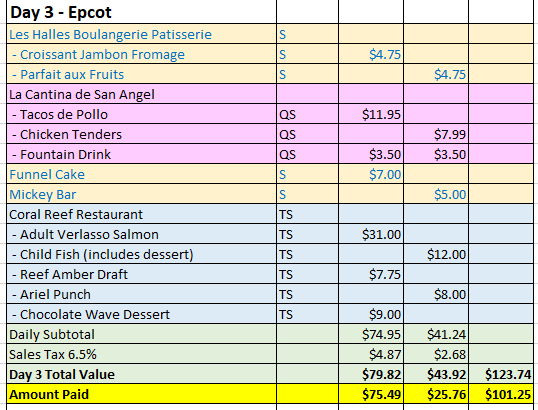 Day 4 is a big bang for the dining plan credit because they're booking a Rivers of Light meal package at Tusker House. This comes with a voucher to enter the show that night without much waiting in line–and no Fastpass+ selection is required when you book a dinner package.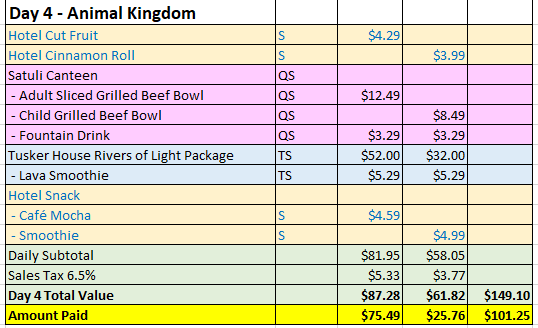 Day 5 is the last full park day and they decided to run around a bit. They get their pretzel and churro at Hollywood Studios, go to Epcot for lunch and share a huge meal, and have a relaxing and healthy dinner at The Wave… of American Flavors at the Contemporary Resort.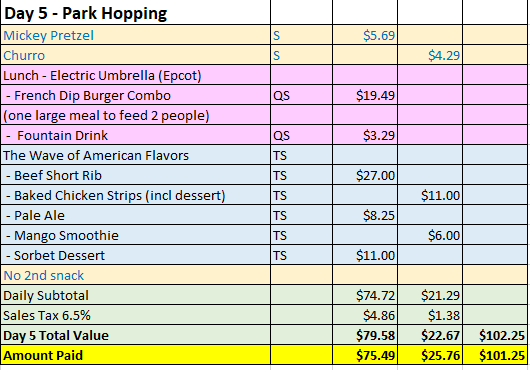 Since they did not use all of their snacks there are some leftover credits. Being smart guests they know not to leave anything at Disney as unused dining entitlements have no cash value and those which are not used are forfeited. Snacks can be portable and go home in luggage, which is why they select some candy. They decide to end their vacation in the Magic Kingdom, picking up two snack items (bottled water and a waffle) to bring in to Columbia Harbor House while the adult enjoys her healthy salmon dinner. Dining is purchased based on the number of NIGHTS and not days, so there is no daily cost for the plan on the last day.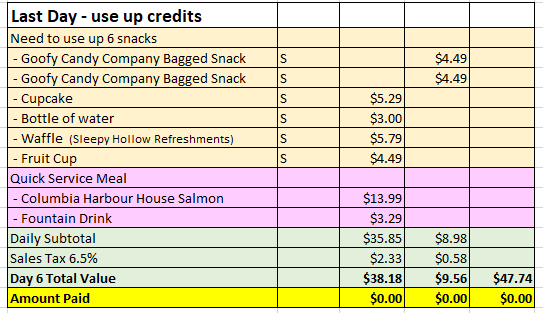 Even though they did not order the most expensive items, or do character meals every day, this family ended up coming out ahead with the purchase of Disney's Dining Plan–and didn't order expensive alcohol for the adult:

As you can see, the "no brainer" part of a dining plan are children age 3-9. Even with the increase of the plan, the adult still came out ahead. Change this itinerary around to character meals and more expensive table service locations such as Teppan Edo (Epcot-Japan), and the purchase of a dining plan is still going to be a significant savings. Another benefit to the purchase of a dining plan at Disney is regardless of menu price, as long as you're using dining credits to "pay" for your meals, you are protected from rate increases.  Several times a year, notably during holidays, some restaurants increase their menu pricing.
So while we all may have a little bit of sticker shock at the nightly cost of dining plans at Disney, it is still a good value for the vast majority of guests, mainly because meals are so expensive. It can be a GREAT value if you go into it looking to get your best deal. Even without a dining plan I tend to spend at least $50+ per day on food and I don't eat nearly as well as i would if I purchased a plan. This has swayed me towards a dining plan for my trips of 7+ nights.
Overwhelmed with all of this? Well, Hakuna Matata… let me or one of my colleagues at The Magic For Less Travel help you navigate your Disney vacation. There is never a cost to you!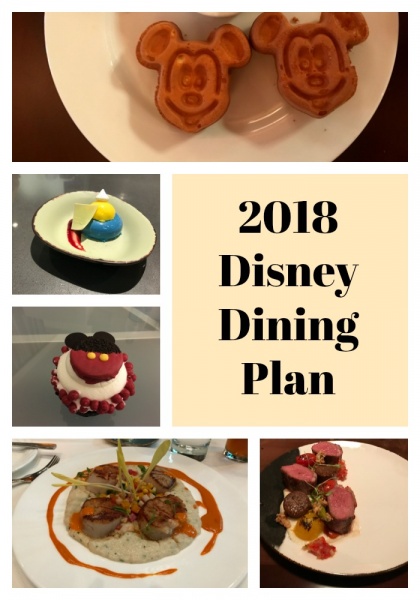 Similar Posts: