The last time I blogged we were discussing the T-Rex restaurant at Downtown Disney. Today we're going to take a look at a different, but just as fun, topic:  Disney shopping!
Until maybe 4 years ago I was never the kind of girl who bought a lot of souvenirs or merchandise when I went to Disney World.  I figured going on vacation was a gift enough and I really didn't need another Mickey Mouse tee shirt or mug to take up space in my house.  I don't know if I changed or if Disney started doing a better job with their merchandise, but in the last few years I find myself really enjoying browsing the Disney shops and needing a lot more space in my suitcase for items that I bring home from the parks.  I believe that most visitors to Disney Parks wants to bring something unique and special from their trip home with them.  We want items that have specific resort names on them, are fashionable and cute, and maybe are things we would actually use in real life (or at least we tell ourselves that when we are purchasing them).  It seems to me that Disney understands this concept and is upping their game lately when it comes to merchandise.
Take for instance Disney hats.  Gone are the days of just plain baseball hats with the Walt Disney World logo.  Now you can find cute Mad Hatter and Cheshire Cat top hats that any teenage girl would love to wear: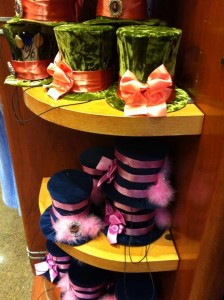 Disney has even cleverly jumped on the steampunk wagon with these new steampunk hats.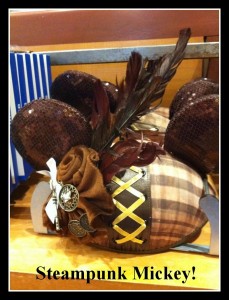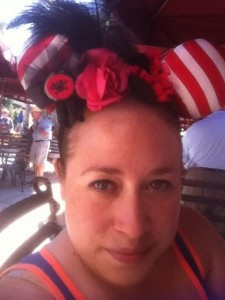 I myself went with this can-can/burlesque/French type styled Mickey ears.  I fell in love with them at first sight and literally wore them just about every day of my 7 day vacation.
But it goes beyond hats.  Need a fashionable, colorful tee shirt for your teen or yourself?  Check these out: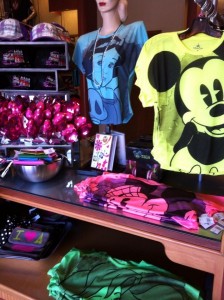 And these were just standard shirts in a random gift shop in Hollywood Studios.  There are more specialized stores at Downtown Disney that cater specifically to teenage girls and young women, offering hip, adorable clothing and accessories (like Tren-D).  And look at these cute flip flops.  I would definitely wear those around town in the summertime here in New York no problem, and the purse too.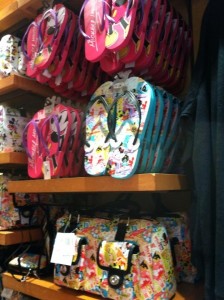 Not everything is for women either.  I've seen some really cute food tee shirts for men that represent different cult classics (like the Dole Whip) and some more trendy things for guys.  There are also things like electronic accessories (iPhone case anyone?), jewelry, and home decor.  I hope this is a trend Disney sticks with and that they continue to offer us unique and fun items that us Disney fans can bring home and proudly wear or use in our homes.  It's really a win/win.  Disney gets more of our money and we get to bring home a little piece of the magic.
Similar Posts: