Beyond the thrill of Walt Disney World® Theme Parks, discover the magic of Disney Springs. Dive into a diverse blend of boutique shopping, unique dining experiences, and spectacular entertainment. Imagine indulging in a dessert-first brunch and then finding that perfect pair of boots just moments later. A surprise afternoon performance might just lead you to a lavish dinner venue serving dishes as exquisite as the ambiance.
Connect deeply with your passions and with each other in this enchanting destination. Navigate through its four vibrant neighborhoods, each beckoning with irresistible attractions that will seamlessly draw you from one adventure to the next
The four fascinating neighborhoods are filled with so much to discover, they'll pull you from one to the next.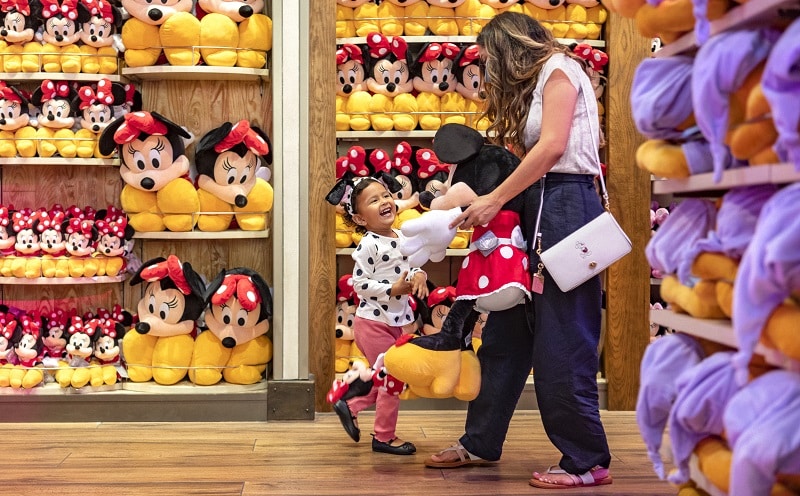 The Landing
Ease into the charming rustic vibe of this welcoming waterside district filled with one-of-a-kind boutique shops. The wharf-side eateries offer everything from artisanal cocktails crafted at the edge of your stage-side table to a sushi bar so fresh, it's a cut above the rest.
Town Center
Stroll the day away shopping up and down the old Mediterranean-inspired Floridian streets. Explore unique boutiques and one-of-a-kind flagship stores. From big-name brands to rare finds, you'll discover this playful promenade is the perfect place to relax, refresh and reconnect.
Marketplace
From amazing crystal glass coaches to sportswear with a Disney flair, the Marketplace is one of the hippest Disney shopping experiences around. From a sophisticated art gallery to a candy store that's just "goofy," here you'll find the country's largest collection of Disney merchandise from totally classic to truly unique.
West Side
Welcome to a neighborhood with a vibe all its own. Here, the air is mixed with the sound of applause for world-renowned shows and the tempting aromas of treats to be discovered. Daytime is filled with fun, but at night, it'll ignite your senses and evoke your wild side.
Newsletter
Stay informed of the latest special offers available at Walt Disney World Resort. Subscribe to the Magical Notifications weekly newsletter from our friends at The Mouse For Less.
NOTE: After subscribing, you will receive an e-mail asking you to confirm your subscription as a standard security feature. Follow the instructions in the confirmation e-mail to complete your subscription.
Free Quote
Are you ready to plan an unforgettable vacation to Walt Disney World® Resort? Let our experienced travel agents help you make your dream vacation a reality! Request a FREE, No-Obligation Quote from us and receive personalized recommendations for your Walt Disney World® Resort vacation.
Best of all, our services are provided completely FREE of charge. So you won't pay extra when you book your Walt Disney World® Resort vacation through us.
Don't miss out on the magic of Walt Disney World® Resort. Request your quote today and start planning your dream vacation! And if you're interested in another destination, simply click here to request a quote for that too.