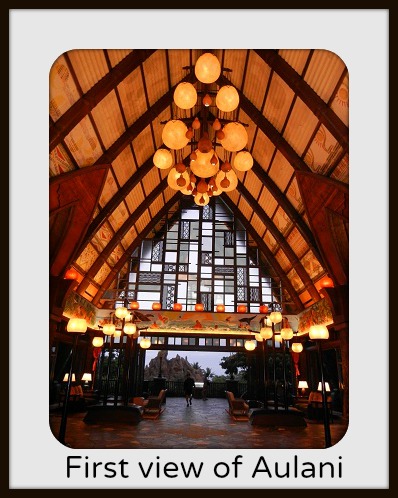 Aulani, a Disney Resort and Spa—it just doesn't get much better! When Disney first announced that they were going to put a resort in Oahu, the Hawaiian's weren't sure about this and what it would do for their island. Since it opened in September, 2011, I think that the locals love it as much as those that visit. Disney spent great efforts to be sure that they consulted with Hawaiian culturists to be sure that this resort portrayed Hawaii with the respect that is due. They have a culturist in the lobby area ready to answer any questions you might have, and is more than willing to point out special things as well. There are also tours of the resort that point out the little things that will make you look at the resort in a different light.  Notice the symbols that look like bow ties on some of the walls and counters, which symbolize the tie between Hawaii and Mickey Mouse.
As with all things Disney, Aulani tells a story. Aulani means messenger of the chief. Throughout the resort you'll see arches that look rather like an A—this symbol stands for home, and they want Aulani to be your home while you're there.
When you walk into the open-air lobby you're just taken back by the beauty of the resort. This part of the resort represents a canoe house, with the ceilings being upside down canoes.
The first room has murals on all 4 sides-one side for men, one for mountains, one for women and the other for the ocean. The male side is on the right as you enter, where you'll also find the Wai'anae Tower, and all photos and images on that side are male. On the left as you enter is the female side where you'll find the 'Ewa Tower where likewise, everything on that side will be female photos and images. In front of you will be the ocean, and behind, the mountains. You'll also find the image of an iwa, a bird that was used to find land by the sailors.
Behind the front desk are an array of photos taken by children from Hawaii and arranged in the colors of the rainbow. Take some time to look at these and see the children showing off the culture that is Hawaii.
The main building also houses a couple of stores where you can find some great souvenirs as well as some food items for your room.
You can also find the tour desk in the lobby where you can book exclusive Adventures by Disney excursions as well as outings to go shopping, Pearl Harbor, Polynesian Culture Center and more. You can stop there for a list of offerings as well as see them on your room TV. If you'd like to tour the island by yourself there is an Alamo Car Rental desk conveniently located on property.
There are many activities offered throughout the day, which you'll find in the daily 'Iwa, which you can pick up at the front desk, Bell Services or tour desk. One of my favorites are the stories told by Uncle at the Mo'olelo fire pit. You can also snorkel at the Rainbow Reef for a minimal fee. If you don't want to snorkel you can still see the fish at the underwater viewing area. Be sure to check for feeding times. The koi pond also has feeding times where you can help feed the fish.  There are also water recreation activities such as kayak's, paddle boards, boogie boards and sand toys.
Check out my blogs on things to do on Oahu as well as more information on the rooms and resort dining options.

Debbie didn't make her first trip to Walt Disney World until 1990, but she's made up for it since then! She and her husband even bought a house that's just nine miles from Animal Kingdom. Debbie is a graduate of the College of Disney Knowledge and has completed Graduate ourses at Disneyland and Walt Disney World. She has cruised several times on the Disney Cruise Line, has also sailed various other cruise lines and is an Master Cruise Counselor (MCC). She is certified with Carnival, Royal Caribbean and Princess cruise lines as well as is Universal, Las Vegas and several destination specialist programs. She has also taken a training class with the Sandals chain in Jamaica. She's traveled a good deal of the US and Europe, including an Adventures by Disney trip to Costa Rica. Debbie¹s love for people and travel make this the perfect job for her.