Our travel counselor is so knowledgeable and was able to book us the hard to get character dining reservations that we wanted.   We were celebrating our 10 year wedding anniversary and she made excellent suggestions  for signature dining at various parks. It made the planning experience efficient and fun! We were able to do more of the items on our wish list, including the Jedi Knight Training at Hollywood studios!   Our counselor is passionate about travel and customer service! She provided helpful tips on every aspect from planning to packing to planning the next trip! She also answered questions and provided support while we were on our trip. We are so grateful for her!
-Roberta F
Our Magic for Less agent provided exceptional service!!! She went above and beyond what we expected and was helpful, patient, kind and courteous every step of the way.  She was AMAZING!  Whatever she earned for helping us was not enough I'm sure!  Thoroughly enjoyed our vacation thanks to all the advise and planning provided by her!  Many many thanks!!

-Dave and Carol Y
This is the second trip Audie has helped me plan!  She is full of helpful knowledge and always willing to answer my questions!  We appreciate all of her help so much!
-Jennifer F
Thanks Jennifer for sharing this picture with us from your holiday vacation!  Love the smiles!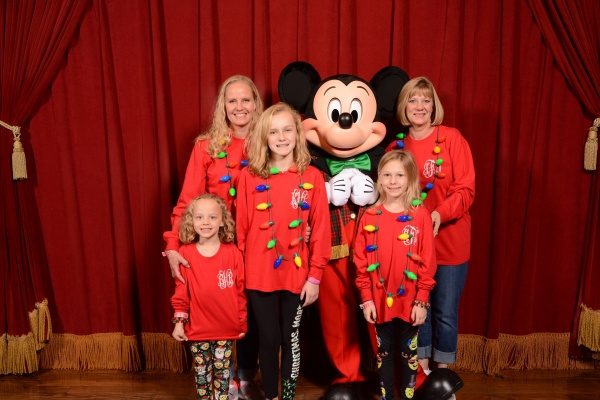 I consider myself a "Disney Expert" and yet my counselor pointed out things that I either forgot or didn't know during the planning of my trip.  It was my best vacation ever!
-Donna W
Great Disney vacations full of wonder and magical memories start with using Magic for Less Travel! From the big things to smallest detail, our counselor made sure everything was taken care of for our vacation.

-Evan R
Our Magic for Less agent is great!  We were planning a Christmas Disney Family Reunion for 7 adults from three different cities.  Three resort rooms, military discount, disability issues, dining plans, etc!  She answered questions immediately, sent reminders and made the planning process very low stress!
-Debbie M
Our counselor knows everything about about everything Disney.  She's great with dining tips and how to plan one's activities for the day. I can always count on her to help with anything related to my trip. She is simply the best to work with.

-Michelle C
She was there for me through the whole thing. Sending me reminders of things I needed to do and Offering to help 🙂  I was able to get ahold of her any time of day.  Her service if extraordinary!!!
-Crystal P
Our Magic for Less agent is always "there" for us and our needs.  We know that we can get in contact with her while on vacation thru email or phone if we need assistance.  Peace of mind!  We feel that she educates us to do more than what we would normally do and gives us insight.  We wouldn't think of having anyone else help us with our Disney trips!

-Lynn S
We are experienced with Disney but had not been to Universal in 15 years.  Our agent's tips were spot on and we had a great family trip.
-Dan M
I have rarely used a travel agent, but my experience with my Magic for Less aent has changed my mind. She made our trip planning so easy.   She made recommendations when needed, reminded us of important dates, and was just so helpful. We LOVE her and will definitely recommend her to friends and family (I already gave her name to a coworker). Even at the last minute when our flights were cancelled due to bad weather, she came to the rescue and made us feel so much better.   I know being an agent is a job for her, but our interaction never felt like that. We we were made to feel like a friend whom she was advising. She was always available to answer any questions (and we had a lot). She was so helpful. I am not one to rave about service unless it is superb. My experience with her compels me to sing her praises. I cannot say enough wonderful things about her! I wouldn't consider working with anyone else.

-Nicole D-M
The resorts were all very full when we decided to book.  Our counselor went out of her way to look around for us and see what was still available, comparing pricing, rooms, and amenities at each available resort.  We absolutely love your service! Keep up the good work!
-Katye C
Our Magic for Less counselor took a lot of the stress and the worry out of the planning. He was able to get our most important dining reservations for us at the times we wanted. He also helped a great deal in getting our room requests at the Polynesian.   This was a big vacation for our family, as we were celebrating our daughter and son in law's 10th anniversary, my husbands retirement, and the news  that our daughter is expecting a baby boy in the spring.  He helped make sure that we had an extra special trip.  Knowing what some of our must do dining was, he went ahead and made the reservations for us. Our rooms at Polly were exactly what we wanted and needed, too.   We had an absolutely wonderful, memorable trip and his help was in no small part responsible for that.

-Lonnie H
Our agent was extremely helpful when we had to move our trip from September to December due to the hurricane. She offered suggestions and recommended restaurants and attractions to go see. 
-Karen L
Our travel counselor requested rooms for us and followed up right before we arrived to remind Disney of the requests.   She also provided us with a lot of information about Disney and kept us up-to-date with information about travel and the parks.

-Donna W
Our counselor is easy to get along with, ask questions, quick answers, took care of every request I had, worked with Disney for any questions or concerns I had that he couldn't answer right away.  Recommend him to everyone I talk to who's interested in a Disney vacation
-John M
Our Magic for Less agent was amazing – she answered my emails so quickly and answered all of my questions.  She helped me move a few reservations around as well.

-Janelle
Our counselor helped us find a great resort. She also let us know when it was time to make our dinner reservations, fast passes etc. made it so much easier for us to plan everything!! She was also readily available to answer or questions.  She has been a great help in planning our last 3 disney vacations!! She is fantastic to work with!
-Loretta F
Similar Posts: