About a year ago when we started planning our next Disney vacation, my then 9 year old daughter told me that she really wanted to get a makeover at Bibbidi Bobbidi Boutique.  My first reaction was to say no (it is pretty pricey!), but then I thought it over and decided that my sweet little girl is growing up and probably will be too old next time.  So when our 180 days rolled around in early December, I got on the phone before the sun was up to make our dining reservations and a special appointment for my daughter.  While I was talking the CM on the phone regarding our dining choices and Bibbidi Bobbidi Boutique, she asked if I was interested in making reservations for the boys in our group at The Pirate's League.  I told her that we had already had that experience and the "melted" Pirate look in the June heat wasn't so much fun.  That's when she mentioned that Bibbidi Bobbidi Boutique also has Knight makeovers, would I be interested in that?  Well, I had read a little bit about it, but then never thought much more about it until the CM mentioned it.  For $15.95, little boys aged 3-12 can have a Knightly makeover that includes hairstyling with gel, confetti, and a sword with shield.  Now, I know that having a makeover in the castle may not be the most popular experience in the Magic Kingdom for little boys, but I went ahead and booked appointments for my two boys (ages 4 and 7) and my nephew (age 5).
Fast forward to June 2, 2013 and the big day for my princess had arrived.  She was very excited to have her makeover and had long planned that she was going to have The Courtyard makeover ($94.95+tax and tiara).  Before she was seated for the makeover, one of the Fairy Godmothers took her to a changing room to put on her pink Princess t-shirt and trendy tutu (we brought bike shorts for her to wear under the tutu).  While the princess was getting made over, the boys were escorted to their chairs by their Fairy Godmothers.  I have to admit that my 7 year old took one look at the "girl stuff" and decided that he was having none of it.  We were told that we could still purchase the sword and shield, so DS happily plopped down on the couch to wait with Grandpa, sword and shield in hand.
My 4 year old son and 5 year old nephew were not phased by the "girly stuff" and were perfectly content to take the hand of their Fairy Godmothers as they were led to waiting chairs.  The boy's makeovers only took about 10-15 minutes total, but they enjoyed the experience and loved their "Knightly" new hairdo.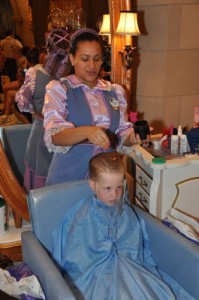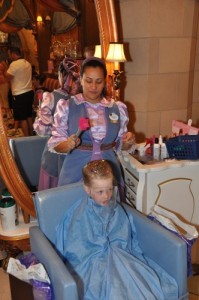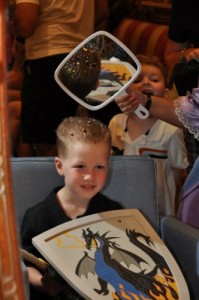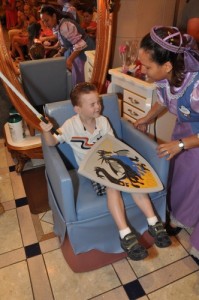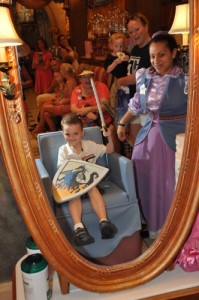 Since we had purchased Photopass+, the photographer took a ton of pictures of the Knights and their Princess getting the makeovers.
After the boys were done my daughter was not anywhere near being finished, so my sister took the boys to go ride the carousel instead of waiting in the castle.  The boys ran off, waving their swords, yelling that they were going to get the dragons.  It was cute and I know that even if they were in the castle, they had a magical moment that I won't soon forget.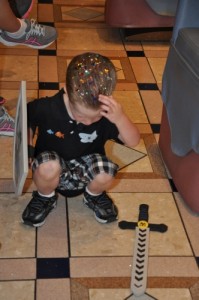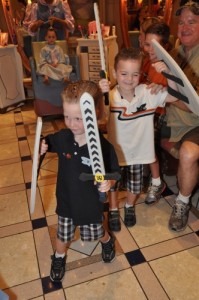 If you do choose to purchase Photopass+ (I highly recommend it!) then don't miss the special photography experience across the way in Tinkerbell's Nook.  There is a special studio set up for a one of a kind photo session, all included with Photopass+ or available for separate purchase.  (Prices vary if purchased separately, various photo packages are available for purchase.)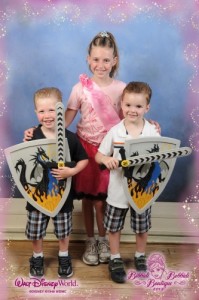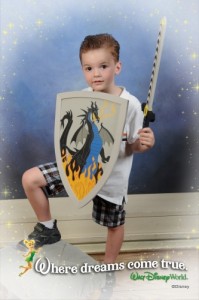 Similar Posts: