As someone who visits Disney and Orlando theme parks in July, I am often asked WHY I continue to go to theme parks in the heat of an Orlando summer and how come I do it year after year despite  the miserable combination of heat, humidity and high chances of rain and an the ensuing sauna after the rain stops.  Well, after seeing many miserable people in the parks this week I'm going to share some of my secrets and tips for making it through a day of theme park touring.  Below is a photo of what gets me through these July trips:
Summer Theme Park Survival Gear
First thing to consider is whether or not you can deal with the heat and being out all day.  If not, you need to adjust your park touring to what you can handle.  I often hit the parks first thing in the morning and am in there until noon or 1pm and then I hide somewhere cool until after 4pm when the sun starts to go down.  Its easy to do when you stay in a Disney resort, so consider the convenience of a cool and air conditioned Disney bus being the chariot back to your Disney hotel.   Even when I have a car at Disney I usually always take a bus, especially in the heat of the summer or during very crowded time periods.   We don't start early in the morning for the entire trip, and will do some sleeping in,  but typically I am in parks for at least 7+ hours a day, every day.  (No, I am not a pool or resort person except for when I have to go back to the room to work and then the teenager has the option of doing the pool but usually sits in the air conditioned room.)
Disney Bus – great summer transportation as its air conditioned and convenient
Comfort is pretty important–but that does not necessarily mean skimpy clothing.  Covering your shoulders really cuts down on sunburn, so a loose t-shirt works pretty well.  Hats are important to some people.  I am not a "hat person" so I change the part in my hair to cut down on the sunburned scalp somewhat, and use hair product with SPF.  Comfy shorts or short pants/capris  in a breathable fabric make you more comfortable too.  Athletic clothing that wicks moisture can be beneficial.  Cargo shorts are loose and comfy and have the benefits of lots of pockets too.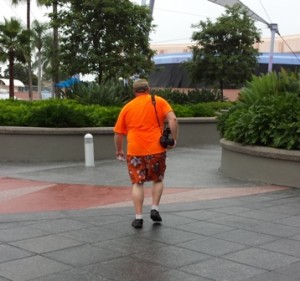 As for footwear. this is not a good time of year for fashionable stilettos or wedges–although I have seen these in the parks this week (with swollen feet in them too.)  While you may not want to wear sneakers or tennis shoes, flip-flops from the dollar store aren't going to protect your feet much from sweltering pavement.   I have large feet (for a woman) so I generally wear ugly Croc clogs in the parks.  Any shoe that takes water without getting squishy is going to make your life more comfortable in the summer because you can't predict thunderstorms and water rides in the parks can soak your feet pretty quickly, and to me there are few things worse than soggy sneakers!  I rotate the Crocs clogs with some athletic sandals, and will do sneakers in the evening or when I must do a park for 10+ hours for some reason or am on a tour.
Speaking of water and weather, a rain poncho is a must due to the pop-up storms that dump a large amount of rain in a short period of time.  I use the ones sold in the parks as I've had good luck with them lasting quite a while.  You can get inexpensive camping ponchos sold for about a dollar, but they don't last very long and are a problem to re-use.  I've found a Disney poncho lasts about two years and they fold pretty well and can be stuffed in a backpack.
So lets say you've been in the parks for a while, and notice some blisters on your feet.  Some products I use personally are a liquid bandage (such as New Skin) and athletic tape to wrap a toe or two. I picked up these tricks from teenage athletes who can't quit their team because of something like a blister or banged up toe.   Usually I have problems with blisters on my little toes and this week I  wrapped one toe with tape and it still has no blister after six days of theme parks.  The toe on the other foot ended up with a huge blister after three days and I had to break out the New Skin to cover it, and I'm taping over the blister too as its pretty raw and ugly.  Athletic  tape and New Skin are now a permanent part of my luggage and my morning routine includes wrapping my little toes before heading out to parks.
Among the most important things to consider are sunscreen and water. If you need water and do not want to buy a bottle in the parks, simply go to any Quick Service location and ask for a cup of ice water.  You're going to sweat a lot in the parks in the summer months and replacing that lost fluid is going to be imperative or you may suffer heat exhaustion.  I have allergies to sunscreens and have found that my face does not break out when I use titanium dioxide and zinc oxide base sunscreen products; on my body I can use just about anything without a problem.
Another part of my Disney theme park survival kit is my phone charger.  Disney is now wi-fi enabled and I've had no problems staying connected to their network with my phone.  It does mean that I need to keep a power cord in case I need to charge the battery. My new phone lasts about 5 hours with constant use; if I'm not playing with apps or constantly checking wait times  I can get 10 hours on one charge. But since my phone is my lifeline for work the cord goes with me.  You can usually find a cool place to sit while charging your device if you don't want to leave the park but want to take a break.
These are my tips for summer park touring.  Do you have anything that works for you?
Similar Posts: