One common concern for families visiting Walt Disney World is regarding what picky children will eat. Every child is different and as the mother of three children, each one of mine has varying food preferences. My oldest child is a picky eater and would live off of mac and cheese if I allowed it. Our middle child is our adventurous eater, and the youngest is somewhere in between and will try something when pushed.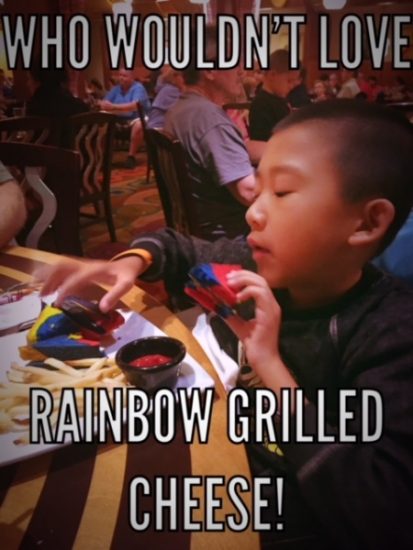 Disney Makes Dining Fun
Disney really shines is in making food accessible for even the pickiest eaters. There is something about the atmosphere, presentation, and overall mood that will sometime coax even the most picky eaters to venture outside of their comfort zone. Most kids view Walt Disney World as a "safe place" to try something new. Perhaps it is because the realize if they don't like it, there are many other options.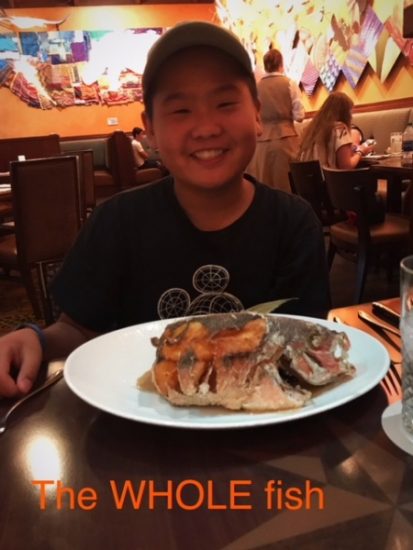 Most every Disney restaurant has kid-friendly choices, but also offers something for the more courageous palate. On our last vacation, our middle son decided to try as many new foods as possible including the grilled octopus appetizer followed by whole fish entrée at Tiffins in the Animal Kingdom. We laughed and enjoyed every second of the meal. We are still talking about it! My youngest played it semi-safe with a rainbow grilled cheese at The Wave at Disney's Contemporary resort, but for him, that was a win.
Adults Love it Too!
Who am I kidding? I actually enjoy trying some new foods at Disney too. I have learned that when I trust the chef, I enjoy foods that I might never have imagined. When I ordered at Monsieur Paul at Epcot, I decided to try the oxtail truffe soup ju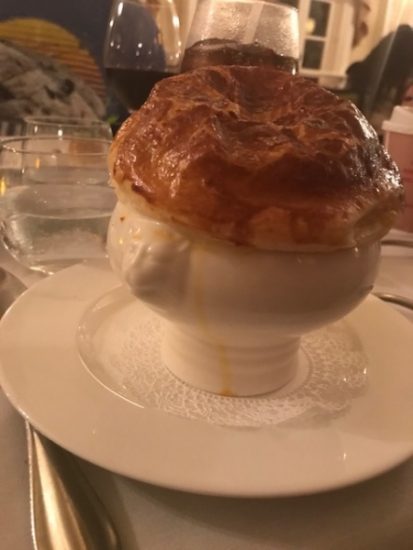 st for fun. It ended up being the best part of my meal!
I should say we have also tried a few things that were not successes, but we handle this with a smile and are proud that a new item was tried and can be marked off our list. However, we have enjoyed so many more successes than failures and will keep trying new things! So on your next Walt Disney World trip, try something new and you might find a new favorite!
We Can Help!
Want to see some menus to plan your next Disney meal? Click here to see Walt Disney World Menus
Let the great agents help you plan a magical vacation and recommend some new dining experiences on your next Walt Disney World vacation at The Magic for Less Travel
Similar Posts: