A quintessential Disney Cruise Line experience is meeting beloved Disney Characters at sea.  This is something no other cruise line can offer!  On Disney Cruise Line's newest ship, the Disney Wish, you'll find ample meet and greet opportunities with your favorite characters.  And don't forget, meeting Disney Characters is not just for kids, but also kids at heart!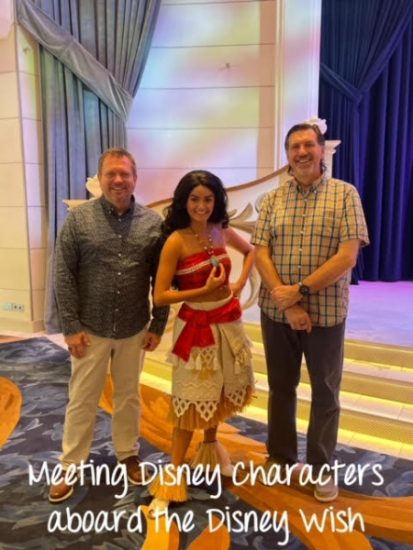 Kids at heart
Some of the top spots for meeting Disney Characters on the Disney Wish include:
The Grand Hall
Character meets begin from the moment you embark and enter the Grand Hall.   Look up above the stage in the Grand Hall as you walk in.  You're likely to see Cinderella and Prince Charming , Rapunzel and Flynn  Rider or Princess Tiana and Naveen waving hello to guests as they board.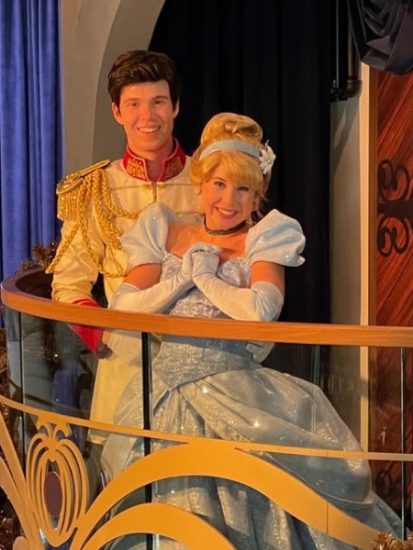 Cinderella and Prince Charming greeting guests embarking the Disney Wish
There are some organic opportunities to meet characters like Captain Minnie or Captain Mickey as soon you board as well – they are often found on the staircases of the Grand Hall during embarkation!
Captain Minnie is ready to set sail!
Scheduled meet and greet opportunities in the Grand Hall can typically be found on your Disney Cruise Line Navigator app.  Use the app to plan your activities throughout the day around those characters you wish to meet.  Be on the lookout for Mickey Mouse, Minnie Mouse, Goofy, Donald Duck, Daisy Duck, Chip and Dale and Pluto!
Get all the news, tips, & tricks for your next Walt Disney World vacation!
The Grand Hall But Make It Holiday Sailings
Make note on Pirate Night you'll find your favorite characters adorning pirate costumes!  This is the night where you also might catch Captain Hook and Mr. Smee making appearances!
And if you happen to be booked on a special theme sailing there are even more opportunities!  During Halloween on the High Seas sailings you'll find your favorites in Halloween costumes. 
And when it's the most wonderful time of the year, Very Merrytime sailings offer greets with characters decked out in their holiday best!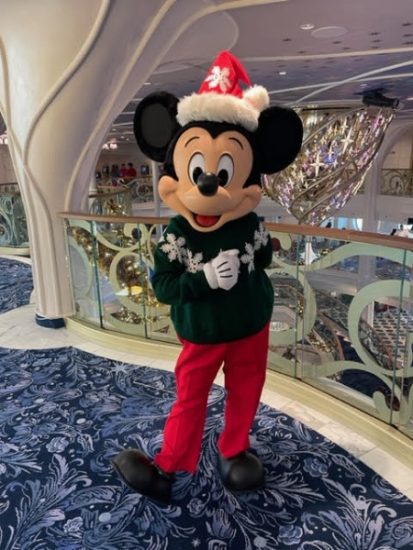 It's sweater weather on a Very Merrytime sailing with Mickey Mouse
Disney's Oceaneer Club 
The Oceaneer Club is a kids-only space where little ones can play and explore. You'll never know who just might show up to say hello!
In Marvel Super Hero Academy, kids will  love meeting their favorite heroes including Spider-Man, Black Panther and Captain America!  In Star Wars:  Cargo Bay kids might have the opportunity to meet secret stowaways, Chewbacca and Rey, who are being delivered back to the Resistance!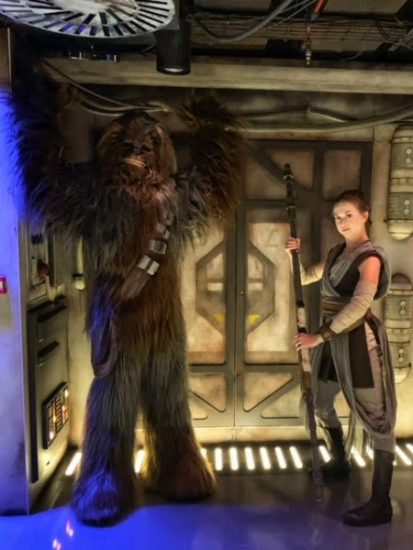 Chewbacca and Rey are on an important mission
Princess Gathering
Everyone will love meeting their favorite Disney Princesses at this complimentary separately ticketed event (timed reservations are booked in advance of your cruises or if space is available, on embarkation day).  You'll have the chance to meet royalty such as Belle, Tiana, Moana, Cinderella and Rapunzel in the Grand Hall.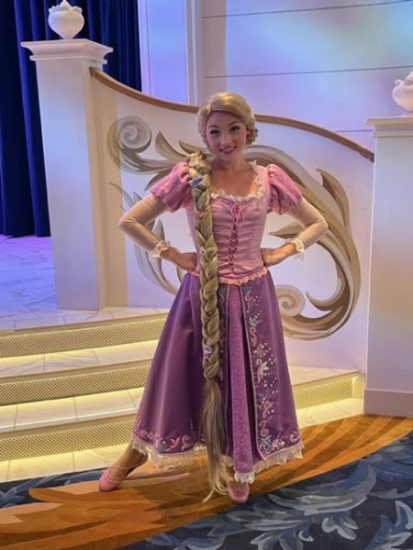 It's the best day ever with Rapunzel
Themed Dining Experiences
The Disney Wish has three brand new dining venues, two of which have opportunities to come face to face with your some Disney and Marvel character favorites.
At Arenelle:  A Frozen Dining Adventure, you'll celebrate the engagement of Queen Anna and Kristoff.  Hosted by Oaken, you'll have the opportunity to see Queen Anna, Kristoff, Elsa and Olaf as well as join in on your favorite Frozen songs.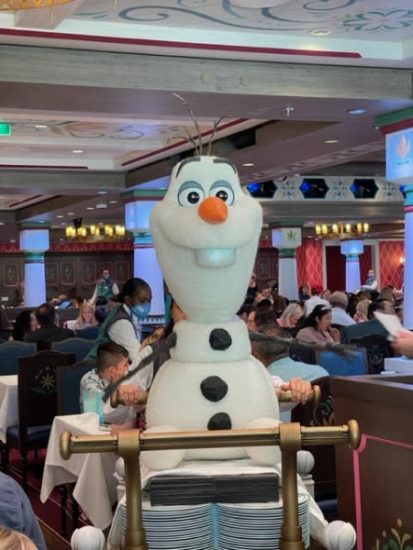 Everyone likes a warm hug from Olaf
At Worlds of Marvel you'll assemble with favorite Marvel characters to achieve important mission while you dine.  Be on the lookout at the end of the mission!  You just might see Ant-Man, Wasp or Spider-Man strolling through the dining room!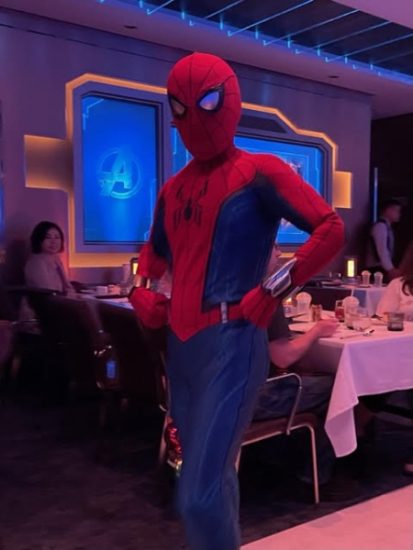 Spiderman does whatever a spider can
Olaf's Royal Picnic
For an upcharge and designed specifically for children ages 3-12,  don't miss Olaf's Royal Picnic.  Here, you'll have the opportunity to have a magical summertime picnic in the Arendelle dining room accompanied with treats, gifts and keepsakes.  And of course what would this picnic be without the opportunity to meet Olaf, Elsa, Anna and Kristoff – the only place on the ship to have one on one time with him!  As a special treat.  Elsa, Anna and Kristoff are in special summertime picnic attire.  This is the only opportunity for a personal meet and greet guests have with Kristoff!
(Note:  For those unable to book Olaf's Royal Picnic, there is typically a scheduled meet and greet with Anna and Elsa that is available to all guests.  Check your Disney Cruise Line app once onboard  for availability during your specific itinerary)
Character Performances
While not official meet and greets, the Disney Wish features a wide variety of shows and performances featuring your favorite Disney characters.   All your friends come together for the Sail Away Party on the upper pool deck.  And don't miss the Broadway caliber shows in the Walt Disney Theatre:  Seas the Adventure, Little Mermaid and Aladdin.  
Disney Castaway Cay
Disney Characters love the beach as must as guests on the Disney Wish!  You'll have ample opportunity to meet Disney characters on the island.  Mickey and Minnie, Daisy and Donald, Chip and Dale, Goofy and Pluto all have on their swim attire ready for a great day of beach activities.  And, be on the lookout for Captain Jack Sparrow who just may also be on the island.  Check the island's schedule to see exactly when and where the characters will be making appearances during your day on the beach!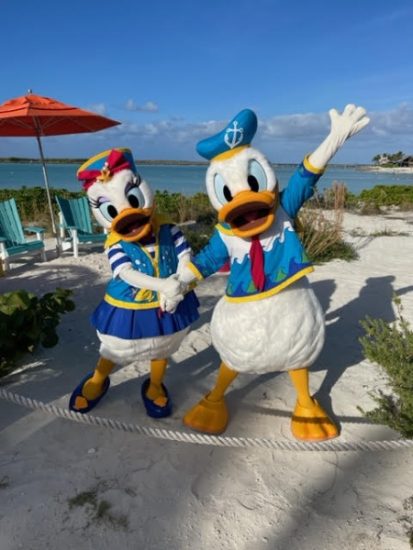 Donald and Daisy are ready for a great day at Disney Castaway Cay
Remember that character appearances and performances are subject to change.  Some characters may only appear on certain sailings or on specific days.   Be sure to check the daily schedule for the most up-to-date information on meeting Disney Characters on the Disney Wish!

The Disney Wish  Disney Cruise Line's newest and arguably the most beautiful ship in the fleet.  Currently the Disney Wish is sailing 3 and 4-night cruises to the Bahamas with stops in Nassau and Disney's Castaway Cay.   Disney Cruise Line also  has itineraries to the Caribbean, Alaska, Mexico and Europe.   I can help you find the right cruise option for your family – just reach out to  The Magic For Less Travel  for your Disney  Cruise Line vacation quote!
Similar Posts: