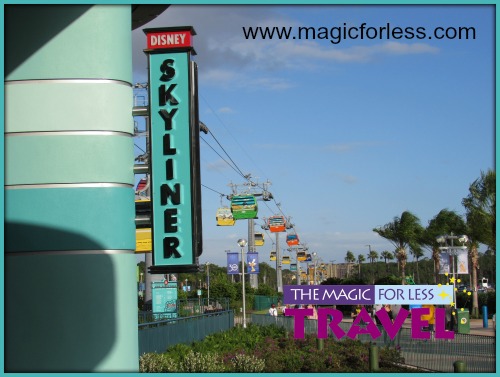 Disney's Skyliner is more than just mere transportation! The Skyliner is an elevated gondola system that transports guests to EPCOT and Disney's Hollywood Studios from Disney's Caribbean Beach Resort, Disney's Riviera Resort, Disney's Art of Animation Resort and Disney's Pop Century Resort.
There is one large switching station at Disney's Caribbean Beach Resort and the other three resort lines feed into this switching station where guests board the direct line to Epcot & Disney's Hollywood Studios.
This is a continual loading mode of transportation, which reduces your wait time for your transfer to the parks! The transit times between locations is very short with the EPCOT line being the longest and even with the need to switch lines at the main switching station at Disney's Caribbean Beach Resort; Disney's Skyliner is a time-saving way to travel!
The Skyliners have bench seating only on either side of the gondola that can accommodate up to 10 guests and we only experienced full gondolas at park opening and closing times.  We enjoyed the amazing bird's eye view of the resort property and great conversation with other guests.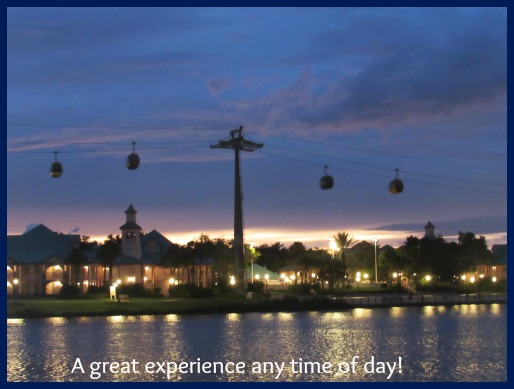 The ride is smooth and quiet. We did ride the Skyliner on very warm days and there was always a nice breeze while the gondola is in motion. The Skyliner gondolas have vents that can be opened and closed as needed and it will be interesting to see how the interior temperatures react to Florida summers. Most of the gondolas are wrapped with Disney characters from popular movies and the bright colors make them look like balloons floating through the air.
The Disney Skyliner system is completely accessible.  There are designated gondola's for guests in wheelchairs or scooters and they are pulled from the mainline to allow guests who need the accessible gondola to board at their own pace.  Guests with strollers are asked to collapse the strollers before boarding.

We were skeptical about this transportation option but are now firmly in favor of the Skyliner and view it as an attraction in and of itself much like the Monorail. We recommend you give it a try on your next visit to Walt Disney World.
Similar Posts: