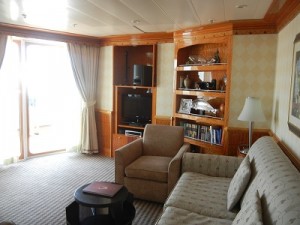 If you book a concierge stateroom, either prior to your trip or upgrade at the port, you're in for a treat.  On the Disney Wonder we were in a 1-bedroom suite, thinking the extra room would be nice for a 14-night cruise, and nice it was!
At the port we were given a packet with our concierge host's name and contact information as well as some of the amenities they provide.  They'll provide a complimentary iPad rental, DVD rentals (with 8 pages of movies so plenty of choices), Nintendo rental, in-suite dining from the 3 main dining rooms as well as a hot breakfast in your stateroom every morning if you want.  The breakfast menu is an expanded menu from the regular room service options.
Once onboard we were to go to the Cadillac Lounge to meet with the concierge staff so they can assist with the shore excursions, Palo and any other special request you might have.    They'll also recap anything you've already booked so they have everything matching their itinerary for you.
The stateroom was on deck 8 aft and was handicap accessible.  This was great for the larger verandah, and a great location to be able to run up the back stairway that came out right in Beach Blanket Bingo.  It was like our own private staircase as we never saw anyone else using it.  The stateroom itself was great!  Walking in the door you first have a hallway with one bathroom on one side and a 3-door closet on the other (2 doors for hanging one of shelves).   At the end of the hall you're in the living room, which has a queen sofa sleeper and 2 easy chairs as well as a table and 4 chairs.  There's a wet bar with water and wine glasses and a lot of cabinets for storage.  There is a TV and DVD player.  There are also 2 sliding doors going to the verandah.    There is more than enough storage in this stateroom, which is great.
The bedroom has a queen bed and large walk-in closet where there is also the safe and drawers.    The closet is large enough to also store our luggage in (since accessible bed is too low to put them under it as in other staterooms).    There is also a bathroom off of the bedroom.    Both bathrooms have roll-in showers and a shower seat, so a little roomier than we usually have.   Along with the wonderful H2O products we also have shower gel and sunburn gel.  The suite has 4 telephones and 2 TV's all to give you the most comfortable cruise you can imagine.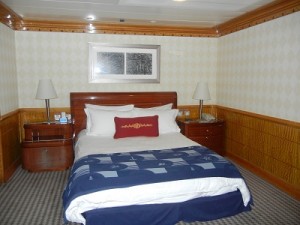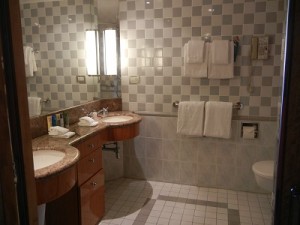 I'm sure the amenities change per cruise depending on the ship, length, concierge and destination.  You can get up to 3 DVD's at a time, and when they deliver that they also bring a bag of popcorn.  We also received a snack in the room every afternoon.  We received such things as a cheese plate, fruit bowl, chips and salsa and a bottle of wine. We also had an air hockey tournament for concierge guests, which was a lot of fun as well as private receptions.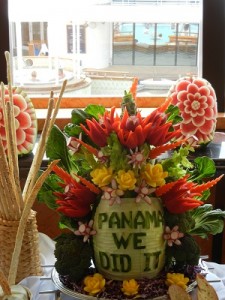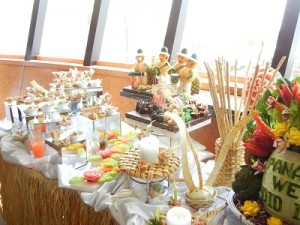 They called every morning to let us know the day's activities, remind us of any special events and to just check to see if we need anything.  They also checked in with us later in the day a time or two to see if we needed anything, bring a crossword puzzle or other treat.
Overall, it's a fun experience and one worth repeating.  If you want a little pampering and a wonderful experience, book a concierge suite and enjoy!
For more photos go to: http://www.flickr.com/photos/themouseforless/sets/72157633889399641/
Similar Posts: