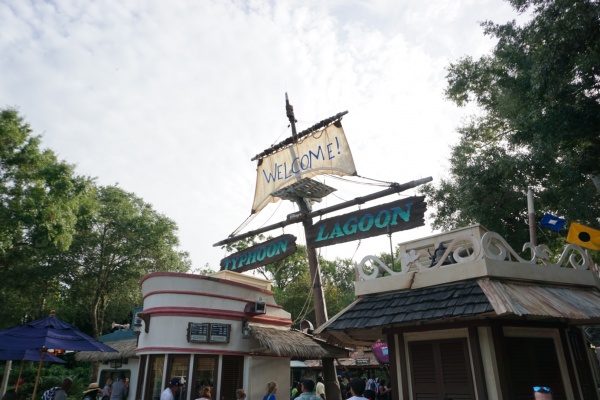 Do you have a trip planned to Disney World over the summer and are worried about how to stay cool in the Central Florida heat? Well don't worry because Disney is throwing H20 Glow Night parties at Typhoon Lagoon through August and it's the perfect way to cool off. Tickets purchased in advance are $59 for adults and $54 for children (ages 3-9). The event officially runs from 8pm – 11pm, but you can enter as early as 6pm with your ticket. There are special offerings including Toy Story character meet and greets, specialty food and drinks, themed merchandise, a DJ-led dance party, an adults-only area, and short wait times!  Keep reading to discover all the fun you can have at Disney's H20 Glow Nights this summer.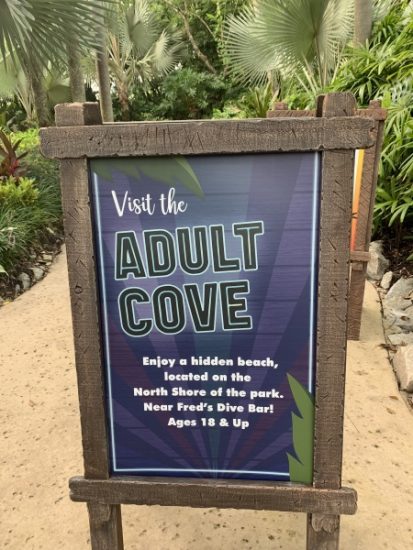 My family attended an H20 Glow Night in mid-July and had a great time. The party allows you to enjoy all the best the park has to offer without having to worry about some of the common water park complaints. There are a limited number of tickets available so you won't be stuck dragging a heavy raft for a long time or be swimming shoulder to shoulder in the wave pool. Throughout the evening almost every single slide had wait times around 5-10 minutes. We did Miss Adventure Falls, the newest family raft ride, twice because our niece and nephews loved it so much. Special inflatables, including flamingos, penguins and dragons, filled Castaway Creek, the lazy river. Since most of the party takes place after sunset the sidewalks were much cooler and you won't be baking in the sun. This is still Florida though so you'll appreciate the refreshingly cool water.
Special Food
If you're looking to try something different than the usual Disney quick service meals, H20 Glow Nights have several special menu options only offered during these parties. I tried the Jerk Chicken Rice Bowl and my husband ate the Western Beef Brisket. Both were unique and full of flavor though the portions were quite a bit smaller than normal Disney portions. There are also several specialty drinks, alcoholic and non-alcoholic, available for purchase. I tried the Galactic Lemonade and it was delicious! Next time I'm getting Woody's Rootin' Tootin' Cotton Candy Milkshake served in a souvenir Woody Boot. Please note that all the dining locations in the park close at 6pm or 7pm to prepare for the event. If anyone in your party gets cranky when they don't get to eat at a certain time, be prepared.
Toy Story Theme
The party has an underlying Toy Story theme, but honestly, you'll forget about it most of the evening. There is a giant Partysaurus Rex at the beach dance party and you can meet several of the characters including Buzz Lightyear, Woody & Jessie, and Bo Peep who is available to meet with Annual Passholders. Due to him being harder to find, Buzz had virtually no line anytime we walked by. Along with some Toy Story merchandise, that was about as far as the theming went; but don't worry, being in the water park all lit up with neon lights is all theming you need. 
Transportation
While subject to change, Disney transportation is currently provided by buses that go directly from your resort to Typhoon Lagoon. If you plan on arriving by bus, be aware of the route and whether or not you'll be stopping at any other resorts first. If you want to be there right at 6pm, you'll want to plan ahead for any extra stops. The direct routes back to Disney resorts does stop once normal operating hours for Typhoon Lagoon are over. You will likely have to take a bus to Disney Springs and then transfer to your resort. There was a Cast Member at the Typhoon Lagoon bus station informing guests of this so there was no confusion. 
FInal Thoughts
Overall, the H20 Glow Nights are a blast and I would highly recommend it to anyone who is heading to Disney this summer. With the smaller crowds, there is more than enough time to accomplish everything you'd like to do. Not to mention that the ticket is cheaper than a normal single-day ticket ($69 for adults). So head to Typhoon Lagoon before summer's over for a unquie Disney experience. Join in on The Wobble during the beach dance party. Hit up the wave pool and float down a river in an inflatable duck. Try some exciting food or try a tropical cocktail in the Adults Only Cove. It's the perfect way to cool down from the long days in the theme parks. You won't regret it!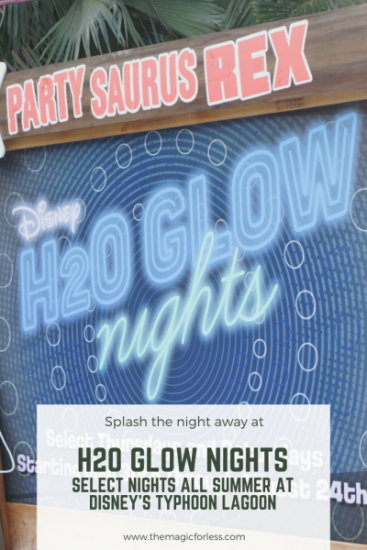 If you'd like more information about what's going on at Walt Disney World this summer, visit us at The Magic for Less.
Similar Posts: