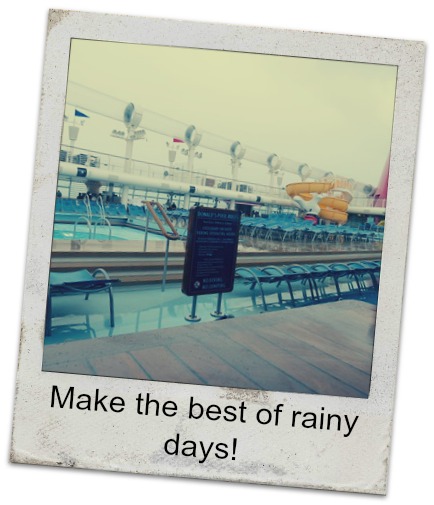 Let's face it, as soon as you book a Caribbean cruise you can't help but have visions of all of the outdoor activities you will enjoy in the glorious sunshine.  But what happens when Mother Nature has an alternate idea for the weather during your vacation?  While rain on a cruise is definitely not ideal it doesn't have to put a damper on your cruise fun.  Here are a few suggestions on how to cope with and make the best of any "liquid sunshine" you might encounter.
First and foremost is to keep a positive attitude and mindset. As I said, very few people board a Caribbean cruise planning for or thinking about rain but the fact is it does happen.  So rather than being upset and feeling like the weather has ruined your vacation think of it as just another part of your adventure and look for ways to make the best of it.  For example, if you are going to get wet anyway why not take advantage of smaller crowds and enjoy the pools, hot tubs, water slides and water coasters?   Of course safety always comes first so Disney will not allow this if there is lightening or extreme weather conditions but if you are simply faced with a regular rain shower go for it!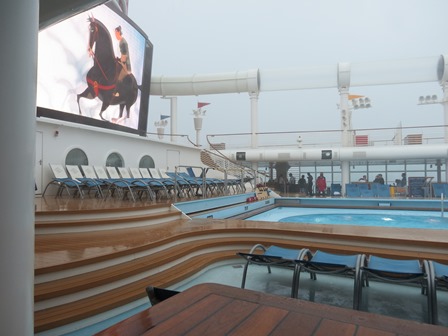 Another idea is to take the opportunity to enjoy some of the many indoor activities that are offered.  While there is never a shortage of things to do on a Disney Cruise many guests ignore or dismiss the indoor activities in favor of enjoying the outdoor facilities.   A rainy day can be the perfect opportunity to enjoy some of the fun you might ordinarily miss.  Here is a quick rundown of some of the indoor activities to consider.  The best part is there is no additional cost for any of them!
Catch a movie in the Buena Vista or Walt Disney Theater (or both!). Disney shows a mixture of first run and popular favorites to enjoy.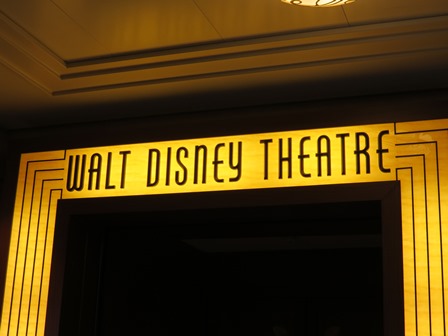 Stretch your mental muscles and take part in a trivia challenge. There are always a variety of Disney and non-Disney trivia games offered.  Get your family together or go solo and enjoy some trivia fun.
Get in touch with your creative side with some craft time. You can go and make each project with fellow passengers or pick up the supplies and complete it on your own in the location of your choice.
Take a ship tour. There are several different tours available and they are both fun and informative.
Improve your kitchen skills with a cooking class. With instruction on everything from appetizers to desserts the cooking seminars are educational and delicious!
For adults only (if you don't mind incurring some additional expense) there are many adult beverage tastings offered and the spa for some rejuvenating services.
As you can see, you don't have to let a rainy day ruin your cruise fun.  Embrace the adventure and enjoy!
Other links you might like:
Disney Cruise Line Onboard Photography Services
Kids Come First with Disney Cruise Line
Similar Posts: