Express Transportation: A Faster Way to Fun
NOTE TO READER:  EXPRESS TRANSPORTATION WAS
TERMINATED BY DISNEY ON AUGUST 16, 2017. 
It was great while it lasted! 
In early December 2016 Disney announced they would start something called "Express Transportation", to begin on December 7, 2016.  Express Transportation is bus service from backstage areas between theme parks, for a fee.  The benefit to a guest with the Park Hopper ticket add-on is only one bag and security check in theme park #1 and much shorter transport time between parks.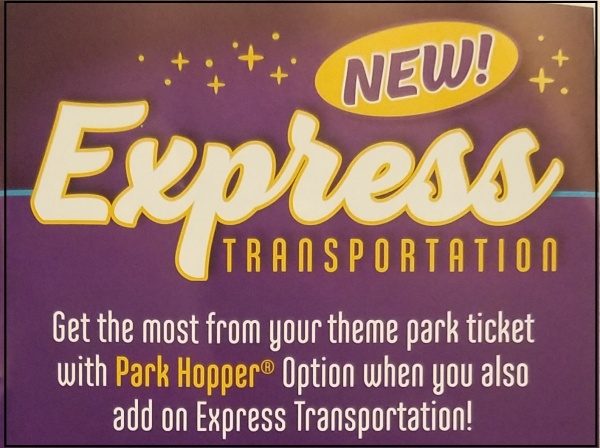 Current pricing (March 2017) is $29* for up to 7 consecutive days, or $19* for one day. This is a one-time cost and not per day.  Express Transportation  may be added at any of the following locations:
Guest Relations and ticket windows at all theme parks
Disney Springs ticket window
Disney Resort hotel concierge locations
Walt Disney World Swan Hotel and Walt Disney World Dolphin Hotel ticket desks
Kiosks at Express Transportation check-in locations
*pricing always subject to change without notice.
My Dec 31-Jan 5, 2017 trip would include a lot of park hopping and I was intrigued because it would be great to avoid security and bag check lines in each park.  There were two of us and the cost ($24 each, which was the launch price) seemed reasonable. We had to add it at Guest Relations because the kiosk did not accept room charges at that time.
Express Transportation Pickup and drop off locations are:
The service begins at 10:00 am and runs until park closure. When you want to change parks, simply visit the Express Transportation check in area and have your Magic Band scanned.  If the bus is there, or within a few minutes of arrival, a Disney Cast Member will escort you backstage.  If it will be a little while until your bus arrives, they'll have you wait close by or give you a return time.
Busses show up about every ten minutes.  With the exception of the Magic Kingdom, the areas where we were picked up and dropped off were pretty tight squeezes for more than one of those large motor coaches.
All guests are escorted and supervised by Cast Members since Express Transportation occurs backstage. There is no photography permitted and no walking around by oneself:  Busses are also quite prompt!  Our experience is they arrived early for pickup but departed exactly on time.
At the time we used this service Disney was using full size motor coaches even with the low numbers of guests we saw on our busses. One day we used this service three times and only once were there more than 5 people on the bus:  there were 12 of us. They could probably use 14 passenger vans however that would not work for guests with strollers or wheelchairs/ECVs.
The Verdict?  
I though it was money well spent for the time of year I was at Disney. There was absolutely no stress or hassle involved with changing parks and we probably saved at least an hour or more as we were not exiting parks, waiting for busses, and going through bag check and security screening.
Express Transportation may not be a necessity for the typical family who may just be doing two parks in a day.  But if you do lots of park hopping and are traveling at a very busy time of year, you might just want to splurge a little bit.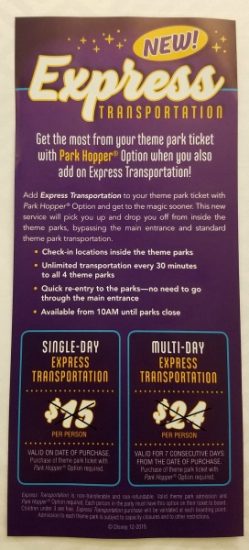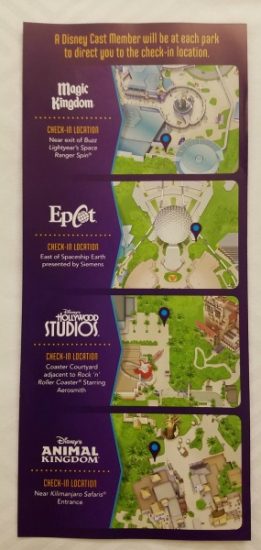 NOTE TO READER:  EXPRESS TRANSPORTATION WAS
TERMINATED BY DISNEY ON AUGUST 16, 2017. 
Similar Posts: