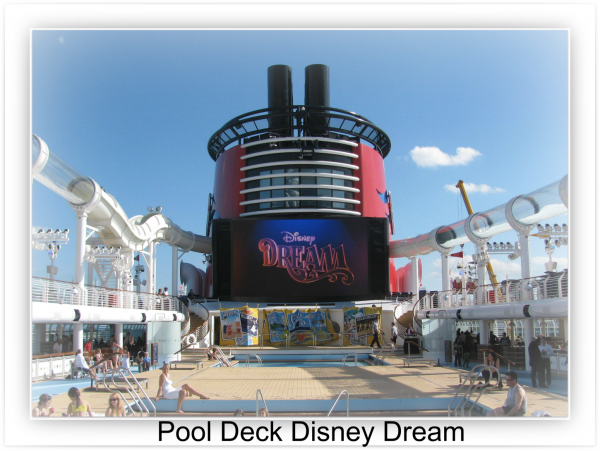 The Disney Dream and Disney Fantasy are the largest ships in the Disney Cruise Line fleet.  For some guest it takes a few days to familiarize themselves with the layout and to help locate their stateroom.   Here are some tips that can help you navigate your way around the Disney Dream and her sister ship the Disney Fantasy.
Entertainment -You will find the Walt Disney Theater in the forward area of the ship. The Buena Vista Theater is forward of the mid ship elevators.
Clubs and Bars
The District/Europa (adult night clubs) are located in the back or aft.
Shopping and Guest services are in the center or midship.
There are 3 shops located forward of the midship elevators on deck 3.
For family areas such as the D-Lounge and children's clubs, head mid ship, then slightly aft.
Dining rooms: Remy, Palo and Animator's Palate are located aft, while Royal Palace/Royal Court and Enchanted Garden can be found midship.
Pools, Aqua Duck, splash area and quick service dining options are all located on the upper decks.   The Vista Spa is located on deck 11 forward.
Finding your stateroom
This is a common area that guest often have to stop and ask themselves: What side of the ship is my stateroom on?  Am I heading towards the front of the ship or the back?
In any hallways with staterooms, the carpet in the hallways is designed to help navigate you.
The easiest way to tell if you are heading to the front or back of the ship is to simply look down at the carpet.  If the map is right side up you are walking forward; if the map is upside down you are walking aft.  Fun Fact: The flags on the carpet spell out the ship's name in ship signal flags.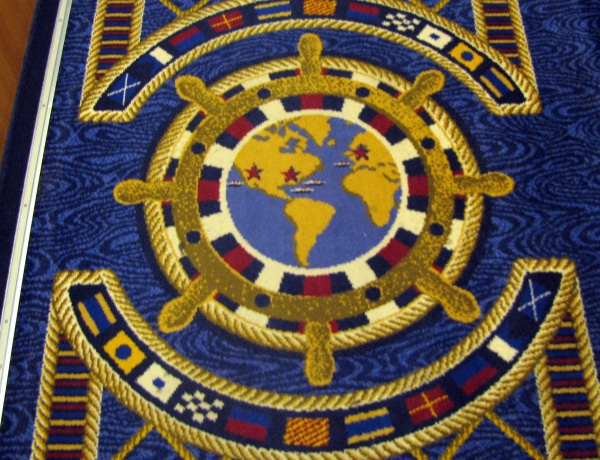 Each stateroom door is numbered.  There are two different animals represented above each number.  Once you have located your stateroom you should remember if you are a fish or a seahorse.  If you are staying concierge level you will have a starfish.
Staterooms on the Starboard side of the ship (right side) have a Seahorse with the stateroom number listed.
Seahorse = Starboard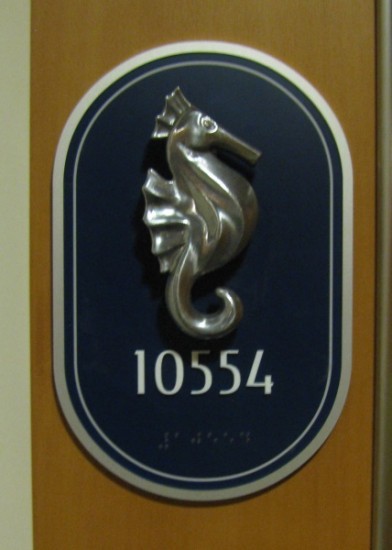 All staterooms on he Port side of the ship (left) have a Fish with the stateroom number listed.
Fish = Port Side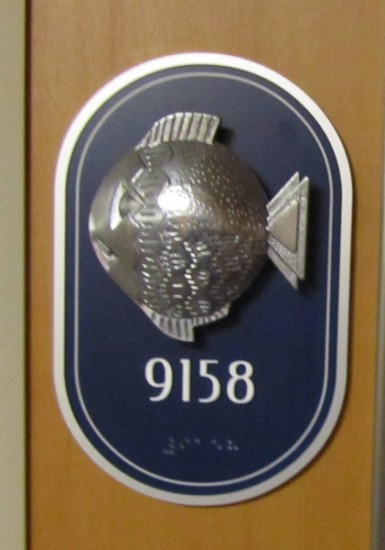 Starfish = Concierge Level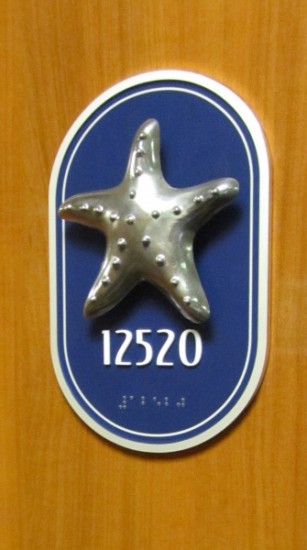 Elevators
There are 3 sets of guest elevators onboard the Disney Dream and Disney Fantasy.   They are located forward (front or bow of the ship) Midship (middle of the ship) and Aft (back of the ship).   No matter which set of elevators you take to get back to your stateroom you will always turn the same way — left for port and right for starboard.  The same holds true for the stairs, but turn in the opposite direction — right for port and left for starboard.  If you see a fish when you expected to see a seahorse, just turn back around!
Similar Posts: