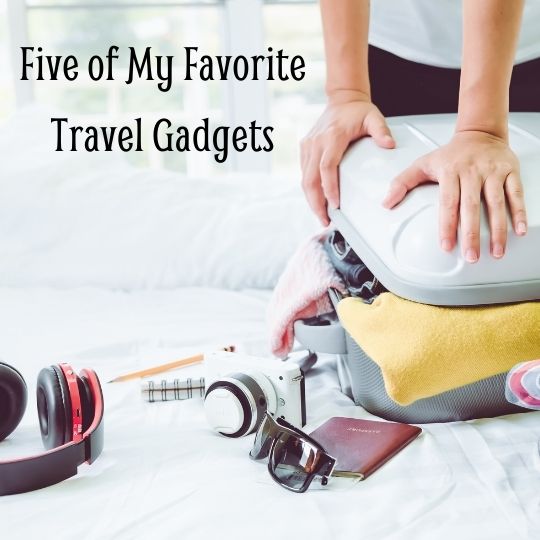 Let's face it.  We enjoy traveling but sometimes there are things we like to take with us to make the job easier.  If you travel a lot, you've probably wished for items that would make the job of packing, unpacking, etc., a little less daunting.  I've tried and acquired lots of travel gadgets along the way and would love to share five of my favorite travel gadgets with you.  They won't work for everyone but it might inspire you to come up with your own "hack" for making the pre- and post- vacation less stressful.
Ever been in the airport and been surrounded by open suitcases as people try desperately to reconfigure their bags to get under the weight limit allowed especially on the budget airlines that only allow 40 pounds instead of 50 pounds which many other airlines offer?  That can all be avoided by purchasing a relatively inexpensive luggage scale that will weigh in both pounds and kilograms (for international travel).  The one pictured is the one I have and I like it because it's compact, easy to read and use and switches from pounds to kilograms.  I take it with me on the trip so that I can manage how much I'm bringing back in purchases too and avoid an additional fee for the return trip if I go over the weight limit.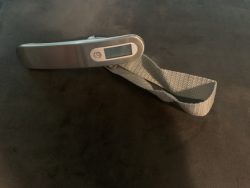 Our mobile devices are being used for so many more things now and travel is no exception.  There's an app for your airline.  There might be one for your hotel.  You may have tours or excursions booked and need access to your email.  Your cruise line or theme park might have an app as well if you're enjoying that type of vacation.  It would be horrible to lose access to your phone too right when you want to capture that perfect photograph.  Having a backup battery that's small will recharge your phone back to full power or one that will charge multiple phones is key.
I personally like this one for my iPhone because it doesn't require a cord so there's one less thing to put in my bag for the day!  If your non-Apple phone has a lightning connector, check for compatibility so you can use it as well.  I bought two so I could always have one charged and ready to go.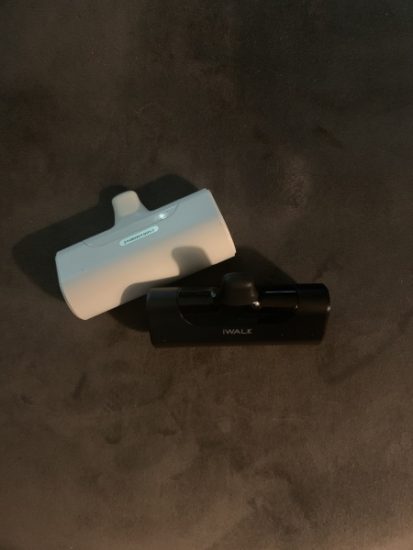 For me, the worst part of any trip is packing and unpacking.  I like to keep my suitcase organized and knowing that security might open my bag, I don't want the risk of things falling out and getting lost.  Packing cubes have saved the day for me.  They come in a variety of colors so each family member can have their own for easy identification.  They come in a variety of sizes as well so you can sub-organize your items in a way that works best for you.
I keep one packing cube with my swimwear, coverup , hat and sunglasses ready to go in my closet so I can grab it and don't have to think twice about it.  You can use a smaller one for a first aid/medical kit as well.  As you travel, you can separate out dirty clothes from the clean ones so that when you return, one packing cube can go right to the laundry.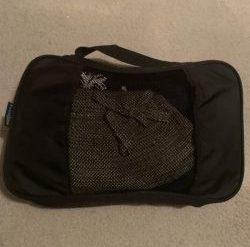 This is a relatively new one for me.  A friend shared this with me and I immediately went and bought it when I saw how many different uses there are for it.  I take a backpack as my carry-on when I fly if I have to take my laptop and this handy strap allows me to connect a light jacket or sweater for the plane without having to wear it and get too warm or carry it and feel like I'm running out of hands.  It can be reconfigured as well to hold a small purse on a suitcase as well as you're wheeling it through the airport for more hands-free assistance.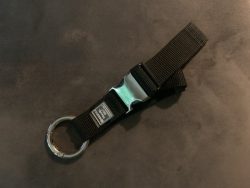 Oh, how I love this one!  When you've got time and a carry-on suitcase that you're taking through the airport, this little drink caddy can be a great help especially when the airport is crowded and seating or cupholders limited.  You can also use it to hold your phone while you're charging when you're waiting to board a flight or your ride hasn't arrived yet.  Super light weight and easy to tuck into a pocket in a backpack, purse or other item, it doesn't add a lot of weight.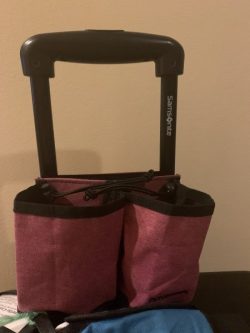 Do you have a favorite travel gadget that you like to take along on trips?  Let us know in the comments!
While you're doing the packing, let The Magic For Less Travel help you with the planning.  Less Stress, less money, less time planning, more magical memories!
Similar Posts: