Rotational Dining on Disney Cruise Line – Experience the Best of Three Worlds!
While there are many things that make a Disney cruise unique, "Rotational Dining" may be one of the best!  With traditional cruises, there is one main restaurant for all guests to enjoy dinner nightly. But on Disney Cruise Line, all guests have the opportunity to dine at three different restaurants—each with its own theming and cuisine.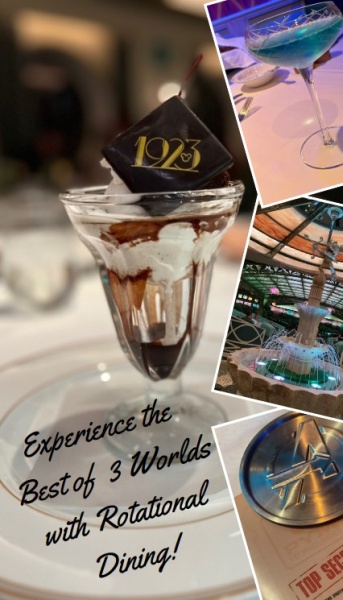 What is Rotational Dining? How does it work?
Each Disney Cruise Line ship has three table-service restaurants included with the price of the cruise. As the name implies, "rotational dining" allows guests to rotate through all three dining venues, experiencing each one at least once throughout their cruise. The best part is that the service team will rotate with the guests, and the table number remains the same.
For example, let's say you are sailing on the Disney Wish, and are given Table #308.  You may have dinner at 1923 on the first night, followed by Arendelle on the second, Worlds of Marvel the third. If Maria and Greg were your servers at 1923, they will be your servers at the other two venues as well!  If your table number was #308 on the first night, this will be your table number for every night.

How do I find out my rotation?
Prior to boarding, you will be asked to download the Disney Cruise Line Navigator App.  Once you've arrived, you will find your restaurant schedule and your table number under the "Dining Schedule" section of the app.
Each Disney ship has three distinct restaurants that participate in rotational dining – each with its own menu, décor, and theming:
Disney Wish: 1923, Arendelle: A Frozen Dining Adventure, Worlds of Marvel
Disney Fantasy: Animator's Palate, Enchanted Garden, Royal Court
Disney Dream: Animator's Palate, Enchanted Garden, Royal Palace
Disney Wonder: Animator's Palate, Tiana's Place, Triton's
Disney Magic: Animator's Palate, Lumiere's, Rapunzel's Royal Table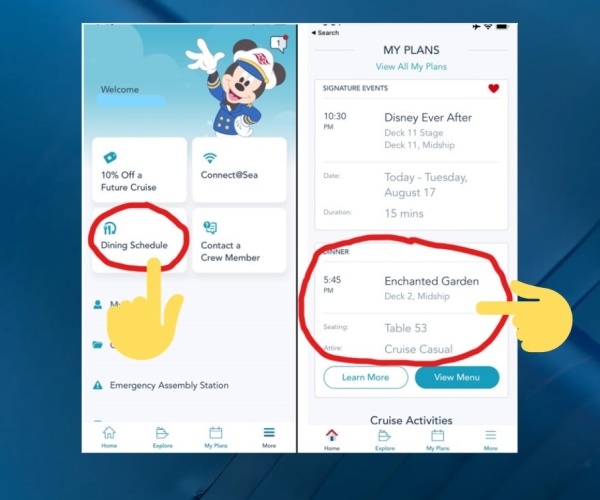 What are the advantages of Rotational Dining?
The most obvious advantage to rotational dining is variety. Each guest gets to experience three distinct menus and three uniquely-themed venues! You are not forced to eat the same food in the same setting every night. Disney's rotational dining feels as if you've been transported to a different world, experiencing a different storyline each night. One day you may be experiencing Anna and Kristoff's engagement at Arendelle, the next you're immersed in the Worlds of Marvel!  And if you are on a longer cruise, you will get to experience some of the venues more than once, with a different menu each time.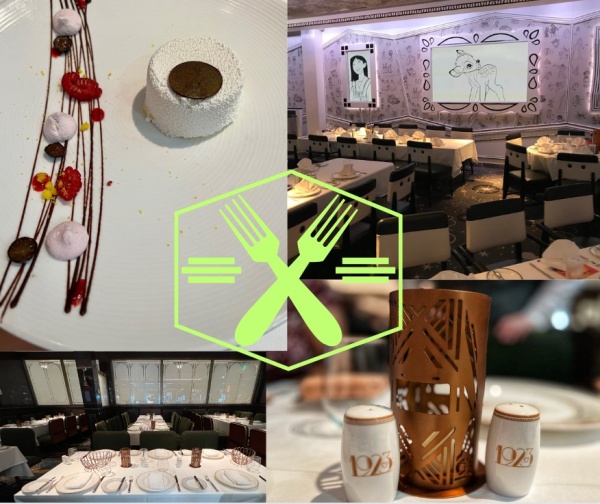 Disney knows that it's important to establish a relationship with your servers. The ability to have the same servers – despite the change of dining venue – is Disney's unique way of providing superior, personalized service. By the second night of your cruise, your servers will know your likes and dislikes: you prefer no ice in your soda, you like your meat medium rare, and you hate raisins. Do you have dietary needs or allergies?  They will cover that with you the first night and will remember it for the rest of your cruise!
The best part? Rotational dining is automatically included with your Disney Cruise fare!  There is no added charge for each venue. It's just one of the many ways Disney Cruise Line sets itself apart from the rest! For additional info, please visit this link .
Ready to plan your next adventure? I can help you plan cruises and vacations all over the world! Send me an email: jo@themagicforless.com  or fill out a no-obligation quote request to get started. And be sure to follow me on Facebook!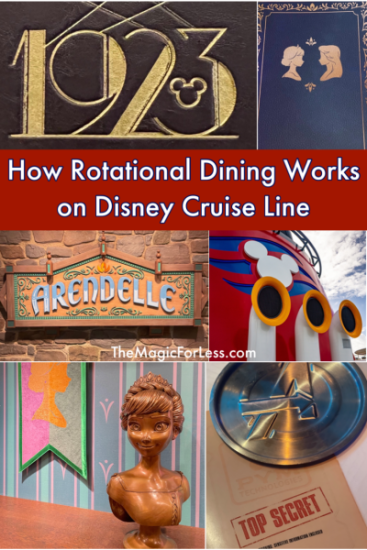 Similar Posts: