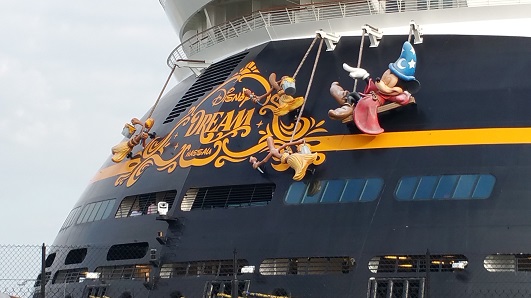 The time has arrived for your cruise and it's time to head to the Disney cruise terminal to get on the ship.  But what to expect once there?  Let me show you so you can be ready once it's time to go.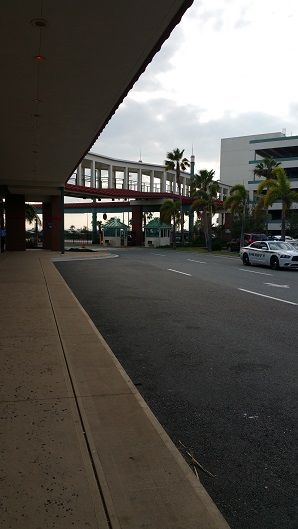 When you arrive at the Disney cruise terminal you'll drop off your luggage to the porter's so they can in turn deliver them to the ship where they'll appear at your stateroom later in the afternoon.  You'll want to be sure to give them a tip for handling your luggage.  If you arrive by car you'll drop off your luggage, then you can go park the car before returning to the terminal.  If you arrive by cruise line shuttle they'll take care of luggage and you'll just enter the terminal.  Be sure you've attached your luggage tags prior to this so that they know where to deliver your luggage.  If you don't have the tags the porter's will have extra ones you can use.  You'll just need to know your stateroom number.  At this point you'll go through security, much like at any airport (but you don't have to remove your shoes) then head up the escalator.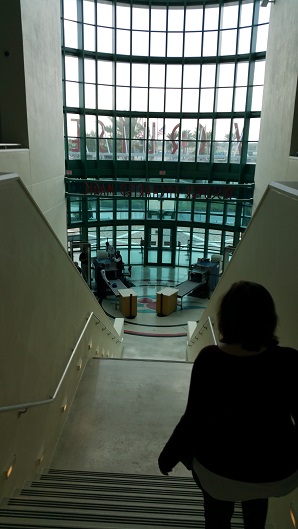 At the top of the escalator you'll find Cast Members directing you to the tables to sign a general health form stating if you have been ill in the past couple of days.  If for any reason you don't have your documents with you they can give you blank ones to fill out at that point.  They'll direct you to the proper line to check in for your cruise.  You'll get a number at this point that will determine when you will be allowed onto the ship.  They usually start boarding around 11:45am and board by those boarding numbers.  Don't worry if you have a high number as it does go quite fast.  If you've cruised before you'll go in the Castaway Club line, or if you are a Platinum Castaway Club member or sailing in a suite you'll have a separate line.  When you check in you'll show your ID's and credit card that will be on file for any onboard charges.  You'll then receive your stateroom key that will be used during your cruise for your door key, ID while on the ship and for charging to your stateroom.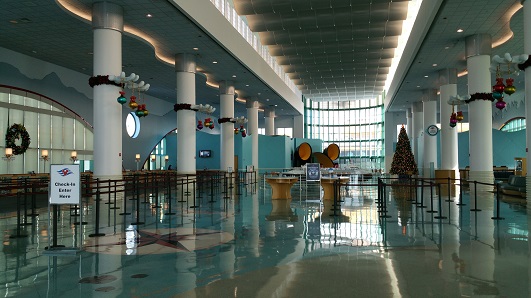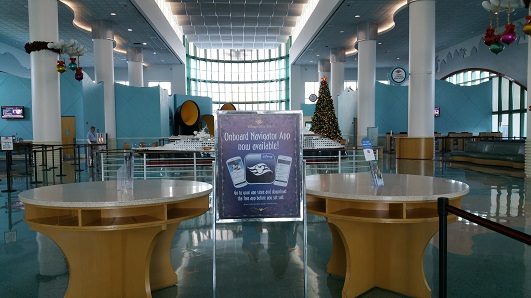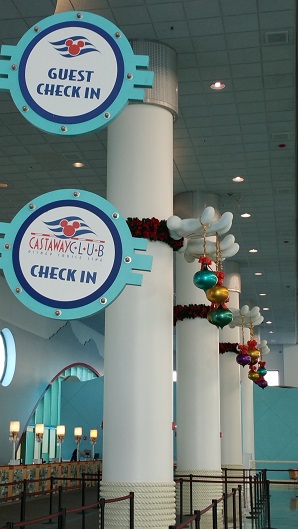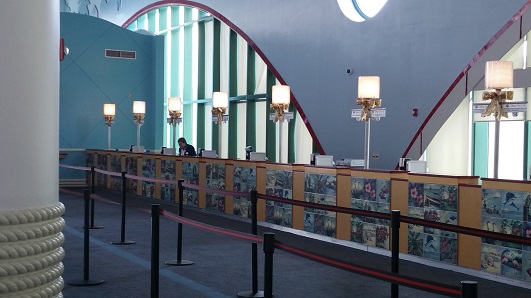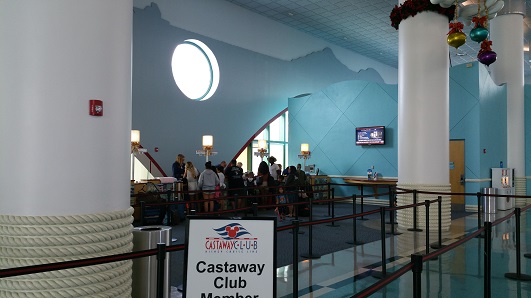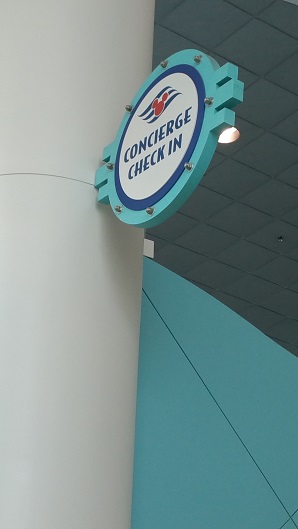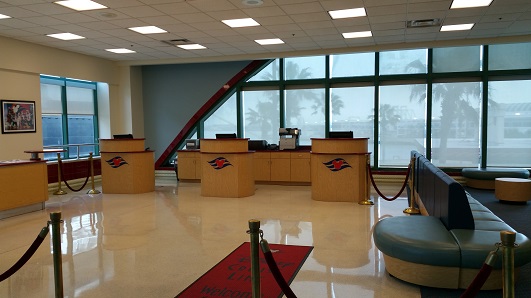 After you check in you have a few areas you can wait until it's time to get on the ship.  There are TV's for the kids, characters for photos as well as a great ship model.  The ship model is open on one side so you can see what it will look like on the inside.  This is a lot of fun to look over so take some time while you're waiting.  While you're waiting there are vending machines and restrooms in the Disney cruise terminal.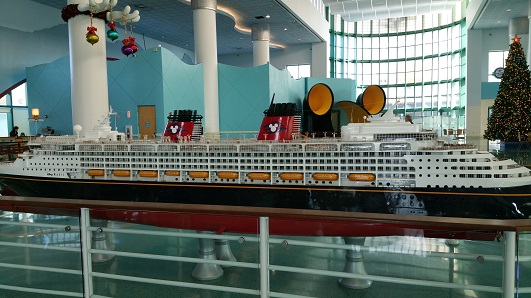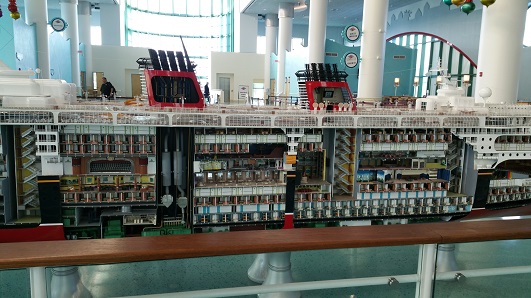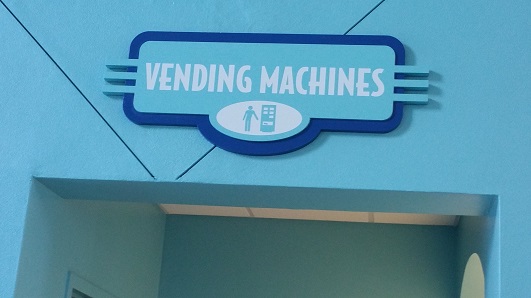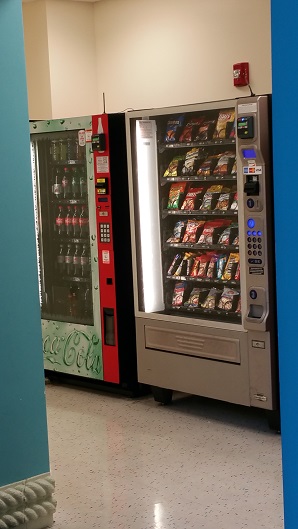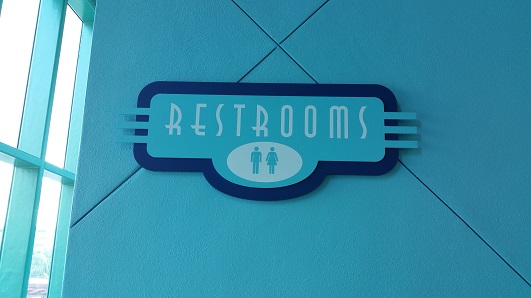 If you have children you can sign them up for the Oceaneer's Club and Lab there in the terminal, or you can wait and do it once on the ship.  If you have any questions the counselors are there to help you as well.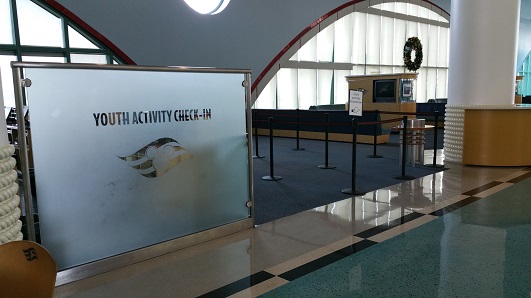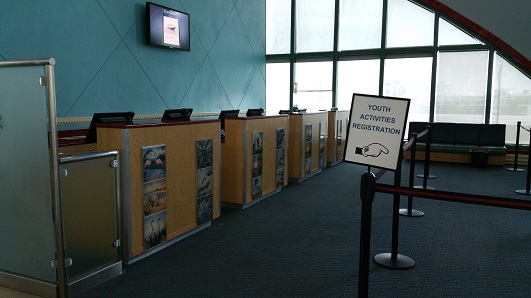 Suite guests do have a lounge where they'll wait once they check in.  They will also be able to board the ship first.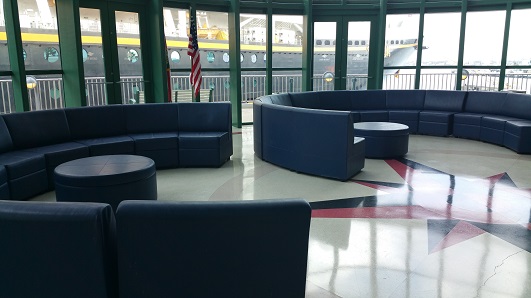 And all of a sudden, the time is here!  They start announcing numbers and you'll get to walk through the yellow Mickey ears on your way to the ship.  Bon Voyage!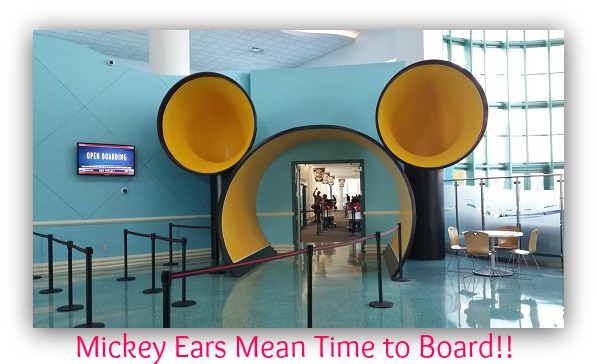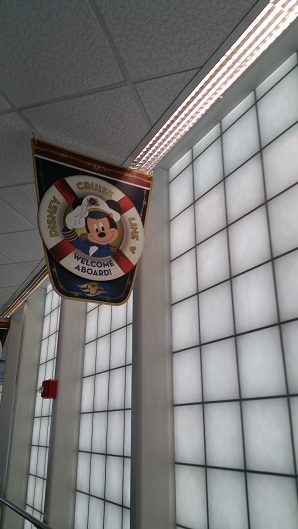 Similar Posts: