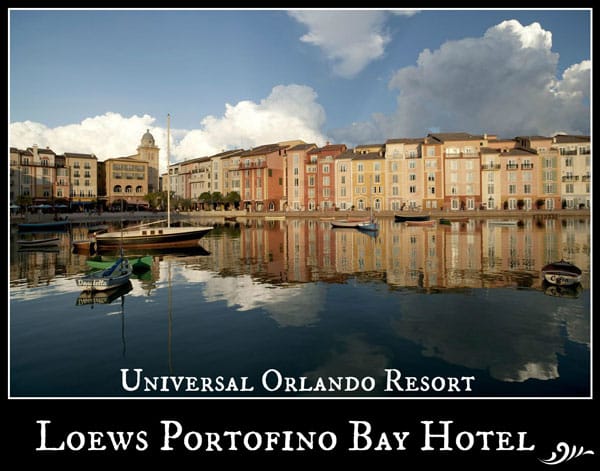 Escape to the sunny shores of the Italian Riviera at the Loews Portofino Bay Hotel. Inspired by the famed Mediterranean seaside resort, this AAA Four Diamond Award® winning hotel features 750 guest rooms, including 45 spacious suites. Each room offers the epitome of European luxury and elegance with authentic Italian furnishings and marble accents. Picture yourself relaxing in the comfort of a romantic Italian villa, surrounded by upgraded features like custom duvet covers with 100% white goose down duvet inserts, and elegant window treatments featuring lace curtains which cast lovely floral patterns around the room. And of course, each guest room is also equipped with all the latest amenities to combine the best of Old World hospitality with modern convenience.
Map

360° Views

Blog Posts

Free Quote
Loews Portofino Bay Hotel Address
Loews Portofino Bay Hotel
5601 Universal Boulevard
Orlando, Florida 32819-7888
Phone: (407) 503-1000
Fax: (407) 503-1010
Loews Portofino Bay Hotel Information
Check-in at 4:00 pm. Check-out at 11:00 am.
Loews Loves Pets. Pets are permitted. Restrictions apply.
Full-service business center
Full-service concierge desk
Self-parking and valet parking is available.
Recreational Activities and Resort Amenities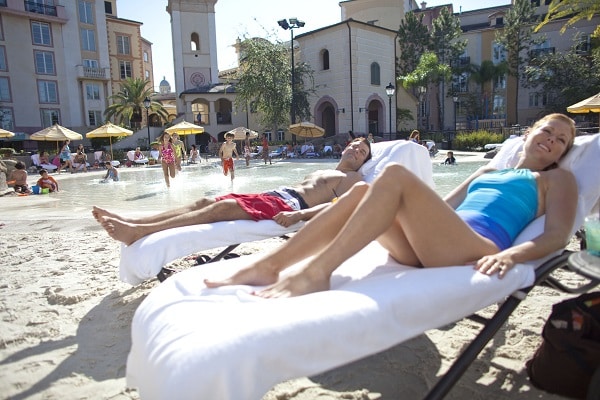 Outdoor pools – Loews Portofino Bay Hotel, offers three themed swimming pools: the Beach Pool complete with Roman aqueduct themed water slide; the serene Villa Pool with private cabana rentals; and the secluded Hillside Pool.
Children's program, onsite – Campo Portofino® is a supervised kids activity center for children ages 4-14 years old. Fees may apply
Fitness center on-site – Enjoy an invigorating workout at Mandara Spa's state-of-the-art Fitness Center. From free weights to a variety of cardio machines, the facilities are designed so you can easily maintain your workout routine.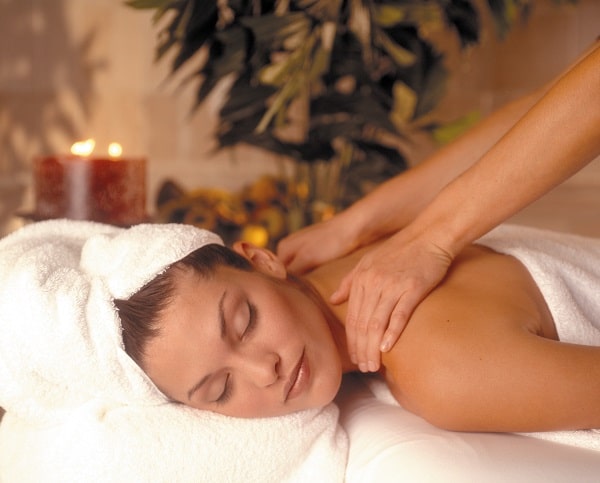 Mandara Spa – Let us send you to a place where calm and serenity exist every moment. Mandara Spa offers guests customized and personalized treatments to fit their needs. Spa packages are available or guests may opt to utilize the spa on an a-la-carte basis. The experience will be one of pampering, total relaxation, and calm. Fees may apply
Jacuzzi – 4 outdoor jacuzzis.
Sauna – Separate facilities for men and women and steam rooms in both lounges.
Nightly opera show, Musica della Notte (Music of the Night) – Every night at sunset, (weather permitting) Loews Portofino Bay Hotel's Harbor Piazza comes alive with a musical celebration capturing the romance and charm of Italy.
Five upscale gift and retail shops including:
Galleria Portofino featuring art from both theme parks
Le Memories di Portofino featuring unique gifts and resort wear
Alta Moda featuring the very latest in resort fashion for men, women and children.
L'Ancora featuring Loews Portofino Bay Hotel gifts and a variety of necessities
Game room arcade
Bocce ball courts
Jogging and walking paths
The Golf Universal Orlando program offers resort guests special benefits and preferred tee times at several nearby award-winning courses including Grand Cypress Golf Club and Windermere Country Club.
Full-service business center
Complimentary wireless high-speed internet access (HSIA) in most public areas
Full-service concierge and Universal Orlando Attraction Ticket Center
Avis car rental desk
Room Amenities at Loew's Portofino Bay Hotel
32" flat panel television with HD channels
Two telephones (one cordless) – each with dual voice lines, data port, and voicemail
Smart room technology for automated heating and air conditioning
Keurig coffee makers featuring Chef Emeril's gourmet coffee and assorted teas
Refreshment pantry
Bathrooms feature dual sinks, Lather skin and body care products, hair dryer, and make-up mirror
Cotton signature bathrobes
Iron, ironing board and in-room safe
In-room wireless high-speed internet access (fees apply – complimentary wireless high-speed internet access in public areas)
Daily newspaper delivery to guest rooms (upon request)
Evening turndown service (upon request)
Loews Portofino Bay Hotel Rooms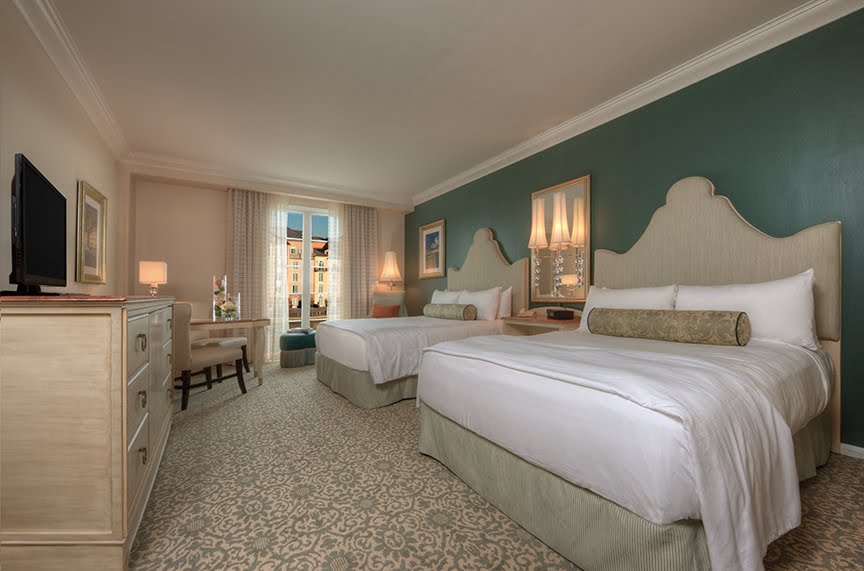 Standard Rooms at Loew's Portofino Bay Hotel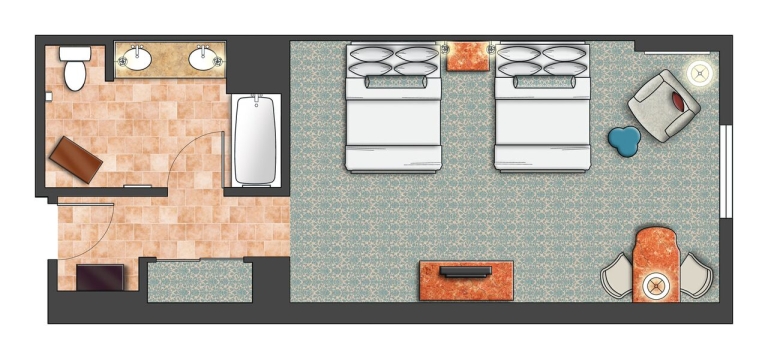 Garden View Rooms
Relax in comfort in a standard Garden View room, each offering a lovely vista of the meticulously manicured and landscaped grounds. Every guest room features marble accents and elegant furnishings from Italy. Garden View rooms come with either a king bed or two queen beds, and offer plenty of room to luxuriate at a spacious 450 square feet.
View Photos of the guest rooms at Loew's Portofino Bay Hotel on our blog.
Bay View Rooms
Open your window shades and find yourself in the heart of the Italian Riviera. Bay View rooms overlook the hotel's scenic Portofino Bay and picturesque harbor piazza. Every morning you can look out and watch the sun glittering off the sparkling water and its fleet of colorful fishing boats. Like the standard Garden View rooms, the Bay View rooms are 450 square feet, and give you a choice of a king or two queen beds.
Premium Rooms at Loew's Portofino Bay Hotel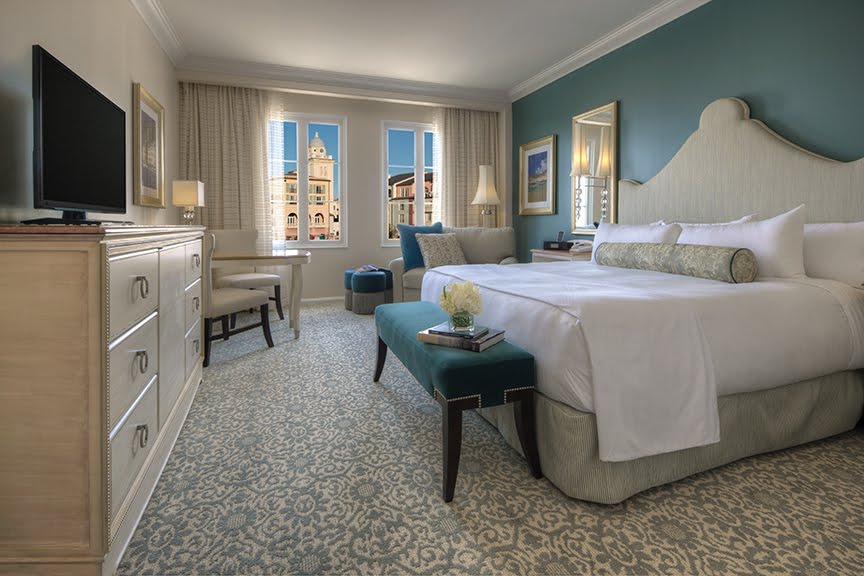 Deluxe Rooms
These elegantly appointed accommodations offer an even larger living space at 490 square feet, plus a stylish and roomy bathroom featuring a separate tub and shower. Deluxe rooms are available with a King or two double Queen beds, rooms with a King bed will have a pull-out sofa.
In addition to the extra comfort you'll enjoy a view of the serene Villa Pool and surrounding gardens, or the dramatic Roman aqueduct-styled Beach Pool.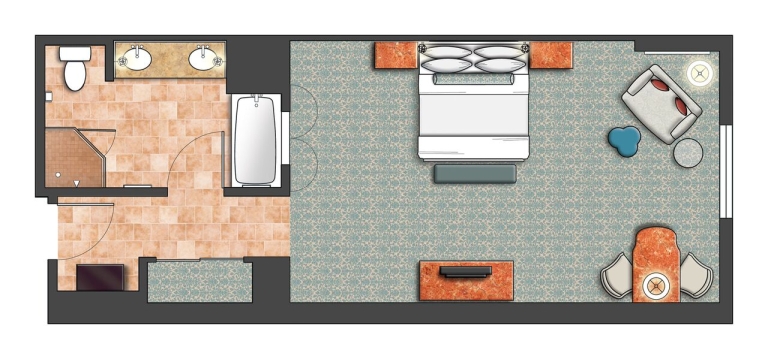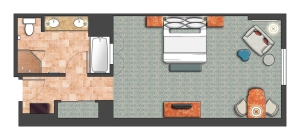 Club Level Deluxe Rooms
Upgrade your stay to enjoy access to the Portofino's Club Lounge and you'll enjoy the utmost in European hospitality and service. You'll receive special room amenities, access to the exclusive Club Lounge conveniently located near the lobby, and other benefits and privileges.
Club Level Rooms are equipped with two queen beds, and 490 square feet.
94 rooms in total – all deluxe rooms.
Complimentary access to the Mandara Spa® fitness center
Personal concierge services to meet our guests' vacation needs including pre-arrival arrangements
Access to the Portofino Club Lounge, a 3,500-sq. ft. lounge staffed from 7:00 am – 10:00 pm daily featuring:
Complimentary coffee, tea, and soft drinks throughout the day
Continental breakfast served each morning (7:00 am – 10:30 am M-F and 7:00 am – 11:00 am Sat & Sun)
Afternoon break – iced tea, lemonade, assorted snacks (12:00 pm – 3:30 pm)
Hot and cold hors d'oeuvres and complimentary beer and wine (4:30 pm – 6:30 pm)
"Something Sweet" each night (8:00 pm – 9:00 pm)
Access to game tables, billiard table, computer access, TV viewing area, a lending library for books, CDs and videos
Suites at Loew's Portofino Bay Hotel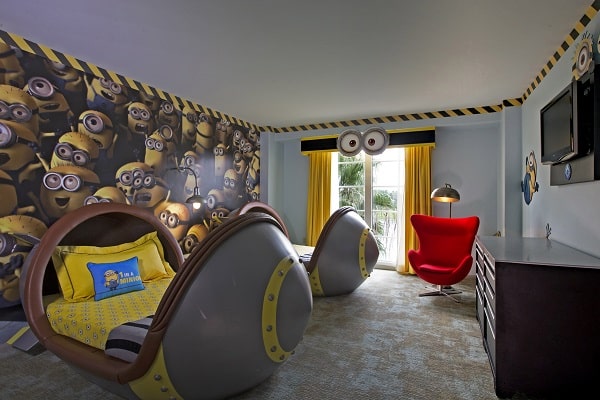 Despicable Me Kids Suites
Experience the world of Despicable Me in its newly-renovated kid's suites where the rooms capture the excitement and playfulness of Gru's Laboratory. Our Despicable Me Kids Suites let mom and dad have a little privacy, and the kids have some fun! With a standard king bedroom for the adults plus a separate room for the kids, there's plenty of space for the whole family at 650 – 675 square feet. The two separate rooms are connected via a door that can be open or closed, and feature a single entrance to the adult room. In other words, the children's room opens only into the adult's room, and not into the hallway. The kids' rooms invite you to sleep like Margo, Edith and Agnes in custom-designed missile beds with Minion inspired bedding complete with Gru's scarf, plus a separate closet and television. View Photos of the Despicable Me Kids Suites on our blog.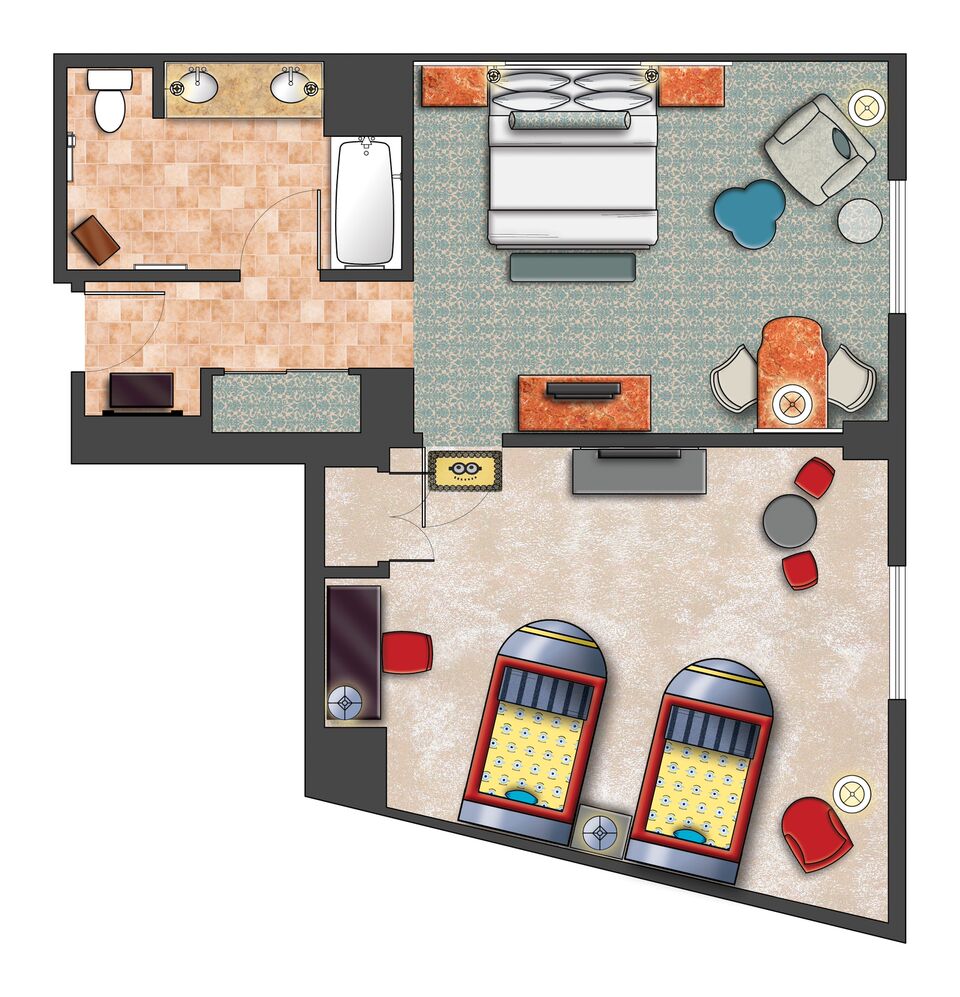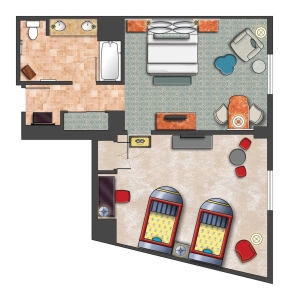 Portofino Suites
Portofino Suites are cozy and comfortable with plenty of space to relax after a day at the theme parks. These suites have a 450 square foot parlor which adjoins to a 450 square foot Garden View bedroom. A second adjoining Garden View room can also be reserved to create a two-bedroom suite.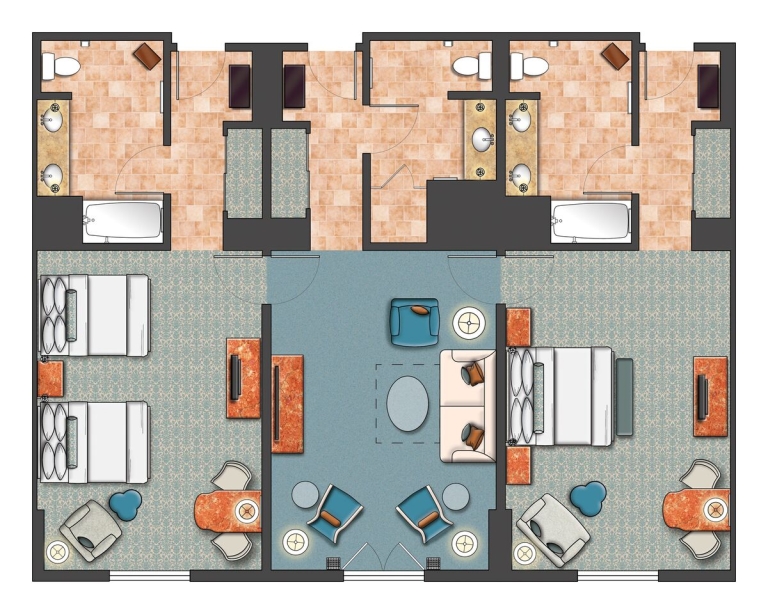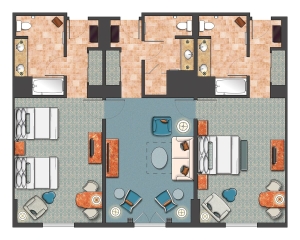 Villa Suites
Vacation in style in one of our roomy Villa Suites. You'll enjoy a casual seating and dining area. The 620 square foot parlor features an adjoining 490 square foot deluxe bedroom. A second adjoining room can also be reserved for a two-bedroom suite.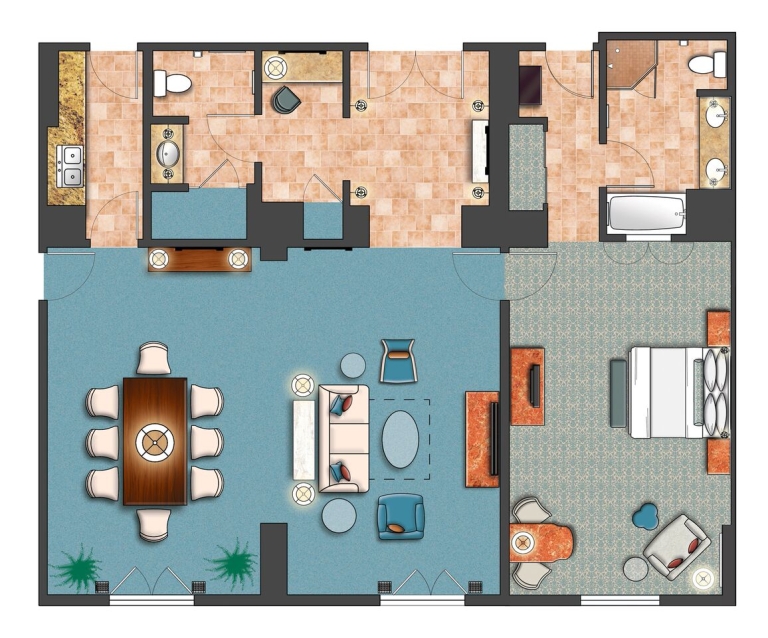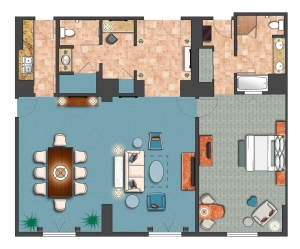 Hospitality Suites
This is where guests can welcome their guests. Ideal for casual social or business gatherings, the Hospitality Suite includes a large dining table, kitchenette and expansive living space. The 920 square foot parlor features an adjoining 450 square foot Garden View bedroom. A second adjoining room can also be reserved to create a two-bedroom suite.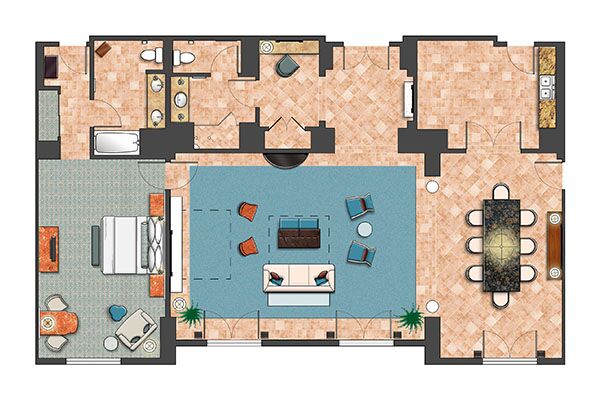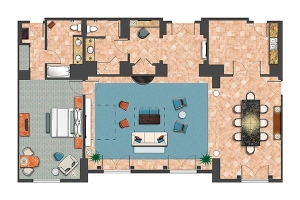 Governatore Suites
You deserve this kind of luxury… with a spacious bedroom, walk-in closet, separate study area, dining and conference area, plus entertainment space, you'll live like royalty. These 2,115 square foot suites come complete with a whirlpool tub, wet bar with refrigerator, and a mini kitchen equipped with a service pantry. A second and third bedroom can also be reserved.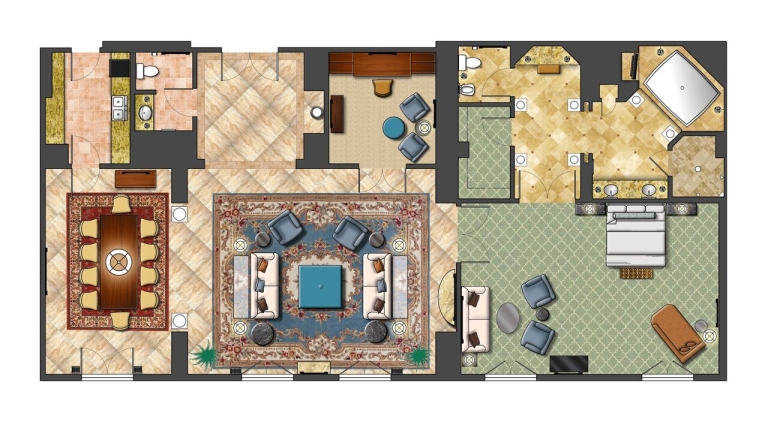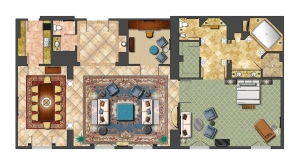 Presidential Suite
Simply magnificent… for those who demand the absolute best, this is it. Our grand signature suite encompasses 2,715 square feet of European extravagance. The Presidente Suite features an immense bedroom, walk-in closet, separate study area with TV, dining and conference area, and entertainment space. You'll also enjoy an expansive outdoor terrace with seating for six, a fireplace, wet bar with refrigerator, a whirlpool tub and mini kitchen equipped with a service pantry. Create timeless memories with the ultimate in luxury. An optional 2nd, 3rd, and 4th bedroom can be reserved.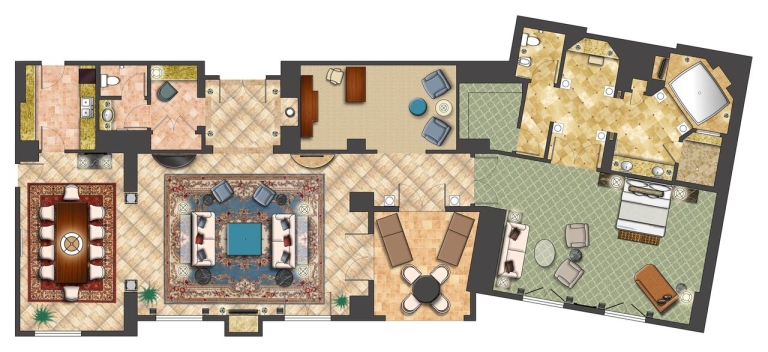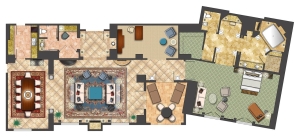 Loews Portofino Bay Hotel Casual and Fine Dining Experience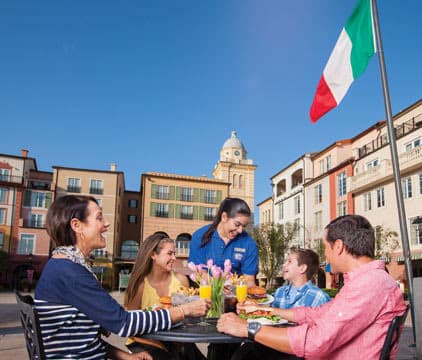 Trattoria del Porto – Trattoria del Porto features Seaside Italian Cuisine with a modern twist. Chef de Cuisine Carlos Cassalas applies his formal 5-star cooking techniques to Italian cuisine. Gather for a traditional breakfast or try one of our local flavors Eggs Beneditto. Lunch features a selection of small plates, salads and sandwiches. For dinner, embark on your culinary voyage with a selection of small plates featuring Tellicherry Pepper rubbed Beef Carpaccio, Bolognese filled Arancinis, and Florida Mahi Mahi Escabeche. Menu
Mama Della's Ristorante – Eat! Eat! Encouraged by Mama Della herself, dine in the casual comfort of a real Italian Mama's kitchen where you'll enjoy authentic Old World favorites from Tuscany, Naples and Piemonte. It's just like coming home, but be sure to call first. Reservations are recommended Menu
Bice Ristorante – An exquisite culinary voyage right to the heart of Italy awaits you amid a decor which combines Old World elegance and modern chic. Bice Ristorante offers Northern Italian cuisine and superb service in an elegant atmosphere. Pasta is rolled daily at the restaurant! Hand Crafted, Delicious Desserts created by the Pastry Chef. Reservations are strongly suggested. Menu
Sal's Market Deli – Sal's offers a sensational assortment of Italian meats, cheeses, antipasto, fresh fruit, fresh baked pizzas, and salads…Grab a glass of wine or Italian beer, and enjoy the harbor. Menu
Gelateria – Caffé Espresso – There's nothing quite like an Italian bakery featuring tempting biscotti, homemade gelato, luscious pastries, and specialty coffee, espresso, and more. Open Daily. Menu
Splendido Pizzeria – Located poolside, everything from burgers to salads and an array of light specialties are available, including your favorite beverages. It's the perfect place to grab a bite when your at the pool for the day. Open Daily. Menu
The Thirsty Fish® – A casual dockside Orlando bar perfect for viewing the sunset from the piazza over cocktails and light finger food. Open Evenings. Menu
Starbucks – Start your day with a signature Starbucks® cappuccino, enjoy the afternoon with a Frappuccino® blended beverage, or savor the exquisite flavors of the finest Starbucks Reserve® coffees brewed right in front of you with the exclusive Clover® brewing system found only in select Starbucks stores.
Bar American – An elegant Orlando lounge setting to sample a wide variety of specialty drinks, from classic martinis to Italy's treasured Grappa. Open Evenings. Menu
24-Hour Room Service Eat in the privacy of your own room and choose from a wide variety of menu options, whether you have an early meeting or need a midnight snack – have it brought to you!
Request a Universal Orlando Resort Vacation Quote
Let's start planning your Universal Orlando Resort vacation!
Get a FREE, No-Obligation Quote from one of our travel consultants. Start planning your Universal Orlando Resort vacation today!