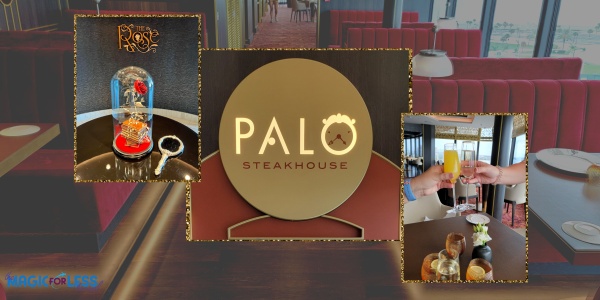 Of course, when you think of cruising, you think of food and Disney Cruise Line is no different. One dining experience not to be missed is the Palo Brunch. Palo is part of the adult-only dining found tucked away in the back of each of the ships on the upper decks offering endless ocean views.  For the Wish, Fantasy and Dream look on Deck 12 and on the Magic, and Wonder look on Deck 10. Brunch at Palo, regardless of the ship you are on, is an exquisite dining experience.
Brunch is limited to at sea days and on the shorter cruises when the ship is in port at Nassau so reservations fill up fast. Be sure to make your reservation once your Disney Cruise is paid in full and your booking window opens. If there are no reservations available at your booking window, check back regularly for cancellations. Also check with the dining staff once you board for availability. Note, reservations tend be available from about 10 am to noon. Brunch will take about 2 hours so plan accordingly. The cost of Palo Brunch is $45 per person, but you can order as much off the menu as would you like. See Disney Castaway Club Benefit below for information on the Platinum and Pearl level Palo dining benefit.
Brunch Begins
To begin your Palo Brunch dining experience, you will enter through the Meridian Bar (Magic, Wonder, Dream, Fantasy) or The Rose (Wish). Be sure to check these spaces out in the evenings for some spectacular sunsets and evening drinks. Once seated, everyone in your party 21 years or older will be offered a complimentary Mimosa or Prosecco along with still or sparking water. There is sparking cider for those not yet 21. Tea, coffee and soda are available.  A full-bar and wine cellar are also at your service.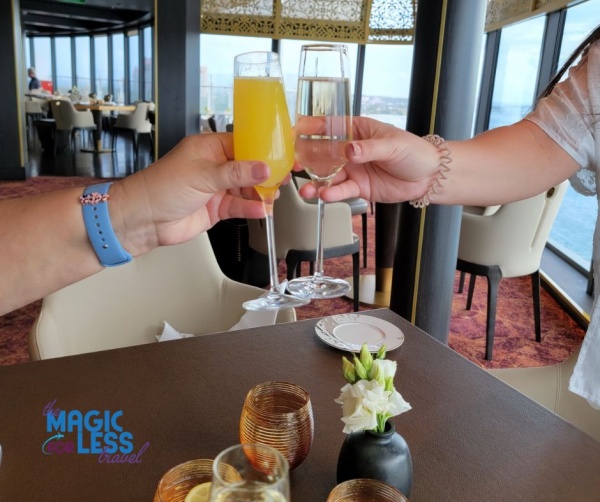 Pastries available exclusive to Palo Brunch are served for the table to share while looking over the menu and then the fun begins. Be sure to ask your Palo server for recommendations and to answer any questions.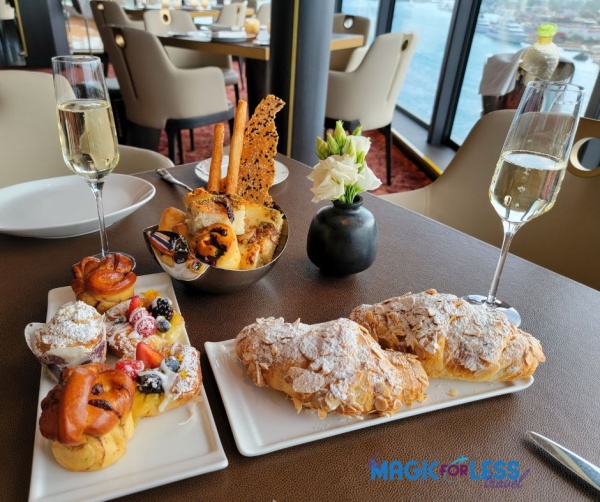 Palo Brunch Starters
Palo Brunch begins with an Antipasti Starter course that consists of two selections.  First there is seafood plate. This includes crab claw, lemon-marinated shrimp, marinated green lip mussels, spiced Ahi Tuna, Gravlax served with Meyer Lemon, saffron aioli, dill honey mustard and cocktail sauce. The second selection is a meat and cheese plate. This comes with with prosciutto, coppa, bresaola, salami, marinated olives, Caciotta a Tartufo, Parmigiano-Reggiano and sweet Pepperdew.  Be sure to get at least one of each to share amongst your party.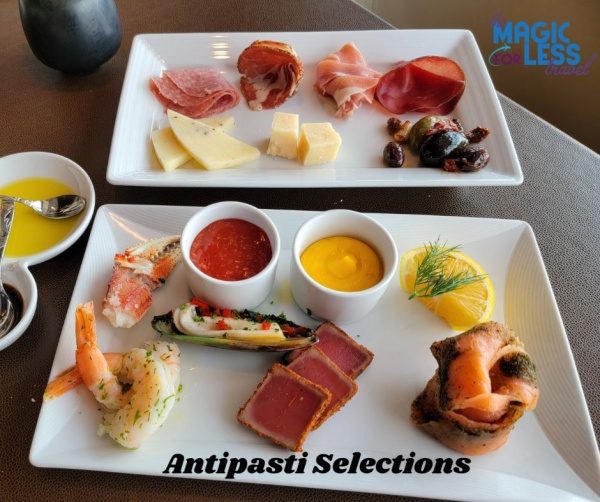 Main Course – Breakfast Entrees
Since this is brunch there is a selection of egg dishes such as frittatas, omelets and poached eggs. Don't forget pancakes and waffles served with maple syrup, whipped cream and berries. Mickey Waffles for adults on a Disney Cruise, of course!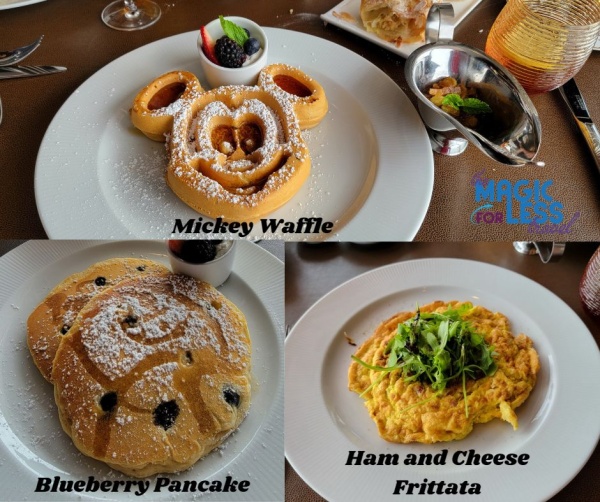 Don't Forget the Pizza!
This is a course not to be missed. Palo has several great pizzas that can be shared. Of course, Italian Sausage and Margherita and Goat Cheese with Sun-Dried tomatoes are all great choices, but be sure to ask about the Grape and Gorgonzola Cheese Pizza. This no longer on the menu but is a long time Palo Brunch favorite. Palo also offers a calzone, as well as two soup options: Heirloom Tomato and Basil or Celery.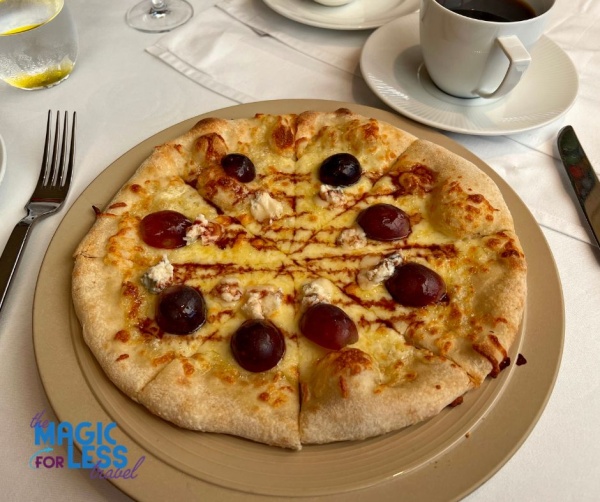 Main Course – Lunch Entrees
Again, this is brunch so we can't just live by eggs and Mickey Waffles. Palo also offers a great selection of Italian dishes. You can choose from Parmesan Roasted Chicken Breast, Lasagna Bolognese, Rollatini Melanzane (breaded eggplant), Veal, Mushroom Ravioli, Roasted Red Snapper and Sirloin Steak. Ask your server for recommendations but the Parmesan Chicken and Lasagna are excellent!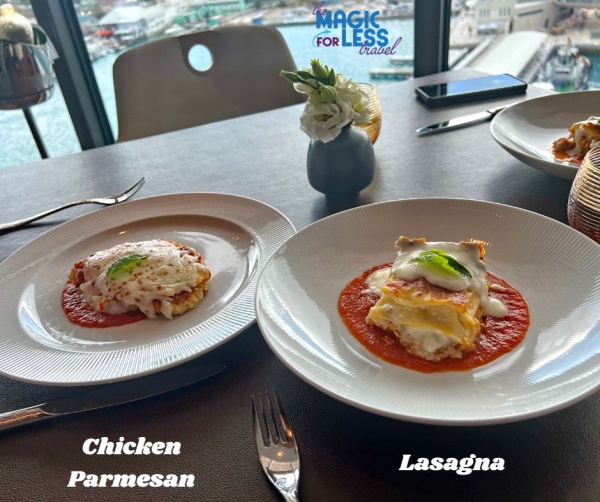 There is Always Room for Dessert!
For the grand finale…dessert! Hope you have saved some room. Palo Brunch selections include Warm Amaretto Chocolate Fondant with Hazelnut Gelato, Italian Zabaglione (Biscotti with fresh berries and Marsala wine), Limoncello Torte (citrus cake), Buttermilk Panna Cotta Pot (Strawberry popping pearls and pistachio crumble), Chocolate Raspberry Tart and Warm Apple Cinnamon Sticky Bun.  Now just a few more hours before dinner!
Palo Castaway Club Benefit
Platinum and Pearl Castaway Club members are provided one complimentary meal at Palo or Palo Steakhouse, so if you are a Platinum or Pearl Castaway member be sure to make your reservations once you are paid in full. Brunch reservations are limited and fill-up quickly. Note the official Disney Cruise Line site states complimentary dinner, but the brunch has always been included in this offer, so be sure to check. See Disney Line Castaway Club.
Palo Brunch Dress Code
For Palo brunch, cruise casual dress is suggested. For Palo dinner, formal or semi-formal attire is recommended, however Guests may be permitted to dine as long as they are wearing dress casual attire with a polished look. This includes things like dress pants, jeans in good condition, blouses, collared shirts, and lifestyle shoes. No T-shirts, swimwear, tank tops, or sportswear are allowed.
Dining in any of the adult-only restaurants is a special experience. Check with the latest dress code for each venue. See Disney Cruise Line Adult Dining Dress Code.
Follow The Mouse For Less for more information about the latest Disney Cruise Line news.
Similar Posts: