By Steve Baker, The Magic For Less Travel
My family and I recently sailed on the 7-night Western Caribbean itinerary on the Disney Fantasy.   As my children have grown into teenagers and young adults the way we tour on our Port Adventures has changed dramatically.  Long gone are some of milder, gentler tours.  For our stops in Grand Cayman, Costa Maya and Cozumel we decided we'd tackle on some of the more adventurous Port Adventures that the Disney Cruise Line has to offer!
Our first stop was in Georgetown, Grand Cayman, where we swam with and fed stingrays at Stingray City.  Since the ship tenders at this port, we took a short boat launch to the island where we met our tour group and were bussed to another dock where a larger boat took us out to Stingray City which is a sand barge seemingly in the middle of the ocean, but the water is quite shallow (waist to chest deep).  Here we were able to swim with, hold, pet and even feed the stingrays in some of the most beautiful waters I've ever been in.  The rays are not what I would categorize as aggressive, but they are very friendly and they do enjoy the squid they're fed.  Word to the wary, this is not an adventure I'd recommend for anyone scared of sea life or being out in the middle of the ocean.  While everyone in my family thought it was awesome (and very different, in fact, from the stingray encounter at Castaway Cay), there were some participants who were squeamish and some children terrified of the rays.  Alas, they're gentle and playful and a lot of fun!
My 16 year old son feeding one of the rays: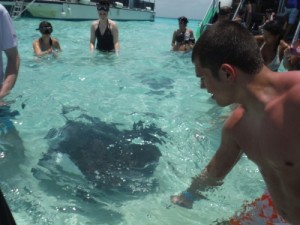 Stingray City: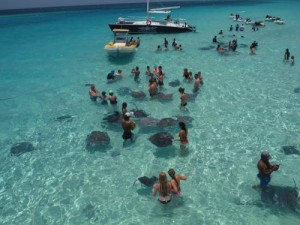 Our second port was Costa Maya where we docked and took a bus to a remote beach area where we'd ride ATVs for the day on a guided tour.  This by far ranked as the most fun Port Adventure of our cruise.  After a safety briefing and learning how to operate our ATVs we donned bandanas (looking like bandits) to prevent inhaling of dirt, put on helmets and protective eye wear and off we went!  We first drove through the thick – and I mean densely thick – jungle across rugged terrain.  Once we were out of the jungle we hit the open beach where we were really able to pick up speed and fly – as in airborne – over sand dunes.  What a blast!  We took another detour back into the jungle again (which often is so dark from the dense brush that it seems like sunset) and then back out on the beach for more airtime.  After our ride we were able to enjoy a private beach where we could swim and do other watersports for the afternoon.
Me on my ATV at Costa Maya: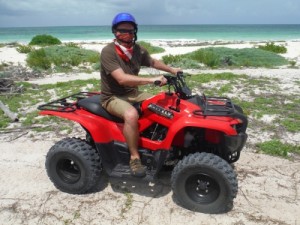 Our third port was Cozumel, where we decided to take a boat over to Playa del Carmen to Xplor Park, which is an underground flooded cave system with a zip line course built atop the dense jungle above.  Here we were able to swim through an amazing underwater cave system (the water is VERY cold!) that opens up to an enormous waterfall ending that reminded us all of something out of Jurassic Park.  We next hit the zip line course where we zip lined from station to station over the jungle – and even over wildlife including jaguars and crocodiles.  The last line of the course gives you a refreshing splashdown into one of the cave entrances and some of the views atop the jungle are breathtaking!  There is also a river course where you paddle through the underwater caves using your hands as oars and an ATV experience where you can drive through the cave system.  A traditional Mexican lunch is also served on this Adventure.
My family in the underwater cave waterfall: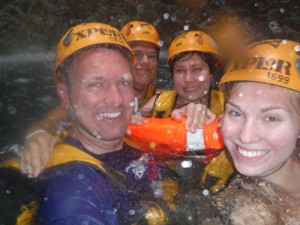 My 16 year old son and 19 year old daughter zipping over the jungle: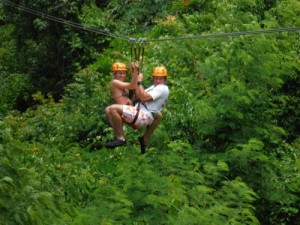 Our fourth and final Port on this 7-night cruise was Castaway Cay were after three ports of incredible adventures we decided that simply laying around on the beach would be an adventure in and of itself.  I mean isn't a Disney Cruise supposed to be relaxing?!
Similar Posts: