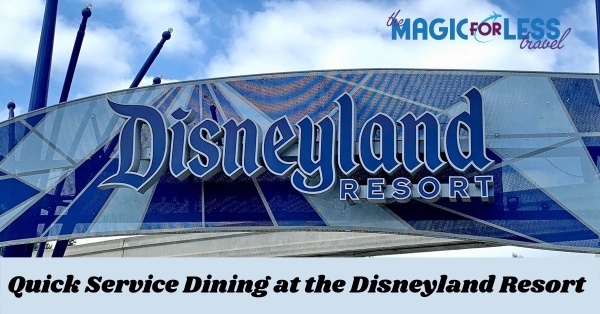 There are many wonderful quick-service dining options at Disneyland Resort. If you want to maximize your time in the parks, you can take advantage of the choices at Disneyland Park, California Adventure, and Downtown Disney.
With over 50 options at the parks and Downtown Disney, there is something for everyone, including classic American fare such as burgers, chicken, and pizza, specialty foods with international flavors, ice cream, shakes, and smoothies for that sweet tooth, and snacks for a quick pick me up. Menus are subject to change, and most restaurants include plant-based and allergy-friendly options. Check on the Disneyland app for up-to-date menus.
Classic Burgers and Chicken
There are multiple locations for classic burgers and chicken at Disneyland Park and California Adventure. These tend to be some of the higher capacity quick service restaurants and also include kid's meals and some healthier options. All of these restaurants allow walk-up or mobile ordering.
Galactic Grill  in Disneyland – Tomorrowland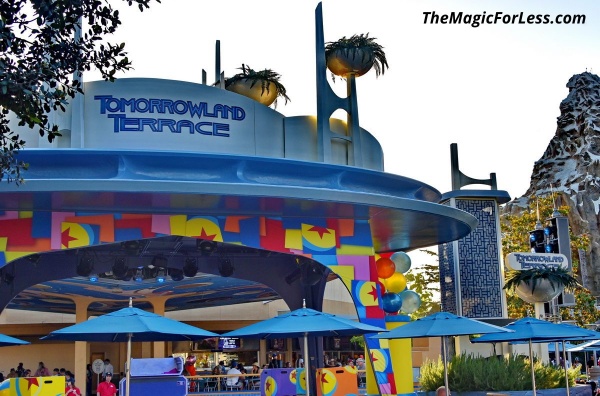 At this space-themed quick service restaurant at Tomorrowland Terrace, you can sit in the ample outdoor seating area and enjoy burgers, fried chicken sandwiches, veggie wraps, and salads. They have a special Galactic Parfait with layers of Chocolate Cake, Blueberry Cheesecake, and Purple Mousse filled with Raspberry Marmalade, and finished with Glitter Glaze, Edible Silver Stars, and a Chocolate Truffle shell.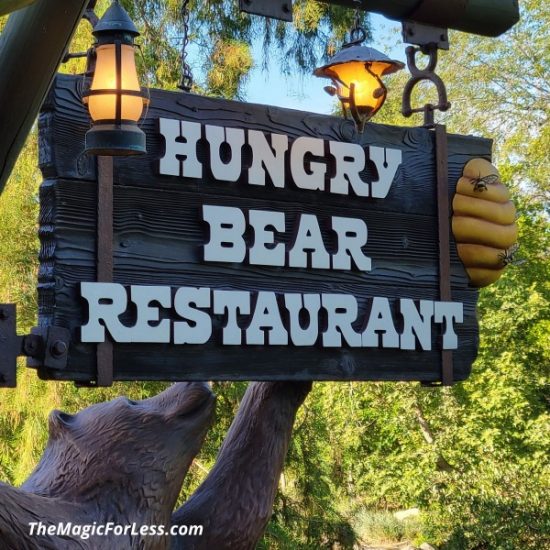 This American South-themed quick service restaurant tucked under Splash Mountain with two decks of ample covered outdoor seating features a variety of cookout classics. Selections include honey-spiced chicken sandwiches, fried green tomato sandwiches, chili mac cheeseburgers, impossible burgers, chicken salads, and onion rings. Funnel cakes are available for dessert here.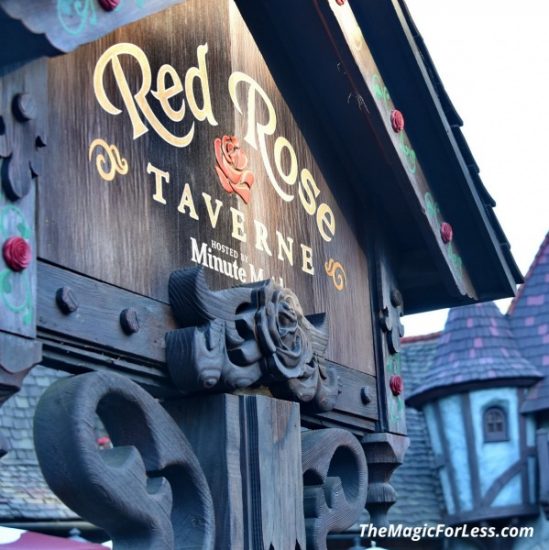 Formerly called the Village Haus Restaurant, this quick service restaurant has been rethemed with a Beauty and the Beast-inspired French countryside vibe. Tucked in the corner of Fantasyland near Frontierland with indoor and outdoor seating, this restaurant is often less crowded than similar restaurants. Enjoy burgers including a Cheddar Ranch option, chicken nuggets, flatbreads and salads as well as a healthy Cauli-Flower Sandwich. A specialty item found here is the Grey Stuff Gateau with White Chocolate Mousse and Red Velvet Cake with a Raspberry Center.
This western saloon-themed quick service restaurant is a little smaller with indoor seating. They feature lots of American favorites such as Fish and Chips, Chicken Tenders, Mozzarella sticks, and a Chicken Salad but no burgers. For dessert, try the Chocolate-Chunk Cookie Sundae or the Golden Horseshoe Ice Cream Float.
Flo's V8 Café in California Adventure – Cars Land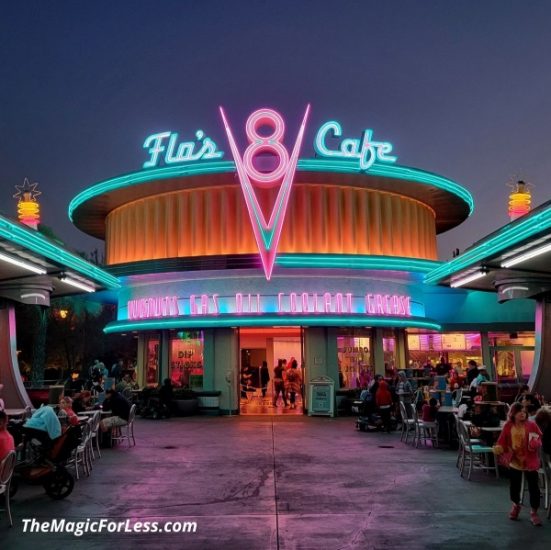 This Cars-themed quick service restaurant has the feel of a 50's diner with ample outdoor seating. It serves old-fashioned, filling breakfast dishes and home-style classics for lunch and dinner. Choices include burgers with a spicy guacamole bacon cheeseburger option, Flo's famous fried chicken, chicken strips, healthy impossible burger, turkey Cobb salad, turkey wrap items, and delicious classic shakes.
Smokejumpers Grill in California Adventure – Grizzly Peak
This comfort food quick service restaurant inspired by heroic firefighters is built in an old rocket test building in Condor Flats with indoor and outdoor seating options. The menu includes regular and BBQ Bacon Double Cheeseburgers, spicy or grilled chicken sandwiches, chicken tenders, grilled chicken salad, impossible burgers and don't miss the waffle fries or onion rings! Finish things off with a variety of classic shakes.
Hot Dogs
If hot dogs are more your thing there are options for corn dogs, spicy dogs or classic hot dogs. Most of the venues serving hot dogs tend to be smaller stands or kiosks. Most locations support both walk up and mobile ordering.
This western themed restaurant's savory options include hearty entrees of hand-dipped corn dogs, fish and chips, and chicken breast tenders. Funnel cakes can satisfy sweet cravings and come in 2 flavors: powdered sugar or Nutella with chocolate-espresso powder.
Step out of the hub-bub, right off Central Plaza and Main Street, U.S.A., and watch the world go by as you enjoy the refreshments. Hot dogs are featured here with chili cheese or mac and cheese toppings. Chili or mac and cheese are also available in a sourdough bread bowl. Mickey pretzels are offered here as are jalapeno or cream cheese filled pretzels.
Angry Dogs in California Adventure – Pixar Pier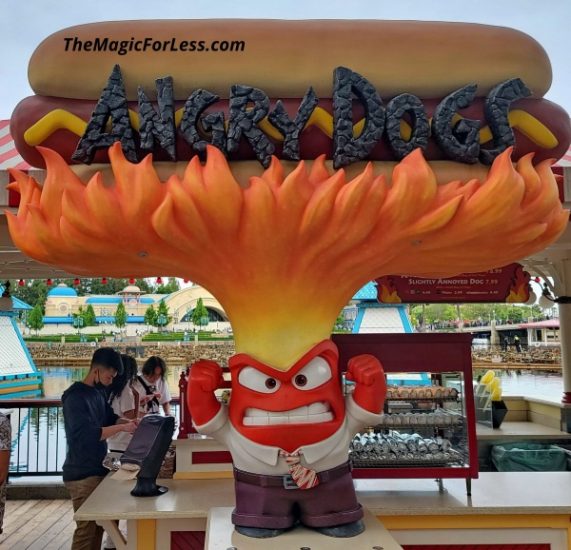 This kiosk near the Pixar Pal-A-Round features either spicy or not so spicy hot dogs with only walk up service. The two options here are either the Angry Dog or Slightly Annoyed Dog. Your guess as to which is spicier.
Corn Dog Castle in California Adventure – Paradise Garden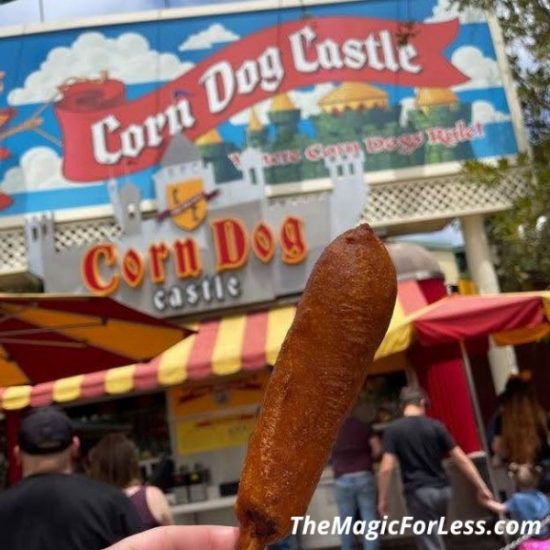 This popular kiosk near the back entrance to Pixar Pier serves original and hot-link corn dogs as well as a cheddar cheese stick dipped in corn batter and fried to a golden brown.
Award Wieners in California Adventure – Hollywood Land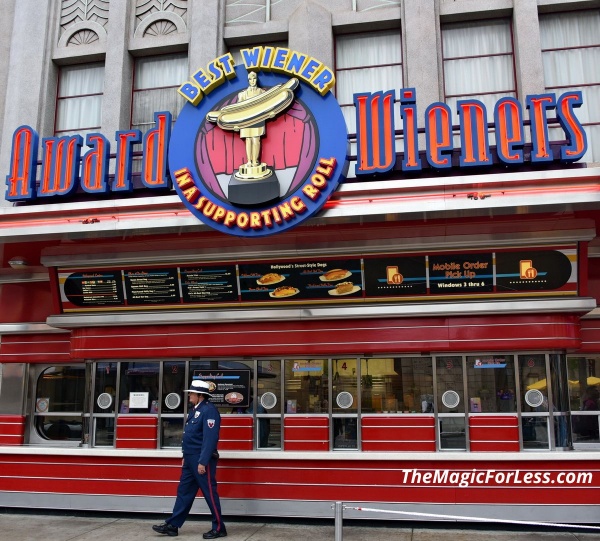 This counter on Buena Vista Street features gourmet hot dogs with a Hollywood theme. Choices include a BBQ Pulled Pork Dog, Bacon Street Dog, Uptown Chili Dog or Plant-based Philly Dog. Another specialty here is their Asada Fries (marinated, grilled steak) with cheese, onions, guacamole and salsa.
Pizza
Sometimes a good old classic pizza is what the taste buds are craving and you can find it in Disneyland Park, California Adventure and Downtown Disney.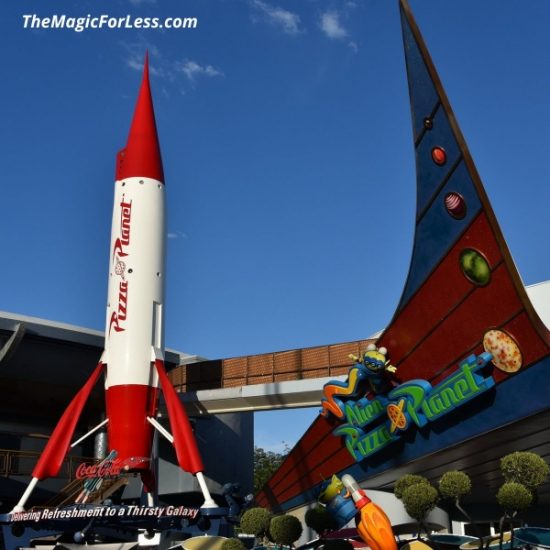 With a Toy Story inspired theme, this quick service restaurant has indoor and outdoor seating and features Italian cuisine from pizza to pasta. With Pepperoni or Hawaiian pizzas, Chicken Fusilli, Tomato Cream Pasta, breadsticks, Centurion Caesar Salads and Astro Antipasto Salads there is something for everyone here. For the kids there is also spaghetti and meatballs. For desert you can try the alien shaped macaroons.
Featuring Italian favorites with a California twist this food court area has three stations; pizza, pasta and salad with open air patio or arcade-style covered seating areas. You have a choice of Pepperoni, Vegetable, Shrimp Scampi or Cheese pizzas, Spaghetti with Meatballs, Chicken Tomato Pesto or Five-cheese Ravioli pasta dishes and Chicken Caesar or Italian Chef salads. For dessert they offer Cinnamon Roll Cheesecake or Tiramisu.
If you are between parks, this restaurant in Downtown Disney offers a large array of pizzas including Margherita, California, Gorgonzola Cheese, Funghi, Messicana and others to go. Gelato is available for dessert.
Turkey Legs and Chimichangas
Smoked Turkey Legs are a favorite snack or meal and can be found in both Disneyland and California Adventure in kiosks that also include Chimichangas (fried burritos) and Corn on the Cob. These giant turkey legs have a savory smoked flavor with a crispy skin and juicy pink meat that are a meal in themselves.
Edelweiss Snacks in Disneyland – Fantasyland behind Matterhorn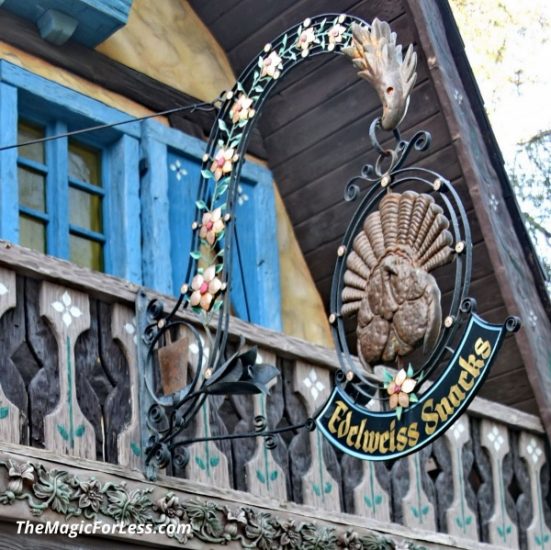 Poultry Palace in California Adventure – Pixar Pier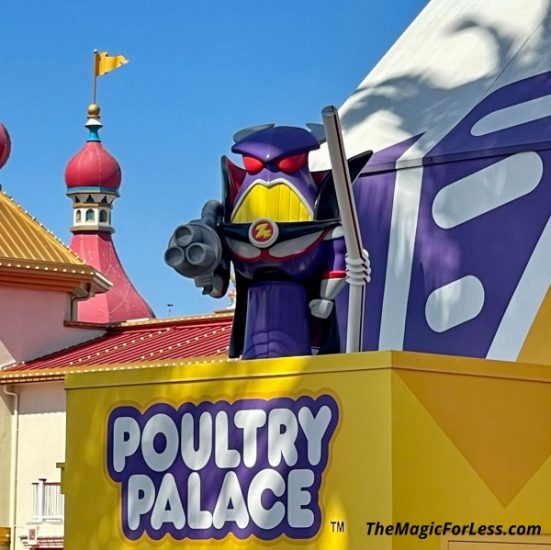 Turkey Legs can also usually be found at a cart in the circle in front of Sleeping Beauty's Castle.
Specialty Foods 
In the mood for something different? A large variety of international and other specialty restaurants offer a wide range of menu items that are not your usual park fare. Walk up and mobile ordering is available at most locations.
French Market in Disneyland – New Orleans Square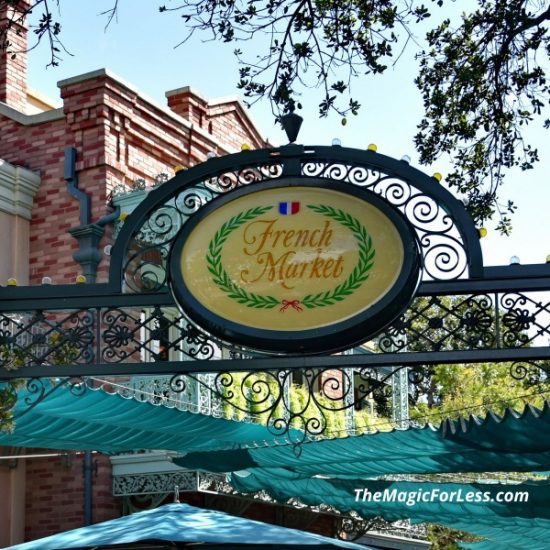 This quick service restaurant with a garden setting and outdoor seating features Cajun-Creole favorites from the American South. Featured dishes include Po' Boy sandwiches with shrimp or roast beef, beef stew or corn chowder in a sourdough bread bowl, Jambalaya, Cajun-chicken Caesar salad or herb-roasted chicken. Pasta, chicken breast or mac and cheese are available for less adventurous kids.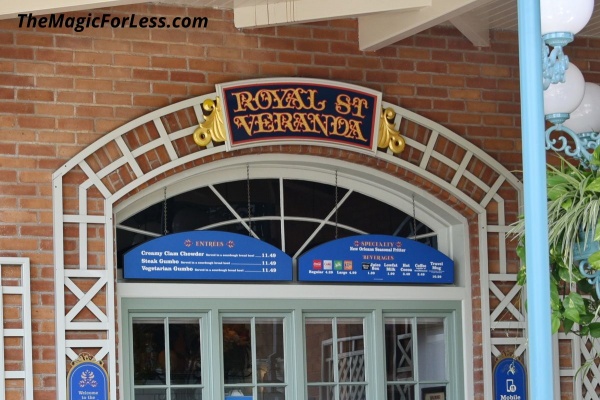 Succulent soups of the American South are the specialty of this New Orleans themed window stand. You can order clam chowder, steak gumbo or vegetarian gumbo in a sourdough bowl. Healthier options include a Street Steak Salad or Impossible wrap.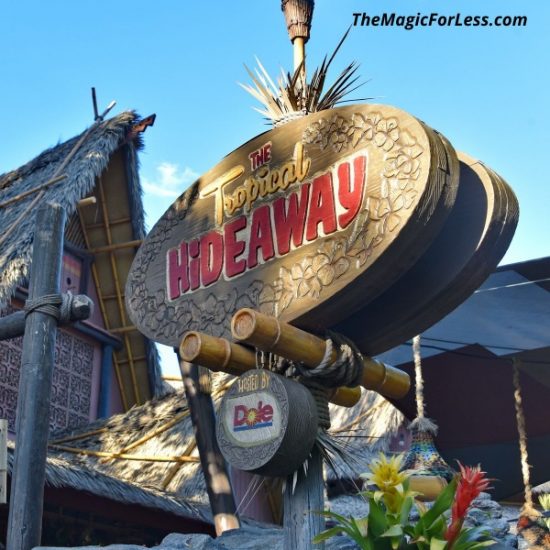 This is a fairly new and less known food court area with shaded seating tucked away behind the Enchanted Tiki Room and overlooking the Jungle Cruise. This is where you can get multiple flavors of Dole Whip and Asian snacks such as Bao (meat or vegetable filled bun), Lumpia (Filipino egg roll) or PB&J mochi. Specialty Dole Whip flavors include Pineapple, Raspberry, Mango or Lemon and they have a Chile-Mango Specialty Whip.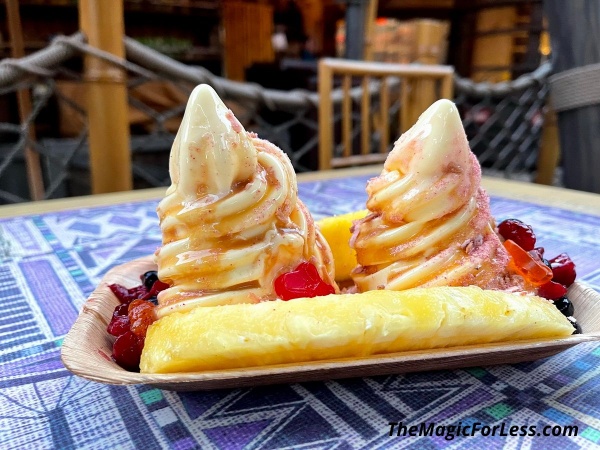 A beautiful Spanish food court style quick service restaurant with ample shaded outdoor seating features a variety of Mexican cuisine. Options include a trio of street tacos, a grilled half chicken, cheese enchiladas,  or chicken or beef burritos. On the healthier side, cauliflower tacos, chicken or beef tostada salads, or Mexican chicken Caesar salads are also available. For dessert, options include Cinnamon crisps or chocolate flan cake.
This jungle themed food stand near the entrance of Indiana Jones serves up a variety of skewers featuring spicy or sweet beef, chicken, pork belly, bacon-wrapped asparagus or fresh vegetables. A plant based hummus trio is also available here.
Harbour Gallery in Disneyland – Critter Country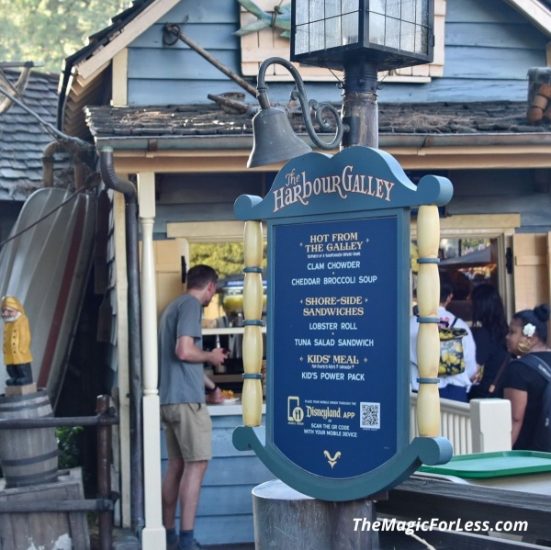 This seafood shanty on the waterfront features a selection of soups in sourdough bread bowls or a lobster roll. Soups include clam chowder, steak gumbo, or vegetable gumbo. A Muffuletta salad or tuna sandwich are also available.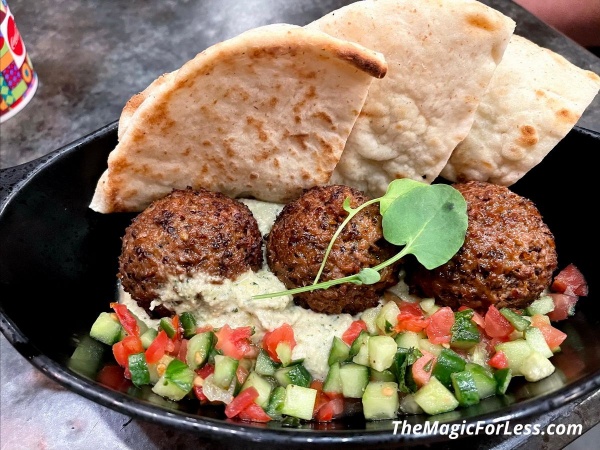 Enjoy out of this world offerings at this quick service restaurant housed in a working hangar bay of Star Wars: Galaxy's Edge with indoor and outdoor seating. Themed selections include Ishi Tib-style Pasta with Braised Beef Bantha, Endorian Fried Chicken Tip-Yip, Endorian Roasted Chicken Salad or plant based Felucian Kefta & Hummus Garden Spread. For desert you can indulge in the Vintian Mineral Mousse.
Pacific Wharf Café in California Adventure – Pacific Wharf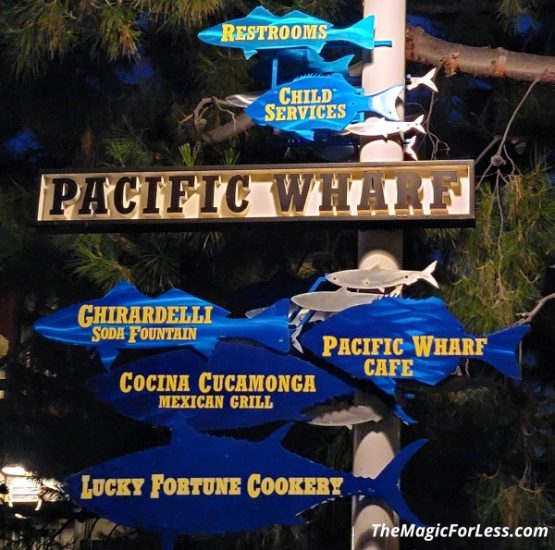 This waterfront themed quick service restaurant features breads by Boudin, San Francisco's world-famous artisanal bakery and is one of several restaurants at Pacific Wharf surrounding a central outdoor eating area. Specialties here include clam chowder, broccoli and cheese soup or mac and cheese in a sourdough bread bowl baked next door using a family recipe dating back to the Gold Rush. Also available is an Asian chicken salad, shrimp roll, classic deli sandwich or Asian tofu salad.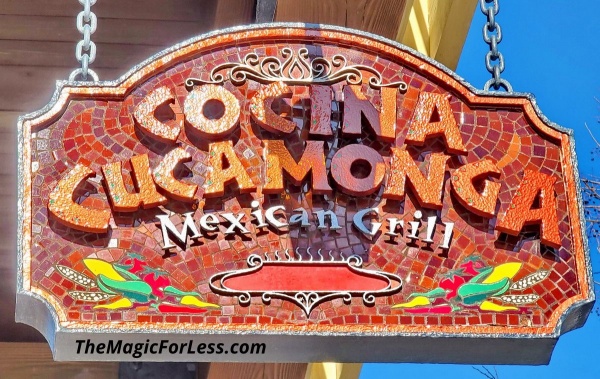 Also located at Pacific Wharf, street tacos are featured here for an authentic taste of Mexico. Street taco fillings include braised beef, carne asada (marinated grilled steak), pork or chicken. Plant based crispy potato tacos are also available.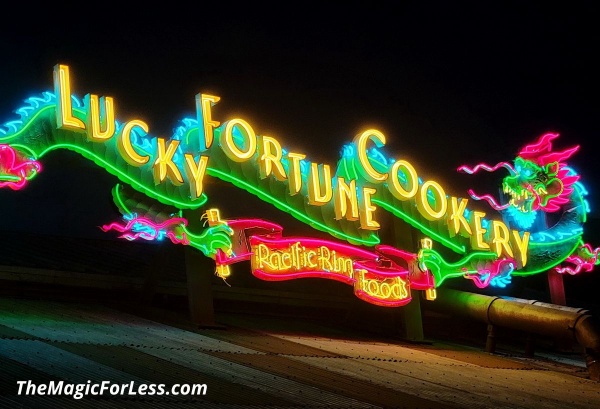 Also located at Pacific Wharf, a variety of Asian foods are featured at this quick service restaurant. Specialties here include teriyaki chicken, spicy Szechuan chicken, beef bulgogi burrito, pork ramen or an Impossible Banh Mi. Korean style chicken wings or pot stickers are available as side orders.
Shawarma Palace in California Adventure – Avengers Campus / Hollywood Land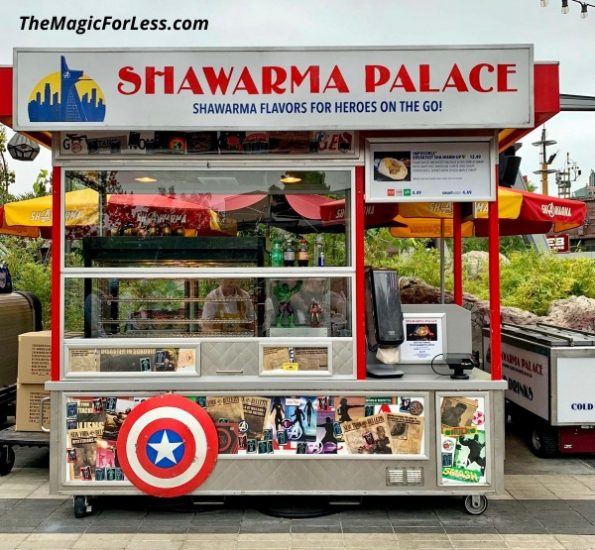 There are two Shawarma kiosks; one in the Avengers Campus and one in Hollywood Land serving up Shawarma made famous in the Avenger movies featuring the original Shawarma Palace in New York City.  Here you can taste an Impossible breakfast or chicken Shawarma or the Impossible falafel and cauliflower wrap.
Pym Test Kitchen in California Adventure – Avengers Campus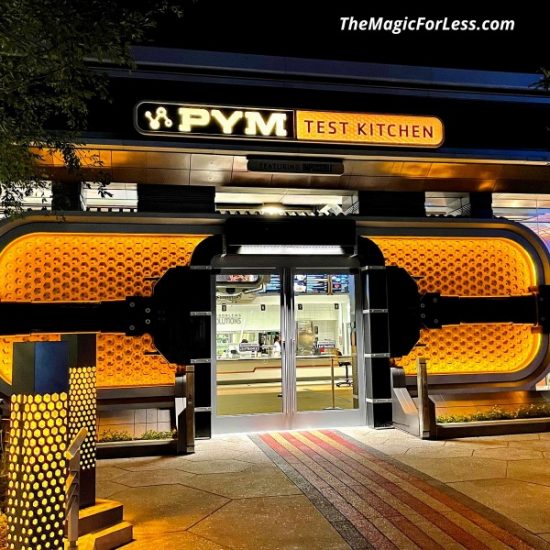 This Ant-Man and The Wasp themed quick service restaurant serves up size defying specialty breakfast and lunch/dinner items amid gigantic décor. Featured items include a giant pretzel, Pym-ini sandwich, Not So Little Chicken Sandwich, a PB&J sandwich with Banana and Candied Bacon or a Caesar Salad with Colossal Crouton. An Impossible Meatball Pasta is also available.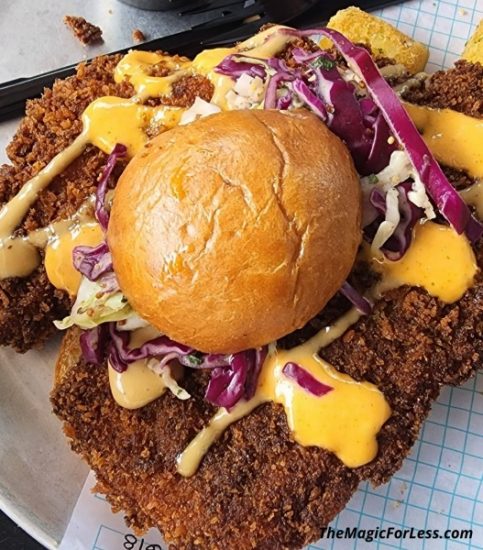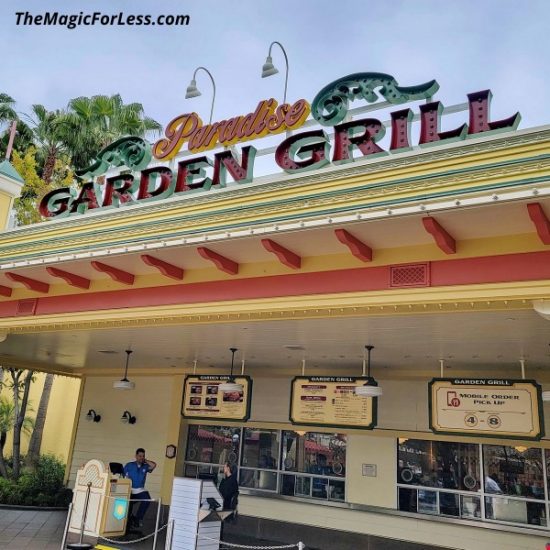 This quick service restaurant has seasonally changing menus that have included barbecue selections and Mexican/Latin American cooking. Check your Disneyland app to see what's available during your visit
This is a quick service option available at the sit down restaurant featuring the tastes of New Orleans. The Express counter features several varieties of Beignets or a Gumbo Ya Ya Bowl.
Bon Appetit
This list is not exhaustive. There are many, wonderful options for quick service at the Disneyland Resort.  New places are being added or rethemed and menus often change, to add variety to your choices. There are multiple options for sweets, specialty drinks and snacks that are available for quick pick me ups. With all the great options available you are sure to find something to satisfy your tastes without taking a lot of time away from experiencing all the attractions the parks have to offer.
For more information about quick service dining options, or restaurant menus at the Disneyland Resort visit themouseforless.com.
Do you have questions?  Are you ready to book your next trip to the Disneyland Resort?
We are here to answer your questions and help with all of your vacation planning details. We make sure you obtain the best deal available! Contact us to get your no obligation quote today! We want to help you make memories that will last a lifetime!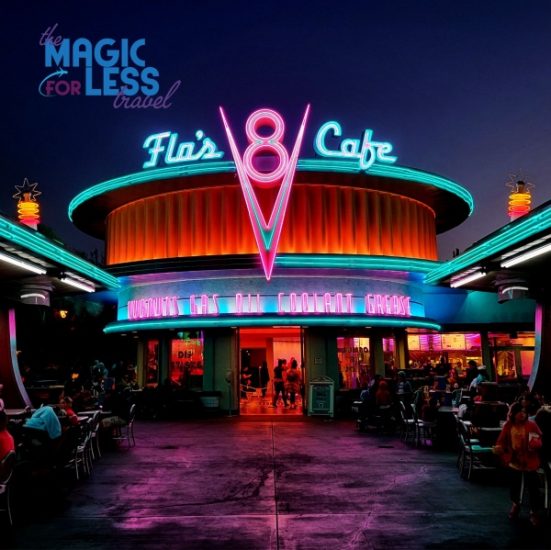 Similar Posts: